UPDATED: Why Samsung Can't Replace My Defective Screen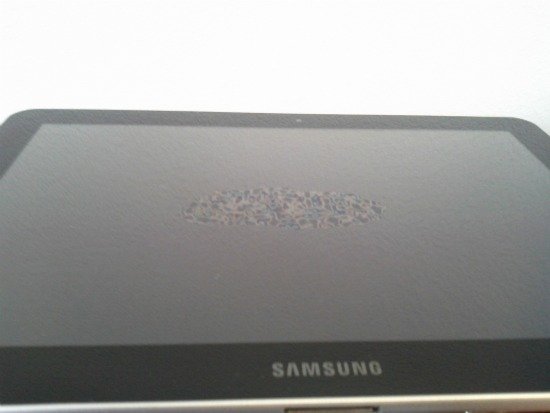 (picture of the newtons ring)
WOW. That's all I can say about the response I've received directly from Samsung in regards to the damaged screen on my Galaxy 10.1 Tab. It's no secret that I'm a fan of Samsung products (especially tablets), and I give them a lot of props in my articles. But with a response like this, it saddens me that I have to call them out on a pure case of extremely poor customer service. However, this situation is apparently a lot more complex than what many might think it to be, and legally, Samsung is really in one hell of a legal bind.
Now keep in mind that I live in Berlin Germany, and that Apple recently sued Samsung over the Galaxy Tab 10.1. They basically said that "it looks too much like an iPad", and the court ruled it needed some design modifications. While I have my thoughts about the outcome of that case, I'll leave that for another time. Anyway, the product was pulled from all shelves in Germany, and forced Samsung to go back to the drawing board to make some design changes to the device. They made the changes, and shortly after it was back on store shelves. The changes were minimal, but in my opinion they were changes that did take away from the original beauty of the tablet.
Now I had been debating a long time on getting either a Motorola Xoom, or a Samsung Galaxy Tab, and in the end I decided for the Samsung model, and I LOVE IT (NICELY DONE SAMSUNG!). I got my tablet literally DAYS before the ban went into effect, so I was lucky enough to get one of the original models. But then, literally weeks later, I noticed a tiny spot in the center of my tab that looked a bit like water had gotten under it. After doing some research, it turned out to be a problem that Samsung is well aware of, as a large number of people who purchased the tab had the same problem (even the model here in our office has it too). It turns out that it's not water under the screen, but something known as a "Newtons Ring". The issue appears to be caused by heat from the device and becomes worse with prolonged use. Samsung responded by saying:
"Samsung Electronics Philippines Corporation is aware of limited number of customers who have experienced "watermarks" appearing on the screen of theirGALAXY Tab 10.1. Affected customers are encouraged to contact the Samsung customer service center at 5805777 to receive further assistance. Samsung is committed to providing a high-quality experience for its mobile users and fulfilling our complete commitment to customer satisfaction".
"Complete commitment to customer satisfaction". Fair enough.
Now I personally purchased my Tab from a massive online store called Otto. Great company, and I've dealt with them for years. But when explaining my tab problem, they obviously were unaware of what Samsung stated about the problem and told me "You have either spilt something on the tablet, or used it too much", which translated is "we won't replace it" (These guys obvioulsy don't know how much I BABY my Android devices). I then noticed on XDA that from the large amount of people having the issue, many had resolved it by contacting Samsung directly (as Samsung encouraged them to do), and promply got either a new tab, or a newly designed screen that solved the issue. So that's what I did, and here's where it gets bad.
I contacted a colleague of mine here who has direct contacts with Samsung Germany, and sent 2 pictures of the massive ring (have a look at the photo on the top of this article and tell me that spot isn't HUGE) directly to Samsung. I got my hopes up, as I was confident Samsung would replace my practically brand new but defective product. It didn't bother me that I could only see the spot when the tablet was off or had a dark image on it. It was defective, and I wanted it replaced..PERIOD. And now here it is...the response I received directly from Samsung:
" Due to the legal reasons regarding this being the now illegal model and not the new "German version, we cannot directly help in regards to this matter. Otto can reach us on this number (X)". (The issue is also that Otto, the company I bought it from, is also legally not allowed to replace it with the model I currently have, and I can see I'm gonna have to fight with them to get anything done about this).
Umm....sorry what? Kind of strange to make a statement saying that as a company you're aware of the issue, only then to say that nothing can be done about it? I HATE that Apple won that case in court, but, and to be blunt about it, it's not my fault that it happened. So why am I being punished for it? Am I not legally entitled to a replacement under German consumer law just like EVERY other product I buy? I mean common, if I call a company as massive as Otto and explain to them that Samsung knows about the problem, and that they should contact them under the CONSUMER customer contact number that they will take me seriously?
Now maybe if I had purchased this from a store that I could walk into that it would have been easier. But then again, they could also just say I spilled something on it or used it too much (what is using it too much anyway? I didn't know that screens could be damaged from a few weeks of use..pffffft). But as many products that are purchased online, I didn't think it would be such a huge problem.
All I can say is, this is NOT over. SOMEONE has to LEGALLY replace my tablet. Luckily, I have a temporary solution for the problem that keeps the spot away for weeks at a time now. But every time it comes back, it just angers me that I have to literally go through the process of powering it off, blowing into the connector hole to shrink the ring, put the tablet in the refrigerator for 45 minutes to get it to go away, and then leave it powered off for 24 hours (this works for a few weeks until I have to do it again). I shouldn't have to do that for a product I paid over 600 Euros ( almost 800 US Dollars) for. My condolences for Samsungs legal woes, and I stand behind you 1 million percent in your battle against Apple. But please don't take the results of that battle out on the consumer. There has to be a better way.
UPDATE (April 18th) - Samsung agreed to replace my screen, and I received the tablet back from them a few weeks ago with a note saying the screen was replaced. So far, no spot at all! Thank you Samsung! :-D