Xperia Z Ultra hands-on review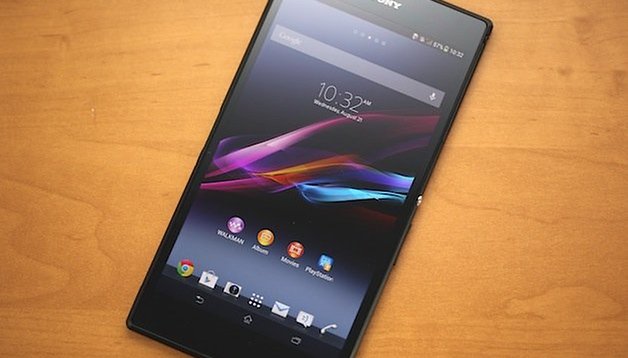 Phablets are getting to be all the rage. They're a bit too big to be a smartphone and a bit too small to be a tablet but they definitely fill a niche that people are itching to get. With their latest iteration of in their Xperia line, Sony has recently released the Sony Xperia Z Ultra and we managed to get our hands on one. Here's our hands-on review of the device.
Good
display

usable with pencils etc

performance

water-resistant
Sony Xperia Z Ultra design and build quality
The Sony Xperia Z Ultra is huge compared to a normal smartphone: nearly 18 centimeters long and 9 centimeters thick. What more, despite the large size it still remains quite compact when it comes to its thickness, coming in at a respectable 6.5 mm.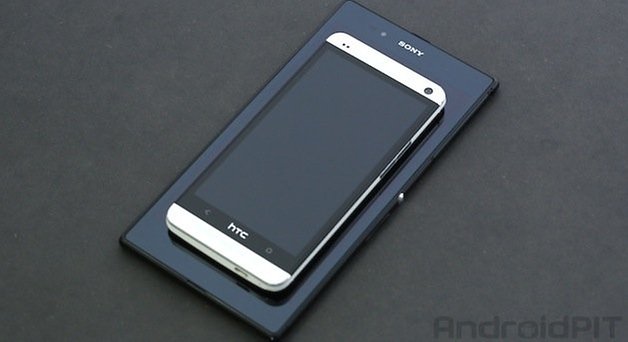 One of the biggest things we found when we first got to try out the Xperia Z Ultra is that using it with one hand, despite the reduced thickness, is extremely difficult. You can barely get your thumb halfway across the display if you hold it in the "traditional" one handed smartphone maneuver. And when you pick it up in two hands, your initial inclination is to hold it in landscape mode as if it were a tablet.
The shapes and design of the device follows Sony's Omnibalance criteria that is seen in the majority of their devices. While the corners follow the same design and have a softer rounding to them, as well as excellent assembly and construction, the device loses some of its ergonomic pizzazz due to its size.

Last but not least, the Xperia Z Ultra is water resistant up to a one meter depth (for 30 minutes) and is resistant to dust. The slots for the microSD, microSIM, and microUSB all have plastic covers while the audio output and dock connector do not.
Sony Xperia Z Ultra display
With a screen size of 6.4-inches there is certainly no complaint about its size here. With its 16:9 aspect ratio, The Ultra Z seems to be made to view media and web-content with ease on a Full HD LCD screen. The resolution itself is on the upper scale, coming in at 342 ppi. However, much like with most Sony devices, the colors could be more vivid and have a little bit sharper contrast but it definitely comes down to a matter of taste.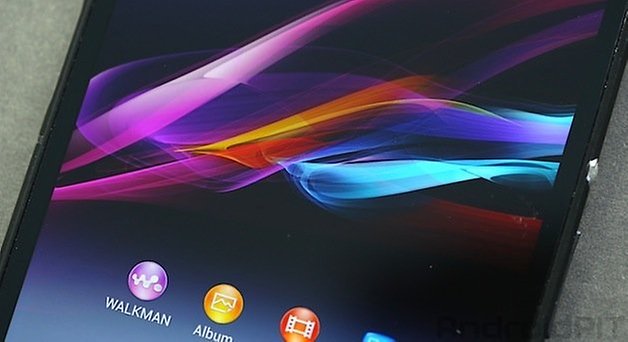 The brightness isn't that great but it is enough to see well even in the outdoors. One of the biggest downsides I found with the display is that the angle of vision isn't great for the Xperia Z Ultra: the more you tilt the device the worse the display contrast gets.
The Xperia Z Ultra doesn't come with a self-fashioned stylus, much like Samsung's devices, but is compatible with most after-market styluses. As well, you can even use pencils, pens, or simply a finger to act as a stylus if you need to. Just be aware, not all of them work in the same way as tests with a pencil didn't really come up with great feedback results.
And while the bezel is extremely small (usually this is a good thing), it gets in the way a bit when you're trying to write on the device and it's not on a flat surface. If you're holding it while trying to use a stylus, you'll find you might inadvertently hit a button and change screens inadvertently.
Sony Xperia Z Ultra software
The Sony Xperia Z Ultra comes with Android 4.3 in the coming weeks. The interface is roughly the same that we've seen on the Sony Xperia Z with a handful of Sony apps pre-installed.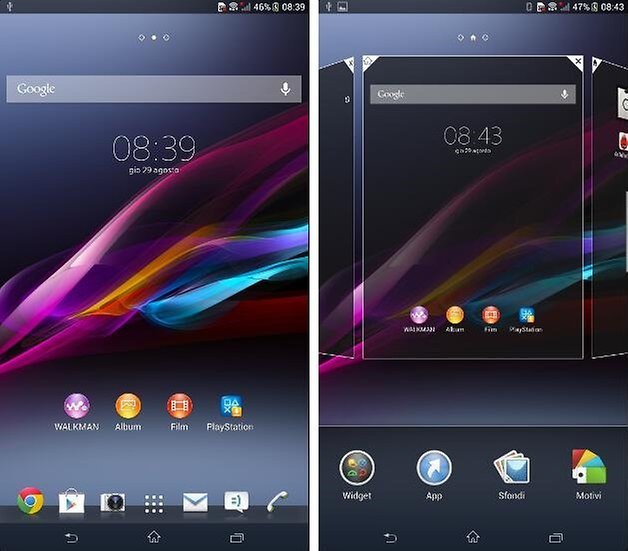 One handy feature to help facilitate one handed use on this unwieldy phablet is that you can move the keyboard to either the right or left side of the display.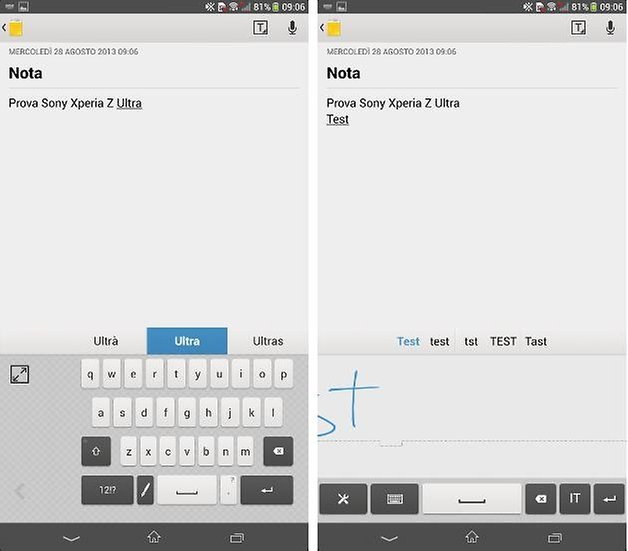 Sony Xperia Z Ultra performance
A Qualcomm Snapdragon 800 is found inside and powers this behemoth. Memory intensive apps and game run with ease and we never experienced any signs of lag when going through the rigors with the Xperia Z Ultra. On the benchmark test that we performed for the device, it ranked the highest out of the pack.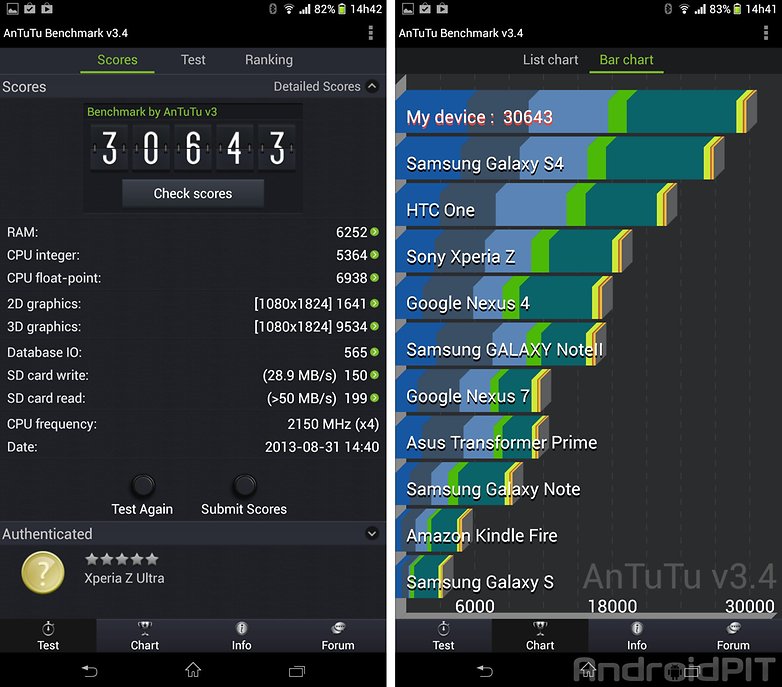 Sony Xperia Z Ultra camera
One of the most interesting features or lack thereof, is the camera on the Z Ultra. With a 8-megapixel camera found on the rear, without a flash, we're guessing that Sony just didn't figure that a phablet was the type of device that required a little bit more when it came to the camera department.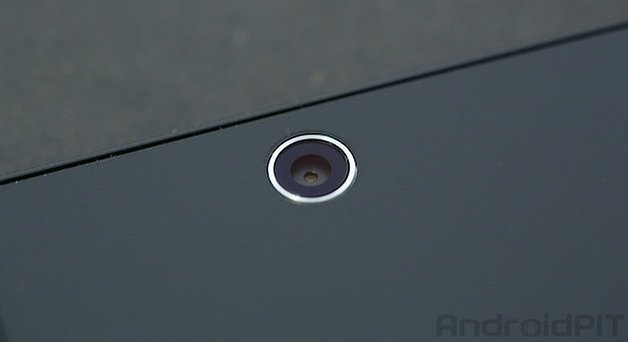 Photos taken from the Xperia Z Ultra are okay, but certainly not on the level with other Android device cameras. The colors while not being very natural do come across as crisp (as long as the light settings are good). Anything else and you find you're capturing pictures with low levels of contrast and a mediocre zoom level.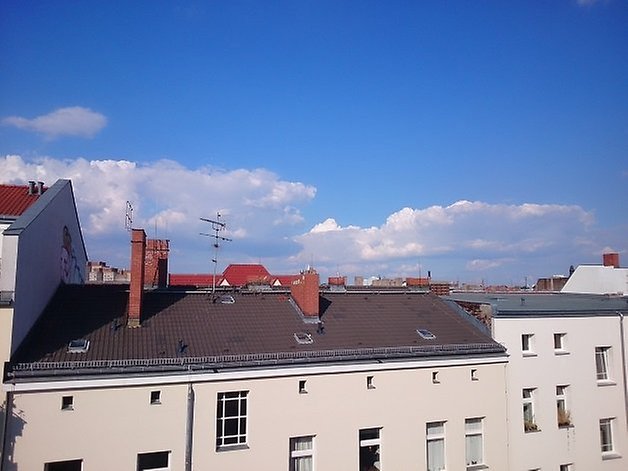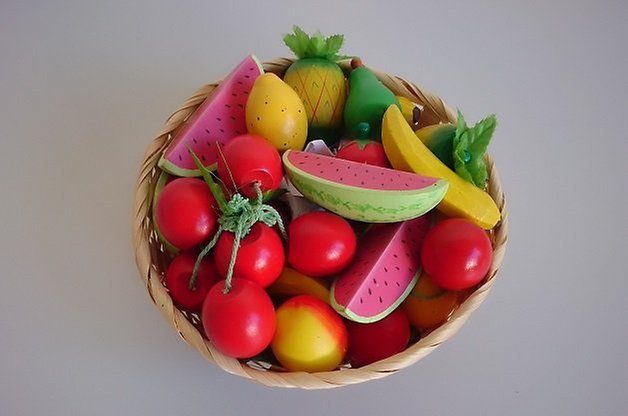 Sony Xperia Z Ultra battery
With a 3050 mAh battery, the Xperia Z Ultra definitely handles usage throughout the day. With an established time of 14-15 hours, it handled our use pretty easily even when we were using the web, playing games, and taking photos throughout the entire time. A huge use of GPS or network data will cause a significant drain in the battery time, but we didn't have any issues. Still, when it comes to batteries, the Galaxy Note 2 is still the king of the castle.
Sony Xperia Z Ultra technical specifications
| | |
| --- | --- |
| Dimensions: | 179 x 92 x 6.5 mm |
| Weight: | 212 g |
| Battery size: | 3050 mAh |
| Screen size: | 6.4 in |
| Display technology: | LCD |
| Screen: | 1920 x 1080 pixels (344 ppi) |
| Front camera: | 2 megapixels |
| Rear camera: | 8 megapixels |
| Android version: | 4.2.2 - Jelly Bean |
| User interface: | Xperia UI |
| RAM: | 2 GB |
| Internal storage: | 16 GB |
| Removable storage: | microSD |
| Chipset: | Qualcomm Snapdragon 800 |
| Number of cores: | 4 |
| Max. clock speed: | 2.2 GHz |
| Connectivity: | HSPA, LTE, NFC, Bluetooth 4.0 |
Final verdict
Needless to say, the size of the device should be the first thing you should take into account if you're thinking of buying a Sony Xperia Z Ultra. Given that you can't easily wield it with one hand, the device finds a place somewhere between a smartphone and a tablet.
The performance is superior to any device of comparable size and the display blows to closest competitor, the Galaxy Mega, out of the water. The only real downside for us? The sub-par camera and higher than average price (upwards of $650).