Xiaomi Mi MIX 2S review: What every brand should copy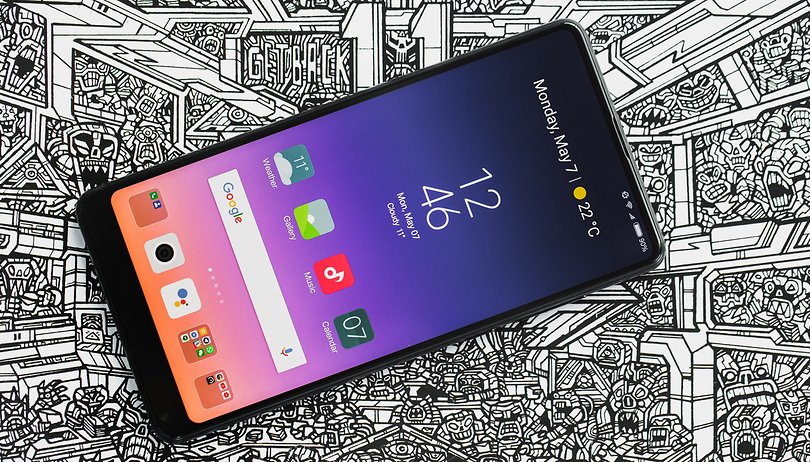 Xiaomi formalized its new smartphone from the MIX series in Shanghai at an event dedicated to presenting the world to a new smartphone. It's bezel-less on three sides, comes without the notch and once again offers top technical features. It's more of an evolution of the previous model than it is a revolution, but the Xiaomi Mi MIX 2S was still able to amaze me. NEXTPITTV
Good
Unique design

Premium materials

Excellent camera

Long-lasting battery

High performance

Affordable price

Gesture navigation

MIUI (nice graphics and speed)
Bad
Front camera in unusual place

Frame gets dirty without a cover

High weight

MIUI (no Android stock)
How to get the phone
The smartphone is already available for purchase in Asian countries, where Xiaomi is primarily active. It's not available yet in the U.S. and Europe, but you can purchase it from some importers for less than $600. That's not as cheap as you can get it in China, but it's still an extremely competitive price.
A work of art
The MIX series has always been characterized by its unique design. The MIX 2S is no exception, even if there are no visible innovations compared to the previous generation. The glassy black back is ceramic and feels excellent when you hold it. It's fresher than the classic glass now used by the majority of top-range devices. Of course, ceramic materials are more fragile and sensitive to impact, but it's more scratch-resistant than glass.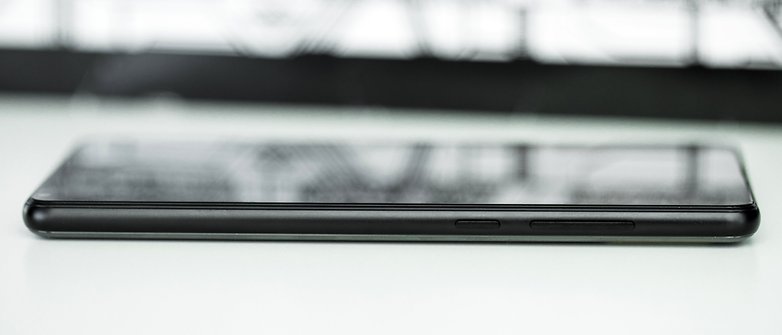 The edges of the smartphone are aluminum and for the time being Xiaomi hasn't announced a special edition with a body and edges made from the same ceramic block, which they did release on the Mi MIX 2. The device feels great in your hand thanks to the rounded design, even if the overall weight at around 200g makes it tiring to use with one hand for long or when you're lying down.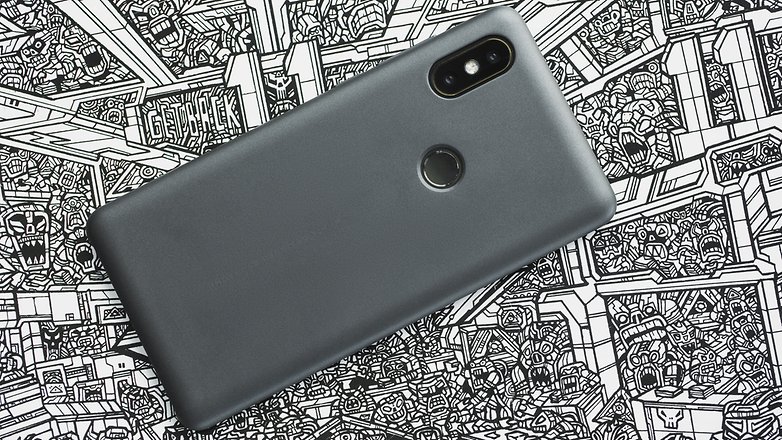 The accentuation around the camera and the "MI MIX DESIGNED BY XIAOMI" in gold add a touch of elegance to your smartphone. The fingerprint reader on the body is well positioned and large enough to be used naturally. The MI MIX 2S is also very slippery, so I would recommend using a cover. You'll find one inside the package that protects your smartphone with a rubberized cover that's thin and non-invasive.
The main speaker is located on the bottom of your smartphone. Mi MIX 2S has the ability to play stereo audio using the headphone jack located in a small slot above the display. The ultrasonic proximity sensor is integrated behind the display, and I have to admit from to time to time that it was difficult to listen to WhatsApp messages without using speakerphone.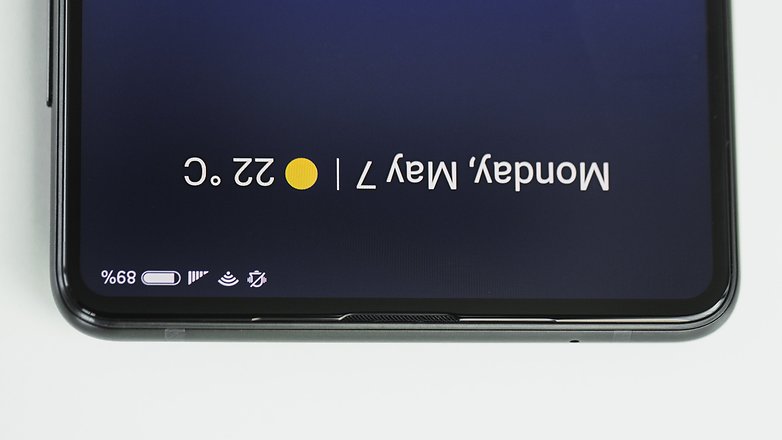 Bezel-less done right
The trend toward bezel-less design started with Xiaomi Mi MIX and the Chinese company certainly won't change this up. The manufacturer hasn't succumbed to integrating the notch (as all other manufacturers are doing). The Mi MIX 2S uses an IPS panel in a 18:9 format with a 5.99-inch display that's protected by Gorilla Glass 4, as is the case with the previous model.
The upper side and the sides around the display have disappeared (although it's slightly more pronounced than the first Mi MIX), while the lower edge containing the front camera and the hardware needed for the display still remain. The location of the front camera doesn't really bother me. I think it's a fair compromise, since this way I can enjoy the beautiful, notchless display on the MIX 2S. Although I don't mind a notch when it's used as intelligently like on the iPhone X, I appreciate this solution much more.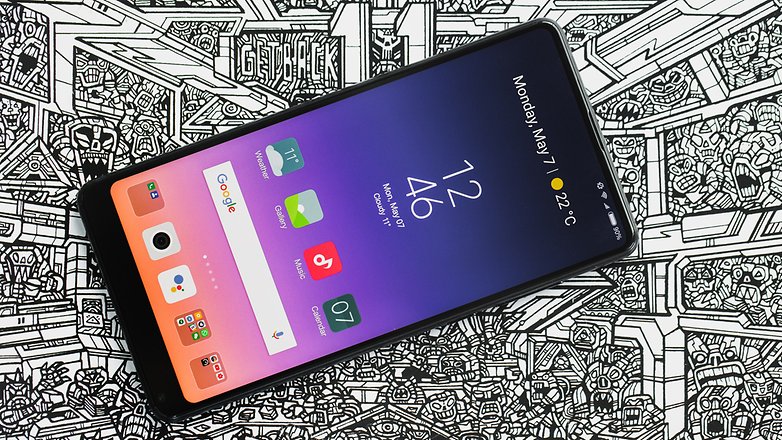 The display resolution is 1080 x 2160 pixels, but is more than sufficient if virtual reality viewers aren't used. The IPS panel has excellent workmanship and covers the DCI-P3 color space with no problems, the colors don't change when you tilt the display and the whites are bright. Unfortunately, the blacks suffer and Xiaomi is one of the few manufacturers that don't use an Always on display on its flagship model.
MIUI is always MIUI
There are no surprises on the software side. The smartphone comes with Android 8.0 Oreo with MIUI v9 customization. Xiaomi knows its software and MIUI is one of the most graphically accurate skins ever created on Android.
For those who don't know Xiaomi was born as a software company before it was a hardware company, and MIUI was their first product from Android Froyo. MIUI has been through many of the versions of Android and it has gradually evolved and transformed along with Android itself. This has formed the basis for it to reach its present day form as mature and well-made software.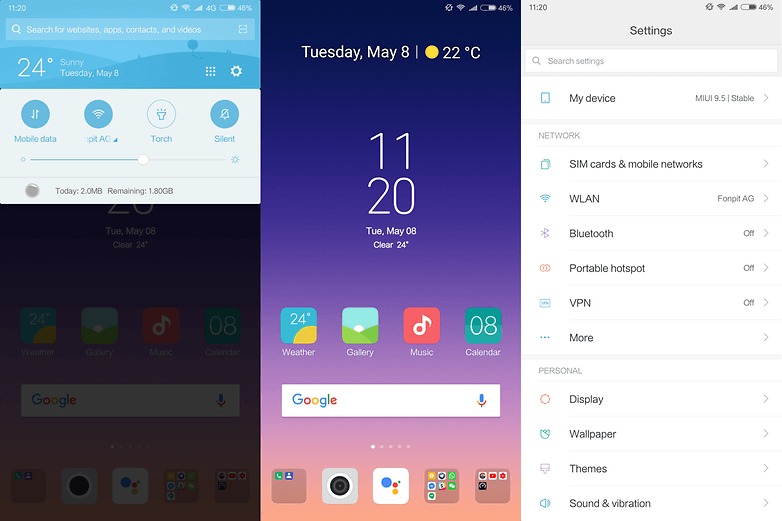 When you use MIUI you can sense the development team's attention to every detail. Every animation is perfectly studied, every element is well inserted in the UI and nothing is delayed. In my opinion, it is perhaps the most accurate Android skin ever, but to really appreciate it, it's not enough to just take pictures, you need to use it for a while.
There are many additional features and all the system apps have been redesigned from scratch following the MIUI design lines. It's full of pastel colors and light backgrounds. It's true, it's not Android stock: the smartphone is fast, snappy and pleasant to look at. You'll have to deal with the lack of an app drawer (a problem that can be solved with a custom launcher) and some pre-installed services in Chinese, but it's worth it.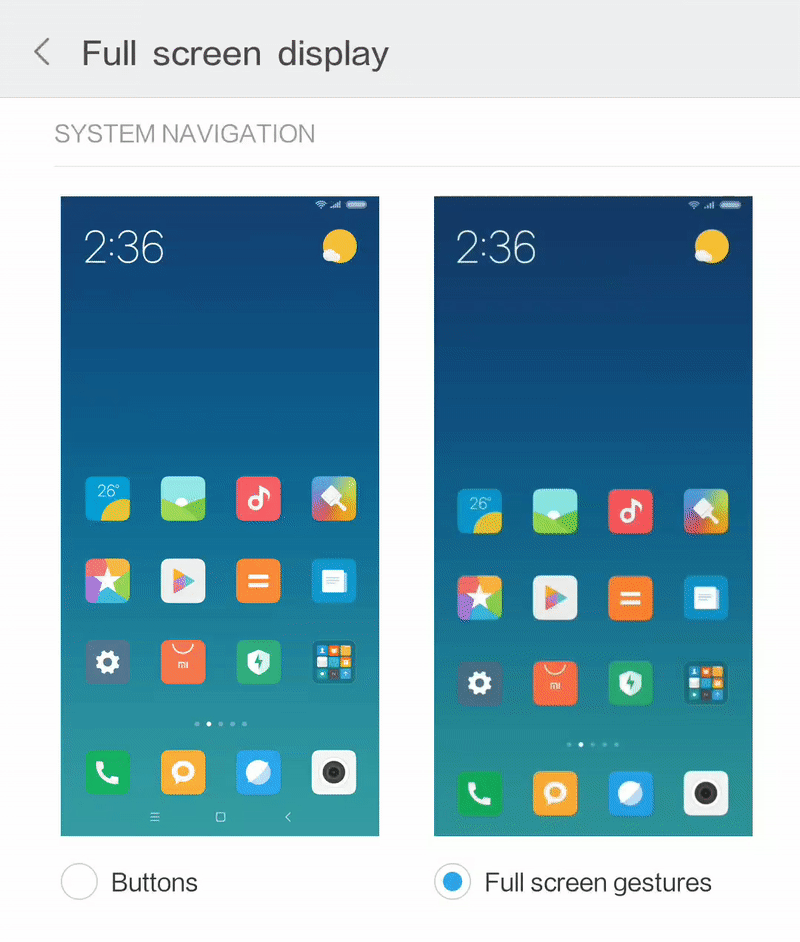 Mi MIX 2S also has a gesture navigation system, similar to those already seen on iPhone X, OPPO R15 Pro or OnePlus 5T. You can disable this system and use the classic navigation bar with three buttons if you wish, but I must admit that after three weeks in the company of iPhone X and other smartphones that use these gestures are convenient, fast and intuitive. This is a matter of taste, I suggest you try them out for a while before you make a purchase.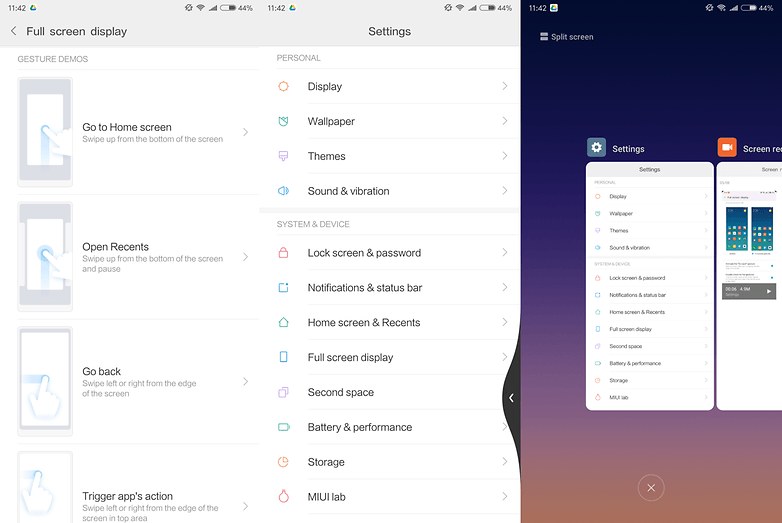 Xiaomi Mi MIX 2S performance
Xiaomi has amply anticipated the arrival of the smartphone with a series of teasers, which included the following:
Can you guess what is coming? pic.twitter.com/Gd10g3OsFf

— Mi (@xiaomi) February 25 2018
The company announced the chip's unparalleled performance in the Xiaomi Mi MIX 2S, and according to our tests, these are well-founded claims. The chip behind this device is a Qualcomm Snapdragon 845 with an octa-core CPU (4x2.8 GHz Kryo 385 Gold and 4x1.8 GHz Kryo 385 Silver), Adreno 630 GPU and 6GB or 8GB or RAM.
In the following table, you can see MIX head-to-head with Xperia XZ2 and XZ2 Compact equipped with the same SoC. For a comparison, you'll also find the Galaxy S9+, which has the SoC Exynos chip:
Xiaomi Mi MIX 2S: benchmark results
Mi MIX 2S
Xperia XZ2
Xperia XZ2
Compact
Galaxy S9+
(Exynos)
3D Mark
Sling Shot ES 3.1
4211
4679
4437
3257
3D Mark
Sling Shot ES 3.0
6051
6160
5043
3910
3D Mark
Ice Storm Unlimited ES 2.0
61261
62739
48021
38302
Geekbench CPU
Single core
2462
2412
2435
3771
Geekbench CPU
Multicore
9021
8414
7164
8923
The smartphone (like the others with the same SoC) proves to be very strong with graphical benchmarks where Samsung's Exynos lags behind. The CPU side of the Korean smartphone performs significantly better in single core Snapdragon devices. Mi MIX 2S is the only one able to exceed (even if only slightly) the average score for multicore performance.
In everyday life there is no other way to describe the behavior of the device: it's damn fast and very responsive.
The MIX 2S has 64, 128, or 256 GB of non-expandable internal memory, Bluetooth 5.0 and 802.11ac WiFi. Xiaomi is continuing its commitment that began with the Mi MIX 2 to support all global bands for telephone and data networks. There are no nasty surprises with national or international 4G networks.
Xiaomi Mi MIX 2S camera
Xiaomi has done it. In recent years, the company's flagships have always been competitive in every aspect: price, performance, and build quality. There was always only one missing piece, the camera. But finally the company has decided to roll up its sleeves.
The Xiaomi Mi MIX 2S uses a dual camera: the company used a 12 megapixel Sony IMX363 sensor for the main camera with wide-angle f/1.8 aperture lenses and OIS optical stabilization. The secondary camera is 12 megapixels, but uses a telephoto lens with a f/2.4 aperture and doesn't have stabilization.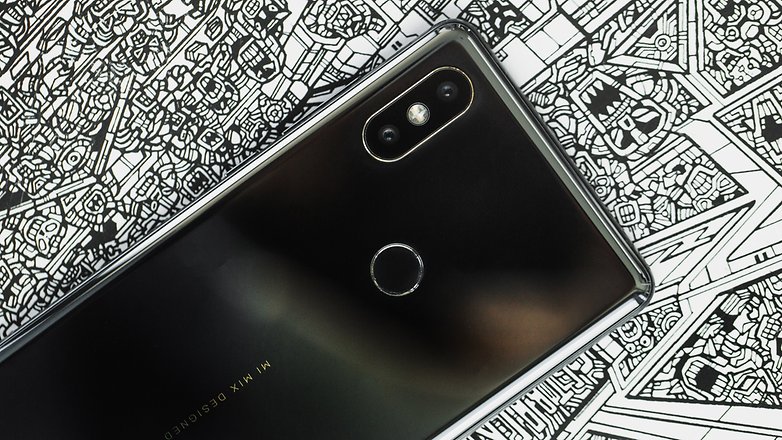 The camera provides top-notch results, and the main camera is one of the most complete and best smartphone cameras on the market. The photos are great in good lighting conditions, the HDR works well and has a fairly broad dynamic range.
The camera behaves strangely in the dark. In some situations (like outdoors), the photos are still sharp and detailed in low lighting. Shots in artificial lighting indoors lose detail, and often you'll take blurred photos, which is the camera's real weakness.
The shots obtained with the telephoto lens are good even if the optical stabilization would have helped, especially in the dark. The videos recorded in 4K and 30fps are good, but not fantastic, the optical stabilization combined with the electronic stabilization provides decent results, but not as good as the Pixel 2 XL.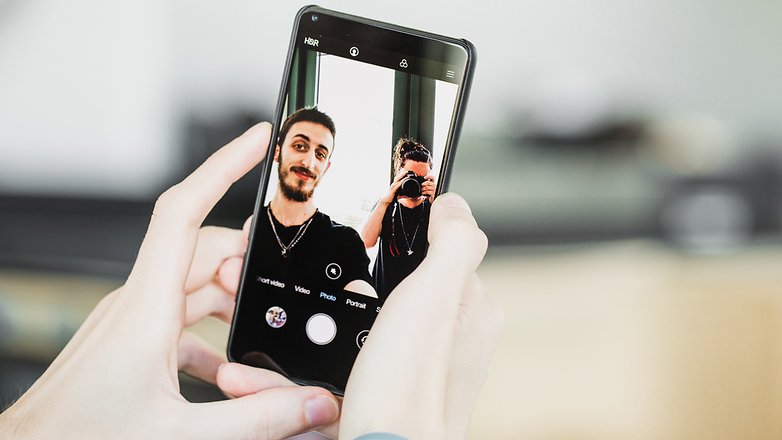 The dual pixel PDAF autofocus ensures that the subjects in your photos are always in focus quickly and easily. Xiaomi also integrated AI into its camera, although I haven't noticed any tangible improvement other than a slight change in the colors. Some rivals can certainly do this better thanks to AI, such as the Huawei P20 Pro.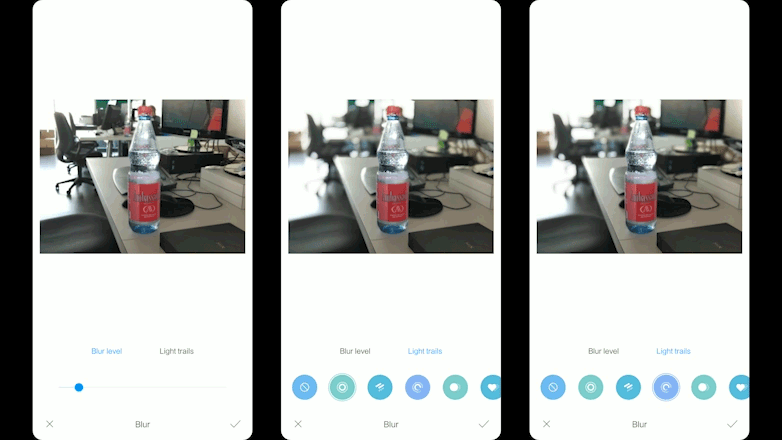 The 5-megapixel f/2.0 front camera could do better, and better results should be expected in 2018. If you're looking for a smartphone to primarily take selfies, you might want to look elsewhere.
With the well-maintained software, nothing can stop you
MIUI not only means attractive graphics and many additional functions, it also means optimization and refined energy consumption. As with the Xperia XZ2, I can assure you that the size of the battery isn't always a sufficient yardstick for the actual lifespan of your smartphone.
For example, the Mi MIX 2S is equipped with a lithium polymer battery that cannot be removed with "just" 3,400 mAh, but thanks to the accurate software of the Chinese company, the smartphone is formidable monster.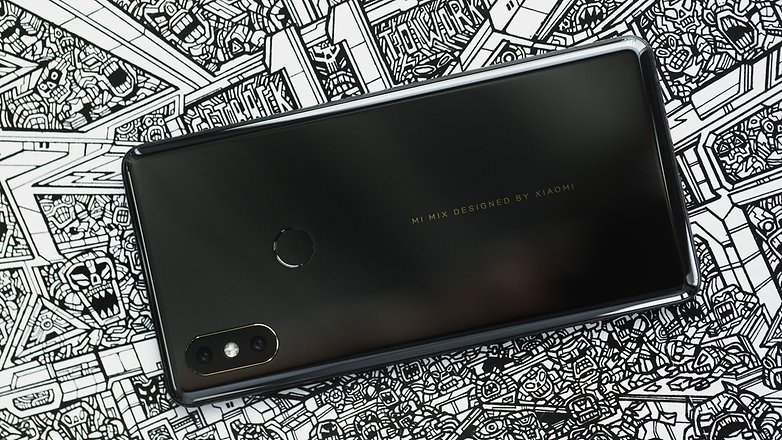 During my intense (but brief) testing period, my smartphone never disappointed me. Despite the fact that I'm often roaming, always have WiFi and Bluetooth on, and all the messaging apps of social media always open in the background, my smartphone has continuously guaranteed me 6 to 8 hours of screen time over one or two days without needing a charger.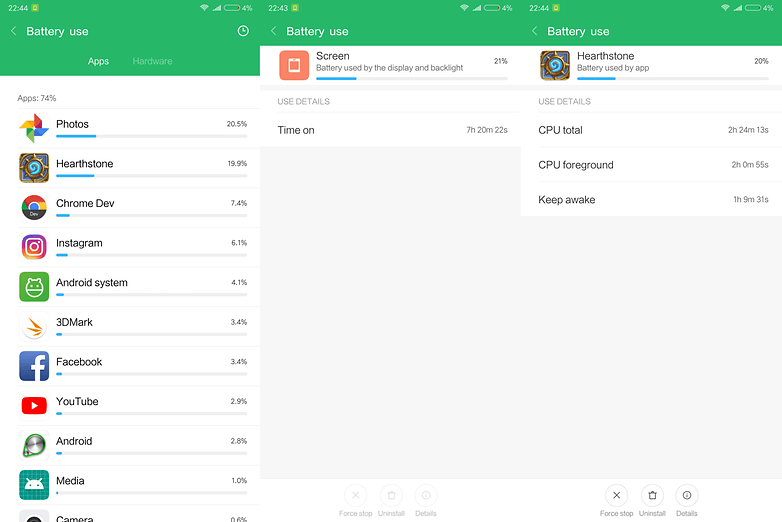 Quick charging is done using the included USB Type-C charger. It also features wireless charging with a Qi standard, which will delight many.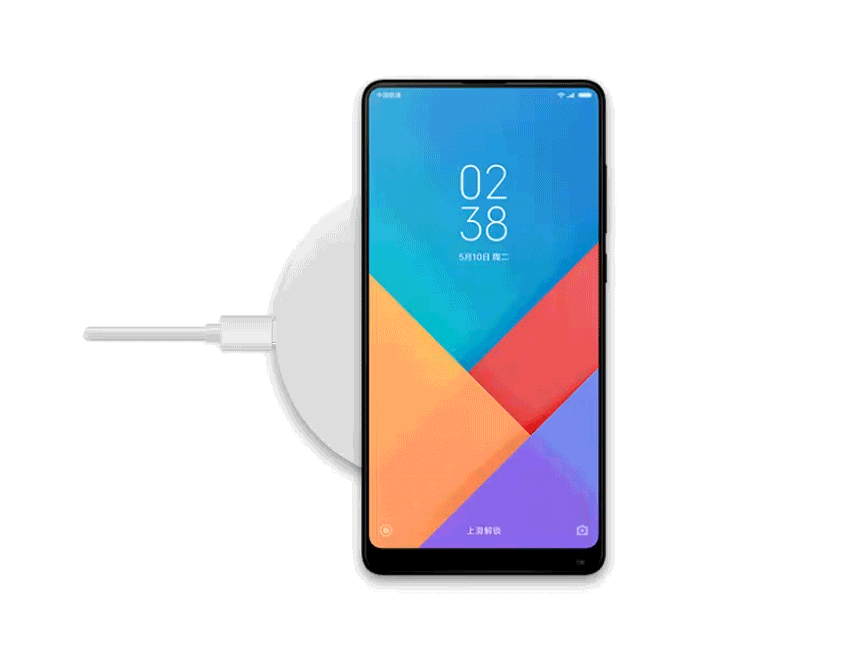 Xiaomi Mi MIX 2S technical specifications
Dimensions:
150.9 x 74.9 x 8.1 mm
Weight:
190 g
Battery size:
3400 mAh
Screen size:
5.99 in
Display technology:
LCD
Screen:
2160 x 1080 pixels (403 ppi)
Front camera:
5 megapixels
Rear camera:
12 megapixels
Flashlight:
Dual-LED
Android version:
8.0 - Oreo
User interface:
MIUI
RAM:
6 GB
8 GB
Internal storage:
64 GB
128 GB
256 GB
Removable storage:
Not available
Chipset:
Qualcomm Snapdragon 845
Number of cores:
8
Max. clock speed:
2.8 GHz
Connectivity:
HSPA, LTE, NFC, Dual-SIM
A smartphone worth every cent
The Xiaomi Mi MIX 2S is an excellent device with an almost unbeatable value for money. The smartphone's main competitor will be the OnePlus 6 with its notch and the Honor 10.
The design of the MIX 2S is enviable due to its high quality materials and the highest quality assembly. The thin edges around the display and the decision not to use the notch make Xiaomi's latest device unique and spectacular. The high performance profile and the double camera finally give MIX the final touch.
It's easy to fall in love with the Mi MIX 2S at first glance, and it's a great feeling to discover its other qualities. All in all, it's one of the best Android smartphones I've ever tried, and it's pleasing to the eye.