Android Go, not Android One, will deliver the next billion Android users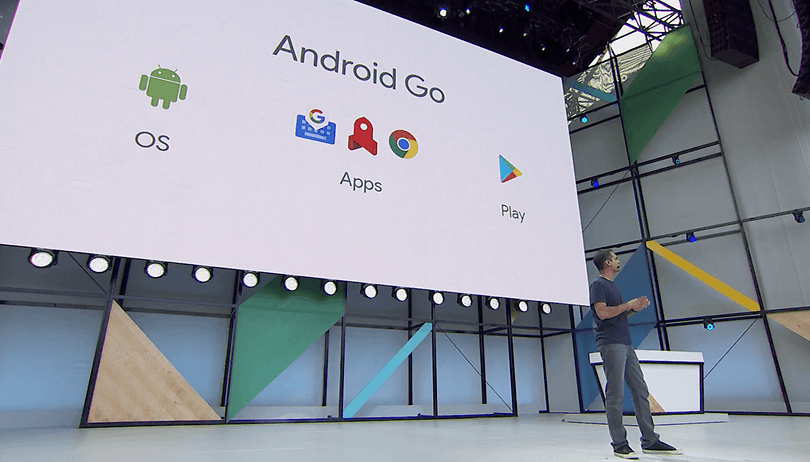 Sameer Samat, the Vice President of Product Management, Android and Google Play, officially unveiled the new Android Go at Google I/O 2017. Android Go will enable Google to offer the complete Android experience to users in developing countries and for consumers with low-end smartphones. Here are the details on Android Go, and how it differs from Android One.
What is Android Go?
Android Go will be launched with Android O, but will be an integral part of every Android version in the future. Every Android device with 1 GB of RAM or less will be able to use Android Go. Several key points of the operating system will be optimized and tweaked to take changed specs into account:
Android Go will have a new data counter, which will allow for better monitoring of data consumption.
Data Saver will be enabled by default.
The Play Store will be included with all available apps, but Android Go customized apps will be highlighted.
Gboard, Google's keyboard app, will have new translation features.
Google apps will be optimized for weaker chipsets and slower networks.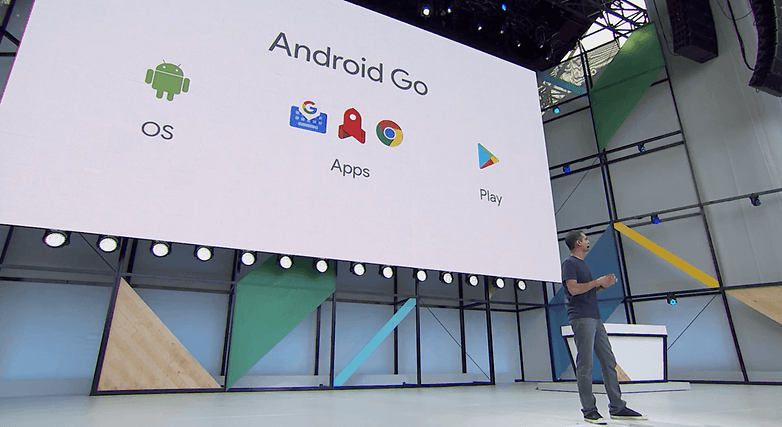 The measures undertaken to save and reduce data consumption should save an estimated 750 TB of data per day. Along with an Android Go-optimized Play Store, several "light" versions of apps will also hit the Play Store. The most notable being YouTube Go, which will contain a preview function so you don't have to start a video "blind" and waste data in the process. You will also be able to share videos offline between Android Go-enabled smartphones. Many third party apps (such as Facebook with Facebook Light) have already adapted their apps accordingly. The aim is to have app developers reduce the app size down to 10 MB, create a comparable user experience as well as enable an offline mode.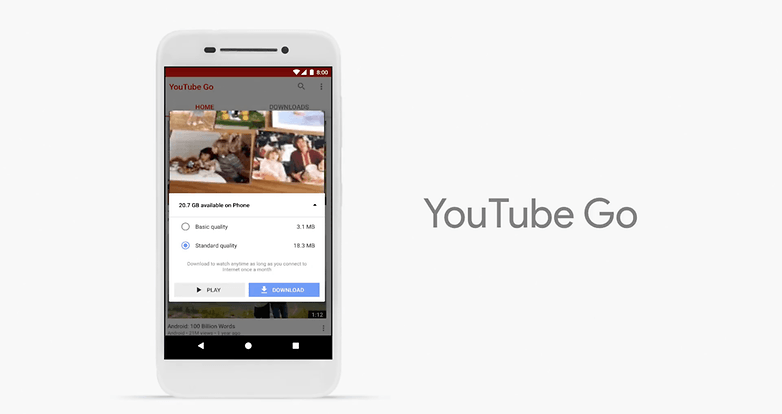 How is Android Go different from Android One?
When the first Android One devices were announced in India in late 2014, the goal of Android One was to offer affordable Android phones that cater to the needs of users in developing countries. In these emerging markets, the market isn't yet as saturated as in developed countries, so it presents a great growth opportunity. The newcomer Android Go has the same goal, but a different approach.
Unlike Android Go, Android One is a hardware standard created to deliver a better user experience on low-end hardware. Cheap Android phones are plagued by software that isn't optimized and hardware that isn't up to par, which makes for a sluggish experience that can be even worse than that of a simple feature phone. Android One lays out cheap components that manufacturers can use which ensure a smoother Android experience, and it requires that manufacturers all use a stock (unmodified) version of Android so that updates can be shipped quickly.
In addition to having the right hardware to get the job done, Android One has a lot to offer users who want to upgrade from a feature phone to their first smartphone: no bloatware, optimized software and guaranteed OS and security updates. But, according to Android One project lead Arpit Midha, putting hardware restrictions on partners to do these things "created a friction in the market that the partners were not happy with. And eventually we were not able to reach enough users."
Android Go will likely be more successful in acquiring users because it removes the aforementioned friction. Android Go focuses on making the software (the OS itself and apps) work well on cheaper, less powerful devices - without trying to limit compatibility and restrict partners' hardware choices. It approaches the same issue from another direction, while still keeping the original strengths of One, like speedy delivery of security updates.
Android Go won't be replacing Android One. One will focus more on middle of the market devices, while Go will target the lower end, or the "lowest common denominator" as Midha called it. Google has confirmed that Android One hasn't yet launched in the US, contrary to what Midha said at Google I/O. According to the rumor mill, it could launch by the middle of 2017 in America with a $200-300 device. Android Go will arrive worldwide alongside Android O, which will land in the third quarter of this year.
Android One focuses on hardware and the mid-range market, while Android Go focuses on software and the low-end of the market. Which approach do you think will be more successful in terms of acquiring new users? Let us know in the comments.