Sony Xperia Z2 review: a marginally better Z1?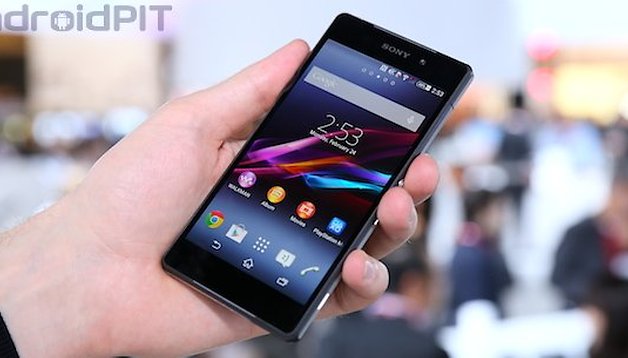 Sony has just presented the Xperia Z1 flagship, and this is our Xperia Z2 review. As soon as you see the Z2 you'll feel like you're in familiar territory, and indeed you are. The Z2 looks an awful lot like the Z1 and follows the same Omnibalance design language to a tee. The experience is very similar too, so you won't be seeing any major departures from what worked with the Z1. In this case, the Z2 really feels like an incremental improvement to the Z1 in many ways, with just a few eye-catching additions like 4K video and noise cancelling technology.
Design and Manufacture
There's not too much to say about the aluminum and glass design and build quality of the Z2 that you wouldn't already know from our Xperia Z1 review. The same seamless construction, solid build quality and premium feel is carried over perfectly. Having said that though, there's not really anything design-wise to get excited about other than the removal of the plastic inner layer between the aluminum and glass on the Z1. The Xperia Z2 is marginally thinner and slimmer than the Z1 but 2.4 mm taller, meaning it can squeeze in a 5.2-inch display compared to the Z1's 5-inch screen. The Z2 is also over 10 grams lighter than the relatively hefty Z1 (something we noted as a move backwards in our Z1 review). In this regard the Z2 feels how the Z1 should have felt.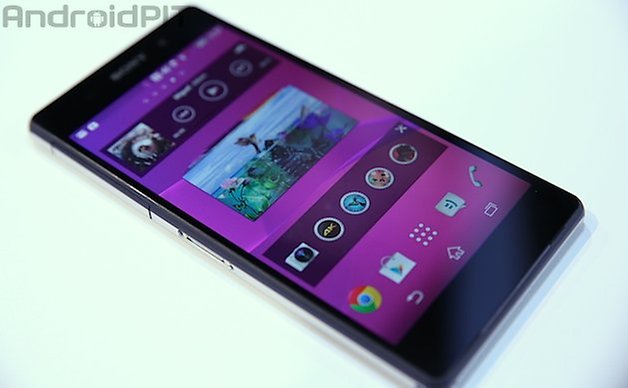 The physical camera shutter button returns, as does the trademark Sony power button and all the ports are in Z1 locations (you'll remember that with the Z1 Compact Sony shifted all the ports to the one side). Sony seems to have back-peddled a little on the notification LED, which is larger and brighter than the Z1 but still housed up top in the earpiece speaker. The Xperia Z2 is just as watertight and dustproof as its predecessor, with an IP55/IP58 waterproof rating – that's a half hour submerged under a meter and a half of fresh water – and IP5X dust rating.

Hardware
As far as hardware goes, there's also not much to report. The Z2 has a marginally faster Snapdragon 801 processor at 2.3 GHz and the same internal and expandable storage options as the Z1. The Xperia Z2 does, however, get a significant RAM boost to 3 GB, putting it on a par with the Galaxy Note 3. The camera hardware is the same too, with that whopping great 20.7 MP shooter – let's just hope it performs better under test conditions than our experience of both the Xperia Z1 and Z1 Compact. I was informed that Sony is not aware of any camera issues on these devices, but for us it's already two for two.

Of course, the major selling point for the Z2 is 4K video capture at 3,840 x 2,160 pixels, playable at lower resolution on the device or at full-resolution on a 4K television via MHL. 4K recording consumes roughly 300-350 MB per minute of recording time. Sony rightfully calls the 4K technology "future-proofing" your videos, even if you can't watch them now, either on the device or your current TV. Further improvements to recording are made with slow-motion capture at 120 fps. There's also a minor increase in battery capacity to 3,200 mAh, which will probably be cancelled out by the mild increase in display size.
Display and Sound
Where the display is concerned, it's a mixed bag. The diagonal increases to 5.2-inches, but maintains the same Full HD resolution, resulting in a lower pixel density per inch. As far as image quality is concerned though the Z2 has a significantly better screen than the rather lackluster Z1, which was and is a big issue with that device. Contrast ratios are improved on the Z2, as are viewing angles, and the result is significant. But really, the Z2's display is what the Z1's should have been from the start.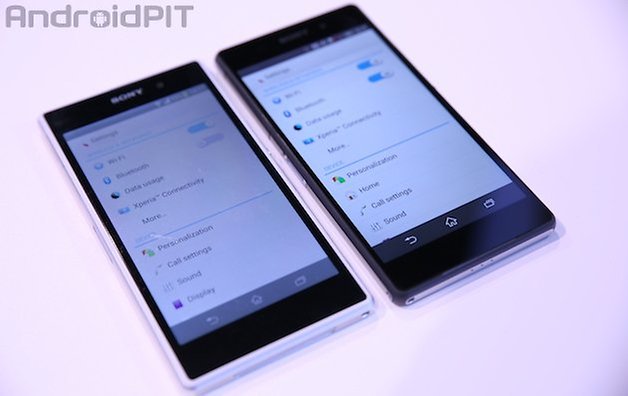 The inclusion of Android 4.4.2 brings transparent system bars which are always nice to see. There's solid audio through the stereo speakers located on the bottom edge of the device along with the earpiece speaker. The Z2 brings noise cancellation to the mix with Sony's xLoud Experience and ships with noise cancelling headphones that can be customized to various noisy environments, reducing external noise by 98%. These headphones alone are worth 69 USD/60 EUR if sold separately.
System and UI
There are quite a few UI tweaks thanks to the inclusion of KitKat that we'll go into in greater detail when we review the device fully, but much of it you would have already seen in the leaked Sirius software video. There's full support for the Smartband wearable and the Z2 ships with the Lifelog app, which is kind of like an e-diary or private social network that logs absolutely everything you do. While at first it seems a little weird it might have its uses depending on just how much of your social interactions, web searches, music tastes, photography and even WhatsApp commentary you want logged for future reference. You can even watch your life flash before your eyes with a playback feature sort of like a really invasive version of Google's Auto-Awesome movies.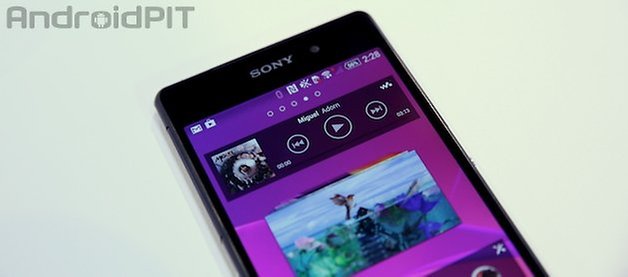 The camera software has some new additions, like the availability of third-party apps like Vine and Instagram from within the Sony camera app. The software runs smooth as silk and feels nice and responsive, launching the camera quickly and handling transitions and video nicely. However, the Z2 kept crashing when I tried to launch the Anti-Theft app, so it's not perfect. The Quick Settings are also laid out differently and, along with the status bar icons, are customizable. You've also got Glove Mode, X-Reality for mobile and Sony's Stamina Mode for power management.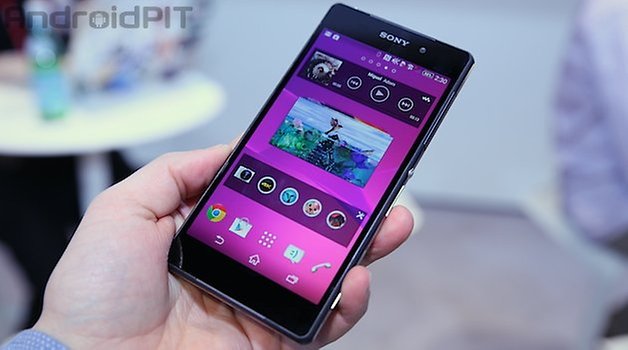 Tech Specs
| | Xperia Z2 | Xperia Z1 |
| --- | --- | --- |
| System | Android 4.4 | Android 4.3 |
| Display | 5.2-inch, Full HD TRILUMINOS display (1,920 x 1,080) | 5-inch, Full HD TRILUMINOS Display (1,920 x 1,080) |
| Processor | Snapdragon 801, Quad-Core, 2.3 GHz | Snapdragon 800, Quad-Core, 2.2 GHz |
| RAM | 3 GB | 2 GB |
| Battery | 3,200 mAh | 3,000 mAh |
| Internal storage | 16 GB, microSD up to 64 GB | 16 GB, microSD up to 64 GB |
| Camera | 20.7 MP (back), 4K-Video | 20.7 MP (back) |
| Dimensions | 146.8 x 73.3 x 8.2 mm | 144.4 x 73.9 x 8.5 mm |
| Weight | 158 Gramm | 169 grams |
| Connectivity | UMTS HSPA+, LTE, Bluetooth 4.0, NFC, WI-FI, USB 2.0 | UMTS HSPA+, LTE, Bluetooth 4.0, NFC, WiFi, USB 2.0 |
| Price | 599 Euro (UVP), market start in March | 475 Euro (Amazon) |
Conclusion
The Xperia Z2 feels like a marginally better Z1 – as I said above, it can almost be considered to simply be what the Z1 should have been. It is in no way a significant successor to the Z1 other than for 4K video capabilities; while noise cancelling technology and that better screen is nice, it's not enough to warrant the "successor" tag in my mind. On the other hand, my colleague Camila Rinaldi feels that the Z2 is significantly different to the Z1 in subtle ways, but perhaps she is more attuned to and forgiving of Sony's conservative approach. Without a doubt, the Z2 is a better device than the Z1, but anyone looking for a radical departure or serious hardware improvements should look elsewhere. Of course, if you already have a Z1, you're not really missing out on too much.
What do you think of the improvements in the Z2? Do you think they are enough to count as a flagship successor or simply as a re-released Z1?