Sony Xperia Z3 vs Samsung Galaxy S5: same same but different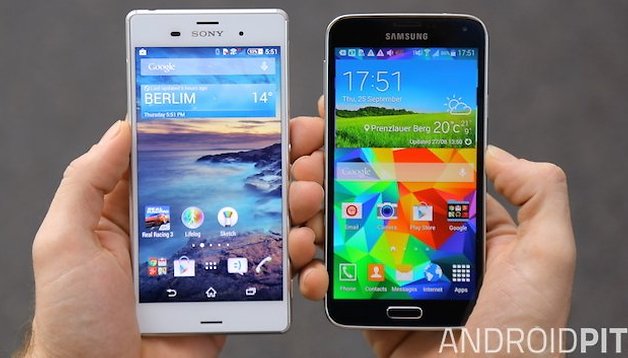 Despite both being great devices, both the Samsung Galaxy S5 and Sony Xperia Z3 were received with groans of complaint that they were only a marginal upgrade on their predecessors, the Galaxy S4 and Xperia Z2. In Sony's case, this is much closer to the truth, as the Xperia Z2 appeared only six months prior to the Z3 and Samsung has been accused of this for years. Perhaps this is simply a symptom of unrealistic expectations though, as both devices are outstanding examples of the best that Android has to offer. But which one is the better smartphone?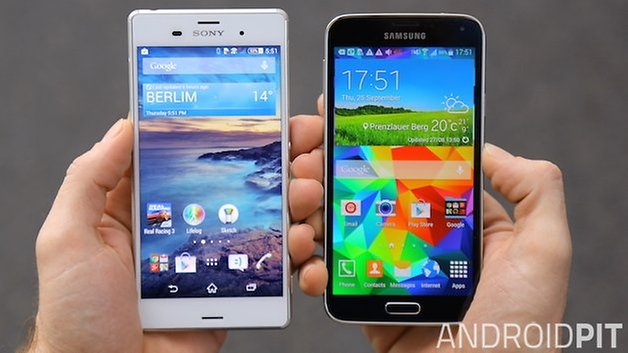 Xperia Z3 vs Galaxy S5: Design and Build Quality
Both the Xperia Z3 and Galaxy S5 make minor changes to a pretty familiar style we've seen in multiple previous generations. The Z3 adds a brushed aluminum frame and rubberized plastic bumpers for added shock absorbency on the corners, but all things considered, it's pretty much the same Xperia look we already know. The Galaxy S5 may have tweaked the corners and switched up the rubberized plastic texture on the back, but again, there's not much here to distinguish it from any other Samsung device.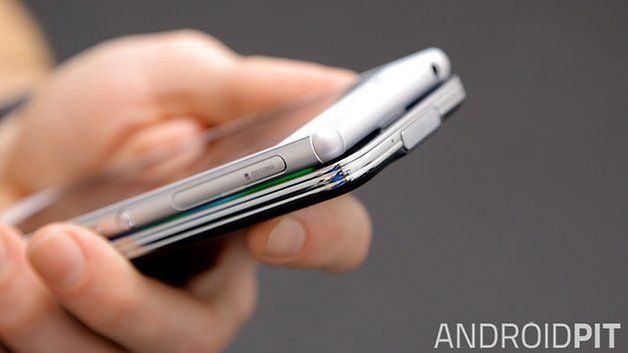 The Xperia Z3 has adopted a more hand-friendly feel with rounded edges but the front and back are still nice plates of glass with the familiar camera lens placement and hardware buttons, including a dedicated shutter button. The Galaxy S5 opts for a ribber plastic trim with more rounded corners but again, goes hand-friendly with the textures back panel, which is removable. The S5 has the usual hardware button placement and physical home button, although this time it also houses a finger scanner.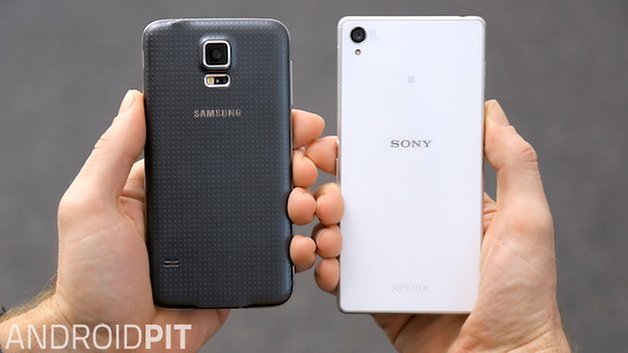 The S5 pops a heart rate monitor and dual-LED flash on the back underneath the slightly elevated camera lens, and the speaker is located at the bottom left hand corner as usual. The Z3, on the other hand, has front-mounted stereo speakers and a single LED on the back. Both devices support microSD expansion: the Galaxy S5 under the removable battery cover, and the Xperia Z3 under a waterproof flap. Both devices have waterproof flaps over their microUSB charging ports. Both phones have uncovered headphone ports up top, but the S5 packs also packs an IR blaster whereas the Z3 does without.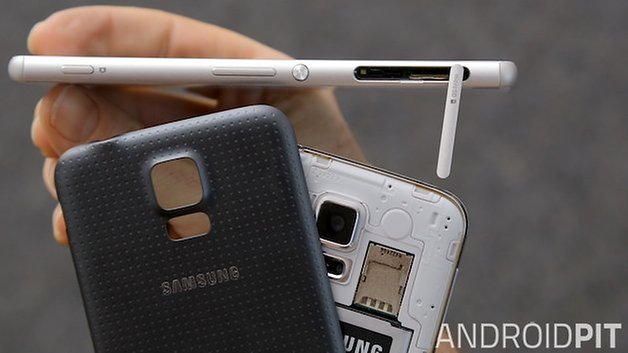 Both devices are nicely put together but the Xperia Z3 is a much better looking phone. Combined with the added protection of its better IP rating and arguably nicer material choices, the Xperia Z3 feels more sturdy and refined than the S5. On the water front, the Xperia Z3 has IP65/68 certification compared to the Galaxy S5's IP67 rating: this means both devices are dustproof but the S5 is water resistant in up to one meter of fresh water for 30 minutes, while the Z3 can withstand jets of water (say, from a tap) and continuous submersion in over one meter of fresh water.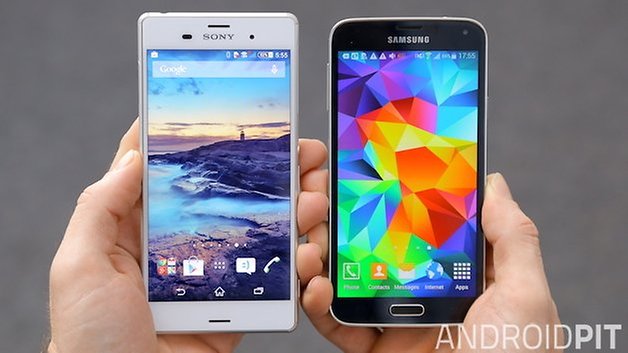 Xperia Z3 vs Galaxy S5: Display
There's not much in it in terms of display: the Xperia Z3 has a 5.2-inch Full HD IPS LCD screen with a pixel density of 424 pixels per inch. The Galaxy S5 has a 5.1-inch Full HD Super AMOLED display with a pixel density of 432 ppi. Both devices are similar widths but the Z3 is noticeably taller, but it is also much thinner than the S5.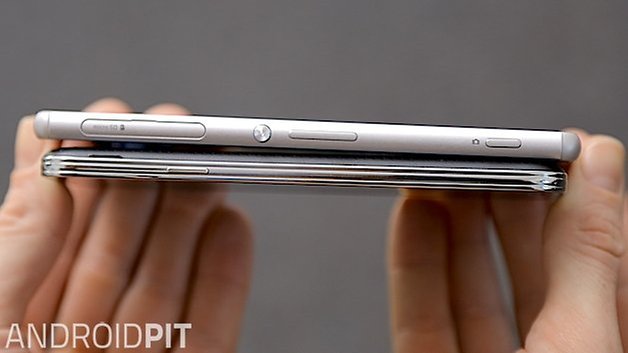 The Z3 wraps the screen with smaller bezels on the sides than the S5, but there's also more going on above and below the display. The S5's AMOLED is typically brilliant, with bright, saturated colors and high contrast, although it doesn't perform as well in bright sunlight due to the display technology used. The Xperia Z3 has improved on the quality of the Z2 display, which was itself a nice improvement on the Xperia Z1, and it shows: the Z3 display is super bright and crisp.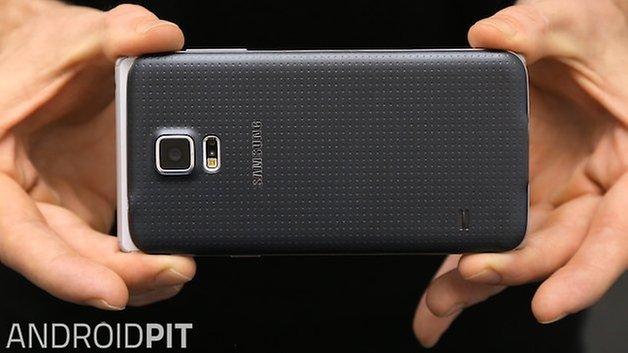 The Xperia Z3 comes with advanced display options like X-Reality for vibrant images and Super-vivid Mode for, well, even more vibrant images. Sony also lets you adjust the white balance of the screen which is another nice touch, and admittedly, with everything beefed up it can actually compete with the luminous colors of the Samsung. Your preference for the better display will depend largely on just how much control you like or how bright and saturated you like your colors by default.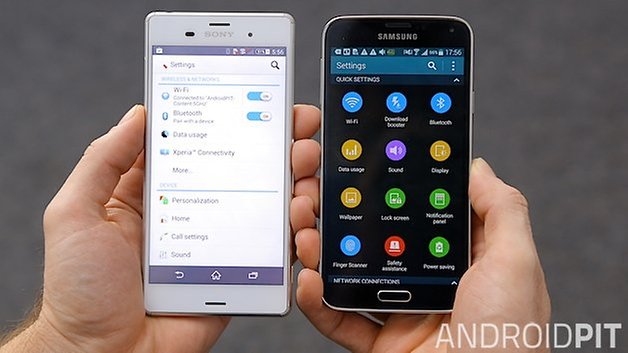 Xperia Z3 vs Galaxy S5: Software and UI
Both devices have way too many software features to go into too much detail here, so I'll give you the broad strokes version. The Xperia Z3 runs the now familiar Xperia UI which is clean and minimal but perhaps a little dated looking. The Galaxy S5 opts for the revitalized but slightly uneven new TouchWiz interface. Both devices are running Android KitKat, although the Z3 ships with Android 4.4.4 and the Galaxy S5 is still sitting on Android 4.4.2.
The Xperia Z3 has a lot of notable software features including a particular focus on multimedia. Of course, audio quality is one of Sony's focal points, with audio settings tweaks and the Digital Sound Enhancement Engine demonstrating a nice improvement over the Xperia Z2. PlayStation 4 integration is well on the way, with PS4 Remote Play allowing you to wirelessly switch between any PS4 gaming on your phone or console. The Z3 also pushes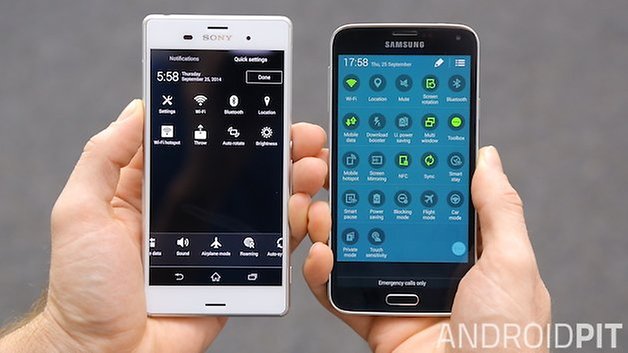 Software is Samsung's forte, occasionally tending to go a little overboard with more features than you know what to do with. The Galaxy S5 has some great options on board though like Multi-Window Mode, Download Booster (depending on region and carrier), finger scanner shortcuts to your PayPal and Samsung accounts, the customizable floating Toolbox bubble for quick access to your favorite apps and features, and more. Blocking Mode and Private Mode are nice additions, as is Samsung's sand-boxed Knox platform for device sharing.
Both phones feature power saving modes, health monitoring and some gesture controls. The Xperia Z3 keeps it simple with gesture-based call handling and double tap to wake the screen while Samsung goes all out with a variety of air gestures and air view pop-ups (like a mouse rollover on a PC). Both the Z3 and S5 support cloud printing, screen mirroring and NFC. Needless to say, there's plenty to keep you busy on either device, it's simply a case of matching the particular software feature set to your lifestyle: are you all about gaming, multimedia and customization or multitasking and business oriented features.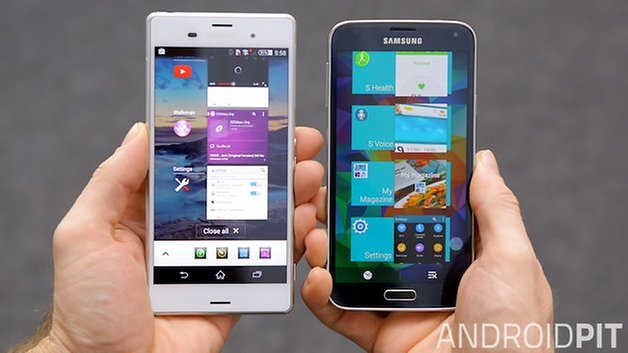 Xperia Z3 vs Galaxy S5: Hardware and Performance
Despite having the same processors on board, the Xperia Z3 outclasses the Galaxy S5 with an additional GB of RAM. The TouchWiz interface is noticeably slower than the Sony's Xperia UI, but both devices are packing serious hardware and can handle processor-heavy tasks with ease. Unless, of course, you try to record 4K video on the Z3, in which case it has a tendency to overheat like the Z2 did. At least you'll be able to record a little longer on the Z3 though.
Xperia Z3 vs Galaxy S5: Camera
This is the category you've probably jumped straight to, because the camera is the highlight of both the Xperia Z3 and the Galaxy S5. On paper, the Xperia Z3 looks great, with a 20.7 MP Sony Exmor sensor. The Galaxy S5 packs a 16 MP ISOCELL sensor. Both cameras handle 4K video, HDR and a whole host of custom shooting and recording modes it would be foolish to dive into too deeply here. Samsung has always had great cameras and builds on that history but Sony has struggled to impress recently with the Z1 and Z2. The Z3's camera is a marked improvement.
Suffice to say both cameras have you covered as far as basic shooting options go and the additional extras are purely up to your personal shooting style. The Sony has a great manual mode, including an ISO setting of 12,800 which produces low light shots in a class far beyond that of the S5. The Samsung lacks this incredible low light range but does an acceptable job in high contrast settings and produces more natural skin tones, where the Z3 goes a little yellowish. Check out the image gallery and draw your own conclusions but both the Z3 and S5 have outstanding cameras.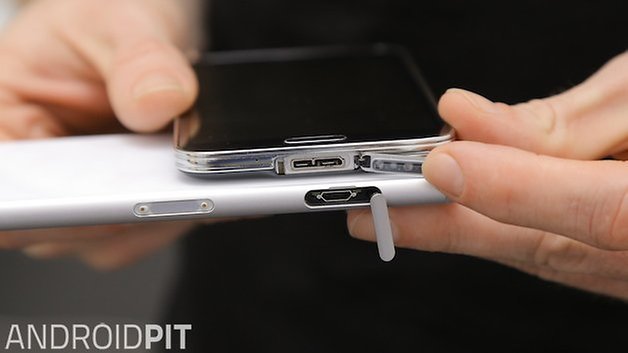 Xperia Z3 vs Galaxy S5: Battery
The S5 knocked our socks off when we saw just how well Samsung had managed to handle battery life, even without the Ultra Power Saving Mode (and especially with it). The Galaxy S5 stands as one of the benchmarks for battery performance in the current crop of Android devices, right up there with the HTC One (M8).
But the Xperia Z3 manages to put the Galaxy S5 to shame, easily outlasting it in normal usage. The S5 has a 2,800 mAh battery and the Z3 a 3,100 mAh battery (which is actually a little smaller than that in the Z2), but the Z3's battery is built in and the S5's is removable. This may be the deciding factor for you even if the Z3's built-in battery performs better.
Xperia Z3 vs Galaxy S5: Tech Specs
| | Sony Xperia Z3 | Samsung Galaxy S5 |
| --- | --- | --- |
| System | Android 4.4.4 KitKat, Xperia UI | Android 4.4.2 KitKat, TouchWiz UI |
| Display | 5.2-inch IPS LCD, 1,920 x 1,080 pixels (424 ppi) | 5.1-inch Super AMOLED, 1,920 x 1,080 pixels (432 ppi) |
| Processor | Snapdragon 801, 2.5 GHz, quad core, Adreno 330 | Snapdragon 801, 2.5 GHz, quad core, Adreno 330 |
| RAM | 3 GB | 2 GB |
| Internal storage | 16/32 GB + microSD (up to 128 GB) | 16/32 GB + microSD (up to 128 GB) |
| Battery | 3,100 mAh, non-removable | 2,800 mAh, removable |
| Camera | 20.7 MP (back), 4K video, HDR, 2.2 MP (front) | 16 MP (back), 4K video, HDR, 2 MP (front) |
| Connectivity | GSM, HSPA, LTE, NFC, Bluetooth 4.0, Wi-Fi 802.11 a/b/g/n/ac, dual-band | GSM, HSPA, LTE, NFC, Bluetooth 4.0, Wi-Fi 802.11 a/b/g/n/ac, dual-band, IR blaster |
| Dimensions/Weight | 146 x 72 x 7.3 mm, 152 grams | 142 x 72.5 x 8.1 mm, 145 grams |
| Extras | IP68 certified | IP67 certified, finger scanner, heart rate monitor |
| Price | USD TBC / 549 GBP (Sony) / 515 GBP Clove | 599 USD (launch), 526 USD Amazon / 580 GBP (launch), 376 GBP Amazon |
Final Verdict
The Xperia Z3 clearly rates higher in most categories, and this makes a lot of sense, with the device coming out over six months after the Galaxy S5. However, when we compared the Xperia Z2 it was a close call between the two devices and this time around the decision is only marginally easier to make. This is the problem.
As the successor to the Xperia Z2, the Z3 should be light years ahead of the Galaxy S5, but instead it only slightly increases the already existing gap between the S5 and Z2. Sony's strategy of releasing a new flagship every six months sounds great on paper, but when this doesn't allow for significant enough jumps in hardware to be made, one has to ask if the concept is actually worth while.
The Z3 really should have made a bigger impression against the Galaxy S5, so even though I think the Z3 is the better device, the margin really should have been much greater. Whether that is a testament to the S5 or a criticism of the Z3 I'll leave up to you. What it all boils down to though is the thought that the Xperia Z3 is what the Xperia Z2 should have been and the Galaxy S5 perhaps should have just been the Galaxy S5 LTE-A. Or maybe my expectations are just too high as well?
Which phone do you think is better? Is either one of them up your expectations?