Sony Xperia 10 review: the cinema in your pocket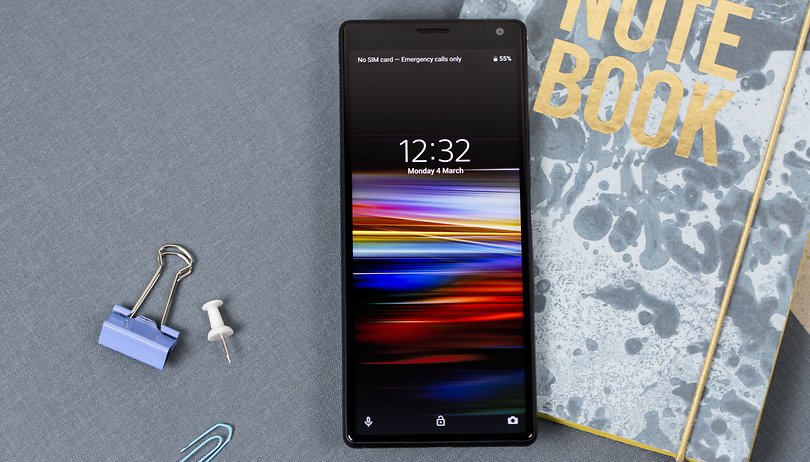 There's no need to get an Xperia 1 if you want a 21:9 "cinema" screen, Sony offers it on its Xperia 10 and 10 Plus. We were able to test the Xperia 10 to show you what the new mid-range from Sony is capable of in its smaller but also more affordable version.
Good
Nice screen in 21:9

Quality of the finish
The mid-range is getting cheaper
Unlike the Xperia 1, you don't need to take $999 out of your pocket if you want a Sony smartphone with a 21:9 screen. For almost a third of the price, Sony offers the Sony Xperia 10 ($350).
Unlike last year, Sony seems to only want to offer these two devices to mid-range users. If you don't want the 21:9 aspect ratio and/or a diagonal screen size of more than six inches, you will need to buy the new Sony Xperia L3 $225 smartphone with a 5.7-inch screen in the usual 18:9 aspect ratio, currently the cheapest smartphone from Sony Mobile that was shown at MWC 2019.
OmniBalance design is back (more or less)
Visually, you also need to get used to a new look in this mid-range segment. Sony certainly shrinks the bezels around the screen, but unfortunately only at the bottom. The upper part remains very fat, but at least there is no notch.
In addition, both Xperia 10 models have received the same slimming treatment as the Sony Xperia 1... In other words: thanks to the 21:9 aspect ratio, both models are pleasantly thin and much lighter. While last year's Xperia XA2 Ultra weighed 221 grams, the Xperia 10 is much lighter in the hand at 162 grams, the Xperia 10 Plus has 180 grams.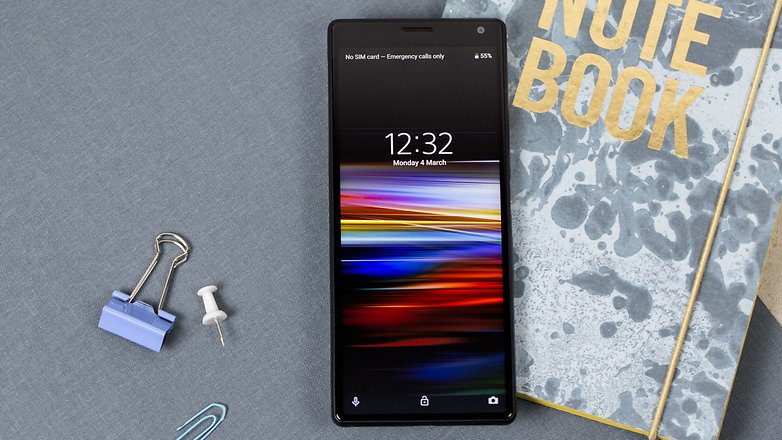 The housing is now made of polycarbonate. Sony enthusiasts will also be delighted to learn that the fingerprint reader has returned to the side frame of the Xperia 10, which works well overall but is not the best in its class.
The on/off button has been separated from the fingerprint reader and is now located above it, which is a small difference with the old models. By doing so, Sony can finally ship these two mid-range smartphones to the United States and avoid problems.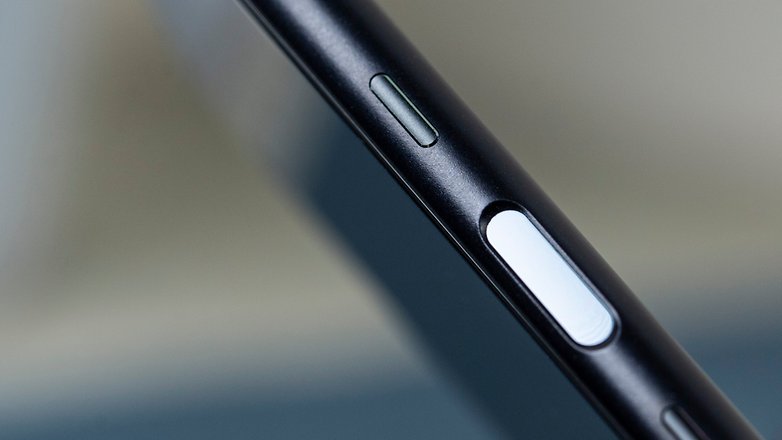 Overall, the Xperia 10 is a smartphone that is fun to use and enjoy on a daily basis. Its slightly elongated design does not interfere and the smartphone is not afraid of falling. As always, the manufacturing quality is very good.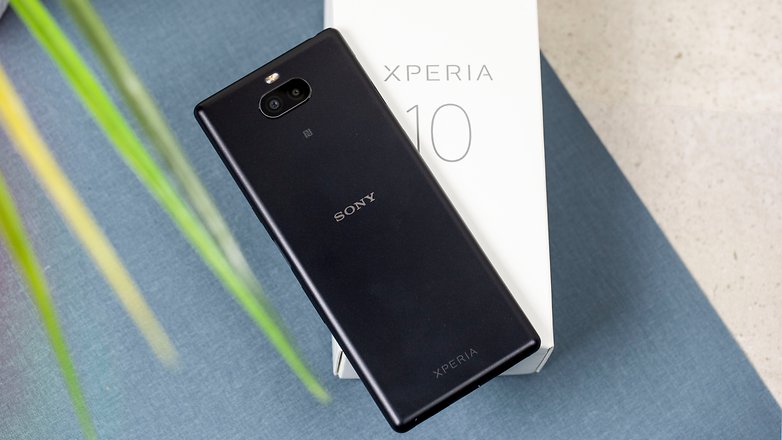 Cinema format, even in the mid-range
The screen of the Xperia 10, like the Xperia 10 Plus, is 21:9 format. Unlike the top-of-the-range model, the Xperia 1, Sony's mid-range smartphone has a Full HD+ LCD screen (2520 x 1080 pixels). The screen diagonal of the Xperia 10 is 6 inches, compared to 6.5 inches for the Xperia 10 Plus.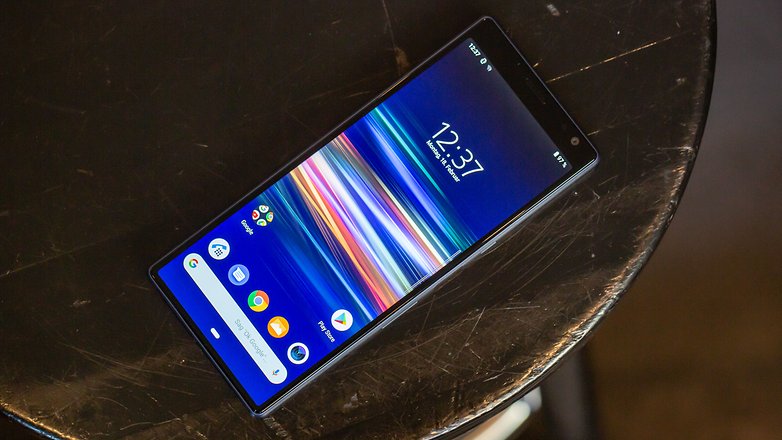 Even if it is an LCD screen, the angle of view, contrast and color representation made a good impression. You have to get used to the device a little bit to be able to use Side Sense, because unlike last year's Xperia XZ3, the screen is straight.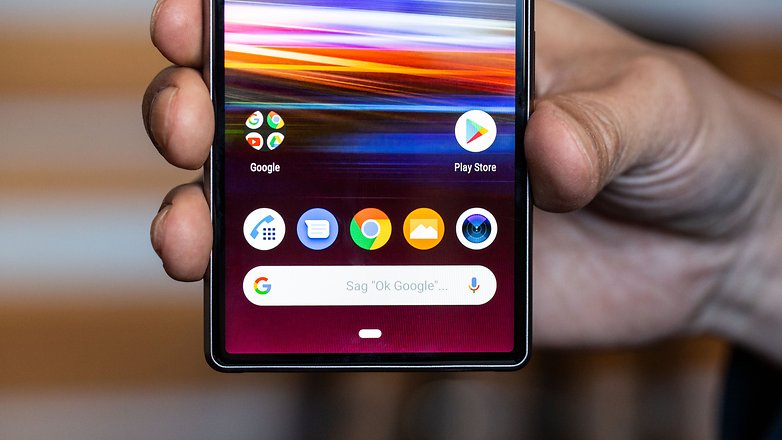 For the rest, you just have to get used to the 21:9 aspect ratio offered by this smartphone. For some video content, this is great, and you can watch movies, of course, in 21:9 format without having to support black borders on both sides. With this new format, Sony is also working with publishers to help them adapt games to the widescreen format. The first games that will be adapted for the 21:9 format are Asphalt 9, Arena of Valor and Fortnite.
In other scenarios, however, the 21:9 screen may be disturbing, as it is in Instagram, for example. In the end, I appreciated Sony's choice, which allowed it to stand out from the competition.
If you would like more information about why Sony is betting big on this screen format, you can see our interview with the Japanese manufacturer at the link below where we asked this very question.
No big surprises in the software
It is Android 9 Pie that takes its place on this Xperia 10. Sony has not yet announced whether the smartphone would be eligible for Android 10 Q when it is released, but it would be surprising if it wasn't as the Japanese manufacturer is used to performing serious software monitoring. We find some of Sony's in-house additions, but there are no applications that duplicate those of Google.
Sony has added a Game Enhancer to the Xperia 10 and 10 Plus as a new software feature. With this simple tool, you can disable notifications so you won't be disturbed when you play, adjust hardware performance and record a video via the front camera.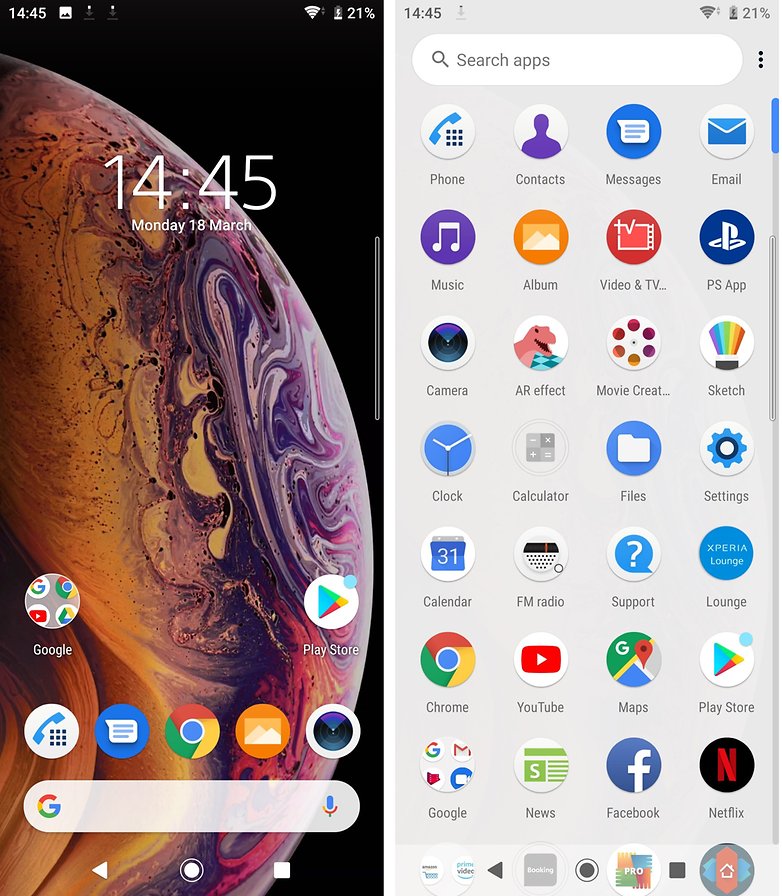 As mentioned above, Side Sense is also part of the software solution and is particularly practical on a daily basis. It is nice to see this feature on a smartphone at this price. Of course, it takes a little more practice to activate it because the screen is not curved. Artificial Intelligence helps you to determine the applications you use at certain times of the day.
Overall, the experience is smooth, and the smartphone supports multitasking. I didn't suffer from any particular bugs or applications that crashed unexpectedly.
More memory for more content
As usual, Sony is working with Qualcomm to get high-performance chips. On the Xperia 10, Sony uses the 630 , while the Snapdragon 636 is used on the Plus model. The Snapdragon 630 of the Xperia 10 works with 3GB of RAM, whilst the Xperia 10 Plus has 4GB. The expandable internal storage is pleasantly large at 64GB.
In everyday use, the performance of the Xperia 10 is not really a problem and everything works fine. However, sometimes you have to be patient when loading apps and cheaper smartphones (like the Moto G7) offer more power. It's not the best smartphone for gamers either, but with less demanding titles, the Xperia 10 does just fine (with Fortnite or PUBG it's more annoying). If you want more power, the Xperia 10 Plus is a better choice.
Sony Xperia 10: the results of the benchmarks tests
| | 3DMark Sling Shot Extreme | 3DMark Sling Shot Vulkan | 3DMark Sling Shot | 3DMark Ice Storm Extreme | Geekbench 4 (Single/Multi) | PassMark Memory | PassMark Disk |
| --- | --- | --- | --- | --- | --- | --- | --- |
| Sony Xperia 10 Plus | 948 | 934 | 1463 | 19463 | 1345/4910 | 10635 | 56169 |
| Redmi Note 7 | 1356 | 1304 | 2065 | 26482 | 1634/5904 | 12833 | 51462 |
| Huawei P Smart 2019 | 824 | 1355 | 902 | 16742 | 1522/5276 | 10584 | 54661 |
| Nokia 8.1 | 1830 | 1745 | 2673 | 28942 | 1846/5910 | 12454 | 51940 |
| Sony Xperia 10 | 814 | 823 | 1314 | 16893 | 875/8109 | 6021 | 58377 |
A dual camera in a mid-range smartphone
Here is the second big difference between the two Xperia 10 models (other than the screen size). In the small Xperia 10, Sony uses a combination of two cameras with 13 and 5MP, while in the 10 Plus, there is a combination of 12 and 8MP. While the opening of both cameras is f/2.4, the 13-megapixel camera of the Xperia 10 has an opening f/2.0 and the 12-megapixel camera of the 10 Plus a f/1.8.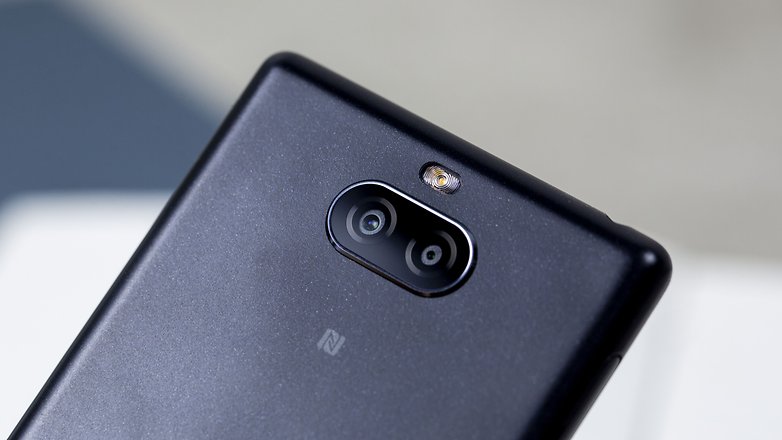 In practice, the Xperia 10 offers an average photo experience. Without being particularly the best photophone in its price range, the smartphone gets away with it. When the lighting conditions are good outdoors, the results are also of very good quality. The colors are precise, the saturation is rather accurate and the details are generally good.
Indoors, the representation of colors is a little more random and the lack of optical stabilization is felt. The shutter time is also quite long, which can be painful. Unfortunately, when there is no light, noise quickly appears on the images and the images are much less usable.
In terms of selfies, the 8MP camera is classic and offers satisfying shots for self-portraits for sharing on social networks. Nothing exceptional but nothing bad either. Finally, on the video side, the Xperia 10 offers quality at 2160p at 30 fps or 1080p at 30 fps.
You can get a precise idea by looking at my photo gallery: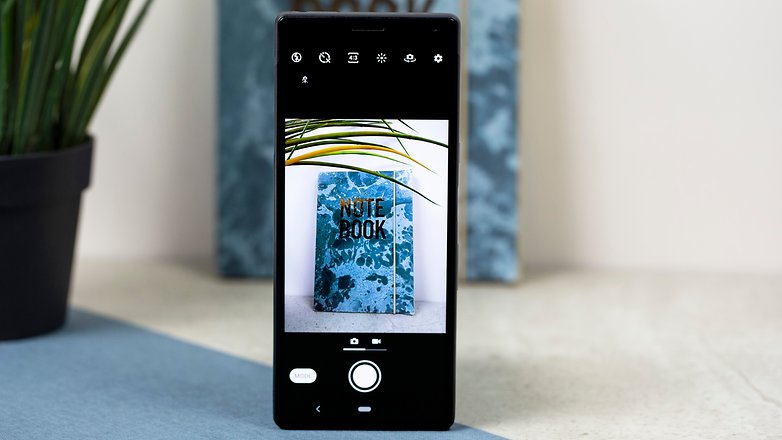 Will battery life still be satisfactory?
With 2,870 mAh, the Xperia 10 doesn't really have what you might call a battery monster and reality has unfortunately confirmed it. It is ultimately the only disappointment of this device. It is very difficult to get to the end of the day without needing a recharge. When I went out in the evening, I absolutely had to recharge despite moderate use during the day.
Sony's Stamina and Ultra Stamina modes, combined with Android Pie's intelligent battery management, will be required to achieve a full day of battery life. Seven hours and 26 minutes were achieved in the Xperia 10 PC Mark battery test.
Autonomy is the only downside of this device.
Even though the smartphone is compatible with Quick Charge 3 fast charging, Sony has not found it appropriate to provide the right charger. You will have to settle for a Quick Charge 2.0 charger. The wireless charging impasse continues on this model.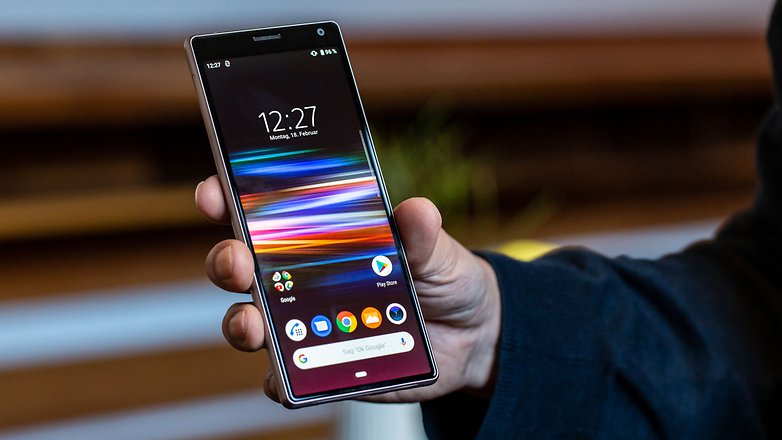 As with the Xperia 1, Sony offers Power Delivery technology, unfortunately, it will not include the fast charger with its smartphones.
Sony Xperia 10 technical specifications
| | |
| --- | --- |
| Dimensions: | 156 x 68 x 8.4 mm |
| Weight: | 162 g |
| Battery size: | 2870 mAh |
| Screen size: | 6 in |
| Display technology: | LCD |
| Screen: | 2520 x 1080 pixels (457 ppi) |
| Front camera: | 8 megapixels |
| Rear camera: | 13 megapixels |
| Flashlight: | LED |
| Android version: | 9 - Pie |
| RAM: | 3 GB |
| Internal storage: | 64 GB |
| Removable storage: | microSD |
| Chipset: | Qualcomm Snapdragon 630 |
| Number of cores: | 8 |
| Max. clock speed: | 2.2 GHz |
| Connectivity: | HSPA, LTE, NFC, Dual-SIM , Bluetooth 5.0 |
Final verdict
The new 21:9 aspect ratio of the Sony Xperia 10 looks strange at first glance, but you get used to it quickly. The slim design also makes it easier to use the screen without having to move around. It's also a good thing that Sony has doubled the internal storage, so you have a larger reserve before you have to use a microSD card to expand it.
In the end, the Xperia 10 offers a good price-performance ratio (its only major weakness is the battery) and is a pleasant smartphone to use, especially for people who like to watch videos on their smartphone and enjoy the 21:9 aspect ratio of its screen. Without being a lightning bolt in terms of performance, the device will satisfy a good part of the users but those who are looking for more power will have to choose its big brother (Xperia 10 Plus).
---
This article was amended on 21 March 2019 with the final version of our review, but the comments written during the hands-on phase have not been deleted.