Samsung's Touchwiz Nature UX 2.0 vs. HTC Sense 5.0: Which is Better?
Authored by:
Nico Heister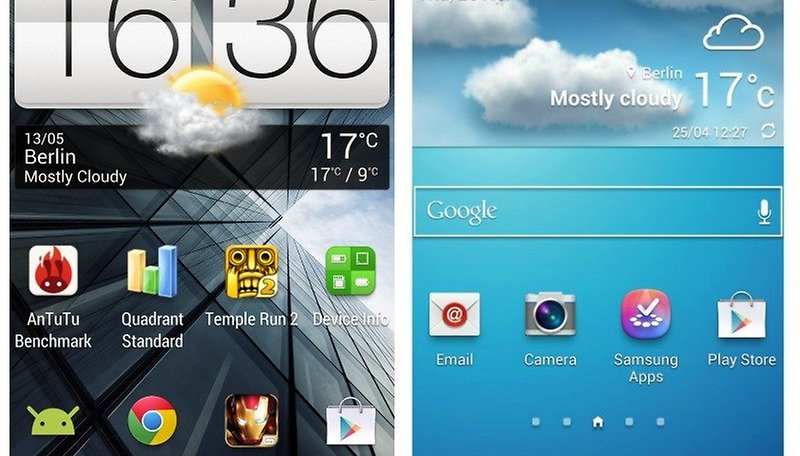 We've compared their cameras, features, price, memory and hardware, but which UI wins: the Galaxy S4's Touchwiz Nature UX 2.0 or the HTC One's Sense 5? In this comparison, we'll take a look at the differences and similarities between HTC's newest interface and the latest from Samsung. After all, hardware is only half of the story, right?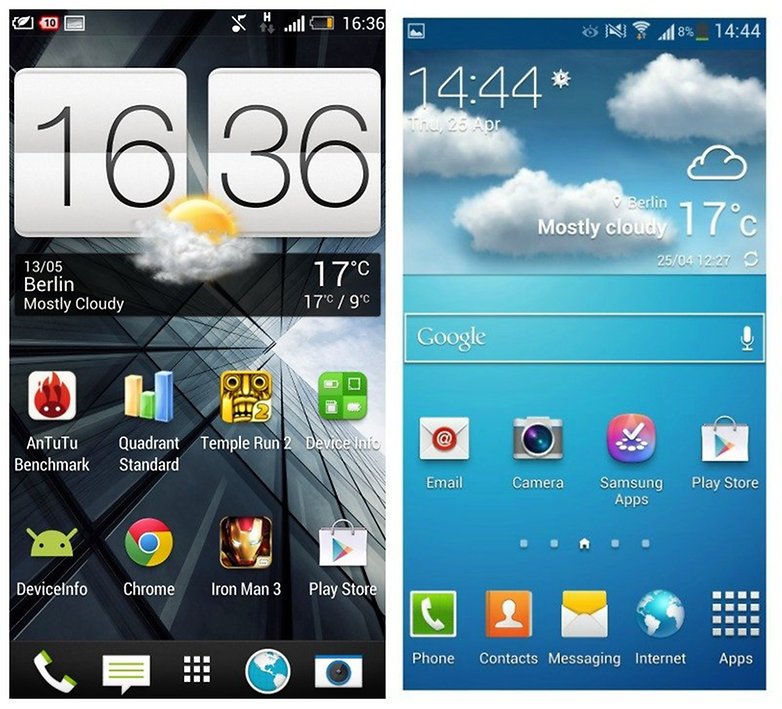 Lock Screen
Whether you're staring at Sense or Touchwiz, both lockscreen designs are minimalist and request that you swipe-to-unlock. While the HTC One's screen shows the time as well as the weather, the Galaxy S4's screen just shows the time, although you can also add a weather widget quite easily to the lockscreen. Unfortunately, you can not add widgets to your HTC One's lockscreen, because it is still running Android 4.1, and this feature is only available via Android 4.2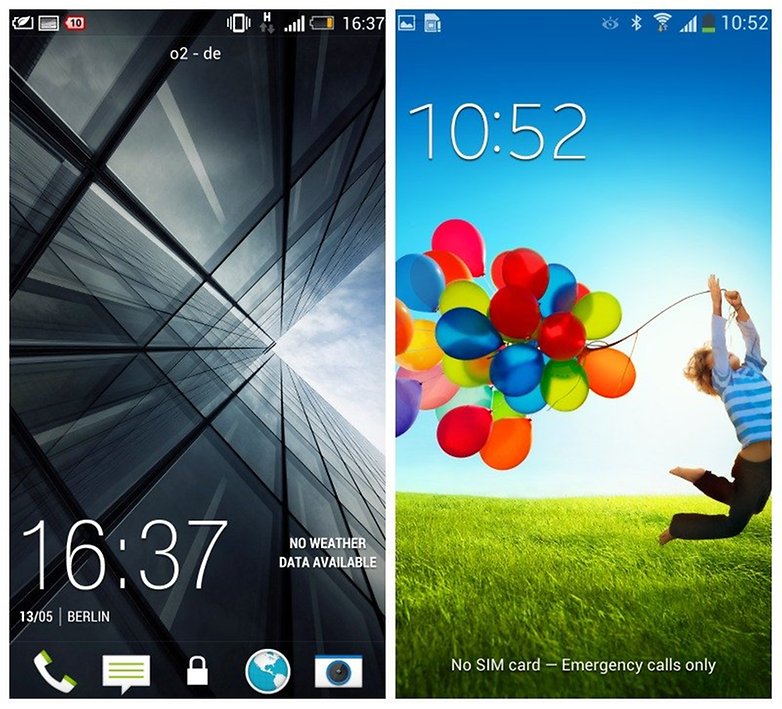 Homescreen
Samsung's Touchwiz follows the classic approach of Stock Android: you can simply add your own apps and widgets in any configuration you like. In Sense 5, on the other hand, HTC's Blink Feed displays a list of news stories and status updates from your Twitter, Facebook and any other account.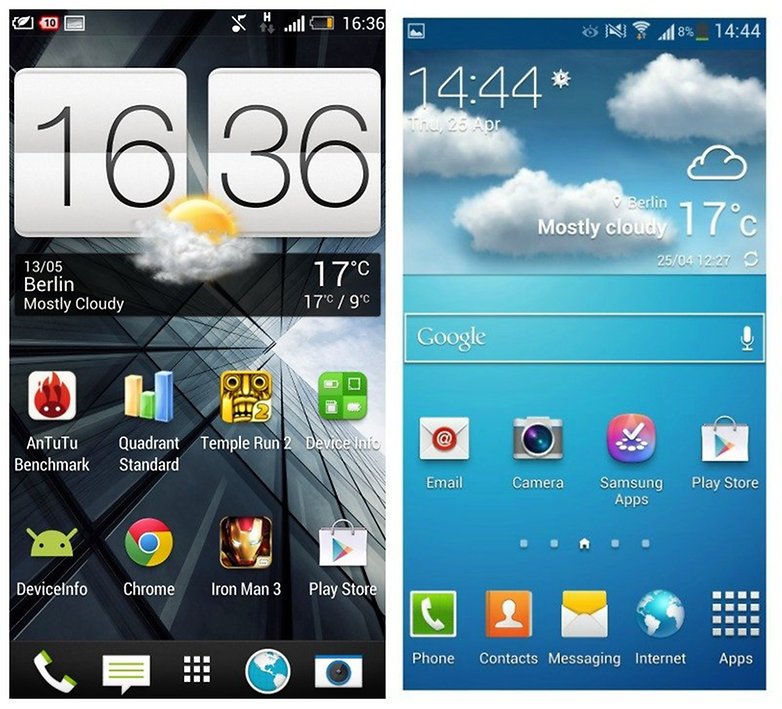 You can't disable Blink Feed but you can adjust Sense 5 so that, upon unlocking, the first screen you see is a a standard homescreen and then you can swipe to the right to see your Blink Feed.
Notification Bar / Quick Settings
HTC Sense 5's notification bar is spartan compared to the one offered by TouchWiz. With Sammy's software, you have quick access to a number of different settings, which you can quickly turn on and off (like WLAN, Bluetooth, etc.). However, HTC's notification bar offers lots more room for notifications, and you can easily click on the "gear" icon to adjust brightness, turn on Airplane Mode and sign into a new wireless network.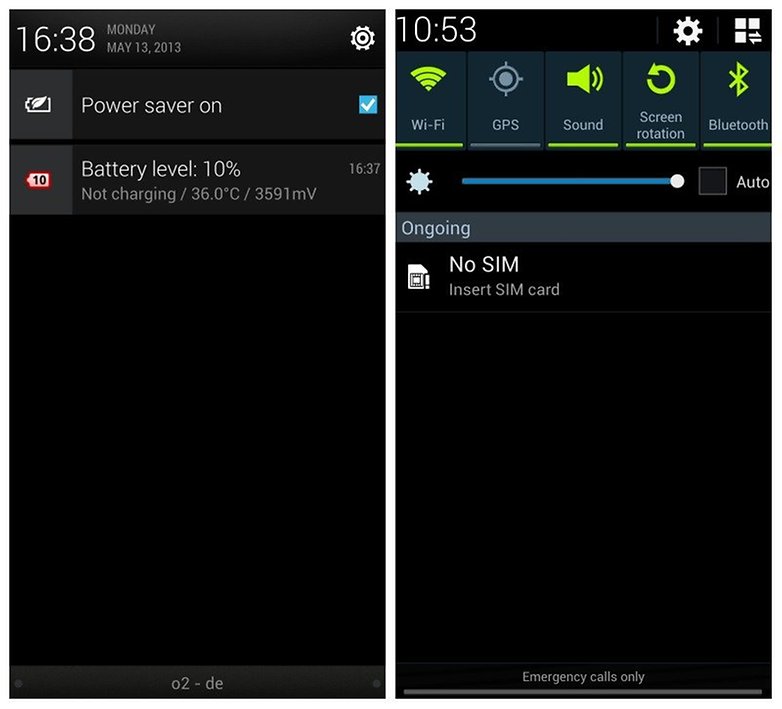 App Drawer
TouchWiz's app drawer is similar to stock Android 4.2, except Samsung has chosen a bright blue background instead of a black one. Sense 5.0 is completely different; here HTC has opted for a stark black background, another reminder of the weather outside and a vertical list of all of your apps. Both app drawers, however, offer various settings so you can customize the grid size, or add folders.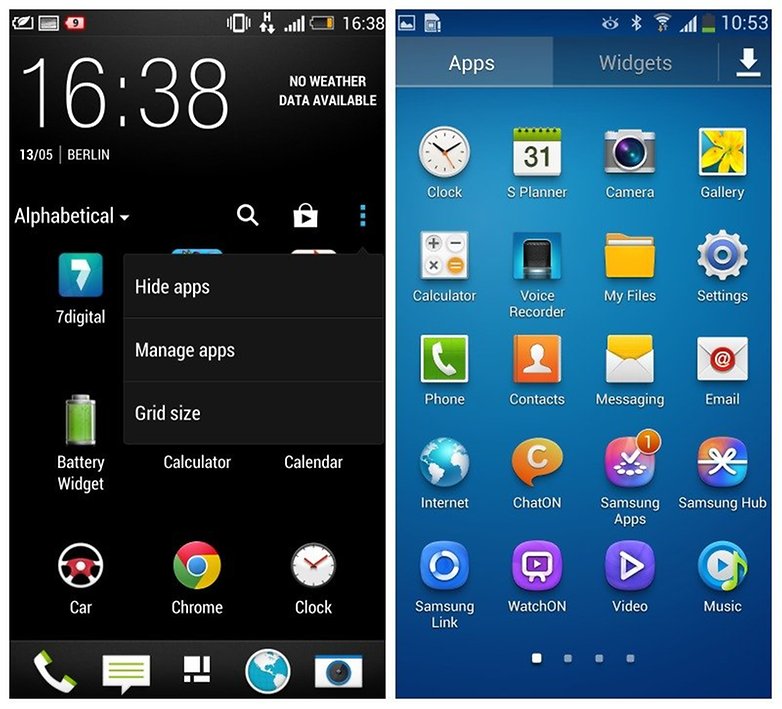 Recently-Opened Apps
Sense 5 offers plenty of space to see your recently-opened apps. TouchWiz, on the other hand, offers larger thumbnails and additional buttons that offer more features, like closing all your apps at once or Google searching. Multitasking fiends will likely appreciate HTC's paired-down approach better.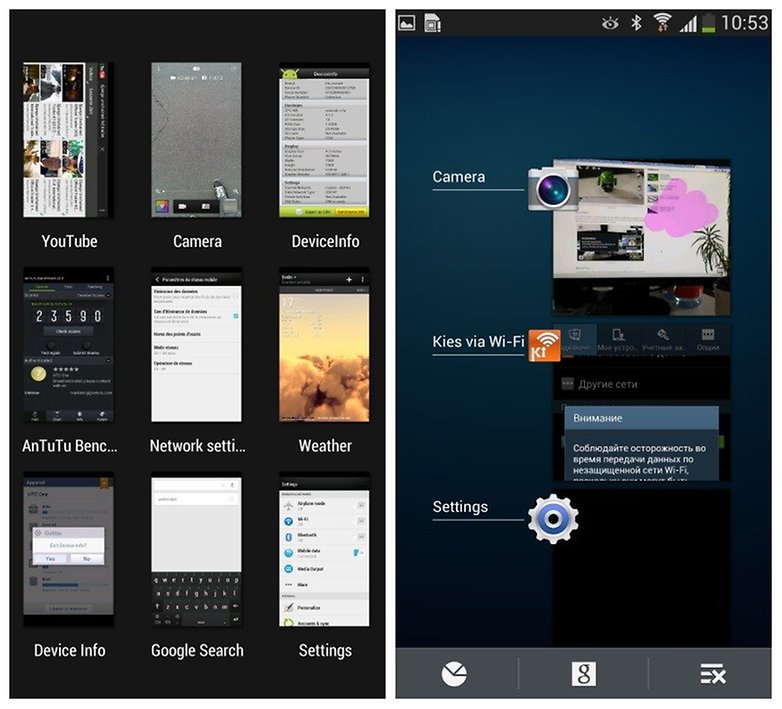 Settings
Sense 5 has a lot more in common with stock Android when it comes to settings. While Samsung has organized settings into several taps that can only be accessed by clicking on the top bar of the screen, Sense 5 makes much more…sense.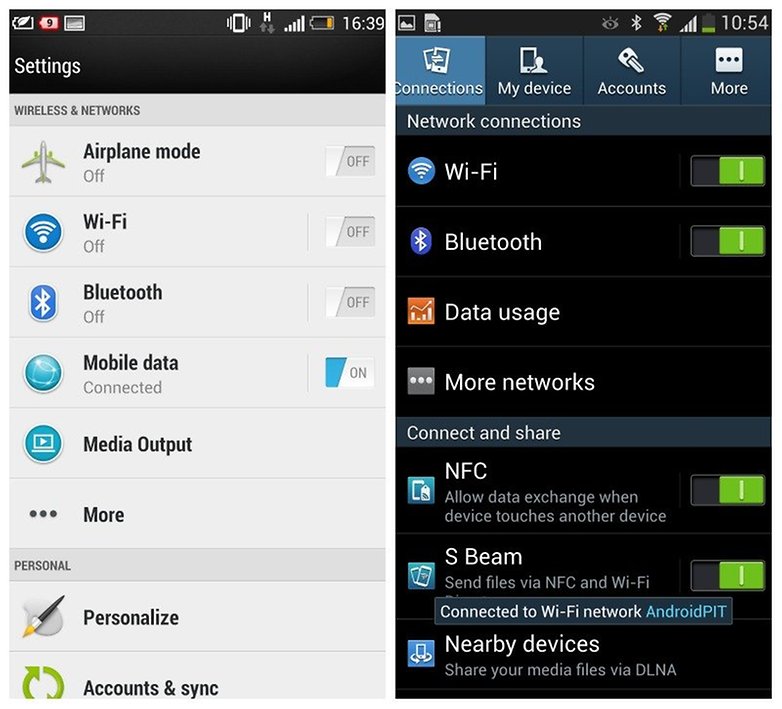 Additional Functions
As I'm sure you're by now aware, Samsung's Touchwiz is the undisputed king when it comes to extra functions. Here you can find a list of all the features baked into Touchwiz.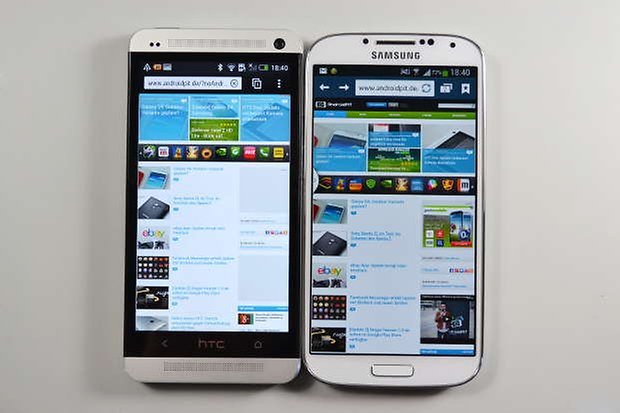 Conclusion
There isn't a clear winner here. While HTC's Sense 5 offers a clean and coherent overall look, Touchwiz offers numerous bells and whistles (whether or not they're of use to you is another question). HTC's look is generally more streamlined, but Samsung allows users to access a ton of features quickly and easily.