Samsung Gear S review: perfectly functional and flawed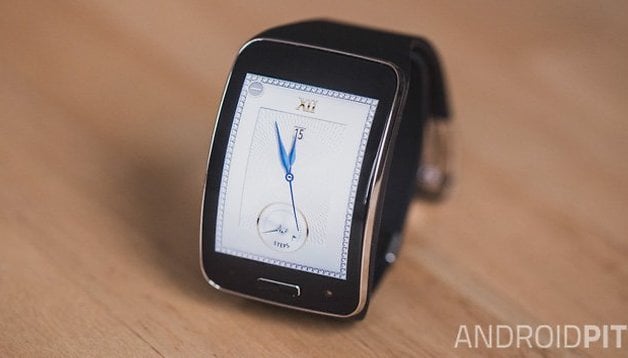 Samsung has released a number of smartwatches over the last 12 months. This time it was the turn of its first "standalone" smartwatch, a smartwatch which lets you make and receive calls from your wrist. Except, it's not really standalone, because you need a smartphone... a Samsung smartphone... to be able to use it. So, what's the big idea behind this new Samsung wearable? Find all this out and more in our Samsung Gear S review.
Good
Great display

Voice calls and messaging work well

Good battery life

Sturdy build quality

It's kind of standalone
Bad
Expensive

Distractingly large

Initially uncomfortable

Watch face designs lack pizzazz
Samsung Gear S design and build quality
It's big. The Gear S is a mix between Samsung's Gear watches and a fitness armband, like the Gear Fit. A slab of curved glass sits atop an already thick plastic body. The strap, also plastic, is wide, and the metal clasps chunky, but the result is a sturdy device. The wrist straps didn't suffer any damage over the week I played with it, nor did the screen.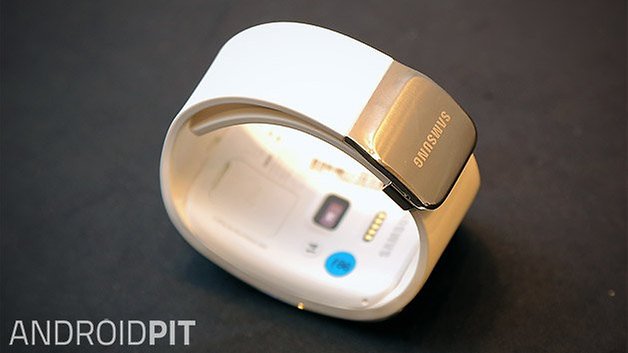 The physical home button is found under the display, and left and right of this are the two sensors for both brightness and ultra-violet rays. The heart-rate monitor is located underneath, this being a feature which is becoming common among Samsung devices. Finally, the contacts for the charging dock and the slot of the nano SIM card can be found under the body.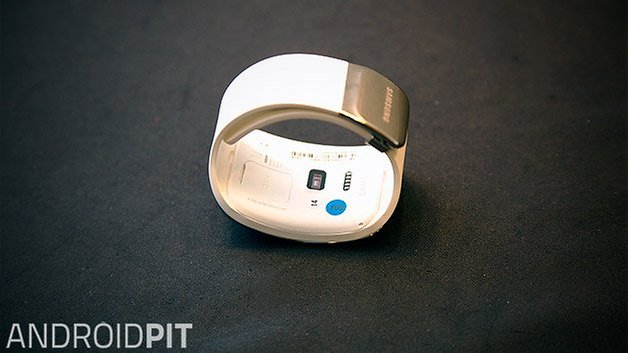 On my slim wrists, it wasn't great to look at, but on bigger ones, it might not be so offensive. Having a big screen does have its advantages, however (more on this later).
Sadly, none of the strap settings were particularly useful for my wrist size, the most comfortable still being a slightly loose. If my arm was a little larger or a little smaller it might have been more comfortable, but the discomfort was something I had to get used to (though admittedly I did within the first 48 hours).
Samsung Gear S display
The Gear S houses a 2-inch Super AMOLED display with 360 x 480 pixel resolution, giving the Gear S a respectable pixel density of 300 ppi. The display is clear, vibrant and actually a pleasure to look at. The small number of included watch faces don't provide a great variety, and I can't say I loved any of them, but design aside the display is rather pretty.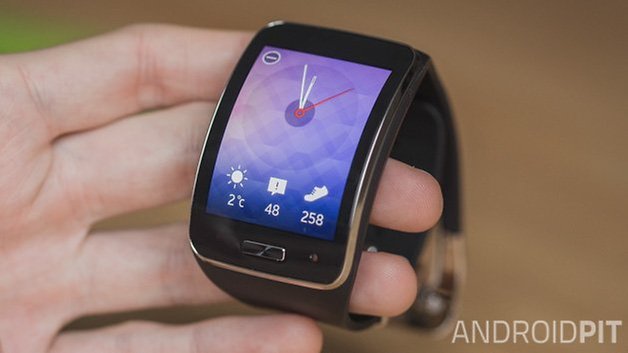 The curved nature of the display also provides for a pleasing optical effect when scrolling through longer texts, news or notifications. It's like the spinning of an endless wheel where new information constantly appears. Touch commands responded promptly, and it's precise - I rarely missed the mark when tapping icons (due in part to the display's comparatively large size).
Another huge advantage that the Gear S presents over the first wave of Android Wear watches, the LG G Watch R and the Samsung Gear Live, is the brightness sensor: like the Moto 360, you can set the brightness to automatically adjust based on current lighting conditions.
Samsung Gear S special features
The Gear S includes a step counter and the typical Samsung heart-rate monitor as well as two other sensors: a brightness sensor as mentioned above, and a UV sensor which measures ultraviolet rays and transmits this information to fitness apps such as S Health. This allows users to see how dangerous the sun is at the moment, and get some tips on what to do about it.
The other big draw of the Gear S is the ability to use it with a SIM Card, though the advantage this offers has been somewhat overstated. To say this smartwatch can be used "standalone" isn't true, it must be paired with a Samsung smartphone, even to begin using it at all.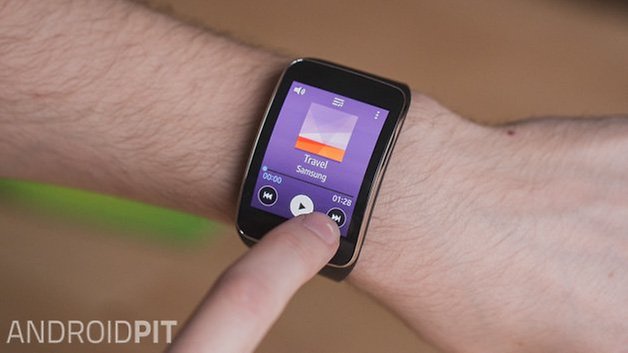 This does mean, however, that your smartphone can be left at home, and your Gear S can be used as a mini version of it, complete with voice calling, messaging and 3G (if you transfer your nano-SIM card into it). So, for going running, or shopping, or doing something where you don't want to take your phone, this is the absolute selling point of the Gear S and the major area that it is providing value.
These instances don't occur very often for me, but one place I can see this being very practical is on nights out. Phones are stolen at parties, bars and clubs all the time. If you don't want to risk anything happening to your Note Edge, the Gear S is a certainly a, somewhat expensive, solution.
Samsung Gear S software
Instead of adopting Android Wear like the Gear Live, Samsung decided to place its own OS in the Gear S, that being Tizen. Navigating throughout the user-interface was really similar in many ways to Android Wear, and it's very intuitive. Swiping from the top down activates the 'Do not disturb mode', while a swipe from down up opens the App drawer.
Swiping to the right brings up the notifications, where you'll see an overview of the various notification types (email, SMS, appointments etc). From here you can skip the notifications or swipe through them one at a time. Emails and notifications can be read in their entirety (though pictures can't be viewed) and there are also various actions that can be set up. These notifications can then be answered by using the software keyboard. Finally, by swiping to the left, this will open the widgets which are set up just like on a smartphone home screen.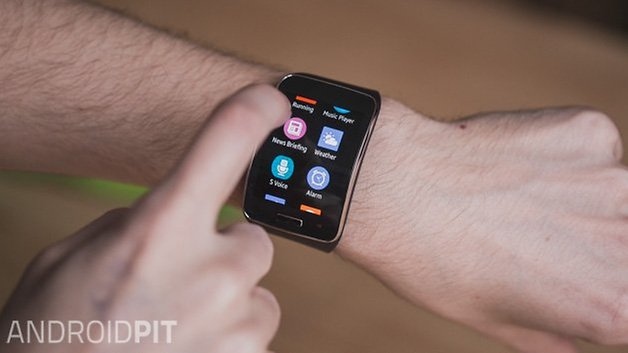 The Gear S's included S Health app and GPS make it particularly attractive for fitness friends: when using apps such as Nike or the S Health app, the Gear S will monitor data such as steps, covered distances, heart rate, UV rays and computes this information in your workout plan. All of this without needing to lug a clunky smartphone along.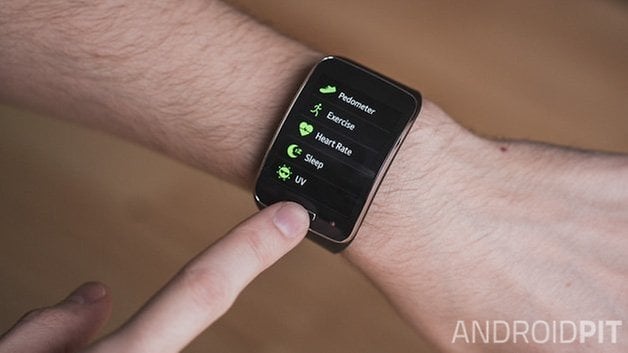 Thanks to the Bluetooth interface, music is sent to the connected headphones, and alternately, it can also play music via the, admittedly small and weak, integrated speakers.
I was impressed by both the standard the message typing and the voice calling features of the Gear S. Given the tiny display and full QWERTY keyboard, typing messages was surprisingly functional. Fiddly, sure, possible while walking? Not really. But not terrible.
Making calls was quick, easy and the sound was clear at both ends: it's definitely not out of the question to use this as an alternative to your smartphone, it's just a question of whether you really want to.
Samsung Gear S performance
When using the device with and without a SIM card the Gear S performed equally well. It's lag free and the dual-core 1 GHz processor is looking like it will be pretty future-proof as far as new software versions are concerned: this device is going to be able to handle anything Samsung throws at it for a some time.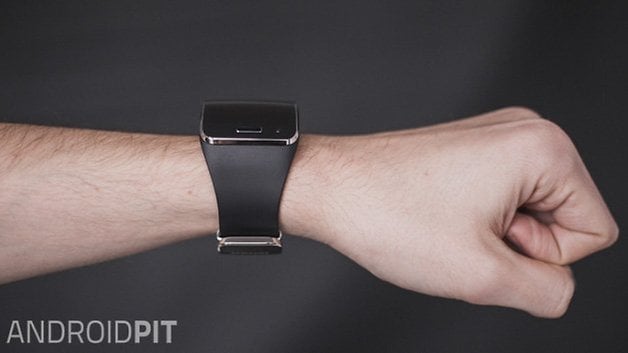 It was also free of any of the bugs or quirks that I was expecting - it was able to do everything I wanted it to all of the time. Maybe this should be something we all expect (you know, a product to be in fully working order) but I can't deny that I was pleasantly surprised to find messages and notifications popping up on schedule. The only place I was disappointed was when I received picture messages in emails. Of course, these images did not display, but neither did the text, and this was a shame.
Samsung Gear S battery
The battery found in the Gear S has a capacity of 300 mAh, which, according to Samsung, should be enough for slightly more than two days. In my first test, a fully charged Gear S at 11 AM Saturday carried the device easily until Monday night. This, for a smartwatch, is good battery life.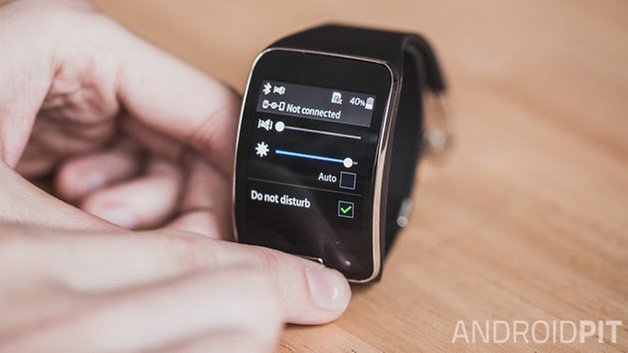 Truthfully, in this time I only made one quick call, and I was not checking messages every ten minutes (maybe I'm just not popular enough to really strain a smartwatch) but I was testing all the features discussed here. I expect I was giving it light to moderate use, but it held up well.
The battery is charged in a cradle, similar to that of the previous Gear models, and the charger itself can even store some juice, meaning it becomes a sort of portable power source.
Price and release date
The Gear S release date was November 7th, and the current Gear S price (off-contract) is 299 USD.
Samsung Gear S technical specifications
Final verdict
The Samsung Gear S is a very functional smartwatch. You can write email, make calls, check the weather and notifications, and you can do so with a nice screen, good battery life, and very few hiccups along the way. If you ever want to leave your smartphone at home, the Gear S is certainly a viable alternative and you owe it to yourself to try out some James Bond style smartwatch calling at some point.
However, if the Samsung Gear S came as an free accessory with a smartphone purchase, I'm still not even sure I'd use it, so to spend 299 USD on it strikes me as crazy. Don't mistake me, while it's comparatively strong, this is only as far as smartwatches are concerned: almost everything it offers I'd prefer to do using my phone instead. And making it possible for the Gear S to work with a SIM card, and then tying it to a Samsung smartphone, is very frustrating.
So to sum up: it's costly, and unnecessary, and not very pretty, but probably the best smartwatch currently available.