Samsung Galaxy Tab S5e review: pretty, light and the price is right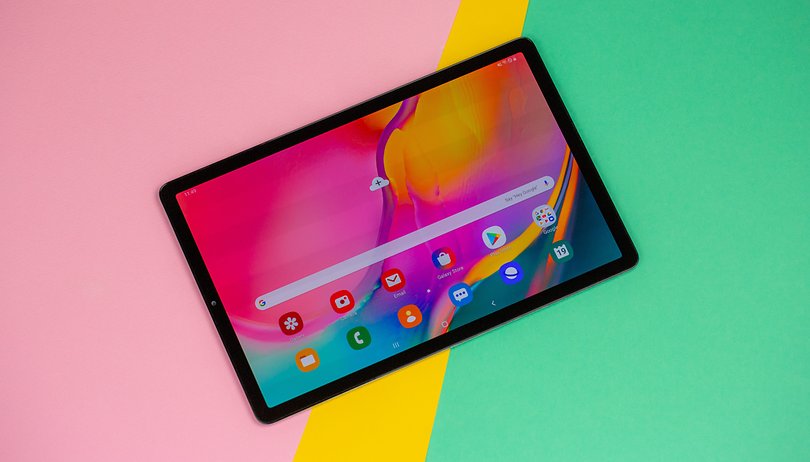 Samsung shook up its tablet range this year with the introduction of a new "essential" mid-range tablet for the Galaxy Tab S series. So can the new Galaxy Tab S5e actually combine all the essential functions of a tablet into an affordable package? Here's our verdict.
Good
Beautiful Super AMOLED screen

Very light and thin

Attractive design

Decent sound
Bad
No headphone jack

Limited graphics

No IP certification

No stylus support
Samsung Galaxy Tab S5e: All deals
The cheapest S-model tablet you can buy
The new pricing structure of Samsung's tablets aims to cover a wider range than before. Last year the Galaxy Tab S4 stood alone in Samsung's premium range. If you didn't want to pay more than $650 for a tablet or didn't need all the features of a flagship slate, you had to consider the Galaxy Tab A (2018) from $300. With the Galaxy Tab S5e Samsung closes the gap.
In the US the base model Tab S5e is priced at $399 with 4GB of RAM and 64GB of internal storage. A 6GB/128GB version is also available for $479.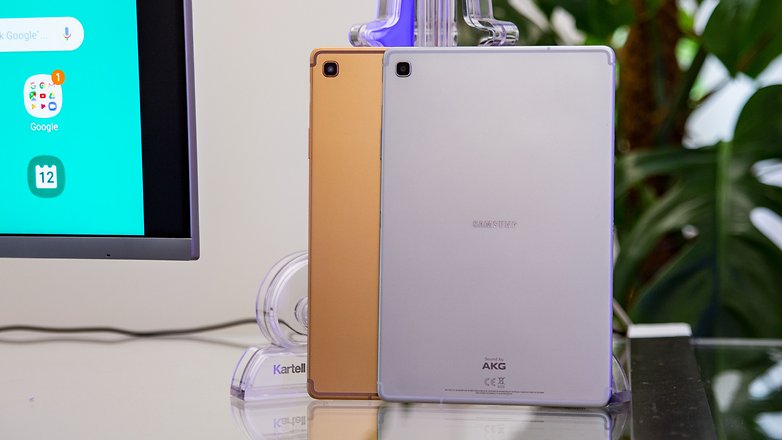 Incredibly thin and light
Samsung wasn't full of empty words when it hyped up the sleekness of this tablet in the announcement. The Tab S5e is one of the lightest and thinnest tablets on the market . Despite this fact, it is only when you hold it in your hand that you realize how slim and light the tablet really is. The Tab S5e is just 5.5mm thick and weighs only 400 grams.
Of course, there will certainly be a thinner and lighter Android tablet somewhere out there, but most will not have the high-quality appearance of the Galaxy Tab S5e. The metal body feels robust and gives this mid-range tablet a premium and futuristic look, even though it doesn't have glass coating like the Tab S4.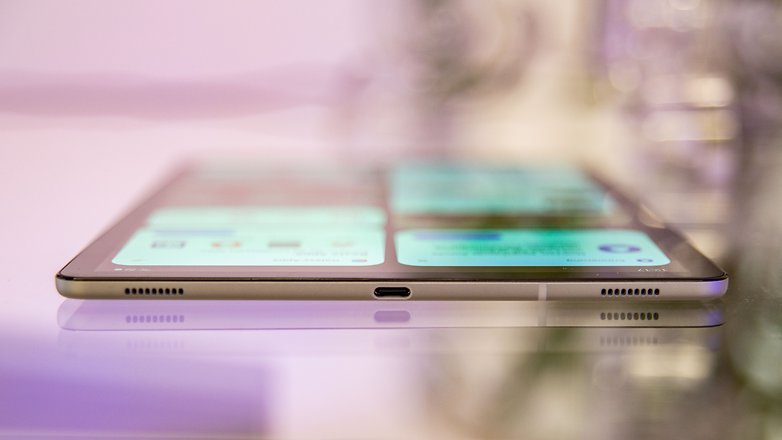 This new lightness, however, is offset by a drawback. Because of the very low overall thickness, the headphone jack has been sacrificed. So you have to use the included dongle or a Bluetooth headset. In addition, a fingerprint sensor has been implemented in the right-hand side power button, but you are not forced to use it since the new tablet can also be unlocked with the help of facial recognition. On the same side we also find the volume rocker and the microSD slot. POGO pins are present on the left side, and the USB-C port is at the bottom.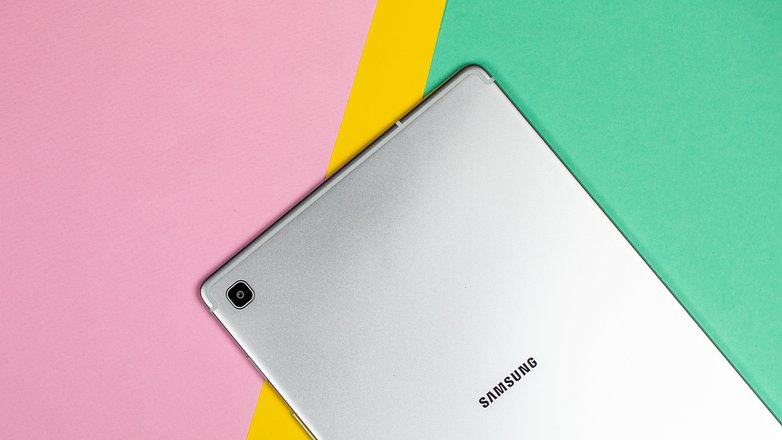 In daily use, I found this tablet very pleasing to handle, it's slim build and lightweight making it very convenient to slip into a bag and carry around, or hold it up for long sessions without any strain. The device is also easily propped up at an angle on different surfaces (no, a stand is not included).
A display that brings a touch of premium quality
While the Galaxy Tab A 2019 still gets by with a TFT-LCD panel, the Tab S5e has Samsung's signature Super AMOLED display which is a real treat for the eyes. The display is not only easy on the eye, but also contributes to the fact that the tablet is only 5.5mm thick. Samsung has eliminated the space which would normally be required between the glass and the display panel. Since there are no physical buttons, the bezels are slim to maximize your screen space, with the display taking up just over 81% of the front.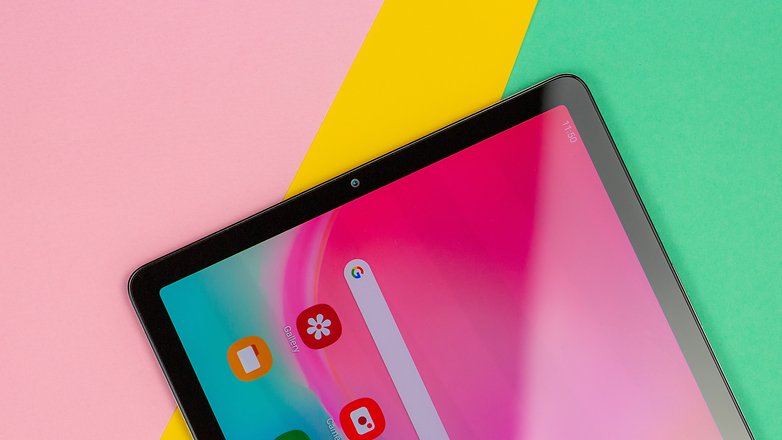 Colors are well represented and it gets bright enough that I could often use it for light work under the summer sun. Watching movies and TV shows on the 16:10 widescreen Super AMOLED display is a pleasure, as well as colorful games. However, games with high-quality 3D graphics are not the Tab 5e's friend - more on that later.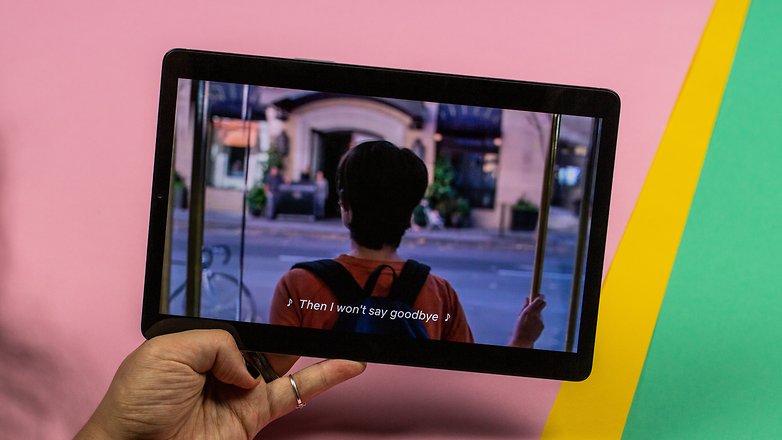 If you want to use the Galaxy S5e as a device for office work instead of a notebook, you'll be happy to hear that Samsung has given the Galaxy Tab S5e DeX capability as well. So if you connect the tablet to a monitor with a USB-C to HDMI cable, you can activate a desktop display.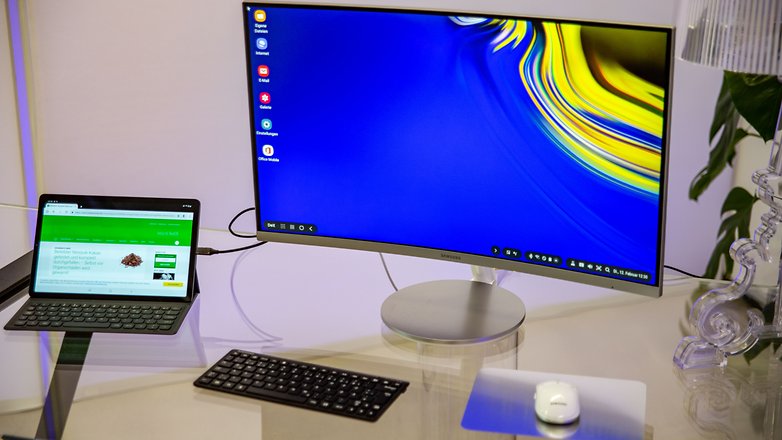 One sad thing about the Galaxy Tab 5e is the lack of S-Pen or stylus support, something that I didn't even use too often on otherwise lesser tablets, but I still missed from time to time on this one, especially for signing documents or quick sketches. Oh well.
OneUI including Bixby
When it comes to software, the Galaxy Tab S5e comes with Samsung's OneUI for tablets , based on Android 9 Pie as one might expect. This includes up-to-date features such as dark mode and digital wellbeing to limit your over-indulgence in technology.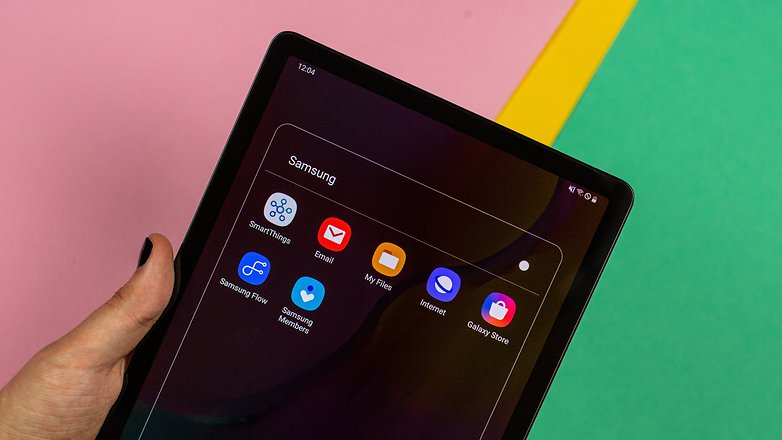 Compared to the Galaxy Tab A variant, however, the S5e can still use Bixby Home with Smart Things integration. Why this can't be found in the cheaper model, also, lies in the fact that the Tab S5e is equipped with far-field microphones, so that Bixby Voice can also be used. Both the microphones and Bixby Voice are not available for the Galaxy Tab A 2019.
Thanks to Bixby Home and the Smart Things integration, owners of a Galaxy Tab S5e will in future also be able to use the tablet as a control center for their smart homes. The advantage of the S5e is that you don't have to open an app. Thanks to Bixby Voice, you can also manage your smart home with your voice.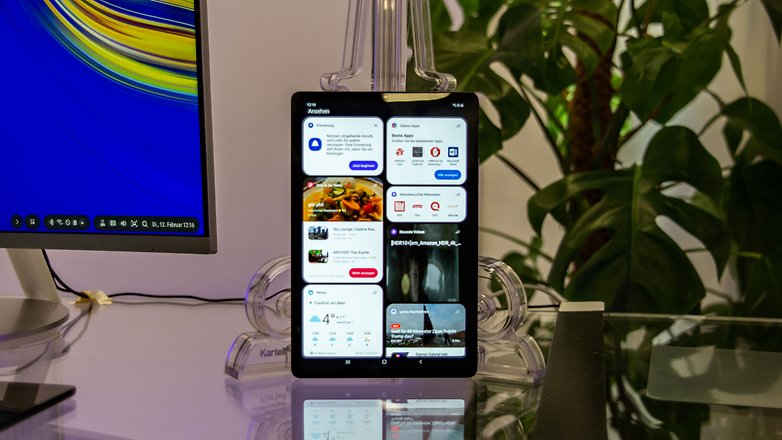 Though the tablet is DeX compatible, the workstation solution itself has few advantages. Not only does the 4GB RAM of our review model struggle with it somewhat, many apps are still limited to the mobile versions that make it kind of pointless. After all mobile versions of office suites are often good enough to work from the tablet directly, especially with a connected keyboard. If you fork out the $80 extra for the high spec model this could be a more viable option for you.
A mid-range engine in a premium chassis
The Tab S5e gives the impression of being a premium tablet in terms of look, feel and display quality. But on the inside, the story is a little different when it comes to power. Samsung uses the Qualcomm Snapdragon 670 SoC with 4GB of RAM and 64GB of internal storage, which can be expanded up to 512GB. So not exactly muscular in the computing department , and the benchmark tests bear this out.
Samsung Galaxy Tab S5e: benchmark results
| Device | 3D Mark Sling Shot Extreme ES 3.1 | 3D Mark Sling Shot ES 3.0 | 3D Mark Ice Storm Unlimited ES 2.0 | Geekbench 4 - single core | Geekbench 4 - multi core | Passmark Memory | Passmark disk |
| --- | --- | --- | --- | --- | --- | --- | --- |
| Galaxy Tab S5e | 1591 | 1535 | 26320 | 1719 | 5727 | 12143 | 57885 |
Since tablets aren't really used for much demanding work, I was never frustrated with the performance of this slate with the exception of high-end gaming. While you can run demanding titles like Darkness Rises or Shadowgun Legends on the Tab S5e, I wouldn't recommend it, since the skipped frames and graphic setting compromises aren't really worth it, and even look worse magnified on the big screen. Fortnite is only really able to run on low settings, but PUBG Mobile just about manages on high.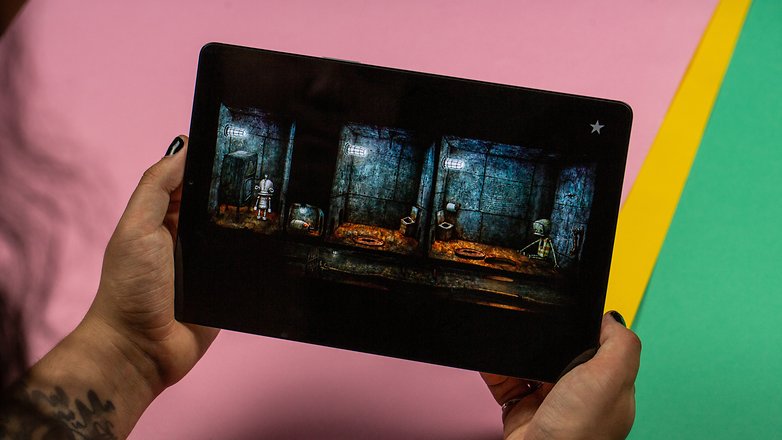 On the other hand, more lightweight games run smoothly, and I enjoyed playing various point-and-click adventure games like Machinarium or pixel art games like Palm Kingdoms 2 on the device without any strain on the hardware.
A singing speaker-quartet
In terms of audio, Samsung relies on AKG's know-how. Even with the Galaxy Tab S4, the audio engineers were allowed to help, but only at a late stage of development. With the Galaxy Tab S5e, Samsung got AKG technicians involved in the development earlier. Samsung also makes this clear on the back of the tablet, with the words "Sound by AKG" instead of the old "Tuned by AKG". The quality and volume of the four loudspeakers integrated into the tablet are quite convincing for media viewing or playing music for a relatively lowkey get together. The speakers actually adapt the audio to how you hold the device, i.e., in portrait or landscape mode.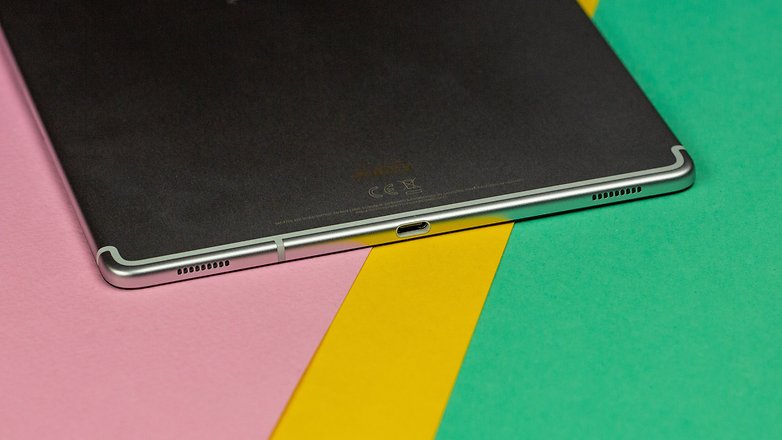 As previously described, there's no headphone jack present, but if you're willing to dongle up or use a Bluetooth headset, Dolby Atmos is on board to ensure a quality experience in your earphones.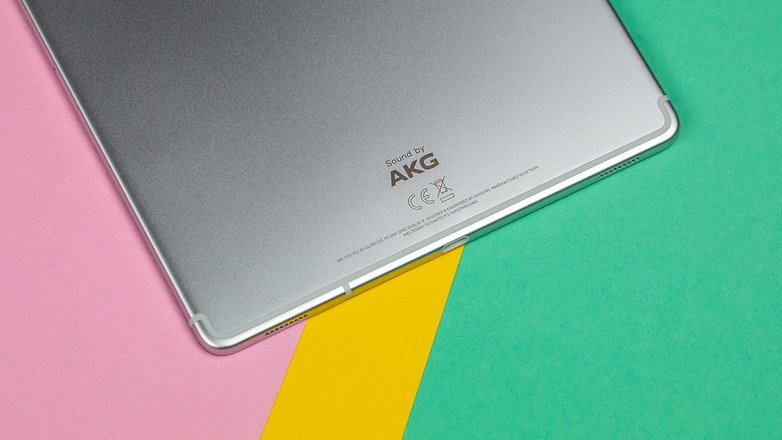 Cameras for video chats and facial recognition
Of course the Galaxy Tab S5e has two cameras, but expectations for a tablet aren't the same as what we would demand from our smartphone. A 5MP unit sits on the front, which is not only used for selfies but also for video chats and for the already mentioned facial recognition. The rear main camera has an image sensor with a 13MP resolution. Both should be useful for photos and selfies in good lighting conditions , but struggle outside of that optimal window.
Gallery of photos taken with Galaxy Tab 5e
At home I found the face recognition fast, but with the caveat that it doesn't use an iris scanner, so it's not actually as secure as using a fingerprint or PIN in this case. Video chats are great via the Tab 5e's front camera, with the added bonus that the tablet's lightness makes it easier to hold upright for longer conversations.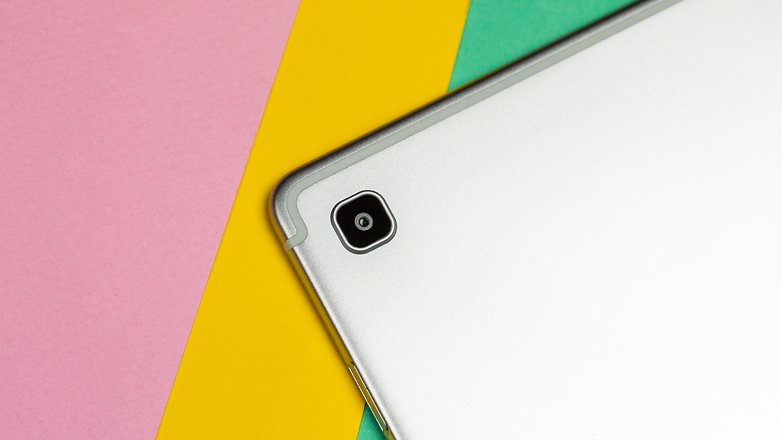 Enough battery for more than 14 hours multimedia
There is one key area where the manufacturer did not skimp on the internal hardware. Samsung squeezed 7,040 mAh into the 5.5mm thick tablet . According to Samsung, this should offer the user a maximum runtime of up to 14.5 hours. So, in theory, you could watch the entirety of The Lord of the Rings extended trilogy and still have a little left over.
Of course one is rarely in the mood for such an intense marathon, I was happy to have the Tab 5e as my entertainment center during long bus rides. Even using it was my primary device for some document work, Netflix viewing and gaming throughout the day, it comfortably lasted almost two days without any need to worry about charging.
If the battery actually runs out, it can be completely charged via USB-C with fast charging in 3 hours and 10 minutes.
Additionally, there is the option to charge the tablet with the POGO Stand accessory in landscape mode via POGO pins. In this case, however, the maximum charging time is 290 minutes. The pins are not only useful for the stand, it also allows connection to the optionally available keyboard cover.
The Galaxy Tab S5e can also be a practical helper in times of need thanks to reverse charging. If one of your electronic devices runs out of power, such as your smartphone, the Galaxy Tab S5e can serve as a power bank.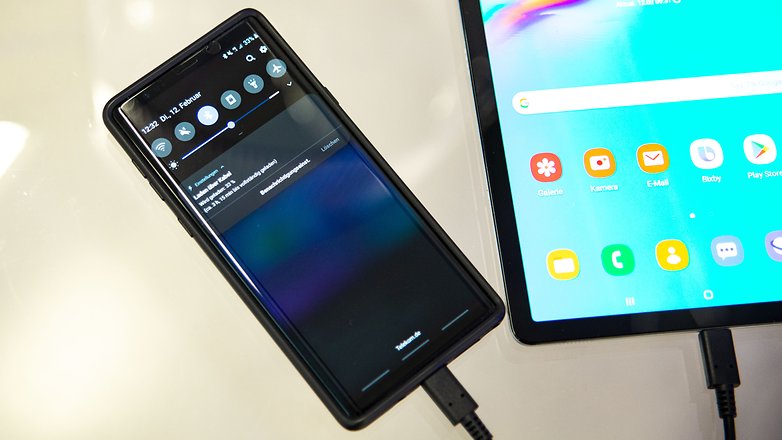 Samsung Galaxy Tab S5e technical specifications
Final verdict
The Galaxy Tab S5e is intended for those Android users who don't necessarily need the fastest processor and graphical performance, but are still looking for a premium device. In this respect the Galaxy Tab 5e delivers at an attractive price, since unless you want to use the slate as a laptop replacement or for games with exquisite graphics, you can enjoy multimedia with good sound, modern Android software and moderate gaming potential on an ultra-light Super AMOLED display for just $400. And that's not bad at all.
Samsung has actually improved the Galaxy Tab S5e by removing some of the weak points of last year's Tab S4. The glass back has been replaced with an aluminum unibody case so that it is easier to grip.In addition, the fingerprint sensor is an alternative to face unlocking and, above all, there is now an inexpensive premium tablet in the range for those who want more for less money.
The Galaxy Tab S5e's convenience and display can't be beaten at this price point, and comes recommended for anyone who wants a lightweight tablet and can do without high-end gaming and stylus use. For the most demanding users, it remains to be seen what Samsung will integrate with the main Tab S5.