Samsung Galaxy Tab S 10.5 review: super thin and dazzling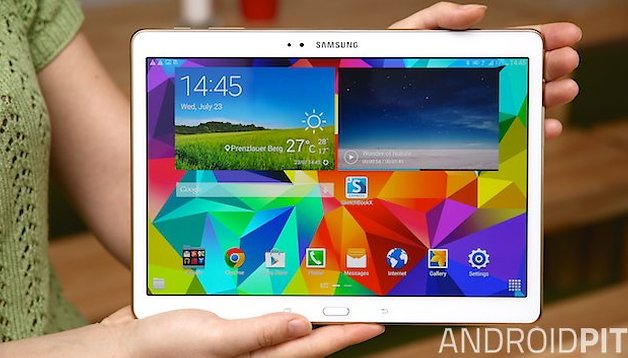 Samsung presented a brand new flagship tablet in June 2014, the Galaxy Tab S, which comes in two sizes of 10.5 or 8.4 inches. In comparison to previous tablets by Samsung, the Tab S is thinner and lighter, and thanks to its dazzling Super AMOLED display, it lands itself in the category of high end tablets. Our test of the Galaxy Tab S will show whether it lives up to Samsung's high praises.
Good
Super AMOLED display

Performance

Thin and lightweight design

Cool features, like SideSync, Fingerprint scanner and Remote PC
Bad
Battery capacity is smaller than its predecessors

The device heats up after intensive use
Samsung Galaxy Tab S 10.5 design and build quality
The design on our new tablet follows the same design line as Samsung's long list of Android tablets, but differs from the Note family in that it doesn't come with the leather backing and instead has adopted the same Galaxy S5 perforated polycarbonate material. What really stands out is the gold frame, giving the tablet an elegant look. The 10.5 inch size has also been stepped up a notch from the typical 10.1 format, however it's one of thinnest tablets out there measuring just 6.6mm thick. Plus, it's super light: weighing in at almost 470 grams, it's almost 100 grams lighter than the Galaxy Note 2014 and 300 grams lighter than the Samsung Galaxy TabPro. The Samsung Galaxy Tab S has been flawlessly crafted and gives off an impression of value.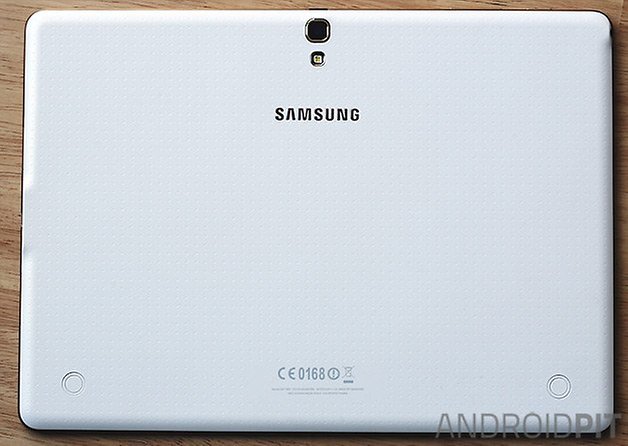 A positive point regarding the Tab S is that Samsung put the power jack on the right hand side of the tablet, which makes it a lot easier to use the tablet even when plugged in. This was often a problem with previous Samsung tablets where the jack was located at the bottom of the device. The power button and volume rocker maintain the same slickness as the rest of the device and are relatively invisible, nicely blended into the gold frame. Next to these buttons, you'll locate the microSD and SIM card slots.

Samsung Galaxy Tab S 10.5 display
The technical specifications for the display speak volumes: with a resolution of 2,560 x 1,600 pixels on a Super AMOLED display and a pixel density of 288 pii, the Galaxy Tab S is visually very impressive. The color intensity is also stunning: the various tones dazzle and the text is razor sharp. The first time I used the tablet, I was blown away by the colors which were almost too bright for the human eye, though after a little while of getting used to the intensity, other devices seemed dull and lifeless in comparison. The display is definitely one of the Tab S' many strong points.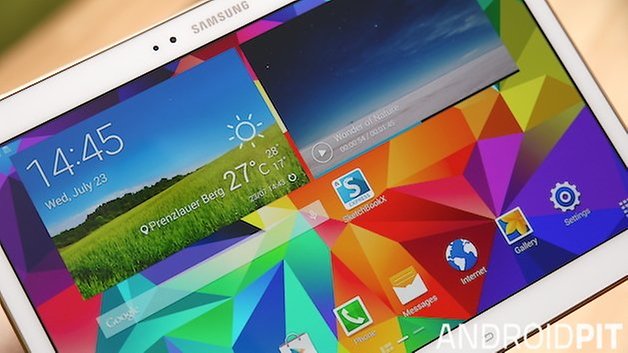 Samsung Galaxy Tab S 10.5 special features
The Tab S connects easily to all Samsung devices, which is great if you already own one. This is done with a built-in feature called SideSync which allows you to combine Samsung tablet and smartphone and control the latter remotely. Even outgoing calls can be made from the tablet. Another great feature is the PC Remote app, which lets you control the content of your computer from the tablet. This is useful for when playing computer games or porting other multimedia content to your tablet. The connection is established in a matter of minutes. Samsung's tablet also includes a password protected Kids Mode. Though the 111.6 MB download file for this is quite hefty, it lets you put apps on a blacklist and create multiple child profiles.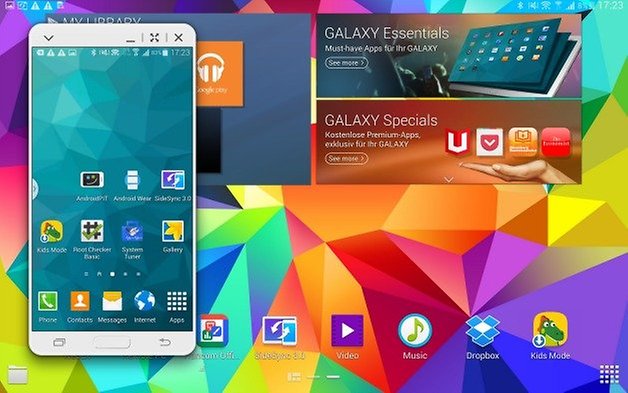 The Galaxy Tab S 10.5 is one of the first Samsung tablets which can be locked and unlocked using your fingerprint by sliding your finger over top of the home button. You can also program more than one print so that multiple users can gain access to the tablet. Lastly, in terms of special features, Samsung has stuck two small buttons on the back of the tablet with integrated magnets, which ensure that cases made for this device stay on snugly and securely.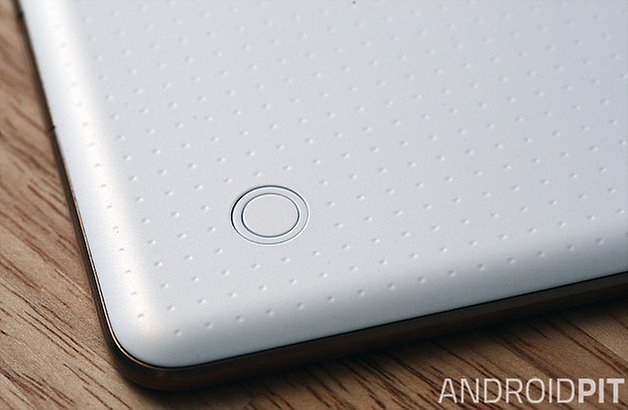 Samsung Galaxy Tab S 10.5 software
The user interface on the Galaxy Tab S is Samsung's traditional OEM skin, TouchWiz, now complemented by Magazine UX, and the entire system is based on Android 4.4.2. The UI its shares of advantages and disadvantages. For one, the 2D icons won't please everyone's tastes, and the application manager is no longer accessible by long pressing on the home button. It now has its own on-screen button. That being said, this should really only be a matter of getting used to for those who have already owned a Samsung device in the past.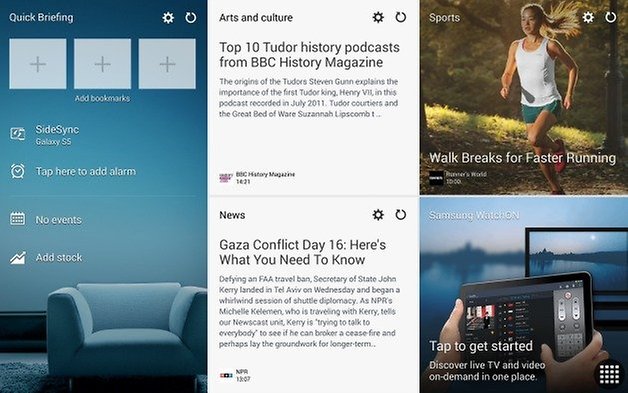 Now for the advantages: the data manager has now been moved to the foreground, and can now be found on the bottom left side of the screen. Plus, there are more shortcuts and quick settings. The tablet supports multiple apps opened at the same time with the Multi Window function, plus it comes with a bunch of pre-installed apps like GroupPlay, S Note and S Translate, some Samsung staples.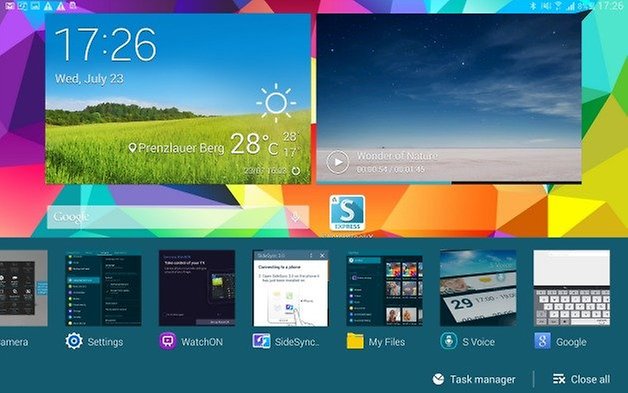 Samsung Galaxy Tab S 10.5 performance
The tablet ran smoothly and lag-free during the test, just like a brand new device should. When playing games though, I got some mixed results. Games like Leo's Fortune or Call of Duty were amazing: they ran fluidly, and the graphics were positively explosive on the Super AMOLED display. Unfortunately, the same could not be said for GTA: Vice City, where there were many glitches. Whether the problem was due to the Tab S or the app is hard to determine, and after a healthy game marathon, the Tab S definitely started to heat up.
Samsung Galaxy Tab S 10.5 camera
The Tab S camera shoots with a resolution of 8 MP. Videos can be taken in Full HD, and played back with WYHD (2,560 x 1,400 pixels). And like with its predecessors, the camera comes with many shooting modes, like Portrait Mode, Shots and More, Panorama, HDR, Dual Camera, Burst Mode and other settings options. But what about picture quality? The pictures turned out decently in well-lit situations and in macro mode, where the fine nuances of detail in the image could be plainly seen. 8 MP is a good amount of MP for a tablet as well and since the Tab S is also so light, this makes it really easy hold while taking pictures without any arm fatigue or awkwardness.
Samsung Galaxy Tab S 10.5 battery
The Galaxy Tab S lags slightly behind its processors in terms of battery where it only packs a capacity of 7,900 mAh. The TabPro for example has 8,220 mAh. In our hands-on test of the tablet, one charge lasted for 10 hours during which the screen was switched from on to sleep mode on a constant basis. Next to almost 5 hours of standby time, I also used the Tab S during this time to browse through social media, chat on skype, take pictures, play Candy Crush Saga, GTA, Call of Duty, Floppy Bird, and Leo's Fortune, and test out Samsung's own apps. I could tell that using high definition games really sucked up quite a bit of battery.
Samsung Galaxy Tab S 10.5 technical specifications
Final verdict
The Samsung Galaxy Tab S 10.5 is really an impressive tablet. But for all the bells and whistles, amazing display and smooth performance, there's a price to pay. In the US, you can buy it for 499.99 USD in Titanium Bronze and Dazzling White, while in the UK, the same colors are available for 399 GBP. Another positive thing about the device is how thin and light it is, which stacks it up next to Apple's iPad Air as a real competitor. For those who use their tablet for professional or business purposes, the Note series still comes highly recommended, because of its S Pen stylus and note taking functions, which aren't included on the Tab. The Tab S is great for casual game playing, watching videos, and browsing the internet. For private usage, the new high end Samsung tablet is also definitely a must.