Samsung Galaxy S9 Plus vs LG G7 ThinQ: Korean flagships clash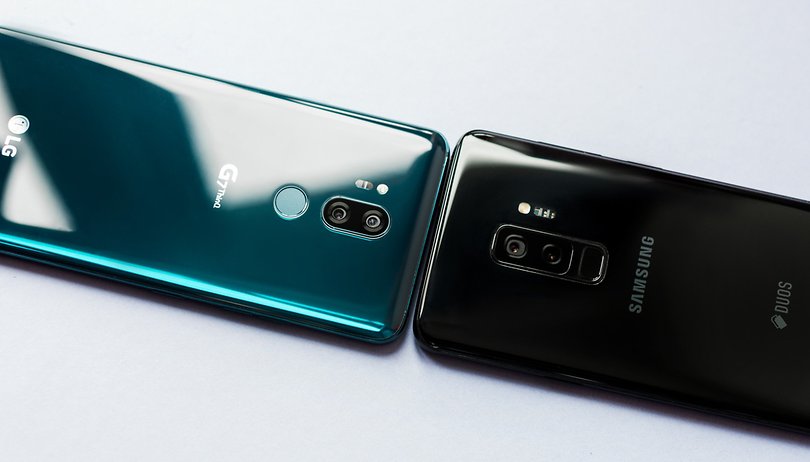 It's the battle of the Korean flagships as we set Samsung's newest heavyweight, the Galaxy S9 Plus against LG's smart guy, the G7 ThinQ. Which will come out on top? I've been getting to know the Galaxy S9 Plus, and will be tapping my colleague Hans-Georg to rep the LG G7 ThinQ.
Design: S9 Plus for the curves, G7 for the color
Nicholas:
I must admit to having ambivalent feelings about the Samsung Galaxy S9 Plus in terms of design. Black, rounded, Bixby button under the volume rocker:it's a Samsung, yes—but what a Samsung! The smartphone juggernaut has been conservative with the S9 and not much has changed, but a lot has clearly been refined.
Sleek, elegant and well-balanced, even the larger S9 Plus handles well during use and slips easily into the pocket. Despite it rivaling the Note 8 in size, I always found it easy to use in one hand on the go thanks to the evenly distributed weight and curves.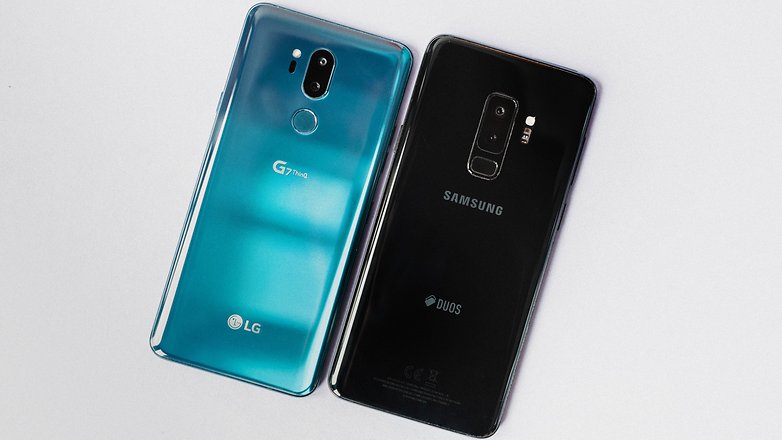 Even though the S9 Plus is available in several colors, including the new gold look, I must admit to casting an envious eye over the G7's graded turquoise back. On the other hand, I don't envy the LG device its notch, even if it can be hidden in the settings.
After handling both phones, I have to admit that to me, at least the S9 Plus feels more comfortable to use despite being larger: the narrow curved edges just make it easier and faster to get your fingers where they need to be.
Hans-Georg:
LG phones haven't been known for their great industry design. That has changed since the LG G6. With the G7 we see that LG has further improved its designer game. That is by using those rounded edges that have impressed us with the LG V30. Also LG has created a great portfolio of attractive colors.
All in all a G7 fits well in the hand, even though it's quite big. In my personal opinion the G7 has an edge here over the Galaxy S9 Plus. What I don't like that much is the back side of the G7. It feels hollow and it is. That's because of the larger resonance chamber, that gives you this amazing boombox sound when you put the G7 on a special box.
Display: Infinity vs...OK
N:
The Infinity Display on the S9 Plus is enchanting, no two ways about it. In daily use, I found it hard to tear my eyes away from it at times, falling into the temptation of pointlessly scrolling and swiping through menus just for fun. Super AMOLED is Samsung's superweapon and the Galaxy S9 has one of the beautiful screens I've ever seen, a display that feels genuinely addictive.
My only gripe is that the curved edges that are so attractive while browsing and scrolling web content are still somewhat off-putting when running games or other media, with a slight distortion around the edge of the picture that can sour the experience.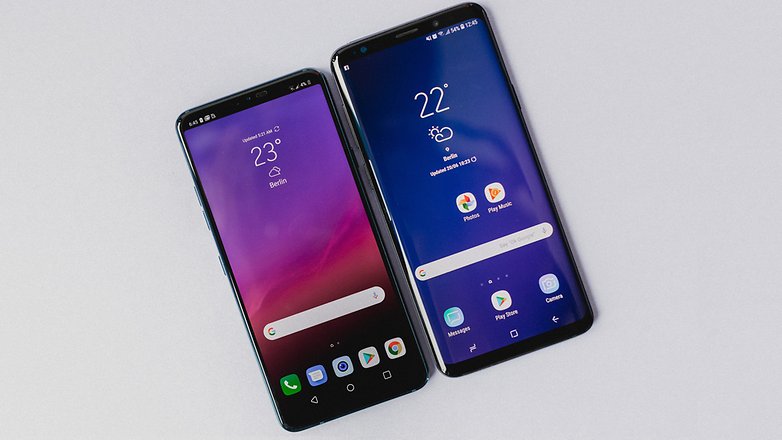 HG:
So LG chose a display panel with a notch. Besides that the display of the G7 is okay. It won't blow your mind in terms of blacks or those great colors. But it will not disappoint either.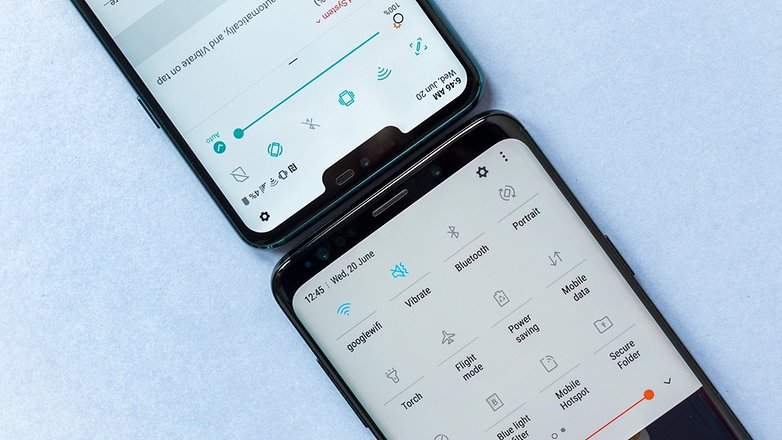 In terms of usability I had my troubles with the insane height of the G7 and its display. With the notch it's actually quite uncomfortable to pull down the notifications area. LG also promotes a special mode for the times when you're in direct daylight. The G7 then boosts the brightness to 1000 nits. But only for three minutes.
Camera: can LG's AI beat Samsung's expertise?
N:
There's no denying that that the Galaxy S9 Plus is packing one of the best smartphone cameras out there, but whether it ends up being your favorite comes down to taste. Our in-depth camera test lays out the fine details but in my own personal use, I couldn't help feeling slightly disappointed at the tendency towards high color saturation, and a tendency towards warm colors and red in particular. As someone with tan skin, I didn't appreciate selfies where the S9 Plus made me look more orange.
I had much more joy with the main camera than the front camera, however. While color saturation is still strong compared to competitors like the iPhone X and Pixel 2, the S9 Plus is capable of beautiful snapshots, bokeh works well and the 52mm focal length is an asset for portraits.
As to Samsung's photography gimmicks, I have to say that AR emoji didn't quite grab me as something more than to play around with for more than a few minutes and then discard, but I admit to being conservative in my messaging habits. Being able to get your facial expression onto a 3D emoji can be really great for getting your message across juuust right, as well as having a bit of fun along the way.
The super-slow motion video, on the other hand, is really easy to use, as it sense motion within the shot to help you capture the moment, and once you get started with it, it's easy to start noticing things around that deserve the slow-mo treatment.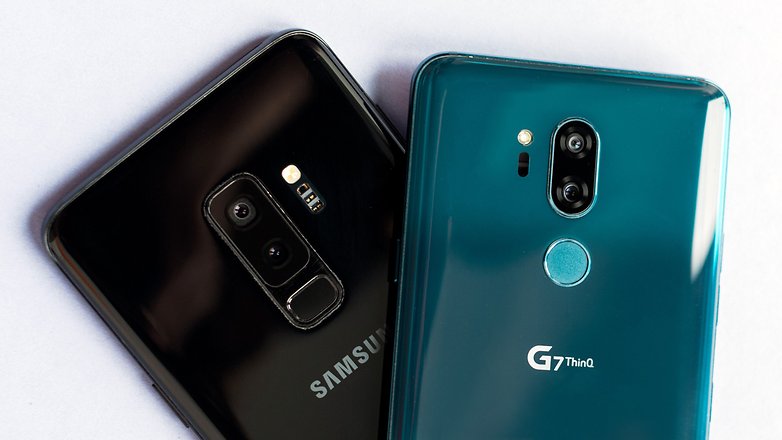 HG:
While I actually like most parts of the G7, for me it's the camera that tips my judgements in one or the other direction. Here's the thing: With the G7 you don't get the best camera out there. One could say, it's actually quite weak compared to other flagship phones.
But even the G7 has two interesting features, that are indeed quite useful. Of course there's the wide angle lense. It's a joy to use because you can take pictures that are simply put impossible to take on other phones (a Galaxy S9 Plus in our case). It's great for pictures of architecture, weird perspectives on animals or food. And it's great for group shots with your friends. Sometimes it's just not the perfect detail and color in your photo, but it's the perspective, that makes for a great photo.
And then there's the AI Cam. There are two parts, one is great the other not so much. Let's talk about the bad part first: AI Cam is a mode in the camera app of the G7. It detects the scene and chooses a fitting picture mode, say food mode or a mode, that optimizes colors for pictures of babies. While this sounds great, it's mostly useless, because colors are way off. So typically you want to ignore this feature and stick to the classic auto mode.
Gallery of photos taken with the Galaxy S9 Plus
Gallery of photos taken with the LG G7 ThinQ
However there's a second part to it: LG offers object and scene detection in its very own gallery app. So the G7 actually sorts your pictures by round about 1200 tags, and that's fully automatic.
Features: butler buttons for digital assistants
N:
When LG introduced the Assistant button on the G7 ThinQ it seemed like they were taking a leaf from Samsung's book, as the Korean company has integrated a dedicated button for its own assistant Bixby, for some time now.
But if we're honest, Bixby has never managed to really measure up to rivals such as Siri, Alexa, and more importantly in this comparison, Google Assistant, accessible via button on the G7. Frankly, my experience with the Bixby button on the S9 Plus largely consists of wishing it would go away, as I've accidentally pressed it instead of the volume rocker more than a few times.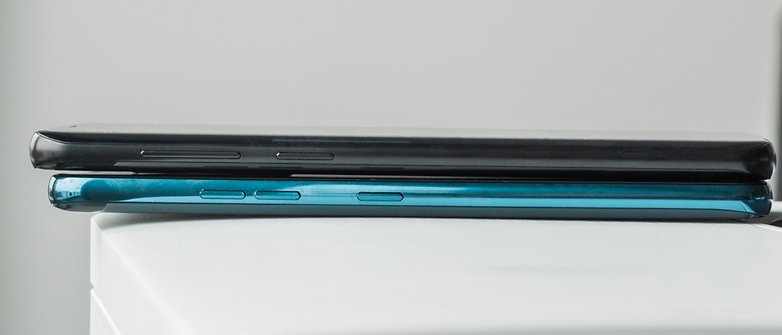 HG:
There's one truth to special buttons to access assistants like Bixby or our beloved Google Assistant: No one needs them, but they can come in handy.
My daily driver is a Pixel 2 XL and I use Active Edge all the time to start Google Assistant. I could go without it, but I don't want to. LG wasn't able to secure the Active-Edge-tech from Google (or HTC). So they decided on a simple button that works equally well for its purpose. They even worked with Google on that design decision. Long story short: If you're using Google Assistant or Bixby, a dedicated button is useful.
Samsung Galaxy S9+ vs. LG G7 ThinQ technical specifications
Samsung Galaxy S9+
LG G7 ThinQ
Dimensions:
158.1 x 73.8 x 8.5 mm
153.2 x 71.9 x 7.9 mm
Weight:
189 g
162 g
Battery size:
3500 mAh
3000 mAh
Screen size:
6.2 in
6.1 in
Display technology:
AMOLED
LCD
Screen:
2960 x 1440 pixels (531 ppi)
3120 x 1440 pixels (563 ppi)
Front camera:
8 megapixels
8 megapixels
Rear camera:
12 megapixels
16 megapixels
Flashlight:
LED
LED
Android version:
8.0 - Oreo
8.0 - Oreo
RAM:
6 GB
4 GB
6 GB
Internal storage:
64 GB
256 GB
128 GB
64 GB
128 GB
Removable storage:
microSD
microSD
Chipset:
Qualcomm Snapdragon 845
Samsung Exynos 9810
Qualcomm Snapdragon 845
Number of cores:
8
8
Max. clock speed:
2.7 GHz
2.8 GHz
Connectivity:
HSPA, LTE, NFC, Bluetooth 5.0
HSPA, LTE, NFC, Bluetooth 5.0
Conclusion: No Than-Q LG
N:
So you've got some cash burning a hole in your pocket and looking to get the latest in Korean craftmanship? Well, the Galaxy S9+ makes a slightly bigger hole at $839.99 (64 GB unlocked), and the G7 ThinQ is almost $100 less at $749.99. Nonetheless, LG has a history of being over-confident with their products after launch, so in terms of bang for your buck, you might be better off splurging on the S9 Plus if you want a flagship phone right now, or watch out for a price drop on the G7 later this year to snap up a bargain.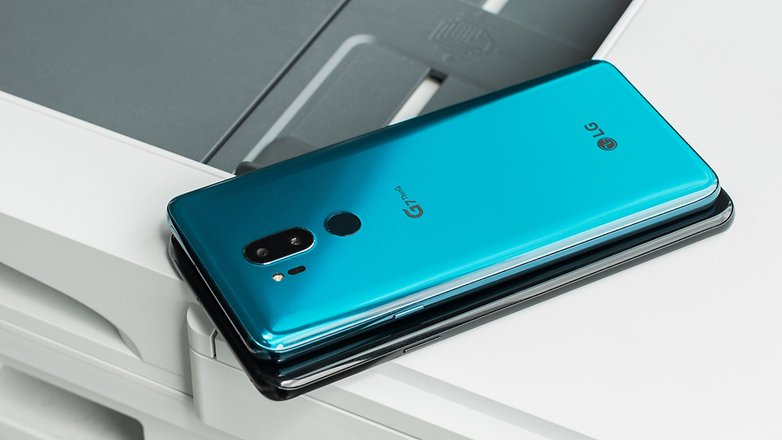 HG:
All in all it feels like the Galaxy S9+ is the better deal right now. Sure, you're going to pay a bit more for it but you will also get the better camera and a superior display. The G7 still is a great phone. It's just not on par with the competition in its price range. If you manage to get your hands on a massively discounted unit, then you will still have to deal with this underwhelming camera.
What do you think of these two phones? What should LG do to really be a rival to Samsung globally?