Samsung Galaxy S8+ vs OnePlus 5T: Two worlds collide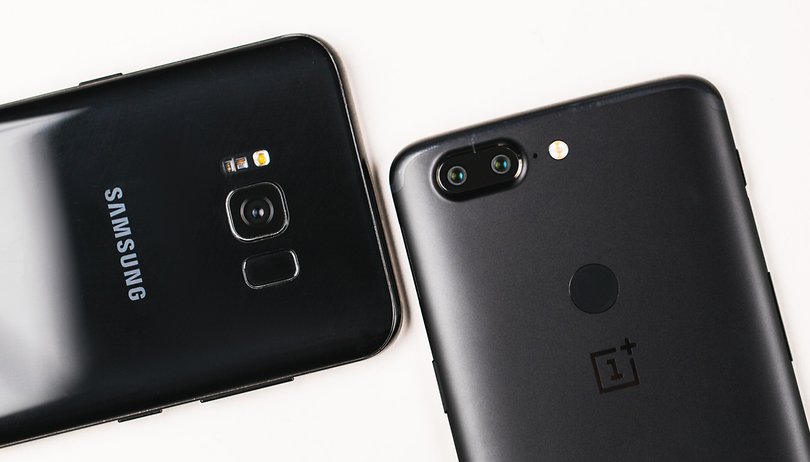 OnePlus has always defined its devices as "flagship killers" due to their top-range smartphone characteristics marketed at a low price. On the other hand, Samsung has always tried to position itself as a manufacturer of super premium devices without worrying about being preoccupied by a good value for money ratio. Will OnePlus succeed when going head to head with one of their most fierce competitors? Find out more in this comparative review of the Samsung Galaxy S8+ and the OnePlus 5T.
Samsung Galaxy S8+ vs OnePlus 5T: Form or function?
I must say that both companies have diametrically opposite visions with regards to how a top-range device should be produced. On one hand, we have the elegant Galaxy S8+ with its soft curves, curved display on both sides and its glass casing whereas, on the other hand, we have the OnePlus 5T which is more solid with its aluminum unibody and more industrial look.

Both solutions are valid: the S8+ is aesthetically pleasing overall but the curved display isn't practical in certain situations; the OnePlus 5T is more solid and practical.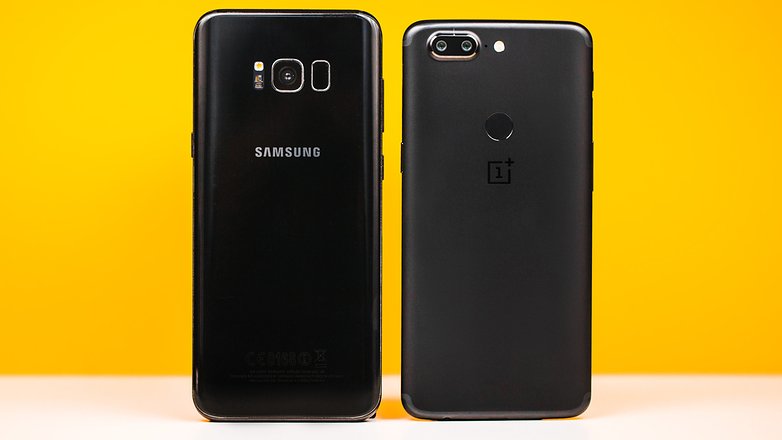 Samsung Galaxy S8+ vs OnePlus 5T: Advanced security or threatened privacy?
Speaking of practicality, the Samsung smartphone has a poorly placed fingerprint reader. Even the fingerprint recognition speed falls way behind the competition. Furthermore, it offers alternative unlocking methods with facial recognition (dangerous, and you can fool it with a photo) and the iris scanner (much more secure but very slow).

However, thanks to Knox, Samsung has an advanced security suite which can protect sensitive information and create a secure working environment.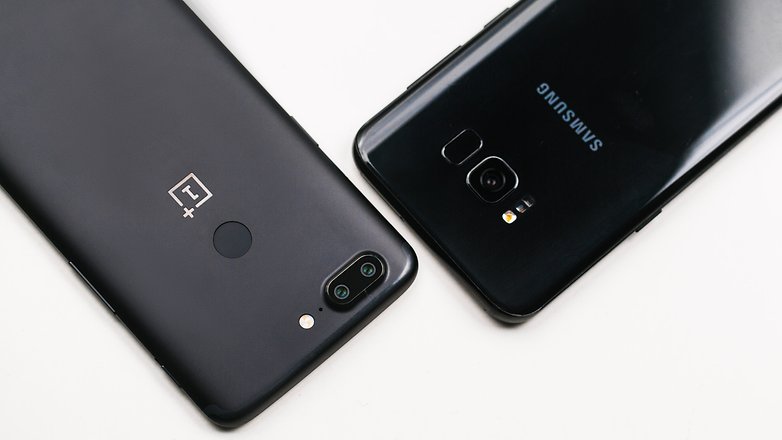 The OnePlus 5T, when it comes to unlocking methods, is much more advanced than its Korean rival as it includes one of the fastest facial recognition systems on the market (but the security still needs to be reviewed) and a well-positioned, comfortable and fast fingerprint reader. Unfortunately, taking recent events into account, the Chinese company has much more to explain with regards to the security of user information.
Samsung Galaxy S8+ vs OnePlus 5T: Samsung never plays around with its screens.
The Korean company is one of the largest manufacturers in the world for AMOLED screens, a technology which is now used by both smartphones. While, on one hand, you have one of the best curved displays ever seen on a mobile device, on the other hand, you have a screen manufactured by Samsung which is completely flat.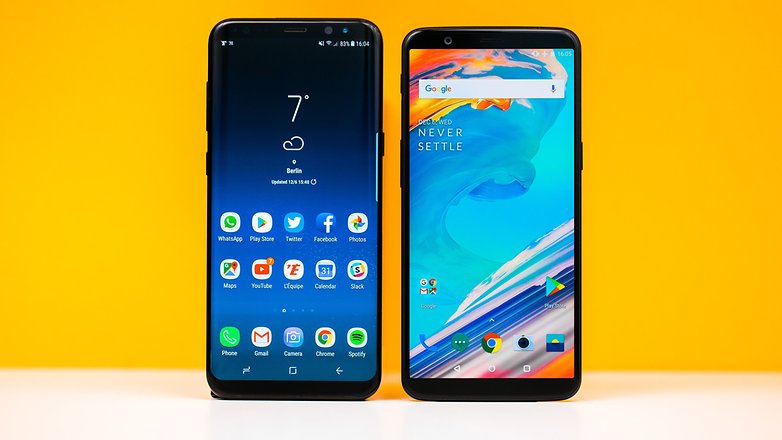 The first device measures 6.2 inches, has a 1440 x 2960-pixel resolution (18.5:9), maximum brightness of 1000 nit and comes in vibrant colors. The second device measures 6.01 inches, has a 1080 x 2160-pixel resolution (18:9) but is calibrated with more natural colors. Despite the difference in resolution, you won't notice many other differences.

In this area, Samsung has produced a real gem almost beyond compare. On the other hand, OnePlus has used one of the best Full-HD panels available on the market. Despite the OnePlus 5T's lack of functions, such as HDR support, you won't be disappointed.
Samsung Galaxy S8 + vs OnePlus 5T: No better hardware
Both smartphones offer the very best in modern technology. The OnePlus 5T is powered by the SoC Qualcomm Snapdragon 835, 6GB/8GB of RAM and 64GB/128GB of internal memory but, unfortunately, this isn't extendable. The CPU is the fastest on the market, the available RAM is way more than enough (I'm not complaining, of course) and the storage space should satisfy even the most demanding of users.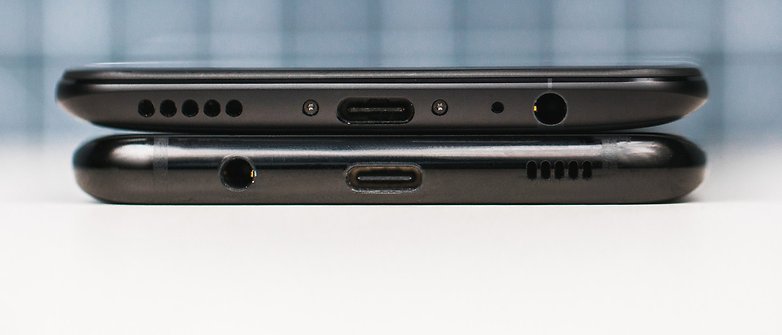 The Samsung Galaxy S8+ includes the latest in-house chip, the Exynos 8895, which is accompanied by 4GB of RAM and 64GB of extendable memory. On one hand, it offers less RAM, but this is more a marketing matter because there's no need for it to have more than that. On the other hand, the Samsung device offers the possibility of extending the available memory with a MicroSD card which could be a real advantage for some users.

There are minimal differences when it comes to performance. Note that the S8+ is sold with the same chip as the OnePlus 5T on certain markets. Effectively, the Samsung device falls a little behind as the company's software isn't as fast and snappy as that of the competition. This doesn't mean that the S8+ has performance problems but the strong personalization by Samsung is often reflected in the slight decelerations, while the Android software that was hardly personalized and greatly optimized by OnePlus makes a difference in everyday use.
Samsung Galaxy S8+ vs. OnePlus 5T technical specifications
Samsung Galaxy S8+
OnePlus 5T
Dimensions:
159.5 x 73.4 x 8.1 mm
156.1 x 75 x 7.3 mm
Weight:
173 g
162 g
Battery size:
3500 mAh
3300 mAh
Screen size:
6.2 in
6.01 in
Display technology:
AMOLED
AMOLED
Screen:
2960 x 1440 pixels (531 ppi)
2160 x 1080 pixels (402 ppi)
Front camera:
8 megapixels
20 megapixels
Rear camera:
12 megapixels
16 megapixels
Flashlight:
Dual-LED
Dual-LED
Android version:
7.0 - Nougat
7.1.1 - Nougat
User interface:
TouchWiz
Oxygen OS
RAM:
4 GB
6 GB
8 GB
Internal storage:
64 GB
64 GB
128 GB
Removable storage:
microSD
Not available
Chipset:
Samsung Exynos 8895
Qualcomm Snapdragon 835
Number of cores:
8
8
Max. clock speed:
2.3 GHz
2.45 GHz
Connectivity:
HSPA, LTE, NFC, Bluetooth
HSPA, LTE, NFC, Dual-SIM , Bluetooth 5.0
With regards to the cameras, both smartphones have different approaches. The Galaxy S8+ has one 12-megapixel sensor and lenses with a f/1.7 aperture. It includes dual pixel technology for autofocus with quick detection. Even in poor lighting conditions, it's hard to take bad photos with this smartphone.

The OnePlus device offers a more modern dual-camera system of 16 and 20-megapixels, both of which have a f/1.7 aperture. You won't find an RVB sensor accompanied by one in black and white, or two different focals as with the OnePlus 5. The difference lies in the sensor optimization, one of which is used for normal shooting and the other is used for taking photos in poor lighting conditions. This smartphone allows you to choose a sensor depending on the conditions.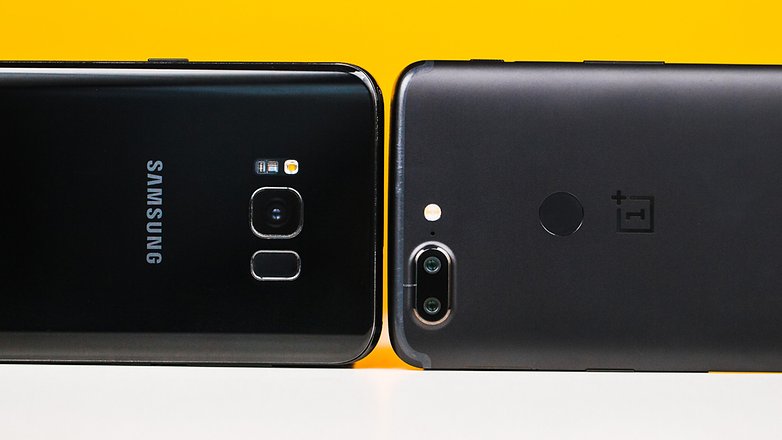 Samsung Galaxy S8+ vs OnePlus 5T: Conclusion
OnePlus always does great work. There aren't many criticisms to be made for this top-range device and, despite the ever-increasing prices, the price of the OnePlus 5T is well below those of the competitors. Bear in mind that, although it's less comprehensive than the S8+ which is sold for around $825, the OnePlus 5T is priced at $499 ($559 for the version with 8GB of RAM and 128GB of memory). The price is much lower than current top-range devices.
On the other hand, the Samsung Galaxy S8+ has been on the market for a while and its selling price (the price that you can find it for in store or online) has considerably reduced. With a bit of bargain hunting, it would perhaps be worth spending a little more money to buy the more attractive, dashing Korean smartphone.

If, on the other hand, you're looking for the best, light and speedy software supported by the best SoC of the year as well as a comprehensive user experience, and if you're not interested in the screen having the best resolution or if the camera isn't a priority for you, the OnePlus 5T could be the best choice for you.
Which is more appealing to you? Can OnePlus's "flagship killer" sink the Galaxy S8+?