OnePlus 2 vs Galaxy S6 comparison: flagship killers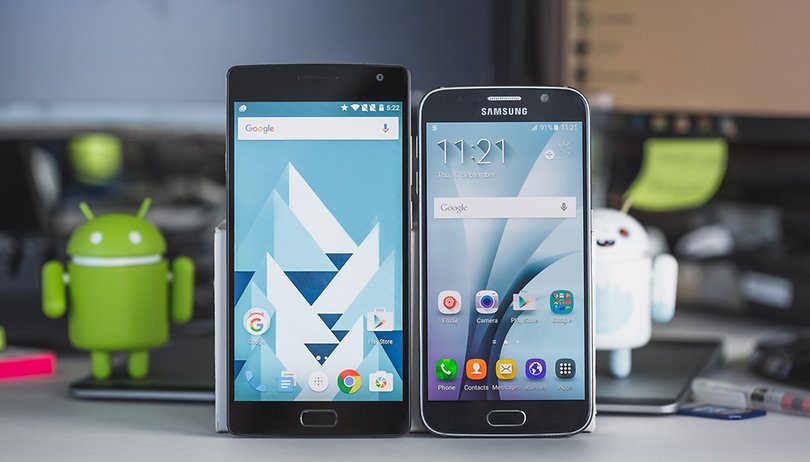 Samsung's Galaxy S6 was introduced earlier in 2015 and almost instantly claimed our best Android phone crown. That's not especially surprising; Samsung is a huge company with a vast back-catalog of high-quality handsets. Then the OnePlus 2 arrived, dubbed the '2016 flagship killer' by its creators. Not only would it be better than any phone of 2015, they claimed, but the unannounced devices set to arrive in 2016 too. There's no doubt it represents great value, but how accurate is the OnePlus 2's moniker? Find out in our Samsung Galaxy S6 vs OnePlus 2 comparison. NEXTPITTV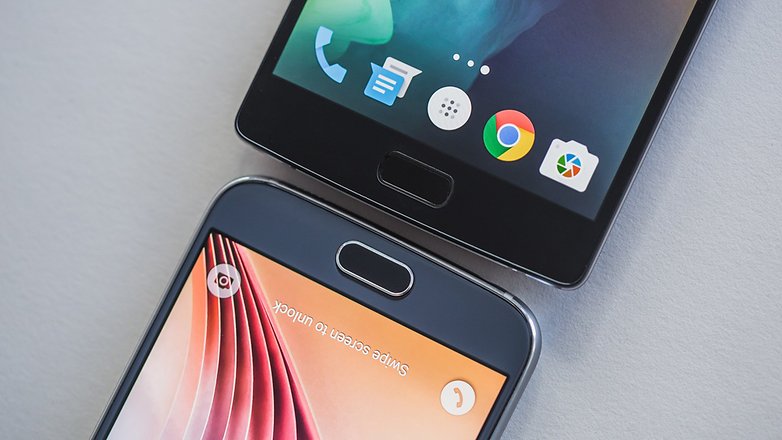 Test devices:
OnePlus 2, 64 GB, 4 GB RAM, Android 5.1.1, Oxygen 2.0.2, model ONE A2003
Samsung Galaxy S6, 32 GB, 3 GB RAM, Android 5.1.1, model SM-G920F
Samsung Galaxy S6 vs OnePlus 2 comparison: design and build quality
The OnePlus 2 and the Galaxy S6 have quite different approaches to design. The OnePlus 2 is big and angular, while the Galaxy S6 is smoother and rounder. Where they are similar is the way the front is configured. Both have the speaker at the top center, the camera sensor to the right, and both have a combined home button and fingerprint scanner.
OnePlus built the 2 with a "resilient aluminum and magnesium alloy frame and stainless steel accents". The smooth metal edges do look good, but at 178 g, the device isn't exactly light.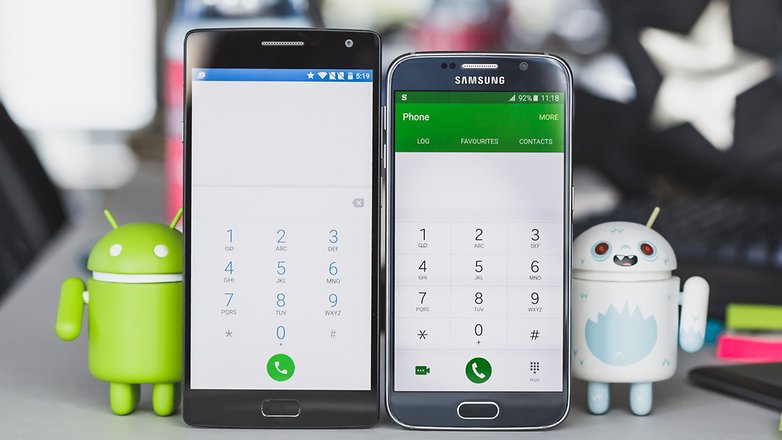 The Galaxy S6 on the other hand, is a real featherweight, at 138 g. It's slim too; 6.8 mm compared with the 9.9 mm wide OnePlus 2. But it doesn't feel as good to hold as you might expect – it's almost too thin and too flat.
The Galaxy S6 has a glass rear with a heart-rate monitor and a painfully ugly protruding camera sensor. On the upside, the glass rear has good grip, even if it does attract fingerprints like Justin Bieber attracts bad publicity.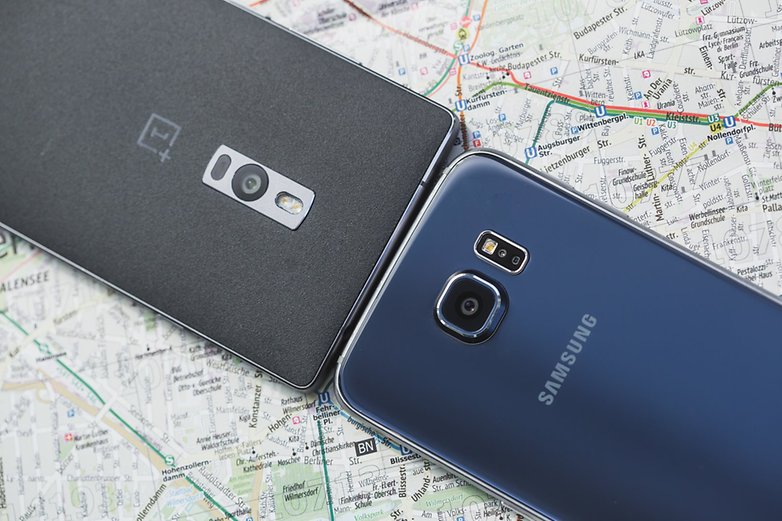 The OnePlus 2 has a curved back and a black sandstone rear cover as standard. The rough sandstone has an earthy feel and the handset is more comfortable to hold than the Galaxy S6. The overall approach to the OnePlus 2 seems simpler than the Galaxy S6, but it's better for it.
The S6 is generally quite awkward. It's asymmetrical in places (the pin hole mics, for example), and the sides are flat but the top and bottom are round, with a line running across them, which, as far as I can tell, is entirely unnecessary.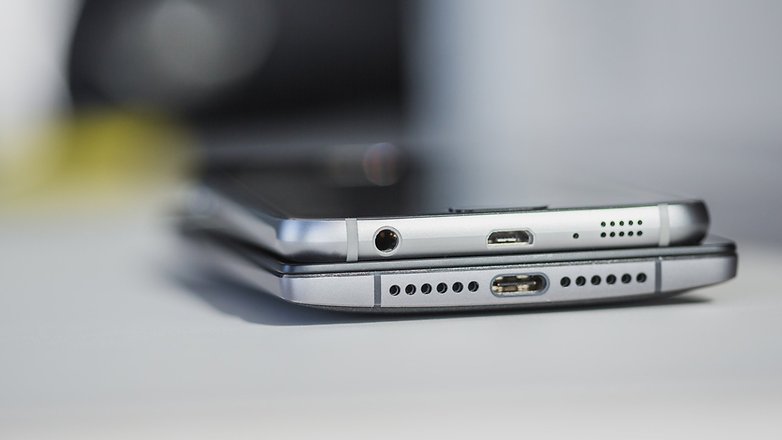 What the S6 gets right is the home button. It's a physical button than can actually be pressed, whereas the OnePlus 2's is capacitive. I can't quite get used to a home button that doesn't feed back with a satisfying click, so while the OnePlus 2 is nicer to hold in general, interacting with this crucial button is best on the S6.
The OnePlus 2 has a physical 'alert slider' button on the left-hand side, which lets you conveniently switch between notification profiles, which is something that the Galaxy S6 lacks. Meanwhile, the headphone jack is placed at the top of the OnePlus 2 and bottom of the Galaxy S6. Since I put my phone into my pocket with the bottom sticking up, I prefer the jack at the bottom the handset.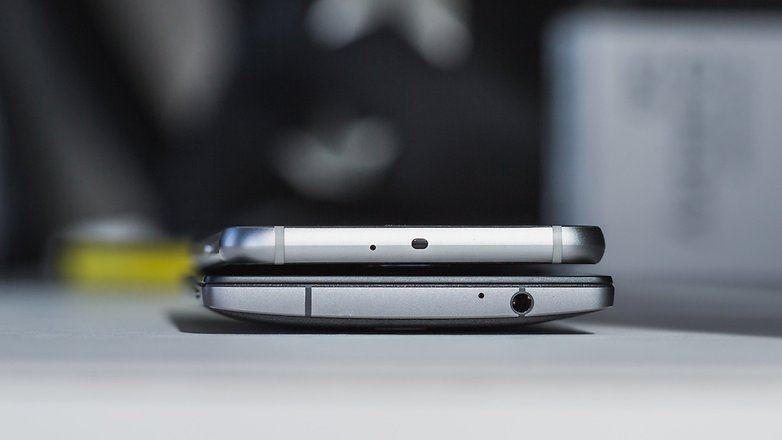 Which design is best overall? For me, it's the OnePlus 2. The sides of the Galaxy S6 aren't as attractive, the camera sensor juts out, and it's just less comfortable to use, despite the superior home button. Even though the OnePlus 2 is thicker and heavier, that's justified by the larger display, flat camera sensor and larger battery capacity (more on that later).
Samsung Galaxy S6 vs OnePlus 2 comparison: display
The Galaxy S6 has a 5.1-inch QHD (2,560 x 1,440 pixel) display. It's smaller and higher resolution than the 5.5-inch Full HD (1,920 x 1,080 pixels) OnePlus 2 offering, and this gives it a higher ppi ratio – 577 compared with 401. These numbers reflect the increased detail of the S6 screen, but of course there is more to displays than the number of pixels.
Samsung's displays are usually rich, and the Galaxy S6 screen is deeply saturated and brighter than OnePlus 2's. That said, the OnePlus 2's display has truer whites than the Galaxy S6's, which has a creamy hue.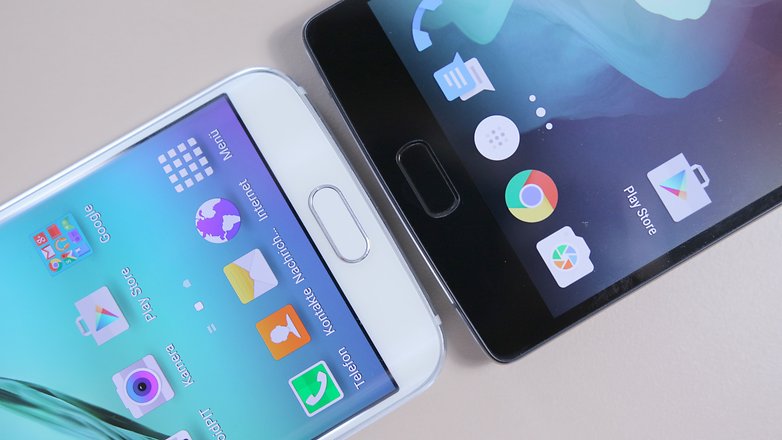 The OnePlus 2's understated palette really appeals to me. It provides more natural tones than typical smartphone colors. But it can't compete with the S6 in contrast: the difference between light and dark is clearly stronger on Samsung's phone. This is likely because of the use of a Super AMOLED display rather than the LCD on the OnePlus 2, at least in part.
Despite having a higher resolution and more pixels-per-inch, the Galaxy S6 doesn't walk its way to victory in the display category. Its saturation sometimes undermines its quality, almost making it feel fake. It's like adding MSG to a bowl of noodles. Sure, you might be wowed at first, but once the effect wears off it could be too much to stomach.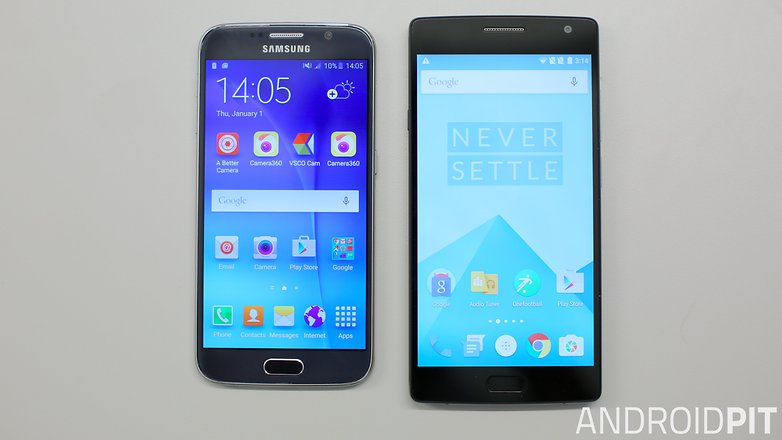 Samsung Galaxy S6 vs OnePlus 2 comparison: software
Samsung uses its TouchWiz user-interface on the Galaxy S6, while OnePlus has the OxygenOS skin. The OnePlus UI is closest to the stock Android design, which many believe to be the holy grail of Android interfaces, but TouchWiz is the best it has ever been, and has a number of desirable qualities. Download booster for example, which combined Wi-Fi and LTE data for faster download speeds, is really useful. What's more, the usual rabble of undesirable Samsung apps are mostly removable (or at least disable...able).
You won't find much in the way of OnePlus bloatware. As we said above, the UI is really close to stock Android and any additions, such the implementation of dark mode or custom LED notifications, are largely unobtrusive.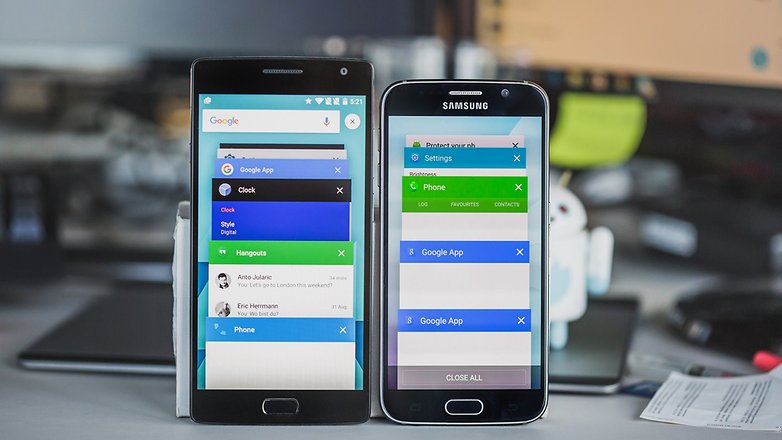 Both devices feature their own camera software, a fingerprint scanner, themes and gestures (OnePlus's are more interesting), but the Galaxy S6 has an ultra power-saving mode while OnePlus 2 only has the standard Android Lollipop battery saver.
OnePlus doesn't have the greatest track record of delivering Android updates either, and as the Galaxy S6 is one of the Samsung's latest and greatest, it's likely to receive the much-anticipated Android Marshmallow update fastest (though it will arrive to the OnePlus 2 eventually).
In reality, the software differences, while noticeable, don't change the core Android experience in any crucial way.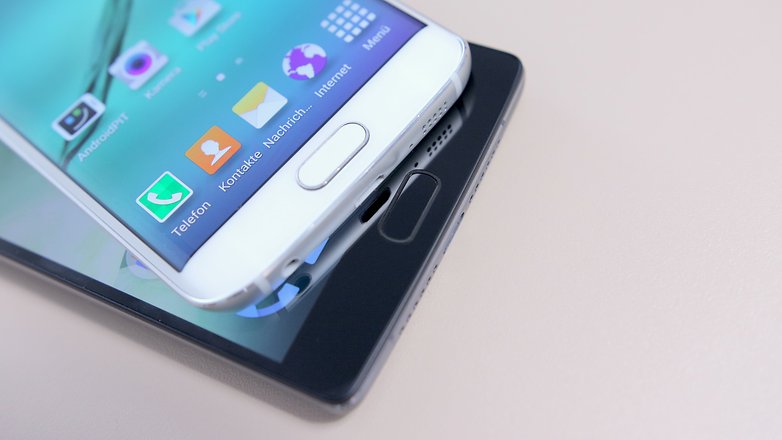 Samsung Galaxy S6 vs OnePlus 2 comparison: performance
The Galaxy S6 has Samsung's own octa-core Exynos 7420 and the OnePlus 2 has the octa-core Snapdragon 810. Though the OnePlus 2 model we used has 4 GB of RAM, it's still not as fast as the 3 GB Samsung Galaxy S6, which is a fraction quicker to open apps but noticeably quicker to launch its camera.
Neither device houses a microSD card slot, but the Galaxy S6 does come with NFC. It's not something that everybody uses, but if you do, there is no app or software substitute. If you want NFC, don't buy a OnePlus 2.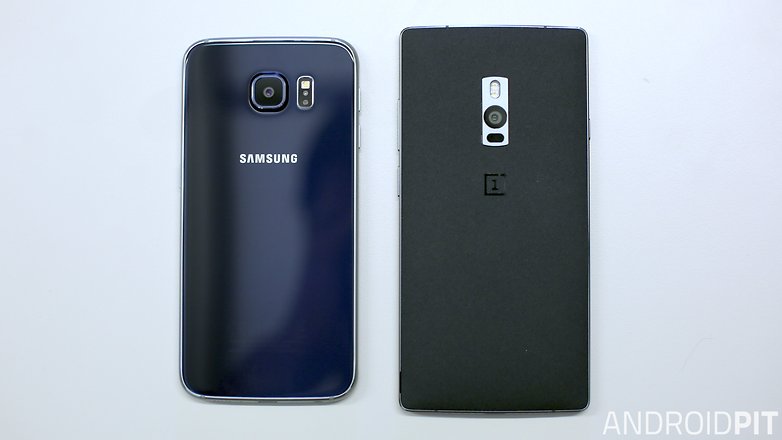 If you want a USB Type-C connector, however, the OnePlus 2 is currently your only smartphone option. This will soon become the standard for Android handsets and the OnePlus 2 is the first handset to house one. The problem with being the first, though, is that USB Type-C cables are not easy to come by – don't expect to find one lying around at a friend's house if your OnePlus 2 runs out of charge.
The OnePlus 2 performance does not disappoint, but there aren't many phones that can compete with the speed of the Galaxy S6 this year, and I love how quickly its camera launches. While the S6 comes out on top, at this level, the difference will only be noticeable to a handful of people.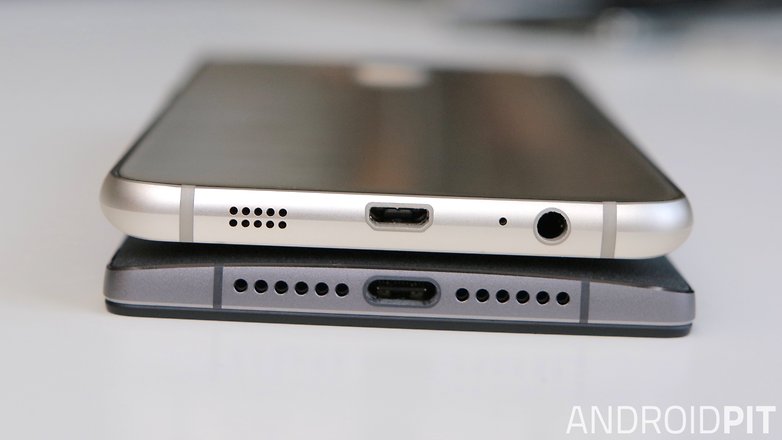 Samsung Galaxy S6 vs OnePlus 2 comparison: camera
The Galaxy S6 camera processing is excellent. The 16 MP camera has OIS, autofocus and LED flash, and produces bright, clear photos. It is truly one of the best cameras you can get on a smartphone. The 13 MP OnePlus 2 camera, while perfectly capable, cannot compete with Samsung's effort. Its colors look washed-out in comparison and the clarity just isn't the same.
The OnePlus 2's low-light performance is pretty decent, though, and its HDR mode has a more dramatic effect than that of the Galaxy S6. Its flash however, is virtually nonexistent and somehow even made a photo of the same scene look darker with the flash enabled than with it switched off. Both devices' front cameras come in at 5 MP.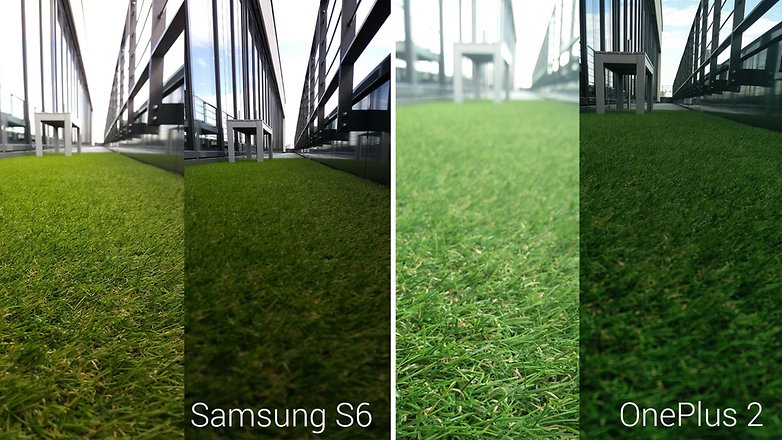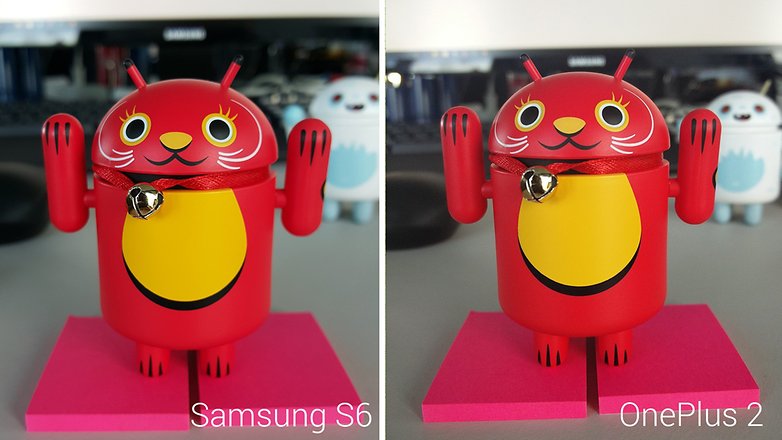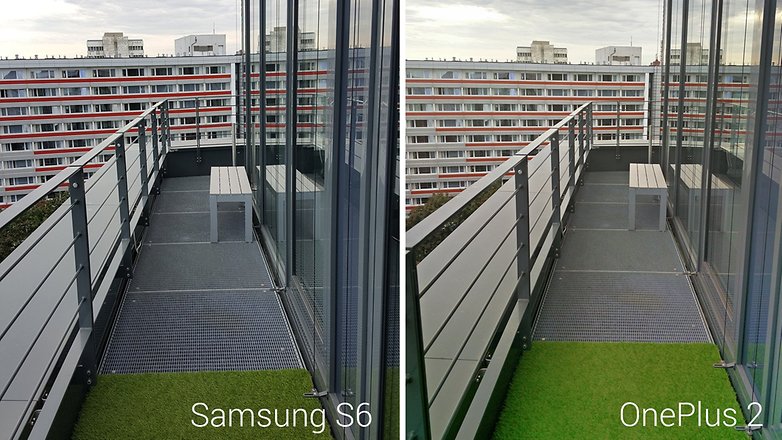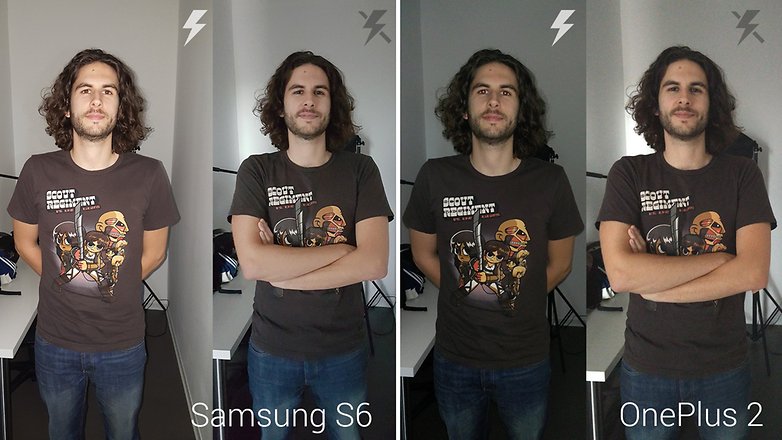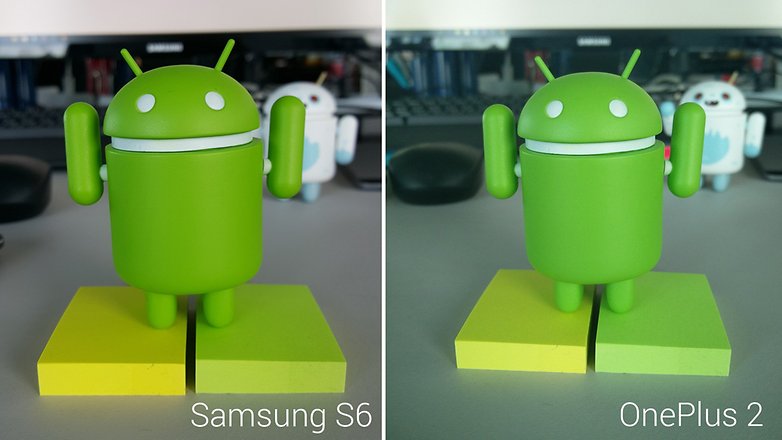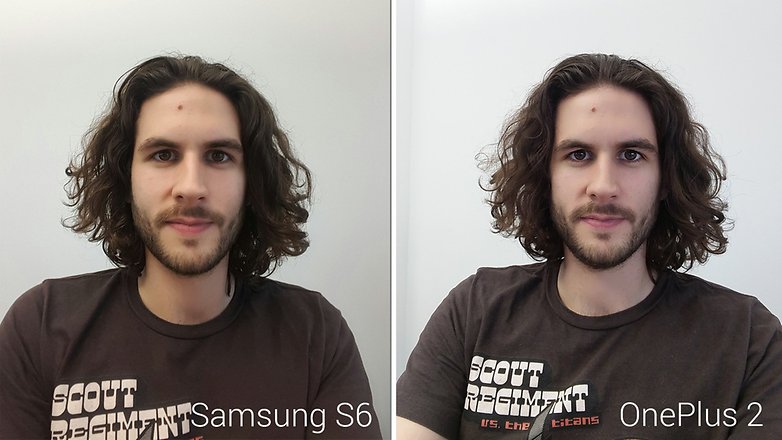 Samsung Galaxy S6 vs OnePlus 2 comparison: battery
The OnePlus 2 has a 3,300 mAh battery, which is a relatively large capacity compared with many other 2015 Android flagships, and significantly larger than the 2,550 mAh Galaxy S6 battery. This larger capacity, combined with the lower-resolution, less bright screen, should mean the OnePlus 2 outclasses the Galaxy S6 on battery life, but in reality the difference isn't quite so stark. The standby time is roughly comparable: neither is the best for battery life, but neither is the worst.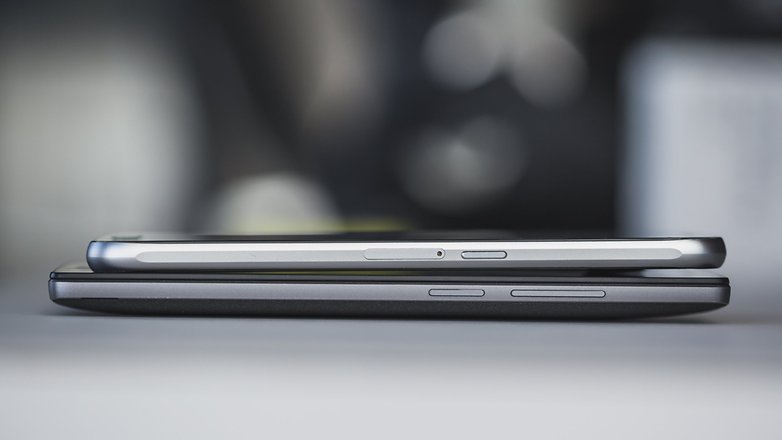 Two-day battery life with typical web-browsing, messaging, video-watching and gaming isn't likely on either phone, but the Galaxy S6 makes up for poor battery life by offering fast-charging. We said it in our article on three things to consider when buying a new phone, but we'll say it again: quick-charging really does add a lot of value to a device.
Neither device has a removable battery, but Galaxy S6's ultra-power saving mode, and wireless charging, means it wins this round.
Samsung Galaxy S6 vs OnePlus 2 comparison: specs
Samsung Galaxy S6 vs. OnePlus 2 technical specifications
Samsung Galaxy S6
OnePlus 2
Dimensions:
143.4 x 70.5 x 6.8 mm
151.8 x 74.9 x 9.85 mm
Weight:
138 g
175 g
Battery size:
2550 mAh
3300 mAh
Screen size:
5.1 in
5.5 in
Display technology:
AMOLED
LCD
Screen:
2560 x 1440 pixels (576 ppi)
1920 x 1080 pixels (401 ppi)
Front camera:
5 megapixels
5 megapixels
Rear camera:
16 megapixels
13 megapixels
Flashlight:
LED
Dual-LED
Android version:
5.0.2 - Lollipop
5.1 - Lollipop
User interface:
TouchWiz
Sorry, not yet available!
RAM:
3 GB
3 GB
4 GB
Internal storage:
32 GB
64 GB
128 GB
16 GB
64 GB
Removable storage:
Not available
Not available
Chipset:
Samsung Exynos 7420
Qualcomm Snapdragon 810
Number of cores:
8
8
Max. clock speed:
2.1 GHz
1.8 GHz
Connectivity:
HSPA, LTE, NFC, Bluetooth 4.1
HSPA, LTE, Dual-SIM , Bluetooth 4.1
Samsung Galaxy S6 vs OnePlus 2 comparison: price and availability
The 64 GB version of the OnePlus 2 with 4 GB of RAM can be purchased (with an invite) for US$389. To get a 64 GB new and unlocked Galaxy S6 you'll pay around US$700 (the 32 GB costs around US$550). Note that the internal memory may be a more important consideration on these phones since they can't be expanded with a MicroSD card.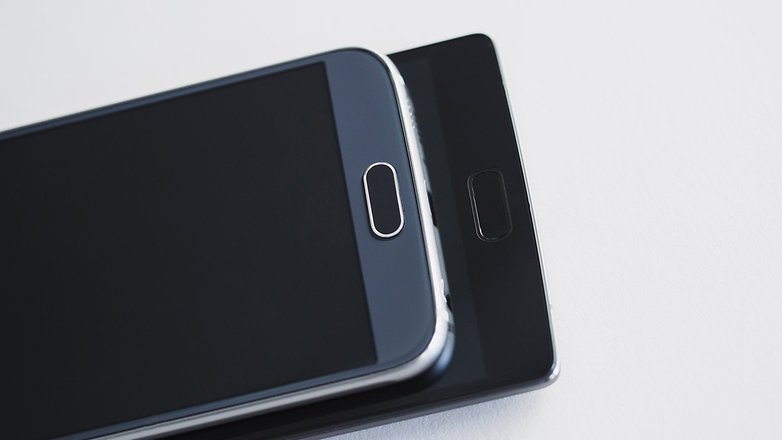 The Galaxy S6 costs more, but the good news is that you can buy one whenever you like. The OnePlus 2 uses a purchasing system whereby you must first obtain an invite, in one of several ways (detailed at the link below), and then make the purchase. If you've broken your phone, and need a new one fast, the OnePlus 2 may not be the way to go.
Samsung Galaxy S6 vs OnePlus 2 comparison: conclusion
In some ways, deciding upon which of these devices is best for you should be easy because they are so different. The design and price of the OnePlus 2 might appeal to you more than the Galaxy S6, but the S6 camera and battery features, which are surely important to most people, are superior. The display, for me, is best on the OnePlus 2. I can stomach the lower resolution and contrast in exchange for the more natural color and larger size.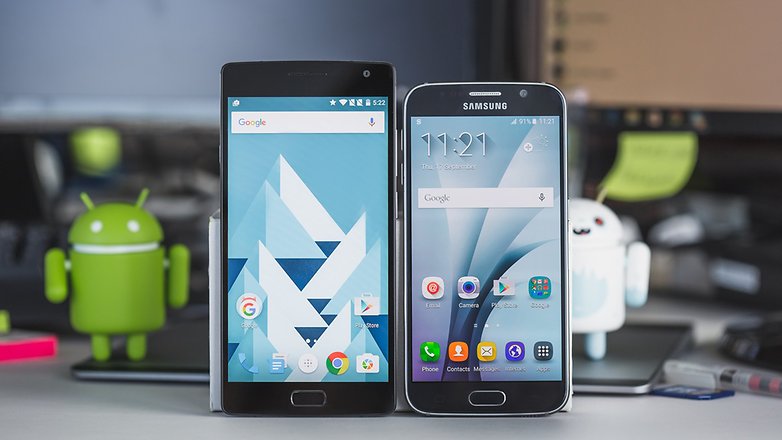 Ultimately, if you're willing to pay the price, and are happy with the physical and software design, then the Galaxy S6 is for you. It's fast, its display is detailed and its camera is incredible. If not, get the OnePlus 2. While it doesn't truly live up the 'flagship killer' hype, it's an excellent smartphone and the number of ways in which it is inferior to the S6 are far fewer than you would expect considering the US$300 price difference. Personally, I'd go for the OnePlus 2.