Samsung Galaxy Note 5 review: still a big deal
Update:

Android Nougat rolled out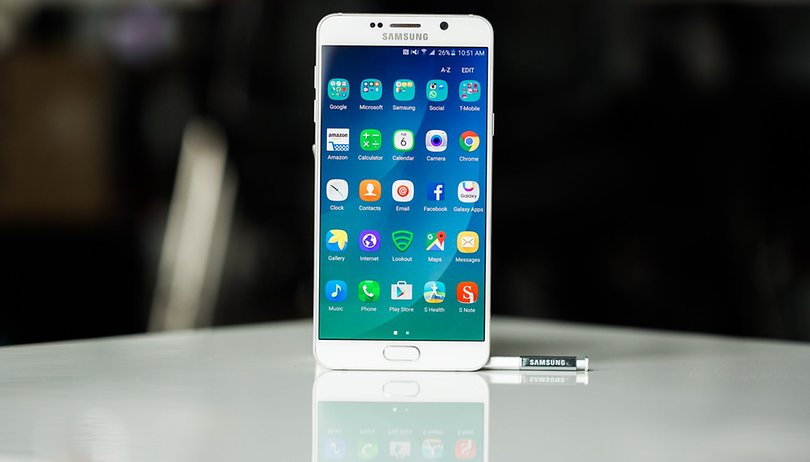 Samsung has made some bold decisions with the Galaxy Note 5, having completely redesigned its flagship phablet. In our Galaxy Note 5 review, we analyse this new direction and find out whether you should buy one. Samsung is also now manufacturing a model that avoids the damage caused by inserting the S Pen the wrong way; see the Special features section for more.
Good
Great display brightness

Extremely fast, quality camera

Integrated stylus pen

Ingenious handwriting recognition
Bad
Lousy multi-tasking

Poor sound quality
Samsung Galaxy Note 5 release date and price
The Galaxy Note 5 is currently only available in the US and Canada. It launched on August 21 in the US on AT&T, Verizon, T-Mobile, Sprint and US Cellular. It isn't coming to Europe (including the UK) at this stage, although that could change, and we have heard that the Note 5 can be found unofficially in Europe, but you'll need to search for it.
A "trusted Samsung source" of Gadgette.com brought the news in early December that the Galaxy Note 5 would finally see a European release in 2016. The move comes with dubious timing, given that the device has been available for nigh on six months in the US, and the next line of Galaxy devices is due to be unveiled shortly, but consumers will surely be gladdened by the news, nonetheless.
The Galaxy Note 5 is reportedly going on sale in the UK first, in late January.
The Galaxy Note 5 price is reasonable considering its premium build, but you're still going to fork out quite a bit for it. In the US, it'll set you back US$250 on a two-year contract and US$696 off-contract with Verizon.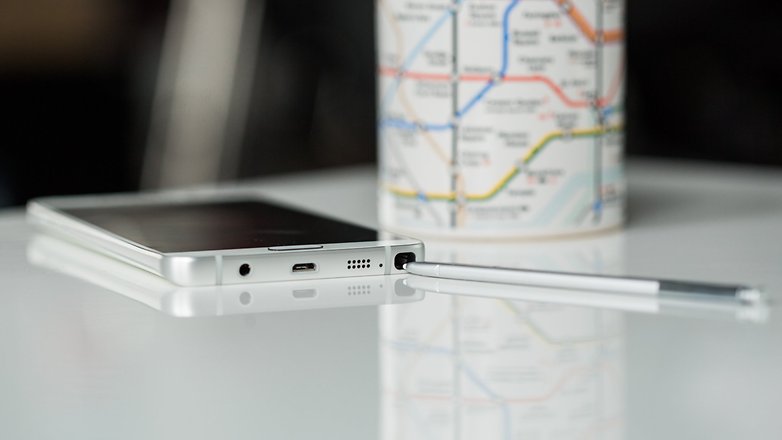 Samsung Galaxy Note 5 where to buy
These are the current best offers and deals for the Galaxy Note 5. All prices are correct at the time of writing.
AT&T, US$70 p/m (plus US$45 one-off activation fee and US$249 for the handset) with unlimited minutes, unlimited texts and 2 GB data, on a two-year contract
U.S. Cellular, US$70 p/m (plus US$40 one-off activation charge and a US$199.99 upfront fee) with unlimited minutes, unlimited texts and 1 GB data, on a two-year contract
You can also buy an unlocked international version of the Galaxy Note 5 with 32 GB of internal storage on Amazon for around US$762.
Samsung Galaxy Note 5 design and build quality
Samsung has applied the design language it used with the Galaxy S6 to the Note 5. Gone are the days of tacky fake leather and plastic for the Galaxy Note series: the Note 5 shines with an aluminum frame and Gorilla Glass 4 on the front and back.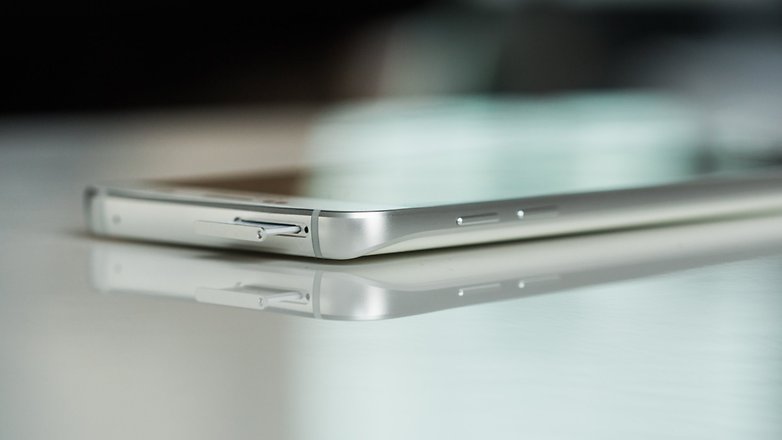 The most striking thing about the Note 5's design is its rounded rear edges. Imagine the curved front edges of the Galaxy S6 Edge+, transplanted to the back of the Note 5. The bezels surrounding the display are extremely narrow, particularly next to those curved edges, and they look great. Samsung has taken a real leap forward here in terms of design quality.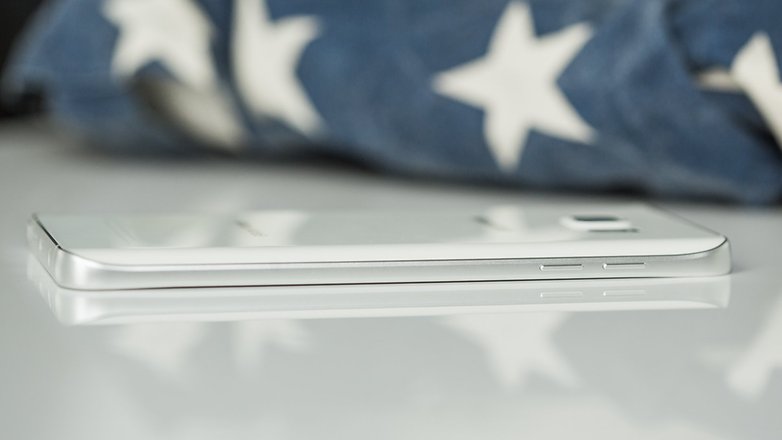 The Galaxy Note 5 is certainly beautiful. Its design and the materials used means it feels like a more premium device than its predecessors in the series, but it has lost a few typical Note features. There is no microSD card slot, for example, which will disappoint many fans of the series, and the battery is not replaceable.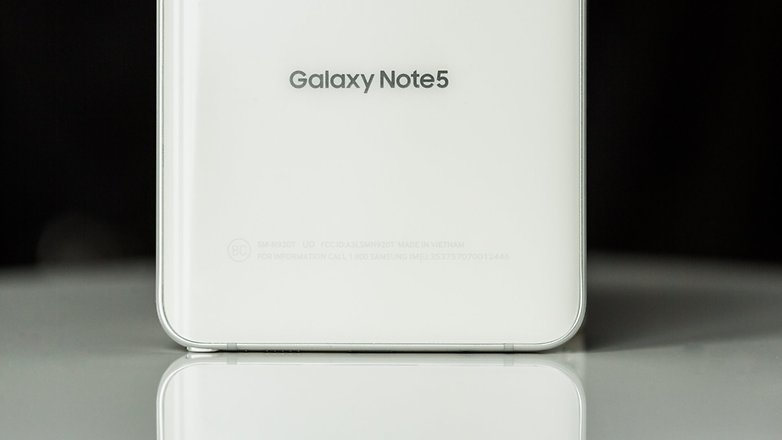 Samsung Galaxy Note 5 display
The Galaxy Note 5 display is a 5.7-inch Super AMOLED unit with QHD resolution. There is no display quite like it – not even the dual edge display of the Galaxy S6 Edge (with or without a plus) looks quite as good.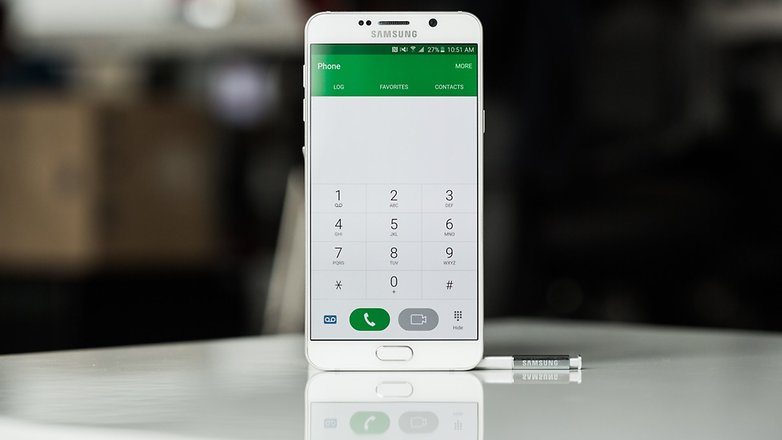 The Galaxy Note 5 display is actually more comparable with that of the Galaxy S6. Both have a resolution of 2,560 x 1,440 pixels, but because the Note 5 display is bigger (5.7 inches compared with 5.1 inches), the pixel density is lower. It still amounts to 518 ppi though,which we don't imagine would be a cause for complaint for anyone.
DisplayMate test results
To get a broader set of results for our testing, we've used turned to experts in the field of smartphone and tablet displays. Every year, DisplayMate tests displays using complex procedures to identify color fidelity, color space, brightness, sharpness, reflections, viewing angle stability and so on. Samsung gets top honors virtually every year.
The Note 5 display is much brighter than the Note 4's. It can be seen much better in bright ambient light, and it is also significantly more power-efficient. According to DisplayMate, it provides the best color reproduction of all mobile displays. The Note 5 also set a new record on display brightness.
Samsung Galaxy Note 5 special features
The special feature of the Note series is the S Pen. A novel feature of the Galaxy Note 5's S Pen is that it now has an ejecting mechanism. By pressing the thruster on the end, the stylus pops out from its housing and can be pulled out.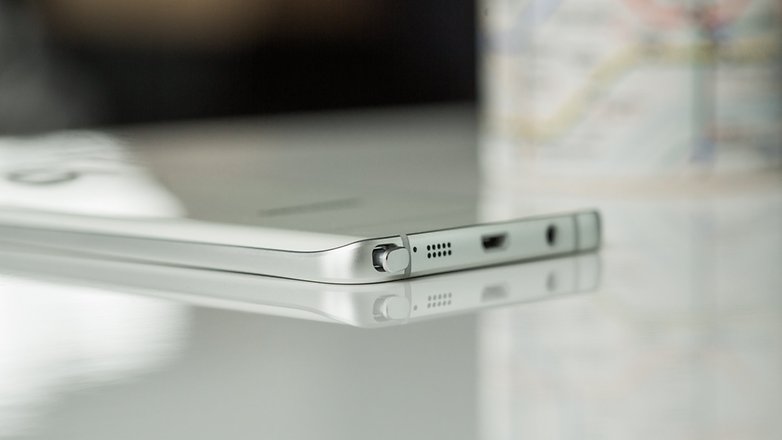 You can use the pen in two modes. Pulling it out while the phone is in standby mode starts the minimalistic launcher.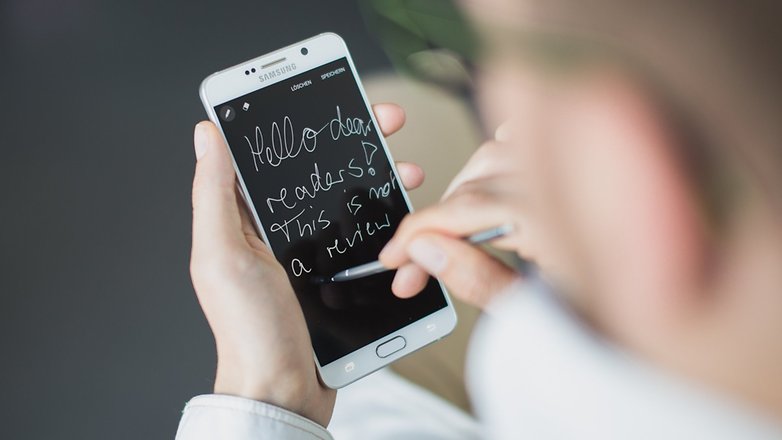 When the phone is unlocked, removing the Note 5 stylus launches Air Command. This shows a list of S Pen-specific apps that you can access quickly.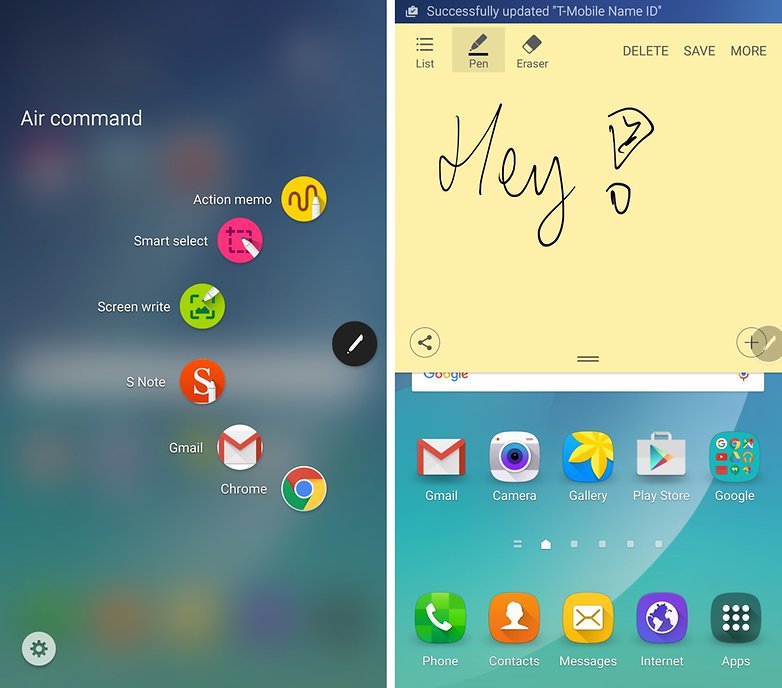 To use the S Pen for typing, you need to change the keyboard to pen input. You can find this on the Samsung keyboard to the left of the spacebar.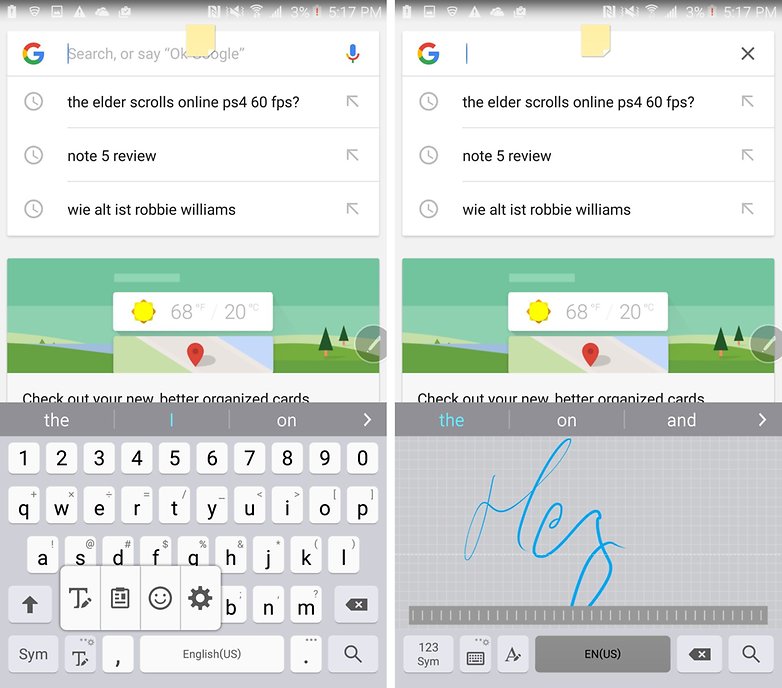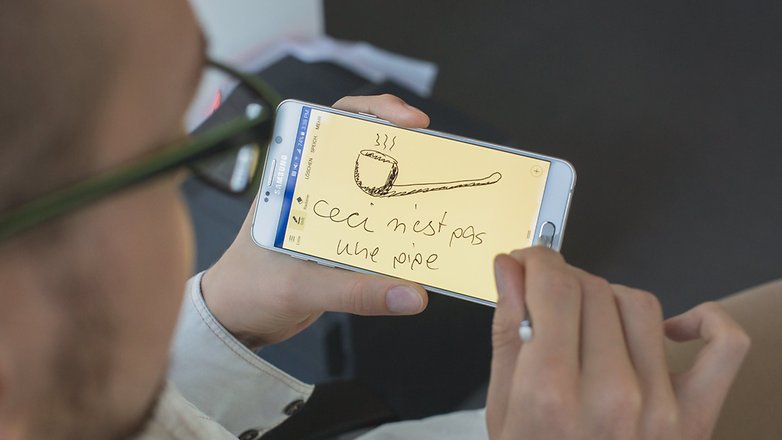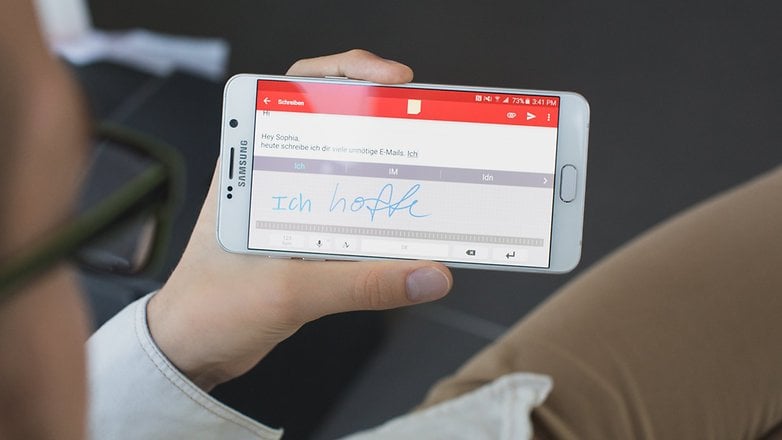 Following the Note 5's release, many users reported a design flaw. They claimed it was easy to insert the S Pen into the slot the wrong way round, and that doing so made it difficult to remove the pen, and caused the pen removal detection to stop working.
Now, Samsung has quietly corrected this flaw. New models feature a small internal tab that allows for damage-free ejection of the stylus when it is inserted incorrectly. The discovery was made by a user over at Phandroid and was later confirmed by Samsung, who had previously included warning labels on the packaging, which evidently proved insufficient.
Samsung Galaxy Note 5 software
The Note 5 has already had numerous software updates. The T-Mobile Edition we used came immediately with performance updates based on Android 5.1.1 Lollipop. An update to Android Marshmallow was already deployed and now all Note 5 devices are getting Android Nougat.
Our review unit came with some bloatware apps installed, but not an excessive number; just the S Pen apps in addition to the usual Facebook and Microsoft apps. Samsung still runs its TouchWiz UI over the top of its Galaxy series.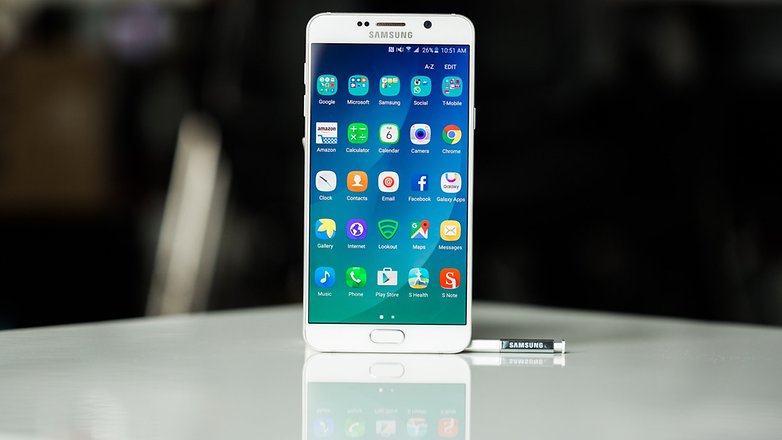 Samsung Galaxy Note 5 performance
The Galaxy Note 5 packs the powerful Exynos 7420 processor, which has eight cores and a clock speed of more than 2.1 GHz. It has 4 GB of RAM. As with the Galaxy S6 Edge+, there is only the choice between 32 GB and 64 GB versions.
In processor speed and and memory performance benchmarks, the Note 5 performance sits somewhere between the S6 Edge+ and the Sony Xperia Z5 Compact.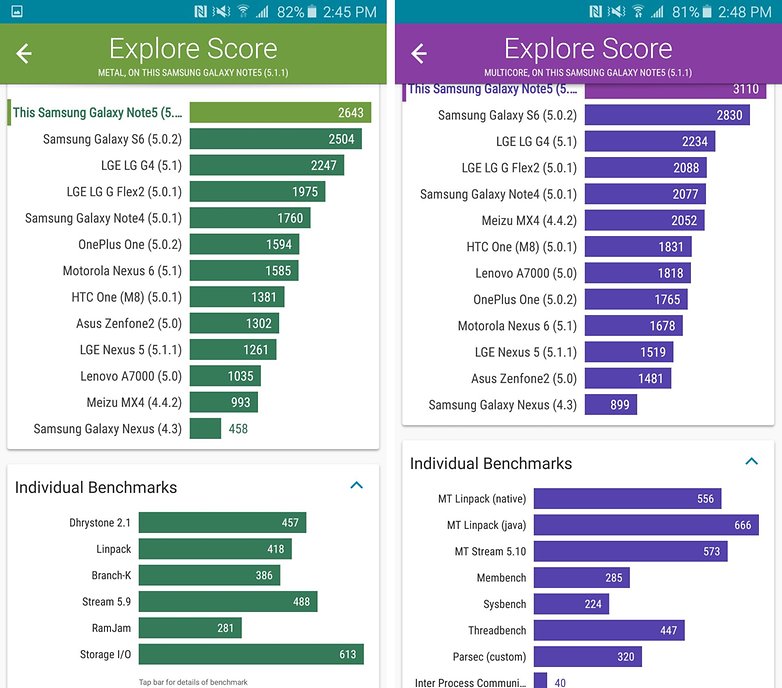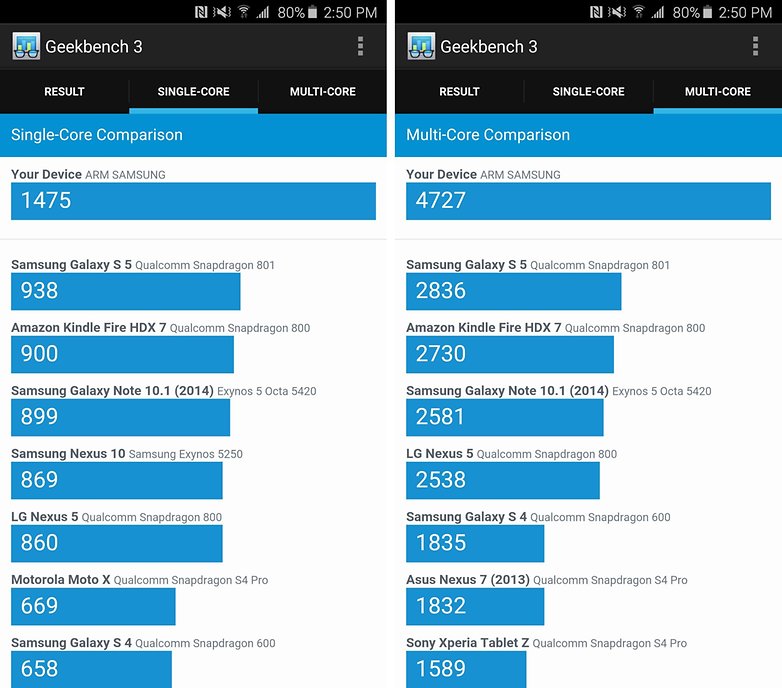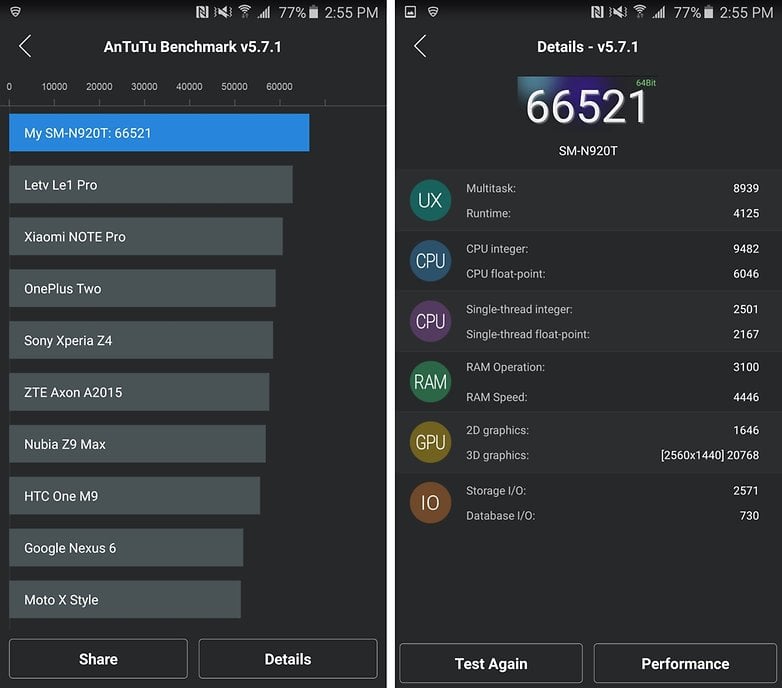 4 GB of memory should get you great multi-tasking performance. Unfortunately, the Note 5 seems to be a bit of a letdown. According to both PhoneBuff and Android Police tests, its load times fall behind those of the LG G4 and Nexus 6, even though these have weaker hardware.
The relaunching of apps is very often accompanied by a lagginess we'd expect of devices with significantly less RAM. It seems that Samsung went with 4 GB of RAM for marketing purposes rather than performance. Perhaps it's dealing with aggressive power-saving, but, if it is, this comes at the expense of decent multi-tasking.
Once you open four or more different apps, the first is closed in the background. If you then call it up, it needs to be completely reloaded. With 4 GB of RAM, this should happen only after the 10th app is loaded.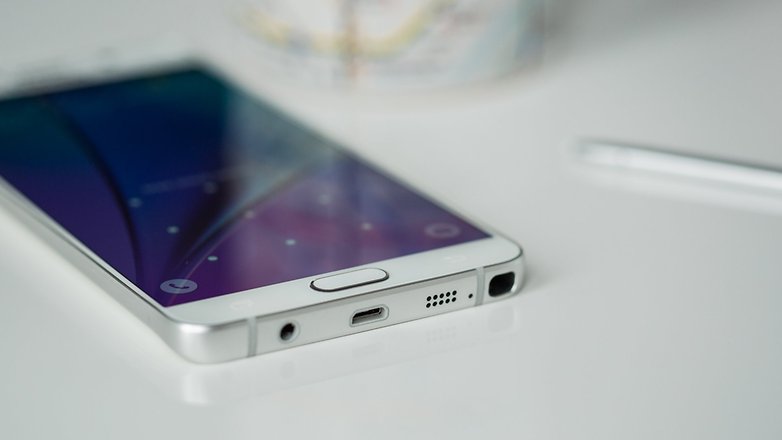 But we're sure that Samsung can resolve this issue with a software update. The Nexus 6's update to Android 5.1 resulted in a measurable improvement to multi-tasking. The secret there was optimized processor control.
Much had been speculated about a microSD card slot ahead of the Galaxy Note 5 release. As it turned out, it doesn't have one. From my perspective, this is not that big a deal, because I'm using cloud services more and more. But even if you're not a fan of cloud storage, a lack of microSD card support is not the worst thing in the world, seeing as the largest variant of the Note 5 has 64 GB of internal memory.
Samsung Galaxy Note 5 audio
Galaxy Note 5 audio is good, but not overwhelming. The phone has a mono speaker at the bottom-right but you'll need to play with the equalizer settings to get a decent sound.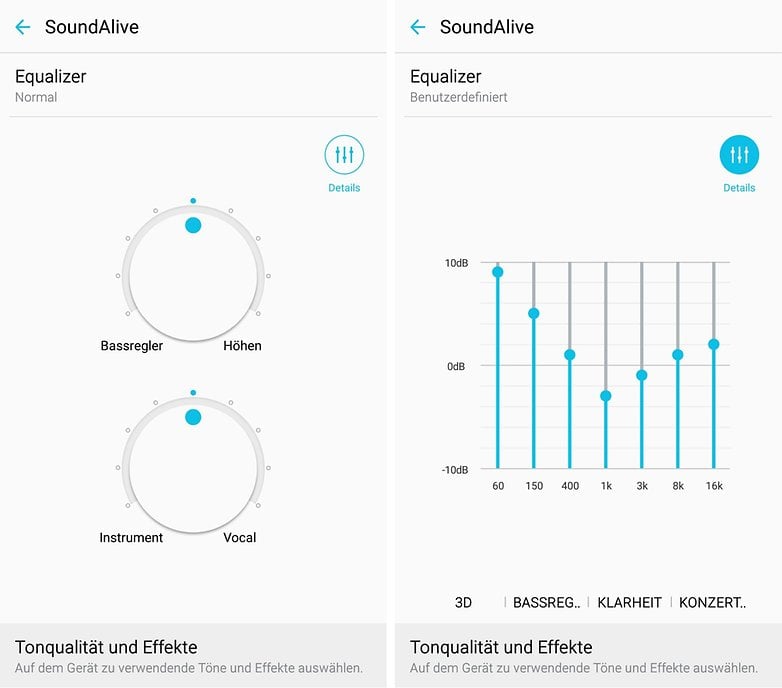 One of the key features of the Note 4 was its fantastic voice recorder. It had three integrated microphones, making it possible to distinguish up to eight participants in a meeting. The Note 5 does not have this feature, unfortunately, and its voice recorder is totally average.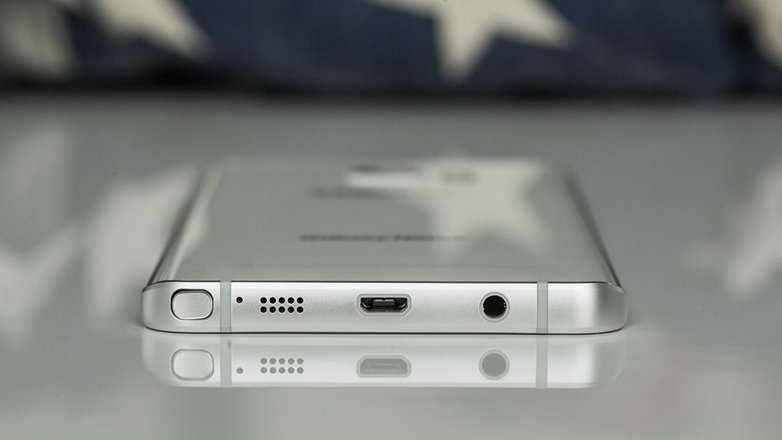 Samsung Galaxy Note 5 camera
"The camera of the Note 5 is fantastic," says our cameraman Tony. The Note 5 camera can satisfy professionals, even when in an elevator, the subway or under office lighting. The ability to change exposure and focus is fantastic, and there's an 'AF/AE lock' feature that lets you lock the camera's focus when filming or photographing subjects that are sitting or standing.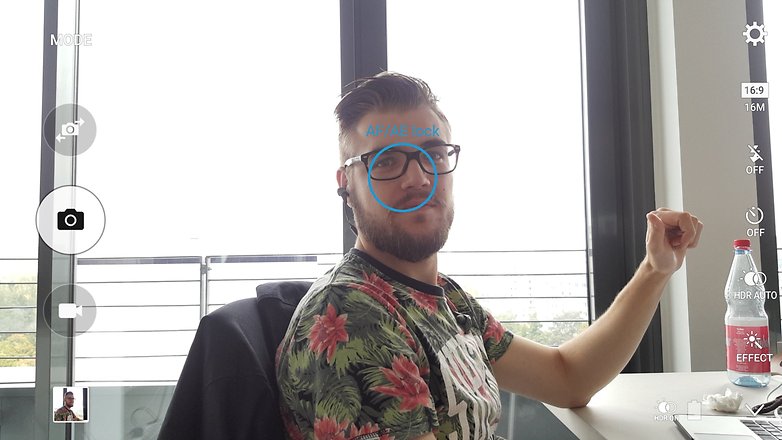 The camera of the Note 5 is at the top of what is technically possible with a mobile device. Details are super sharp, even when you shoot freehand in automatic mode. The colors are a little artificial (typical of Samsung) and perhaps in need of some editing, but light and dark areas show a level of detail that many other smartphone cameras would display as simply black and white.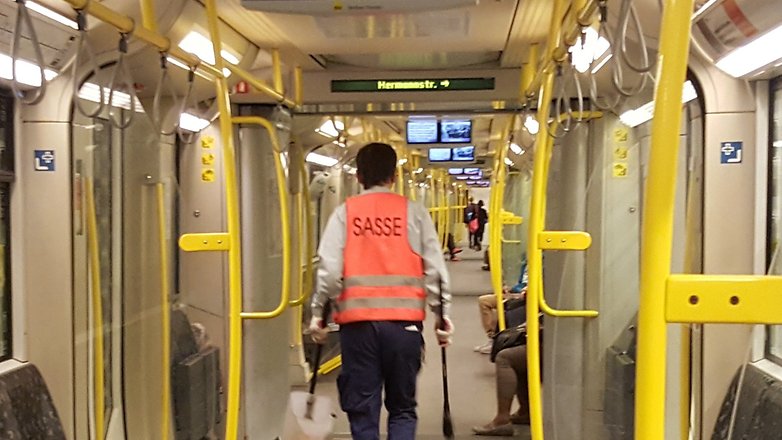 When you look closely at the above crop-to-fit shot, you can see a little blurring, but that would, with more light and less movement, likely disappear. The Note 5 camera is works remarkably well in poor lighting conditions. If a good camera is on your list of buying criteria, you should definitely shortlist the Note 5.
Samsung Galaxy Note 5 battery
The Galaxy Note 5 is missing one other feature that's traditional in the Note series: a removable battery. The battery is smaller than the Note 4's too – 3,000 mAh compared with 3,220 mAh. This may look bad on paper, but it doesn't necessarily indicate worse battery life.
To evaluate the Galaxy Note 5's battery performance we ran two Antutu Benchmarks, a PCMark test, and two of our own real world / heavy usage tests.
A benchmark will automatically put a device through a number of tests to determine how battery life holds up under a number of different scenarios. While these are good for giving an idea of performance, they are still only simulations of real-life use.
We conducted two tests with the Antutu app, which monitored the device while it consumed 20 percent of its battery life, and did the same with the PCMark app, which monitored the device while it consumed 80 percent of its battery life. The higher the score, the better the device has performed during these tests.
Antutu Battery
Antutu yielded a score of 8,122 on the first test and 8,663 on the second (note that benchmark scores can be influenced by many things and rarely will the same result appear twice on the same device). This is at the top end of our recent benchmarks, alongside the likes of the Xperia Z3, which received a score of 8,401, and is known for having strong battery performance.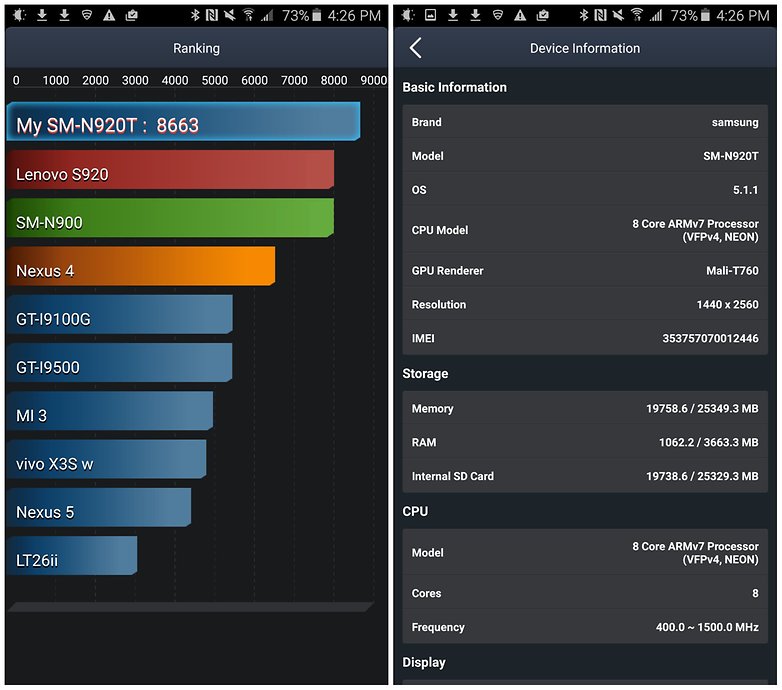 PCMark
The PCMark test yielded a 'work performance' score of 5,532 (which is based on how the battery holds up during web browsing, video playback, writing, and photo editing), which produced a 'work battery life' score of 7 hour 4 minutes.
The Note 5 currently holds the number 67 position in Futuremark's benchmark list for Android battery performance. This list is compiled using data from PCMark tests conducted over the past 30 days. It's worth noting that there are very few flagship Android phones placed higher than the Note 5 – the Galaxy S6 Active comes in at 33, the Moto X Play at 32, but most of the devices that score more highly are minor Android smartphones or tablets from the last few years.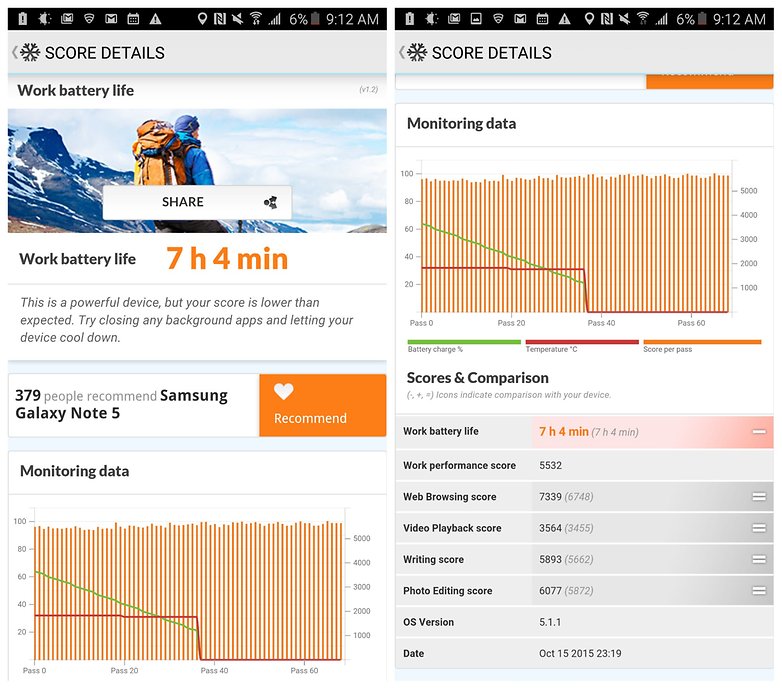 Real world (heavy usage) test
For my own test, I set the Note 5's screen brightness at the maximum with a two-minute timeout. Over the course of the day I used the Note 5 for emails, gaming, watching videos, taking photos and recording videos, as well as for many of the Note 5 -specific software features, such as those found in the Air Command menu.
In addition, I enabled vibrating feedback (haptic feedback) and vibrating alerts and made use of NFC and Location-related tasks. I started my test when the device was at 100 percent battery life.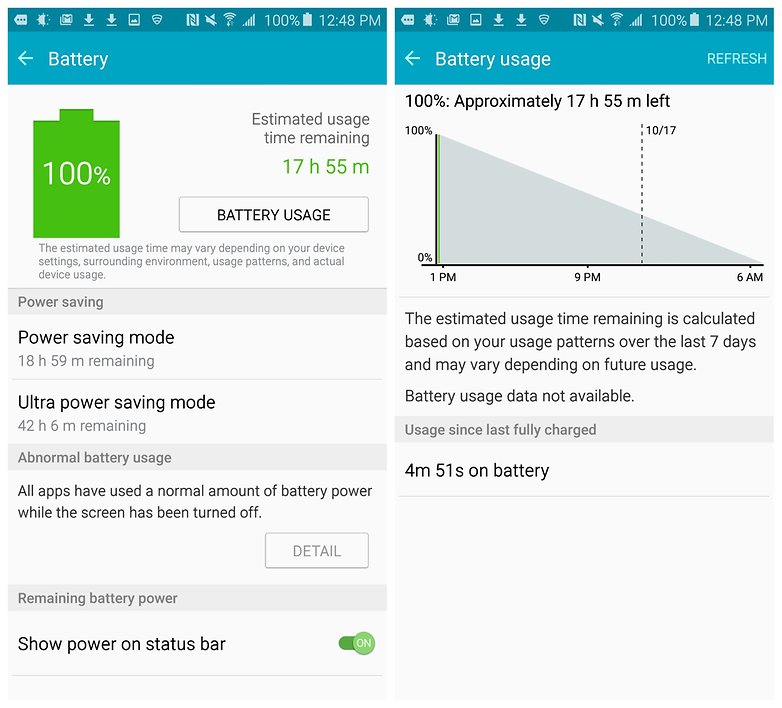 This type of usage far exceeds how I much would normally interact with a device, but this test was designed to determine how our phones will perform in a worst case scenario.
In our first test, in which I did a little more gaming, the Galaxy Note 5 lasted for around 28 hours before it ran out of juice. In the second test the device had 10 percent battery left after 28 hours.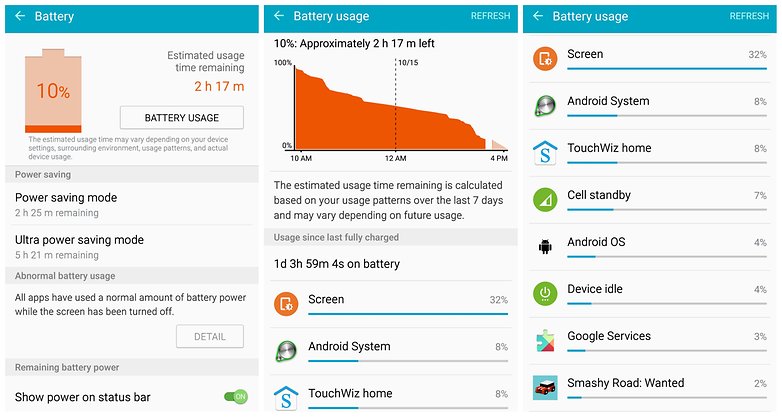 This is little more than one day of battery life – and I did sleep for some of that time – but it's an impressive figure given how much I used the Note 5. Powering what might be the most detailed display on the platform at full brightness must take a serious toll on the battery life, and few users will permanently set the brightness to the maximum as I did. The Note 5 could have lasted for 30 hours in the second test and for the average user it would last longer still.
The Galaxy Note 5 is unlikely to ever reach the two-day battery life sweetspot that many manufacturers aim for – I can't imagine getting another 20 hours of standby time even with more realistic usage habits – but it's still at the higher end of the battery life spectrum, and will hopefully be even further improved once the Note 5 receives the Marshmallow update.
Samsung Galaxy Note 5 technical specifications
Final verdict
The Galaxy Note 5 is a great device, both visually and physically. The reason it doesn't score a full five marks is because it seems that design was a higher priority than useful features like a microSD card slot, replaceable battery or the conferencing microphone that the Note 4 had.
The Galaxy Note 4 is a more standout device in every way. And unless Samsung addresses its new phablet's performance, the Note 5 can't be considered a proper upgrade over its predecessor.