Mature flagships or the new middle class: which offers more?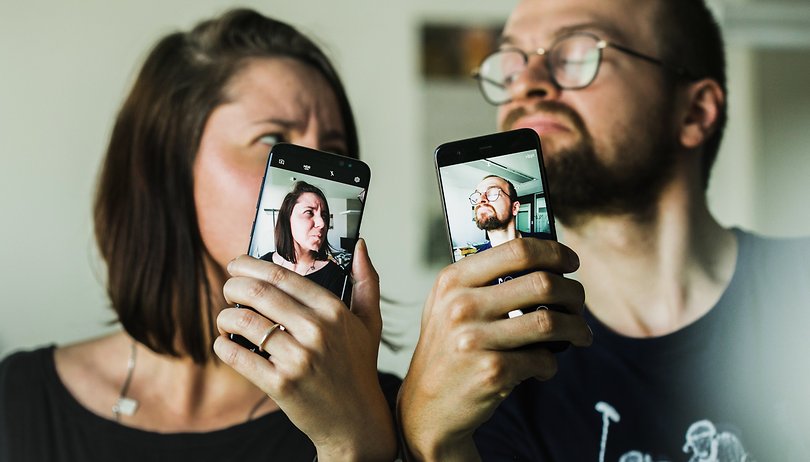 Before buying a new smartphone, many users ask: "What do I plan to do with the smartphone and what am I prepared to spend to meet those needs?" While for gamers and amatuer photographers there is hardly no obvious way of avoiding the current flagship smartphones. Mid-range smartphones have clearly caught up in many areas. but can they compete with last year's high-end models?
The Samsung Galaxy S8+ launched more than a year ago for $850 but it's is now available for around $500. In the same price bracket there is now also the LG V30, which is less than a year old and also started off life as a $800+ smartphone.
Mid-range phones are now as expensive as last year's flagships. Motorola launched the Moto Z3 Play for around this price-point and the Honor View 10 will cost you at least 430 euros. Is it worth reaching for such an upper-middle-class smartphone or is it better to opt for last year's flagships?
The Samsung Galaxy S8+ beats the Moto Z3 Play easily
If you compare the Galaxy S8+ with the Moto Z3 Play, for example, there are significant differences in specs despite the similar price tag. The Samsung phone comes with a larger display, a higher resolution, IP68 certification, a heart rate monitor, a larger battery, wireless charging, an iris scanner, a headphone jack and a better camera. The Moto Z3 Play, however, runs software that is almost stock Android and has the opportunity for Moto Mods on its side.
Samsung Galaxy S8+ vs. Moto Z3 Play technical specifications
Samsung Galaxy S8+
Moto Z3 Play
Dimensions:
159.5 x 73.4 x 8.1 mm
156.5 x 76.5 x 6.8 mm
Weight:
173 g
156 g
Battery size:
3500 mAh
3000 mAh
Screen size:
6.2 in
6.01 in
Display technology:
AMOLED
AMOLED
Screen:
2960 x 1440 pixels (531 ppi)
2160 x 1080 pixels (402 ppi)
Front camera:
8 megapixels
8 megapixels
Rear camera:
12 megapixels
12 megapixels
Flashlight:
Dual-LED
Dual-LED
Android version:
7.0 - Nougat
8.1 - Oreo
User interface:
TouchWiz
Sorry, not yet available!
RAM:
4 GB
4 GB
Internal storage:
64 GB
32 GB
64 GB
Removable storage:
microSD
microSD
Chipset:
Samsung Exynos 8895
Qualcomm Snapdragon 636
Number of cores:
8
8
Max. clock speed:
2.3 GHz
1.8 GHz
Connectivity:
HSPA, LTE, NFC, Bluetooth
HSPA, LTE, NFC, Dual-SIM , Bluetooth 5.0
The Honor View 10 also has to admit defeat in almost every area. The Galaxy S8+ and even the equally expensive "normal" Galaxy S8 can not only keep up with the Honor's battery but also the lack of a dual camera is a non-issue. Both Samsung models are in no way inferior to the Honor phone in terms of camera quality.
Overall, both high-end smartphones from last year offer the better overall package. In addition, prices for mid-range smartphones generally fall more slowly than for high-end models. This means that when new, upper mid-range models are introduced, you can often get a slightly older flagship at a comparable price.
We need to talk about updates
Of course, it's not only the hardware but also the software plays a role when making this decision. Since the previous year's flagships have already been out for about a year, there are, of course, not as many updates as for a current mid-range smartphone. On the other hand, even upmarket mid-range devices are often neglected by manufacturers. This tends not to be the case with the top models.
As the price drops, so do premium features
The manufacturer is decisive here. LG, for example, is usually quite sluggish even with high-end models and drops support for mid-range devices even faster. Nokia, on the other hand, does well in terms of updates and Motorola does not do badly either. Individual decisions must be made in each case. Of course, devices of the Android One Initiative have a big advantage here.
Ultimately, it depends on what kind of smartphone user you really are. Are you someone who uses your device for social media, WhatsApp, surfing the internet and little else? If so, you could be well served with a favourable mid-range smartphone. Popular examples here include the Moto G6 (Plus), the Sony Xperia XA2 (Ultra) or the Nokia 7 Plus. However, flagship-type features such as water resistance, wireless charging or premium displays are often cut from mid-range devices. Yet, they can still be found on models as old as the Galaxy S7.
If you are interested in playing graphically complex mobile games or the camera on your phone is the most important hardware feature, you should probably stay clear of the higher-priced mid-range smartphones. It's worth looking at last year's flagships, which continue to deliver enough performance and often come with top cameras and more features for the same money.
What's your situation? Would you rather use an older flagship than an expensive mid-range phone? Or are you satisfied with the the top end of the mid-range market these days? Let us know in the comments below.