OnePlus 6: not a battery miracle, but lightning-fast charging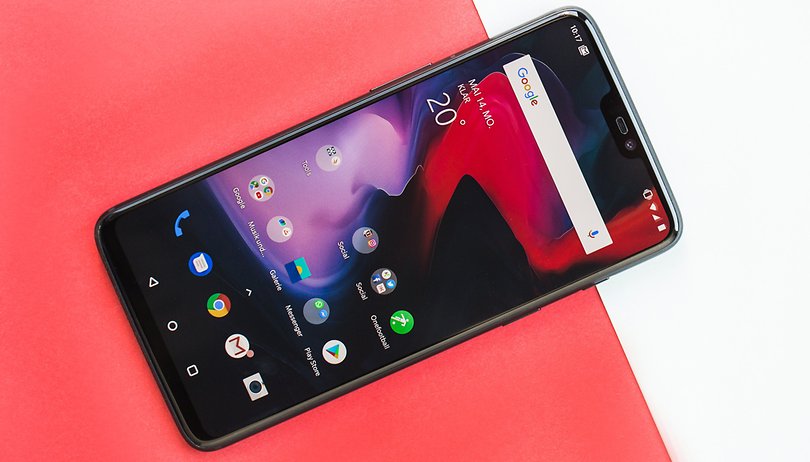 It has a larger display, more powerful hardware in a completely redesigned body, but the battery capacity of the OnePlus 6 hasn't changed compared to its predecessor. Is that a disadvantage? Our battery test shows the strengths and weaknesses of the OnePlus 6 battery.
In the past, OnePlus has always offered battery capacities in its smartphones that were above average. Ever since the OnePlus 5, the manufacturer has installed fixed and rechargeable energy cells with a capacity of 3,300 mAh in its smartphones.
Battery capacities of OnePlus smartphones
In this respect, there are no changes in the new OnePlus 6. To estimate how the OnePlus 6 fares against competitors like the Huawei P20 Pro, Xperia XZ2 and Galaxy S9, we put the newcomer under the same conditions and settings, with 50% display brightness and the same SIM card from PCMark's battery benchmark.
OnePlus 6 battery benchmarks in comparison
| | Runtime | Capacity |
| --- | --- | --- |
| Razer Phone | 10 hours 43 minutes | 4,000 mAh |
| Huawei P20 Pro | 9 hours minutes | 4,000 mAh |
| Sony Xperia XZ2 | 9 hours 15 minutes | 3,180 mAh |
| Huawei P20 | 9 hours 6 minutes | 3,400 mAh |
| OnePlus 6 | 7 hours 34 minutes | 3,300 mAh |
| Samsung Galaxy S9 | 7 hours 15 minutes | 3,000 mAh |
It is easy to see that the OnePlus 6 with OxygenOS 5.1.5 cannot keep up with the competition in PCMark's battery benchmark.
Still good for more than a day
In everyday life, we see a different picture. During the test period, the OnePlus 6 lasted over 17 hours despite intensive use. The display was active for 5 hours and 34 minutes. The Sony Xperia XZ2 has a battery life of over 7 hours on the same hardware platform, but the display has a lower resolution and is over half an inch smaller. Compared to a Huawei P20, however, the OnePlus 6 lasts an hour longer.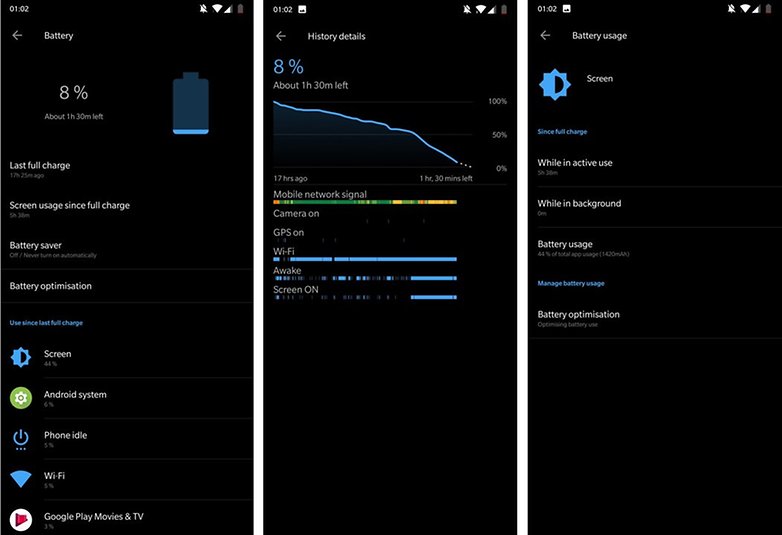 If you handle the OnePlus 6 a little more gently, it is quite possible to tickle out a day and a half running time. However, this rule can also be applied to the competition in order to extend the runtime.
Really fast quick-charging technology
Until recently, the OnePlus quick-charging technology was called "Dash Charge", but it flew off the product pages shortly after the new OnePlus 6 was introduced. Now OnePlus is only talking about Fast Charge. No matter what it's called, either Fast Charge or Dash Charge, it is currently the fastest charging technology smartphones available.
The OnePlus 6 battery was charged from 0 to 100 percent within 85 minutes. The first 50 percent of the battery is charged within the first 30 minutes, but only if you use the Fast Charger from OnePlus or an Oppo VOOC power supply. At such a rapid charging speed, wireless charging is definitely not missing.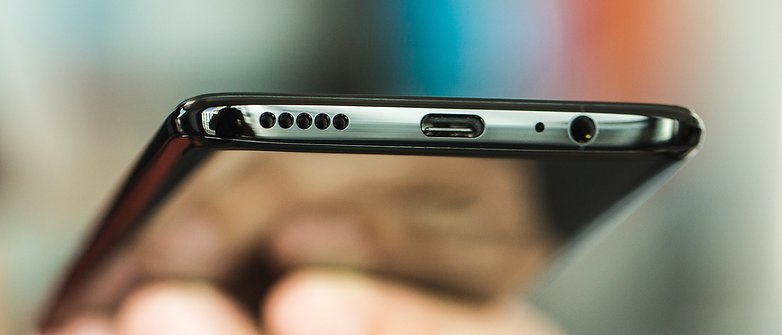 Conclusion
When it comes to battery life, the OnePlus 6 can't offer any crazy number. Overall it's at the same level as its predecessors, the OnePlus 5 and 5T. So if you still own a OnePlus from 2017, it's not worth upgrading to the OnePlus 6. The internal hardware may have become more energy efficient thank to Qualcomm 845, but its power-saving potential is consumed by the larger display. We still have to consider the upcoming software update, because as is usually the case with modern smartphones, manufacturers can still optimize one or the other.
Do you own a OnePlus 6? What do you think about its battery life?