Nexus 5X vs Nexus 6P comparison: Battle of the new Nexus handsets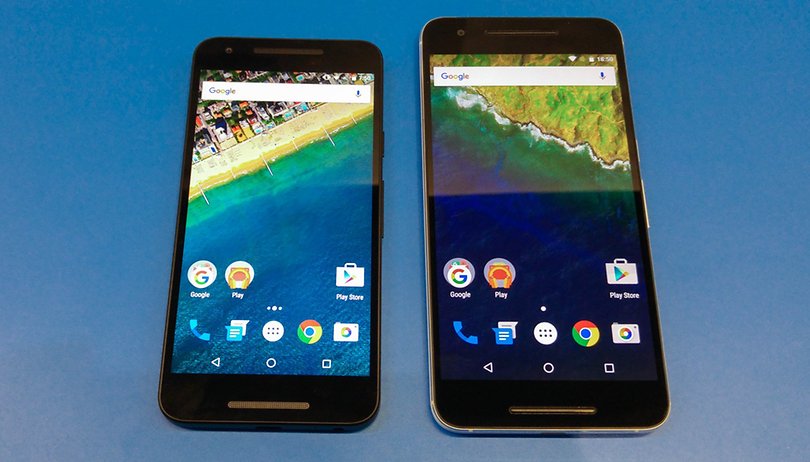 This summer has seen flagship releases from all the major Android players, but until now, there was one notable exception: the Nexus. Not one, but two new Nexus phones launched on September 29: the LG-built Nexus 5X and the Nexus 6P, which is made by Huawei. How will they slot into an already crowded marketplace, and which one will be the better buy? We've now had the chance to do hands-on reviews of both phones, so read on for our early Nexus 5X vs Nexus 6P comparison. NEXTPITTV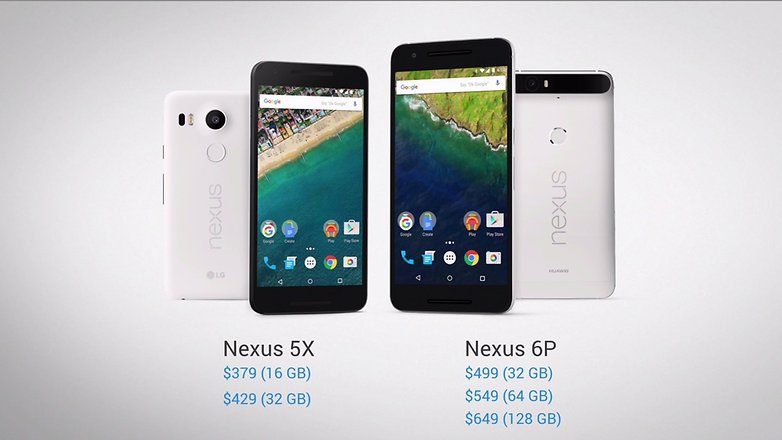 Nexus 5X vs Nexus 6P: Design and finishing
At first glance, the Nexus 5X and 6P are not drastically different from their predecessors, but the difference in price between the two new phones is reflected in their design and detail.
The Nexus 6P has an all-metal body with a Gorilla Glass 4 screen, stereo front-facing speakers and a fingerprint sensor on the back. The horizontal 'visor' housing the camera on the back of the phone is likely to split opinions, but its design is otherwise sleek and sophisticated.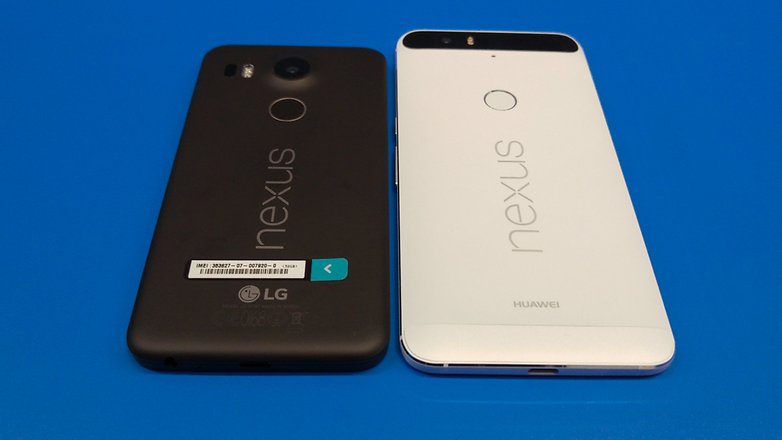 The cheaper 5X model cuts some costs by using a smooth plastic body, much like the one seen in the first Nexus 5 in 2013, although it is a taller and thinner phone. It has a fingerprint scanner like the 6P, but settles for a single speaker and Gorilla Glass 3. The Nexus 5X's camera protrudes from the back of the device slightly, but it doesn't look unsightly.
The Nexus 5X arrives in three color options, the Nexus 6P in four, although the gold 6P is only available in Japan at the moment. The 6P is certainly the the more 'premium' phone, but as we've said, that's reflected in its price. The other main difference between the handsets is obviously their size: the 5X measures 147 x 72.6 x 7.9 mm (and weighs 136 g); the 6P, 159.3 x 77.8 x 7.3 mm (178 g).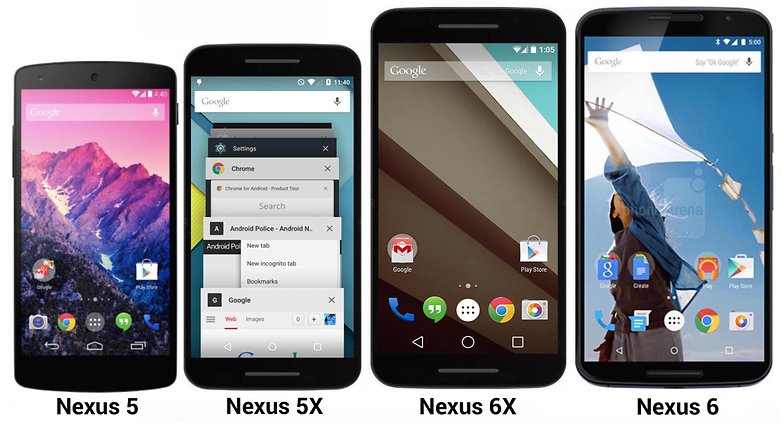 Nexus 5X vs Nexus 6P: Display
A larger phone usually means a larger screen and that's the case here. The Nexus 5X display has a 5.2-inch diagonal, while the Nexus 6P is more of a phablet and has a 5.7-inch screen, the same size as the Samsung Galaxy Note 5.
There is also a marked difference in the resolution: the Nexus 5X has Full HD display (1,080 x 1,920 pixels) at 424 ppi; the Nexus 6P offers QHD display (1,440 x 2,560 pixels) at 515 ppi. The 6P display is vibrant and sharp; the 5X is also more than capable, with good brightness and excellent viewing angles. Which you prefer will come down to what you like to use your phone for – if you want to get into VR, you'll appreciate the greater resolution and bigger display of the Nexus 6P, for everything else the 5X should be adequate.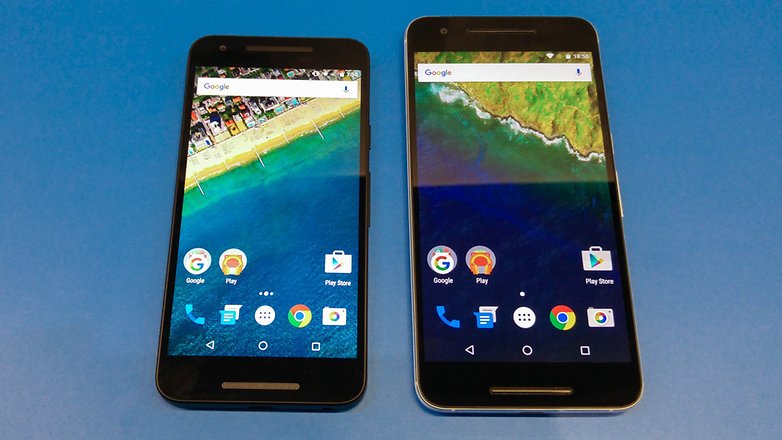 Nexus 5X vs Nexus 6P: Software
Although the Nexus 5X and 6P have been made by LG and Huawei, respectively, neither manufacturer has developed its own software. The two new devices will be among the first phones on the market to run Android version 6.0 Marshmallow. A run-down of the key features of Android Marshmallow can be found at the link.
Both phones should come with excellent update support, including security updates for at least 24 months, so they're neck-and-neck on the software front.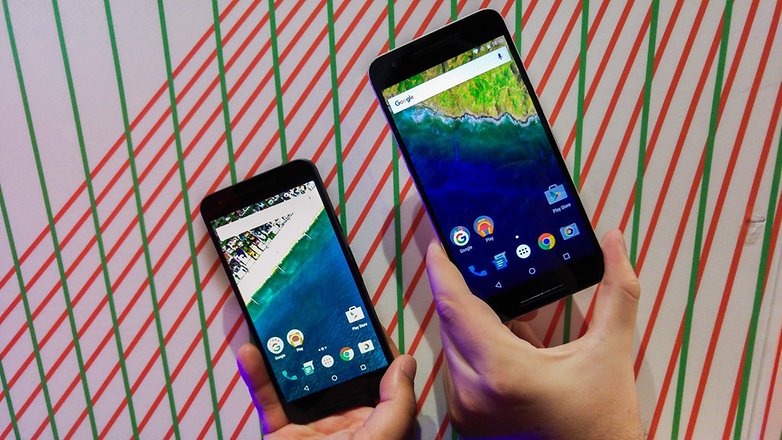 Nexus 5X vs Nexus 6P: Camera
Both devices house 12.3 MP main cameras, which are said to be even more impressive in low-light conditions than the iPhone 6s Plus, thanks to their use of 'large pixels'. They both also have a dual-LED flash, laser auto-focus and a f/2.0 aperture lens. The difference is in the front-facing camera; the Nexus 6P has an 8 MP sensor, the Nexus 5X's is 5 MP.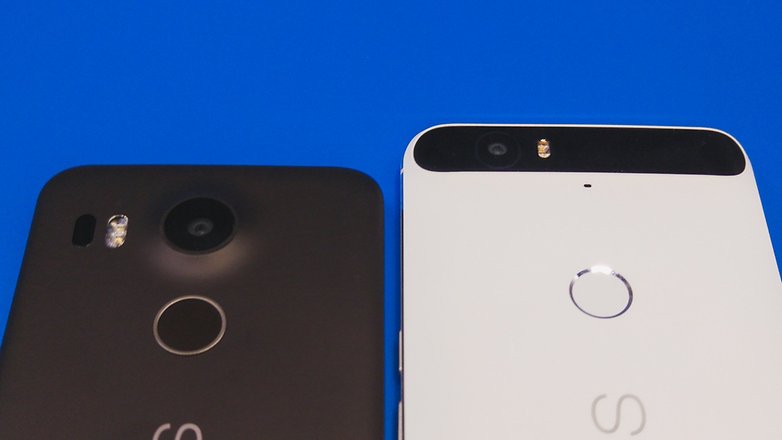 Nexus 5X vs Nexus 6P: Performance
Both the Nexus 5X and 6P have high-end processors. The Nexus 5X houses the six-core Snapdragon 808, like the LG G4, with 2 GB of RAM, while the 6P has an eight-core Snapdragon 810, like the Xperia Z5, and 3 GB of RAM.
The Nexus 6P appears to be the most powerful device on paper – stronger processor, extra 1 GB of RAM, larger memory options – but there didn't seem to be a noticeable difference between it and the 5X during our short test period. We'll update this article when we've had the chance to test the performance of both devices more fully.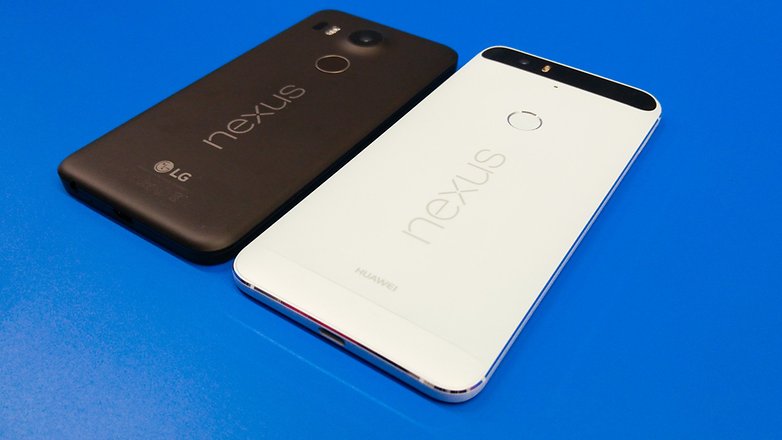 Nexus 5X vs Nexus 6P: Battery
Battery life has never been a strong point for the Nexus range. The 2013 model in particular was criticized for its consistent failure to make it through the day. There is hope that these new models will fare better in this regard.
The Nexus 5X has a 2,700 mAh battery capacity, an improvement on the Nexus 5's 2,300 mAh offering. The Nexus 6P also has a larger battery than its predecessor – 3,450 mAh.
Though the 6P battery is larger than the 5X's, so is its display and resolution – the battery size doesn't necessarily mean it will have the longest battery life of the two. We'll report back with some real-world figures once we've fully tested each device.
Android Marshmallow has had several optimizations that should improve battery life, including the new Doze feature and support for USB Type-C, which provides faster charging.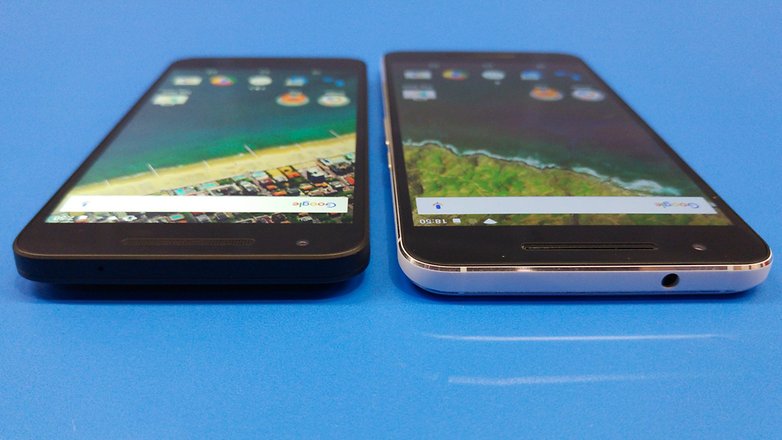 Nexus 5X vs Nexus 6P: Specifications
| | NEXUS 5X | Nexus 6P |
| --- | --- | --- |
| Manufacturer | LG | Huawei |
| Operating system | Android 6.0 | Android 6.0 |
| Display | 5.2-inch LCD, Full HD (1,920 x 1,080 pixels, 424 ppi) | 5.7-inch, QHD, (2,560 x 1,440 pixels, 515 ppi) |
| Processor | Qualcomm Snapdragon 808, hexa-core, 1.8 GHz | Qualcomm Snapdragon 810 V2.1, 2.0 GHz, octa-core |
| RAM | 2 GB | 3 GB |
| Internal memory | 16 / 32 GB | 32 / 64 / 128 GB |
| Camera | 12.3 MP (back), 5 MP (front) | 12.3 MP (back), 8 MP (front) |
| Battery | 2,700 mAh | 3,450 mAh |
| Connectivity | LTE cat.6, Wi-Fi 802.11 a/b/c/d 2x2 MIMO, dual-band (2.4 GHz, 5.0 GHz), Bluetooth 4.2, NFC, GPS | LTE cat.6, Wi-Fi 802.11 a/b/c/d 2x2 MIMO, dual-band (2.4 GHz, 5.0 GHz), Bluetooth 4.2, NFC, GPS |
| Dimensions | 147 x 72.6 x 7.9 mm | 159.3 x 77.8 x 7.3 |
| Weight | 136 g | 178 g |
| Price | US$379 (16 GB version), S$429 (32 GB version) | US$499 (32 GB version), US$549 (64 GB version) US$649 (128 GB version) (TBC) |
| Release Date | October 2015 (pre-orders open now) | September 2015 (pre-orders open now) |
Nexus 5X vs Nexus 6P: Early verdict
If you're torn between the two new Nexus devices, the first question is whether screen size is important to you. If you want a bigger screen, the 6P is the only sensible choice.
The second question is financial: The Nexus 6P is a better phone but the 5X is significantly cheaper, and looks like a great choice for those don't want or need a big screen, or don't mind slightly inferior specs.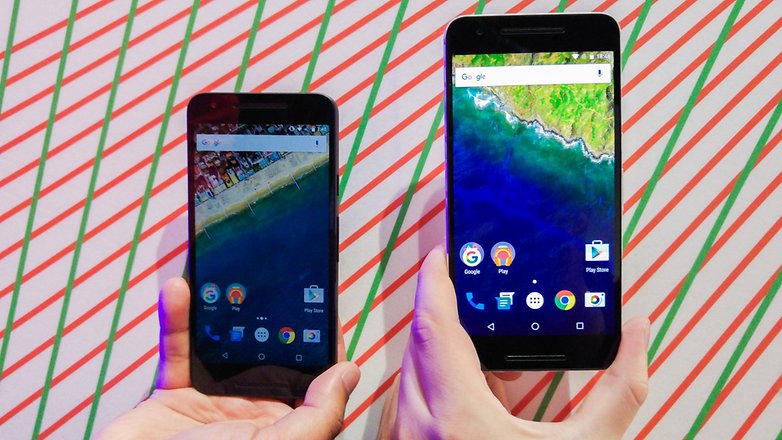 We will revisit this article once our full reviews for both devices have been published. For now, which of these two devices looks best to you? Will you be buying either? Let us know in the comments.