Nexus 5 vs iPhone 6: is an old Nexus better than a new iPhone?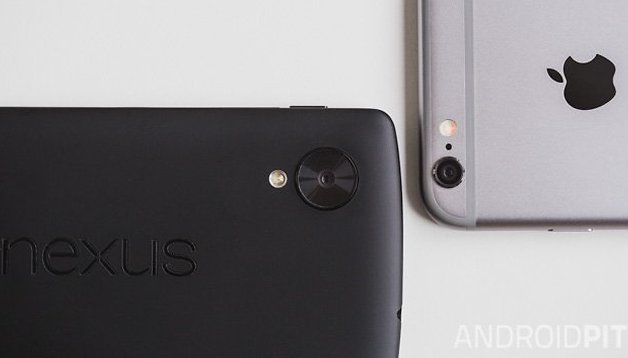 There may be a new Nexus in town, the rather gargantuan Nexus 6, but the Nexus 5 is still being sold alongside its larger brother by Google, so Google at least consider the Nexus 5 to still be a current device. With the update to Android 5.0 Lollipop, new life has been breathed into last year's Google phone too, so let's see how Apple's benchmark device compares to the similarly-sized Android reference device in our Nexus 5 vs iPhone 6 comparison. NEXTPITTV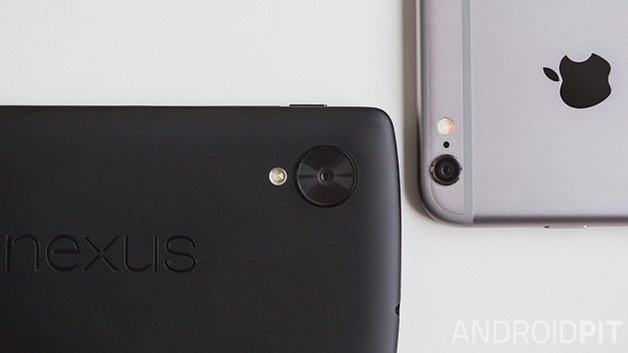 Nexus 5 vs iPhone 6: Design and Build Quality
The Nexus 5 is still my favorite Nexus design yet. It's a clean slab of glass and rubberized plastic with telltale curves on the top and bottom edge. The sides of the Nexus 5 are slightly angled for a better grip and the ceramic volume and power buttons (located on the left and right sides respectively) are nicely clicky. The camera lens on the back protrudes slightly and the SIM tray lives on the right just under the power button. The top edge features a headphone port and pinhole mic and the bottom edge has a central USB 2.0 charging port flanked by twin speaker grills (although only one is a speaker – the other is a mic).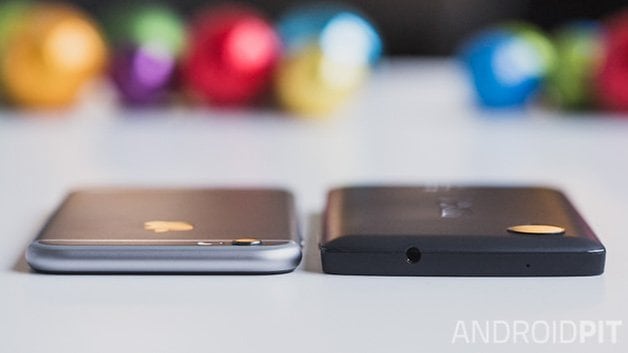 The iPhone 6 is a cold, smooth block of slippery metal. This iPhone takes all the sharp angles off previous iPhone designs, leaving curved corners, rounded edges and strips of plastic for the antennas like we have on the HTC One (M7). The camera lens on the iPhone 6 also protrudes but is much smaller than that on the Nexus 5. The iPhone 6 is also incredibly thin at just 6.9 mm. The volume buttons and silent switch are located on the left hand side and the power button makes its way down the right hand side along with the SIM tray. The bottom hosts the speaker grill, lightning and headphone port and a pinhole mic. The top of the iPhone 6 is completely clean.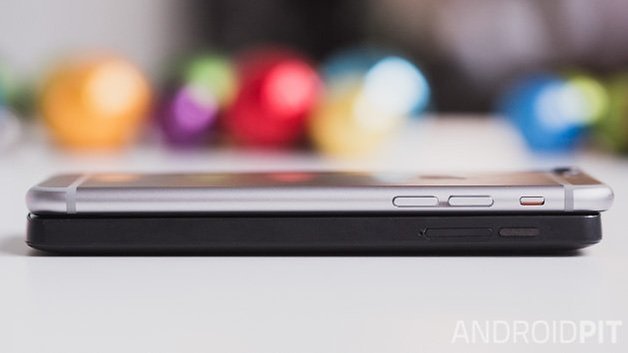 Despite looking incredibly well-machined, the new iPhones have suffered from some bad publicity over their aluminum internal framework, which has caused some rather public iPhone 6 bend tests and widespread assumptions that will all fold clean in half in your pocket. While it is a legitimate concern, it is unlikely the numbers of bent iPhones are ever going to impact more than an unlucky few. Having said that, I've never heard of a bent Nexus 5 at all. The main difference here is between the best feeling plastic around and the slipperiest metal around.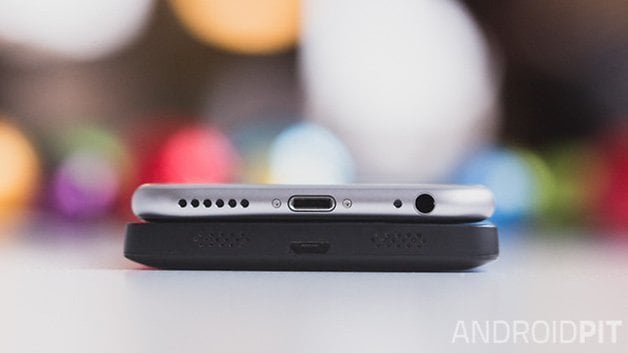 Nexus 5 vs iPhone 6: Display
The Nexus 5 has a 4.95-inch IPS LCD display with Full HD resolution (1,920 x 1,080 pixels) with a pixel density of 445 pixels per inch. The Nexus 5 display has relatively small bezels on the side, with a larger bottom bezel and slightly smaller one up top, which also houses some sensors, the front facing camera and the slightly recessed earpiece. All buttons are on-screen. The display itself is not the brightest, but it's bright enough and has stable viewing angles and crisp, clear whites, although my Nexus 5 is a little warm. Contrast is ok, but blacks are nowhere near as deep as you'd find on an OLED display.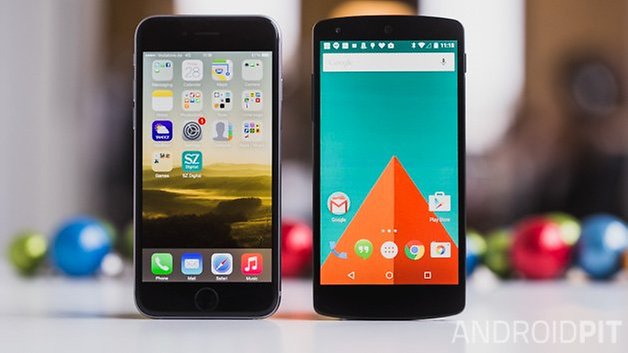 The iPhone 6 may not have anywhere near the pixel density of the Nexus 5, with just 326 ppi on a 1,334 x 750 pixel IPS LCD display. It's technically a Retina display, but that is simply a marketing term invented by Apple to describe any screen around the magical 330 pixels per inch mark outlined by Steve Jobs as the perfect resolution for the human eye. Needless to say, basically every display found on any Android phone these days is a Retina display by Apple's standards and more and more are now 2Retina (or double the pixel density of iPhones). Still, the brightness of the Apple display is exceptional and while the clarity isn't there in comparison, it does a very good job in terms of contrast and color. The bezels on the iPhone 6 are small for an iPhone and the upper bezel contains a front-facing camera and earpiece with the TouchID button on the bottom bezel.
Nexus 5 vs iPhone 6: Special Features
The iPhone 6 has the excellent TouchID finger sensor located in the physical button and it works a treat. In all the Android variations of the finger scanner, the best I've come across is Huawei's awesome Ascend Mate 7, but the iPhone sensor is still the benchmark against which all other scanners are judged. The button must be pressed once to activate it and the scan happens very quickly, accurately and intuitively.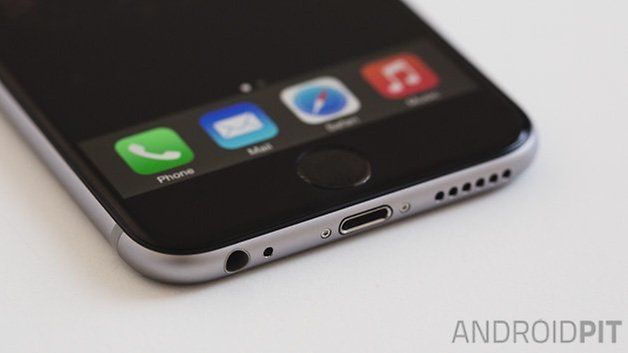 Nexus 5 vs iPhone 6: Software
I won't get into the many differences between iOS and Android – we've got a nice lengthy iOS 8 vs Android 5.0 Lollipop comparison you can read up on if you want a full break down, but I will mention a few key software features on each operating system. The strength of a Nexus device is stock Android, and the Nexus 5 benefits greatly from running pure Android 5.0 Lollipop. The OS is very stable and snappy, with a flat, card-based UI full of bright bold colors and lots of animations, all contained under the umbrella of Material Design: Google's new design language for Android 5.0 and beyond.
iOS 8 is a different kettle of fish entirely, even if Lollipop has been frequently described as the iOS version of Android. Where Android has an app drawer with all your app icons hidden away, leaving you with clean home screens or widgets as you prefer, iOS 8 keeps all app icons on endless home screens. Both operating systems let you cluster apps into folders and both have a notifications drop down and quick settings area. Take a look at the comparison screenshots to see the major visual differences.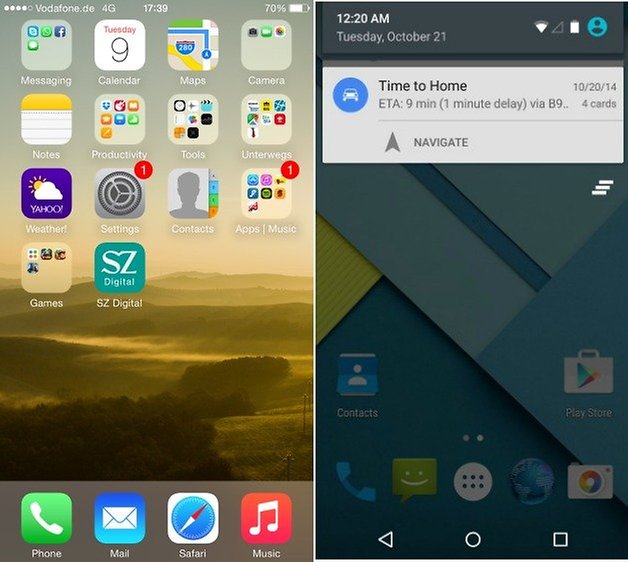 As far as software goes, the Nexus 5 is entirely Google-centric, with the core group of redesigned Google apps like Gmail, Google Maps, YouTube, Google+, Hangouts, Google Camera, Google Photos, Chrome, the full suite of Google Play apps (Play Store, Games, Books, Newsstand, Music, Movies), the new Sheets, Slides and Docs and all the awesome power of Google Now integration and voice commands. Because the Nexus 5 runs stock Android, it receives near-instantaneous updates from Google when new firmware is available, much like the iPhone. Most updates are now handled on a per-app basis through the Play Store, and security patches come every six weeks courtesy of regular Google Play Services updates.
Lollipop introduces a Battery Saver mode, priority interruptions, lock screen notifications, personal unlocking (via Trusted Faces, Trusted Places or Trusted Devices), multiple user accounts, screen pinning and Tap & Pay functionality (which can also be used for Tap & Go during setup to rapidly migrate the contents of one device to a new one. Multitasking is improved through a new card-based stack of recent apps and Chrome browser tabs and Google-powered searching throughout the device. Lollipop also introduces the new Android Runtime for pre-compilation of apps (ahead of time) to ensure better responsiveness and massive improvements to high-end graphics.
The iPhone 6 running iOS 8 has some software punch of its own too: some great camera features, super stable and smooth operating system, its own App Store and the fantastic iTunes, a full suite of Apple apps to handle anything you could ever wish to do on an iPhone, cloud syncing, family sharing, audio messaging, fitness integration in anticipation of the Apple Watch release in the very near future, cross-device syncing, Spotlight (much like Google's integrated Search functionality in Android) and big improvements to the keyboard. Oh, and now there's third party keyboards and widgets too.
Nexus 5 vs iPhone 6: Performance
The Nexus 5 has always been blazing fast, from when it appeared running Android 4.4 KitKat to now with the Lollipop update on board. The Nexus 5 specs include a quad-core Snapdragon 800 clocked at 2.3 GHz and 2 GB of RAM with Adreno 330 GPU. The Nexus 5 runs Lollipop almost as fast as the brand new Nexus 9 (which is packing the lightning fast Tegra K1 chip). It's near impossible to slow the Nexus 5 down, and with Lollipop on deck, it's a beautiful showcase of how smooth and fast Android can be.
No one has ever complained that an iPhone is sloppy or unstable and the iPhone 6 is no different. In fact, it's the fastest, smoothest and most stable iPhone I've ever used, although I find the "throttled" fluidity to be mildly frustrating when I compare it to the balls-to-the-wall speed of a Nexus, although that unbridled speed does produce some glitches and stutters, so it comes at a cost. The iPhone 6's A8 chipset with dual ARM v8-based Cyclones ticking away at 1.4 GHz may not sound as beefy as the Nexus, but Apple know a thing or two about smoothness, you have to give them that. The iPhone 6 comes with just 1 GB of RAM but there's a quad-core PowerVR GX6450 GPU making things happen graphically.
Nexus 5 vs iPhone 6: Camera
The 8 MP Nexus 5 camera has come a long way since launch: back then it was almost unusable, then some TLC from Google got it to a point where in good conditions it shoots as well as the iPhone. Sadly, perfect conditions aren't always available and the Nexus 5 falls down a little under poor lighting and with moving subjects. Auto-focus is still too slow for my tastes too. The shift from the old camera app to the excellent Google Camera and the new camera API that was introduced with Lollipop have done wonders for the Nexus 5 camera and it's as good as it has ever been: no one would have ever known it was possible back in 2013.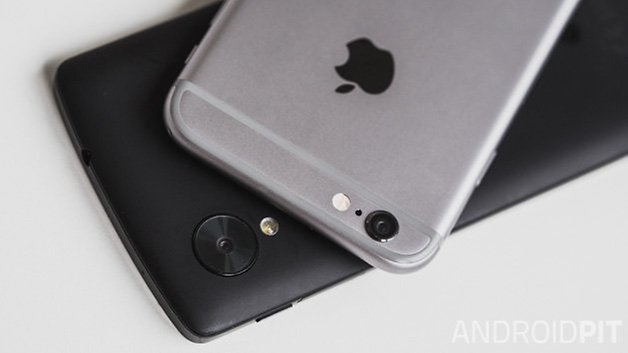 There really is no competition here. While the Nexus 5 is capable of some pretty spectacular shots, it can't compete with the iPhone 6's camera, even when it is only shooting at an equivalent 8 MP. Up front the iPhone 6 has a slightly lower resolution 1.2 MP FaceTime camera which only a fool would say is worse than the Nexus 5's selfie shooter. The iPhone 6 camera may not be perfect, and it isn't as big an improvement as I would have expected, but the iPhone produces consistently better results than the Nexus 5 across a wider range of settings and conditions. Where the camera has always been the Achilles' heel of a Nexus, it has always been the crown of an iPhone.
Nexus 5 vs iPhone 6: Battery
The Nexus 5 battery is pretty meagre at just 2,300 mAh. The battery optimizations introduced in Android 5.0 are wonderful though and the life span of a single charge has been extended by roughly 90 minutes by default. Adding the Battery Saver function to the mix lets you dramatically extend the final 5% or 15% of battery by shutting down various background processes and all but the very most important features until you get to a wall socket. I can now easily breeze through a full day or regular usage where I used to struggle a little to make it to bedtime on a single charge. The Nexus 5 also supports native Qi wireless charging.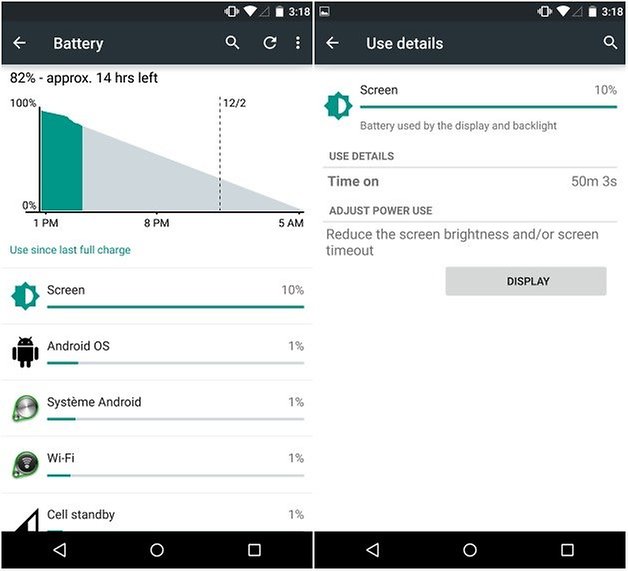 Batteries are one point where Apple still doesn't get it. Sure, a super thin and light phone is great, but the jokes about iPhone owners being wall huggers are well justified. I have lots of friends with iPhones and they are always either looking for an outlet or telling me that their phone is dead, and my experiences have been no better. That 1,810 mAh battery may not have a crazy display to power, and Apple does a good job of optimizing things to not require so much juice, but even with all that the iPhone 6 battery is pretty hopeless. If you manage to get a solid day out of it you should call the papers. And then all of my friends so you can tell them how you did it.
Nexus 5 vs iPhone 6: Release Date and Price
The Nexus 5 release date was October 31st, 2013. The Nexus 5 price came in two flavors: depending on the size of internal storage. The 16 GB Nexus 5 was 349 USD and the 32 GB version cost 399 USD. The iPhone 6 price comes in three storage-dependent options: 126 GB, 64 GB and 128 GB for 199 USD, 299 USD and 399 USD (on a two-year contract). You don't even want to know what an iPhone 6 costs outright - but it's almost double the cost of the equivalent Nexus 5...
Nexus 5 vs iPhone 6: Tech Specs
| | Google Nexus 5 | Apple iPhone 6 |
| --- | --- | --- |
| System | Android 5.0 Lollipop | iOS 8.1 |
| Display | 4.95-inch Full HD IPS+ LCD (1,920 x 1,080 pixels), 445 ppi | 4.7 inches, Retina HD LCD (1,334 x 750 pixels), 326 ppi |
| Processor | Quad-core Snapdragon 800, 2.3 GHz, Adreno 330 GPU | Dual-core Apple A8, 1.4 GHz with M8 motion co-processor, PowerVR GX6650 GPU |
| RAM | 2 GB | 1 GB |
| Internal memory | 16/32 GB | 16/64/128 GB |
| Battery | 2,300 mAh, Qi wireless charging | 1,810 mAh |
| Camera | 8 MP with OIS (rear) 1.3 MP (front) | 8 MP iSight (rear), 1.2 MP (front-facing) |
| Connectivity | Wi-Fi, NFC, Bluetooth 4.0, LTE | GSM, HSDPA, LTE, NFC, Wi-Fi |
| Dimensions | 137.9 x 69.2 x 8.6 mm | 138.1 x 67 x 6.9 mm |
| Weight | 130 g | 129 g |
| Price | 349/399 USD (16/32 GB) off contract | 199/299/399 USD (16/64/128 GB versions) on a two-year contract (649/749/849 USD off contract) |
Final Verdict
Some parts are impossible to compare: your preference for design and operating system are part of your DNA and my preferences are unlikely to convince you otherwise. Some parts are objectively better in the iPhone 6: camera, TouchID and perhaps performance. Some are about equal on both devices: battery, software and looks. And some are better in the Nexus 5: price, advanced features and display. If these two devices were the same price, I would probably pick the iPhone 6 over the Nexus 5 mostly due to the camera performance, but considering the iPhone 6 costs nearly double the price of the Nexus 5, it's a pretty clear Android victory for me. While the iPhone may be better in some departments, it's nowhere near that much better.
Which do you think is better? iPhone 6 or Nexus 5?