My VR experience: alienating, embarrassing and a must try!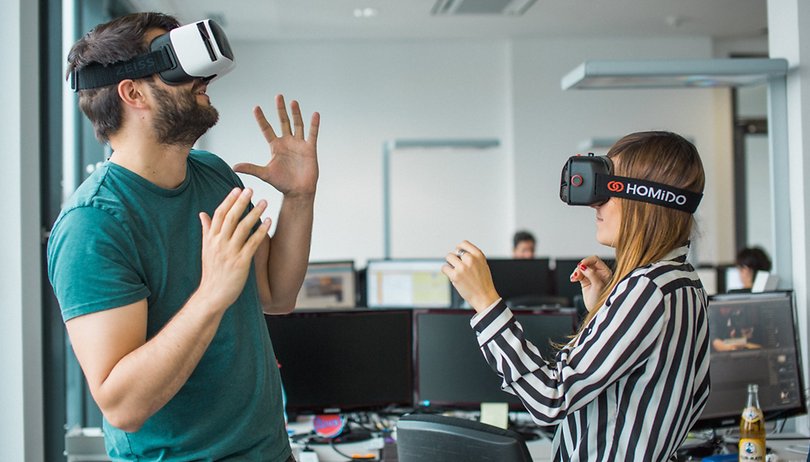 Daria Lombardi writes: I came back to reality about two minutes ago. I have dilated pupils, a heavy head and a crick in my neck, but I feel like a thirteen-year-old who's just been given a Tamagotchi (yes, that was me just 15 years ago). I finally had the opportunity to dive into the virtual world offered by Oculus on the Samsung Gear VR, and I want to share my experiences and offer some advice. Are you ready to enter a parallel dimension?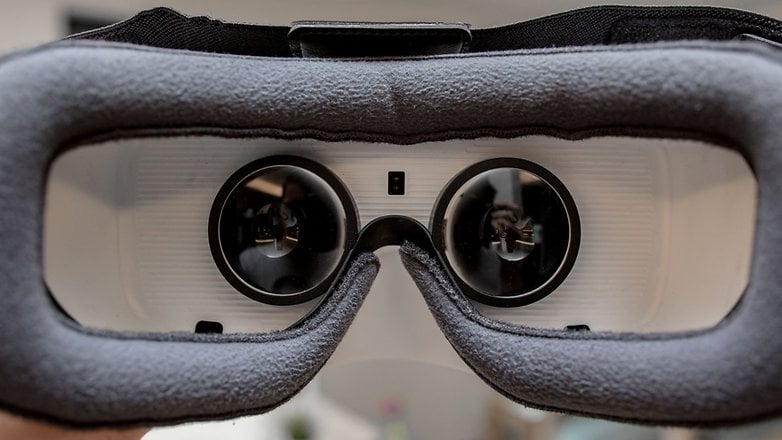 I know what you're thinking. "Surely, if you work with Android you've already tried the virtual reality stuff". Up until now, I've always answered vaguely - "ah, yes, interesting…" - to hide my ignorance, because while I've tried Gear VR and Google Cardboard I've never spent more than a couple of minutes with any VR app. I decided to educate myself, opened the devices cabinet and grabbed the Galaxy S7 Edge and a colleague's personal Gear VR to explore more than an hour of virtual entertainment.
Initial setup and navigation
I started at 10:50, with the Samsung's battery at 97%. Remember that number, because we'll come back to it in a couple of paragraphs. I unlocked the display and spent about five minutes trying and failing to work out what Play Store app drawer I was supposed to use. I'm not a morning person. Finally it turned out that what I needed to do was remove the Gear VR door, connect the Samsung to the USB port and close the door again. The smartphone would show me the way.
Once you connect the smartphone it starts the download of Oculus, although after the initial configuration you have to remove your phone from the viewer again. More than seven times the service asked me to download applications, and once they were downloaded I had to register with my email address and activate my account with the email it sent me. Finally I could see the Oculus store and download the free apps available, a total of six three-dimensional and interactive video games.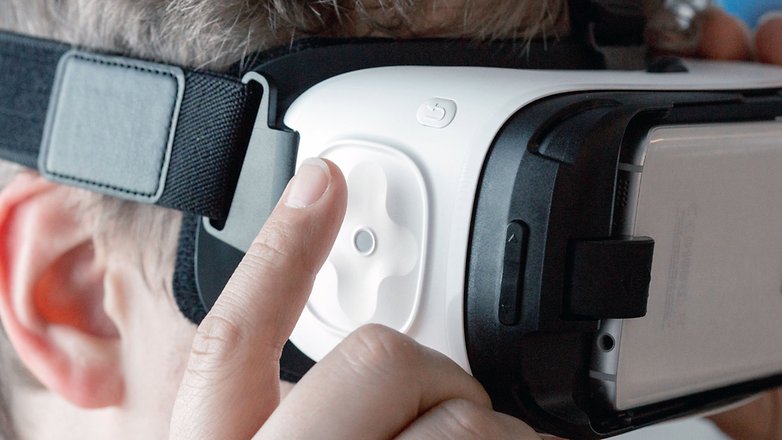 The process took about 10 minutes and I was finally ready for some VR action - but Oculus immediately curbed my enthusiasm by making me go through a tutorial. Don't do what I did and skip it, because you'll spend three times longer working out what to do. If you follow each of the tutorial steps you'll know how to select content, go back through the screens and return Home at any time. It's all done via the trackpad and buttons on the side of the headset, which I found perfectly comfortable. If you're left handed you might find this less than ideal, though.
Useful tips
Use the black wheel on the viewer to adjust the focus
DON'T SKIP THE TUTORIAL!
Clean the screen and lens of the Gear VR with a microfiber cloth before use
Remove your smartphone from the Gear VR when you want to download apps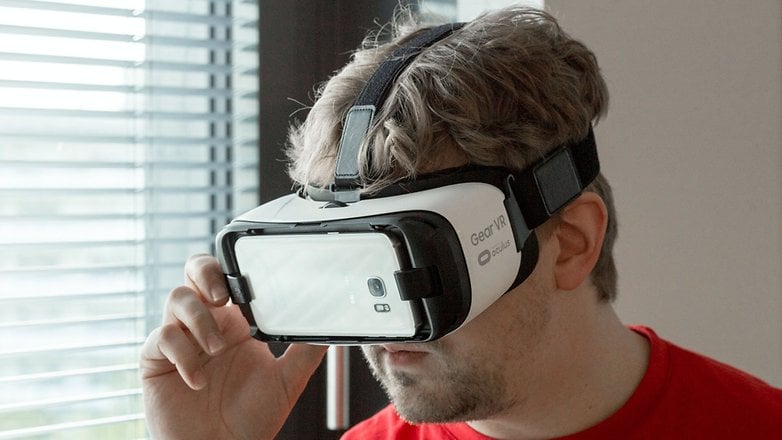 From initial embarrassment to a trance
Everything was ready. I just had to access the media library and select one of the apps to enjoy the thrill of virtual reality. I just had to overcome problem number one: embarrassment and cackling co-workers. I couldn't stand still in the chair because some games required me to turn on myself of move my head sharply to avoid obstacles, so in the end I resigned myself to looking silly in front of my colleagues.
Of the free apps, I thought that Hold On To Your Set and Ocean Drift were quire unnecessary: the former shows you a Cirque Du Soleil performance, and the latter enables you to play as a sub in search of fish. Neither were particularly exciting. Anshar Wars 2, on the other hand, was much more fun: I immediately forgot about the real world and spent 20 minutes trying to knock down enemy craft.
Playing without a gamepad wasn't much fun. Using the Gear VR's trackpad to speed up or move around isn't very convenient, and it often means accidentally pausing the game or shooting something. Despite the navigation issues, though, I was completely enraptured by the 3D graphics and evocative music.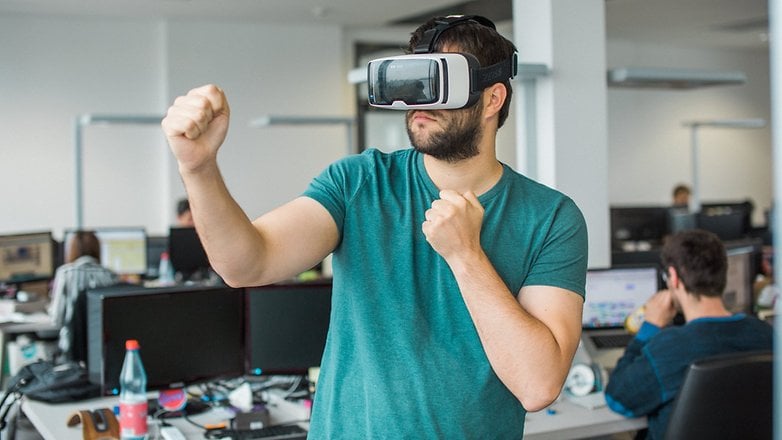 More useful tips
Use the viewer when you're alone, or with someone you can trust
VR is easier if you sit in the middle of the room, possibly on a swivel chair
Don't worry about pausing games or locking your phone screen; the Gear VR does this when it can't see your eyes
Get a gamepad if you want a better gaming experience
Physical and battery consequences
I didn't get a headache or feel nauseous, but my eyes were tired and my neck was stiff. My pupils struggled to adapt to sunlight when I took the headset off, and the combined weight of a 318 g Gear VR and a 157 g Galaxy S7 Edge is something you definitely feel after 20 minutes, especially if you're turning your head sharply to move or dodge meteors. I found myself propping my elbows on the table, holding my chin in my hands to give my neck some help.
As for the battery, after exactly one hour of use it was down from 97% to 84%. That's not bad when it includes initial configuration and downloading as well as 40 minutes of play. But you might want to carry a USB cable around with you in case you forget to charge the device before diving once again into the VR world.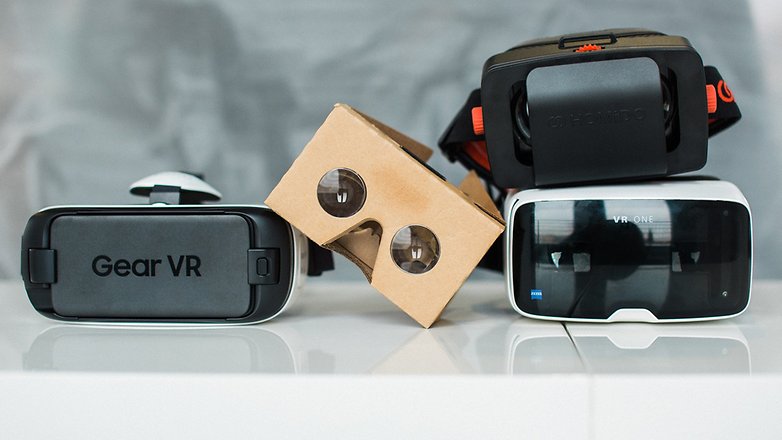 Final tips
Don't use it for too long without a break. You will get a stiff neck, and maybe headaches too
Keep a USB cable handy to top up your phone's charge
Conclusion
I was fascinated. The Gear VR offers a multimedia experience like no other, and it's absolutely riveting - provided you take breaks for the sake of your neck. The price is a problem, however: not so much the Gear VR, which costs around 100 Euro, but the smartphones it works with: the Galaxy S6, S6 Edge, S6 Edge+, S7 Edge and Note 5 aren't exactly cheap. But if you have a high-end Samsung handset, you want the Gear VR.
What do you think? Have you fallen for the virtues of VR? Let us know in the comments.