Moto G6 Plus vs. Moto Z2 Play: the new or the classic?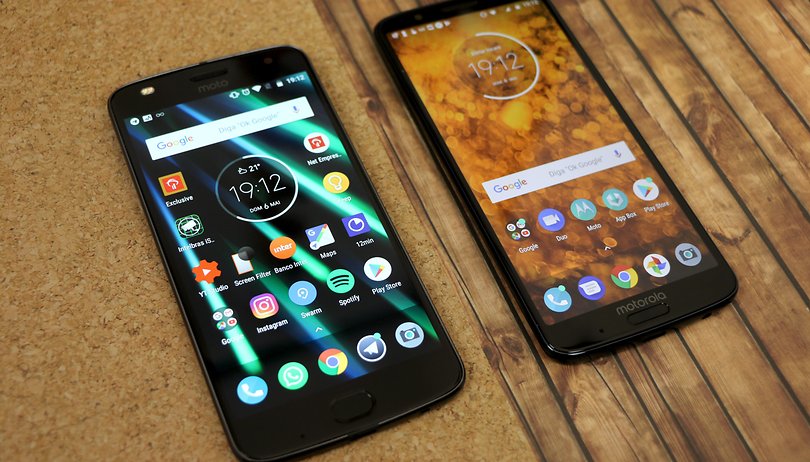 Probably, not even Motorola expected the Z Play line to be the success it was. And this wasn't only due to the specs, but also the price which became more attractive over time. After a confusing line like the G5, the G6 arrived and made clear that it no longer wants to be among the basic mid-range. But doesn't that mean the G6 Plus now takes on the Z2 Play? Let's see.
Moto G6 Plus vs. Moto Z2 Play: Design
While the Moto Z2 Play needs to balance elegance with support for Moto Mods, narrowing its design freedom, the Moto G6 has an almost blank canvas to work with, although it has kept the general aesthetic of the Moto line.
The Moto G6 Plus still has the circular rear camera module, and is thicker than the Z2 Play. Still, in terms of elegance, the G6 Plus is more modern looking thanks to its glass finish.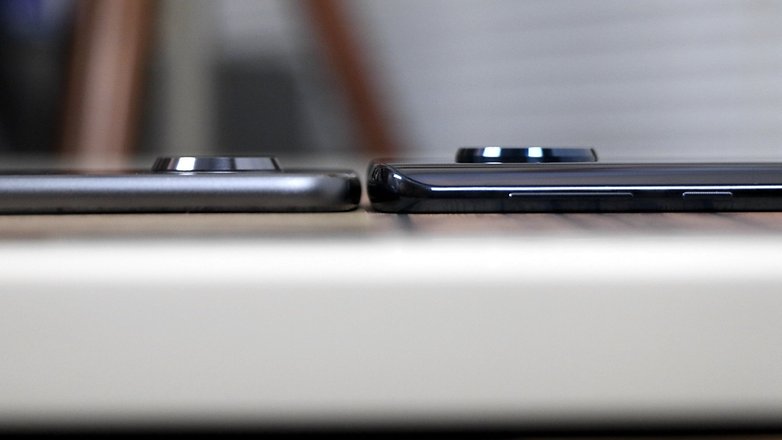 In fact, it is very reminiscent of the Moto X4, as the beautiful holographic effect is the same. The only thing though is that the frame between the glass panels is plastic, and Motorola says it's for better absorbing shock. Already the Z2 Play has glass only in the front, while all the rest is in matte metal. The back is totally flat to accommodate Moto Mods.
The G6 Plus' display is a bit larger, but it has the same width and only a little more height than that of the Z2 Play. Even if it's the thinner of the two devices, if your Z2 Play has the battery Moto Mod, it's still nice to hold.
Moto G6 Plus vs. Moto Z2 Play: Size comparison
| MODEL | DIMENSIONS | WEIGHT |
| --- | --- | --- |
| MOTO Z2 PLAY | 156.2 x 76.2 x 6 mm | 145g |
| MOTO G6 PLUS | 160 x 75 x 8 mm | 165g |
Moto G6 Plus vs. Moto Z2 Play: Display
Here we enter into a controversial subject, because it's subjective. With the likely goal of saving something special for the Z and Z Play line, Motorola uses IPS for the G line, leaving Super AMOLED for Z2 Play.
This brings us to a more bluish display on Z2 Play and more reddish on the G6 Plus. And, as expected, we have more saturated colors in AMOLED and more faint colors in IPS, but the brightness intensity of both is very similar.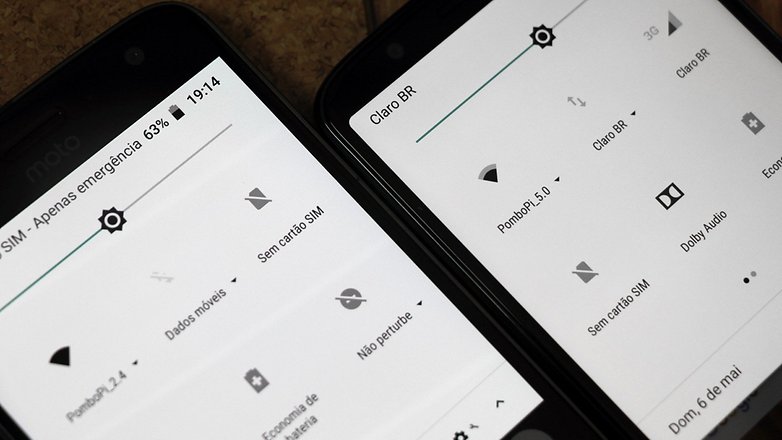 There are format differences too. While we have FullHD on Z2 Play, we have FullHD+ for the G6 Plus, because this year's G line is the first of Motorola's to stick to the 18:9 style with a longer display that occupies more of the front of ​​the handset.
The Moto Z2 Play opts for a standard 5.5-inch display, but the G6 Plus dares to go for a slightly larger screen, 5.9 inches. And as its edges are thinner (but not totally bezel-less), the device isn't much larger overall.
Moto G6 Plus vs. Moto Z2 Play: Display comparison
| MODEL | SIZE | SCREEN TECHNOLOGY |
| --- | --- | --- |
| MOTO Z2 PLAY | 5.5 in | Super AMOLED, Full HD (1,080 x 1,920 pixels), ratio 16: 9 and 401 ppi, occupying 70.1% of the screen |
| MOTO G6 PLUS | 5.9 in | IPS Full HD + (1080 x 2160 pixels), ratio 18: 9 and 409 ppi, occupying 74.4% of the screen |
Moto G6 Plus vs. Moto Z2 Play: Hardware and camera
Z2 Play features the 626 Snapdragon processor, well known and praised by users. Meanwhile, the G6 Plus has the new Snapdragon 630, but does it make a difference?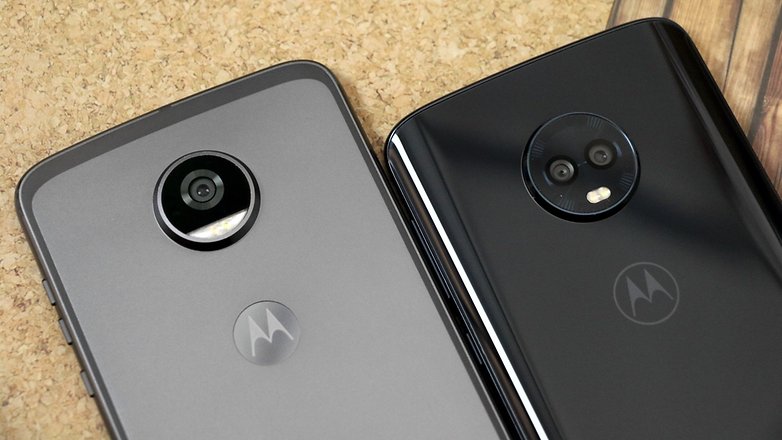 Both have octa-core CPUs up to 2.2 GHz and come with 4 GB of RAM, but what's really important is that the G6 Plus is 64-bit and its processor was developed at 14 nanometers. This brings a series of internal improvements that make it superior to Z2 Play.
Taking one of the most popular games today, with the Z2 Play I can play PUBG almost perfectly in low graphics. With the G6 Plus the result is the same, maybe even slightly better, even though it is a line below the Z.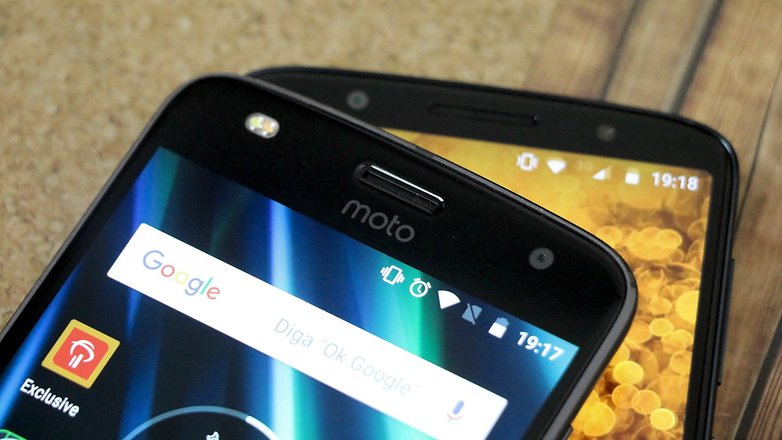 The G6 Plus also has the superior camera. You can see the specs below, but right off the bat we have a dual rear camera against a single camera, and all of Motorola's software improvements, which seem to have worked quite well.
Advantages of the Z2 Play include the laser focus on the rear and a dual flash in the front, but everything else is dominated by the G6, which in addition brings artificial intelligence to the images, identifying objects and sights, and the portrait mode, which does not come in the Z2 Play.
Moto G6 Plus vs. Moto Z2 Play: Camera comparison
| MODEL | REAR CAMERA | FRONT CAMERA |
| --- | --- | --- |
| MOTO Z2 PLAY | 12 MP (f / 1.7), autofocus with phase and laser detection, dual-tone dual-LED flash | 8 MP (f/2.2), 80º, LED flash, 1080p |
| MOTO G6 PLUS | Dual: 12 MP (f / 1.7) + 5 MP (f / 2.2), autofocus with phase detection, Flash LED, 2160p @ 30fps | 5 MP (f/2.2), dual-LED dual-tone flash, 1080p |
Moto G6 Plus vs. Moto Z2 Play: Battery and storage
The Z2 Play has a 3,000 mAh battery and that this has been increased to just 3,200 mAh in the G6 Plus (comparably less than the 3,510 mAh of the Z Play), so with it having a bigger and less efficient screen, you have some cause for concern right off the bat.
But, you've actually no reason to fear. The G6 Plus fares far better than the Z2 Play, thanks to the processor, which follows the 14-nanometer manufacturing standard, making much better use of the battery capacity.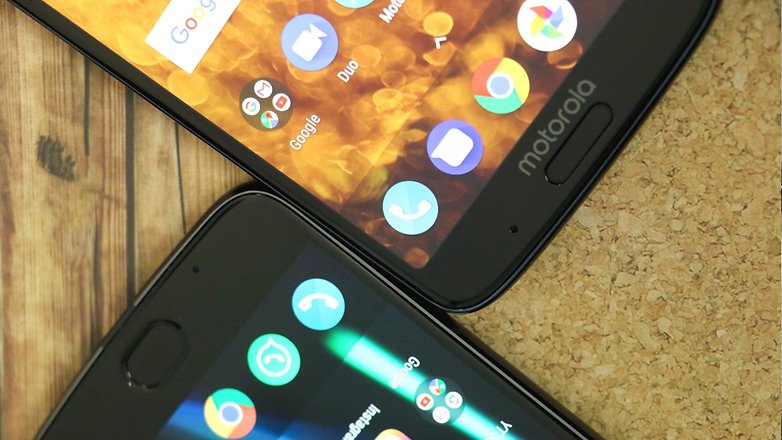 While the Moto Z2 Play had an intense usage period of up to 9.5 hours, I could get more than 15 hours with the G6 Plus. Of course, these numbers vary by use, connections, network and more, but this is already a sample of how it really seems to be more optimized.
In terms of storage, the G6 Plus also has a small advantage. Both come with 64 GB of storage, but the G6 Plus comes out of the box with 51.17 GB free, versus the 48.5 GB free of Z2 Play. The differences end there, and each has a single MicroSD card slot.
Moto G6 Plus vs. Moto Z2 Play: Software
When it comes to Android, there is not much to differentiate either, since both are from Motorola. Shortly before I wrote this comparison, the Z2 Play was updated to Android Oreo, and this left the two very similar.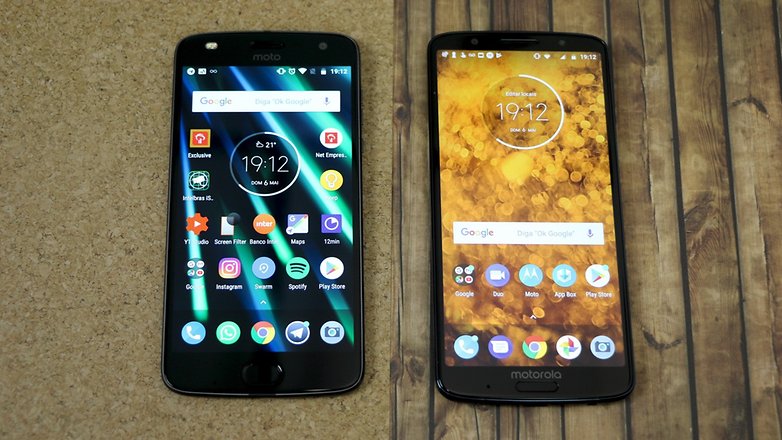 However, we must remember that it is unlikely that the Z2 Play has another update coming to it, the G6 Plus certainly will get another Android version update. Both phones have what we've come to expect from Motorola in terms of software: stock Android with some minor modifications.
The biggest change and difference between the two is in the Moto app, which brings most of the extras given by the company. Both have the advantages of Moto Display, navigation via fingerprint scanner, activation of the camera shaking the device, among others.
However, the G6 Plus features the Moto Key, which stores passwords for you, and a new Moto Voice, enhanced with new features.
Motorola Moto G6 Plus vs. Motorola Moto Z2 Play technical specifications
Motorola Moto G6 Plus
Motorola Moto Z2 Play
Dimensions:
160 x 75 x 8 mm
156.2 x 76.2 x 5.99 mm
Weight:
165 g
145 g
Battery size:
3200 mAh
3000 mAh
Screen size:
5.93 in
5.5 in
Display technology:
LCD
AMOLED
Screen:
2160 x 1080 pixels (409 ppi)
1920 x 1080 pixels (401 ppi)
Front camera:
16 megapixels
5 megapixels
Rear camera:
12 megapixels
12 megapixels
Flashlight:
LED
Dual-LED
Android version:
8.0 - Oreo
8.0 - Oreo
RAM:
3 GB
4 GB
6 GB
4 GB
Internal storage:
32 GB
64 GB
64 GB
Removable storage:
microSD
microSD
Chipset:
Qualcomm Snapdragon 630
Qualcomm Snapdragon 626
Number of cores:
8
8
Max. clock speed:
2.2 GHz
2.2 GHz
Connectivity:
HSPA, LTE, NFC, Dual-SIM , Bluetooth 5.0
HSPA, LTE, NFC, Dual-SIM , Bluetooth
Moto G6 Plus vs. Moto Z2 Play: Which best meets your needs?
In the end, it's up to you to know your priorities and needs and decide which smartphone is best for you based on those. Right now, the Moto Z2 Play is selling for $239 on Amazon, while the G6 Plus isn't even available officially in the US. You can still get an unlocked international version online, but it'll cost you more. As with any smartphone, make sure you check its carrier compatibility before you buy.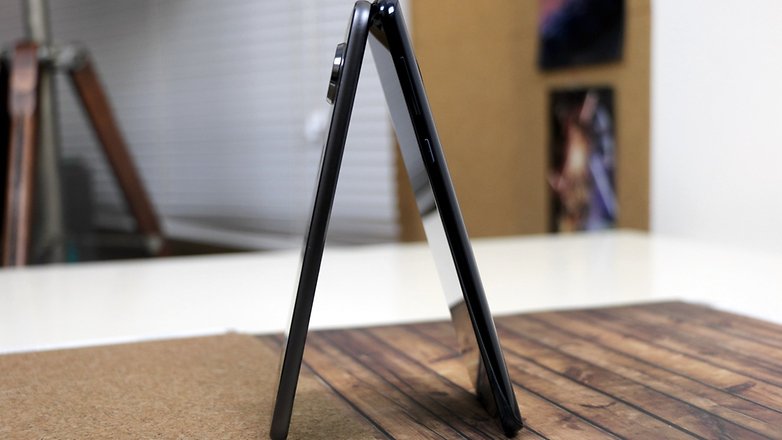 In its favor, the Z2 Play has a lower price, in addition to support for Moto Mods, something that may be a differentiator for you. The finish may or may not appeal to you, depending on your taste. For the rest, everything indicates that the Moto G6 Plus is superior.
And, in fact, that's exactly what we expected, since this is a more current model. Soon we will see the Moto Z3 Play, which will surely surpass the G6 Plus, and be more expensive. Still, it's worth noting that Motorola has achieved an evolution that, if not disruptive, is at least advantageous for those who want a good value from their smartphone.
Which one would you pick? Let us know in the comments!