Moto 360 (2015) vs Samsung Gear S2 comparison: wristy business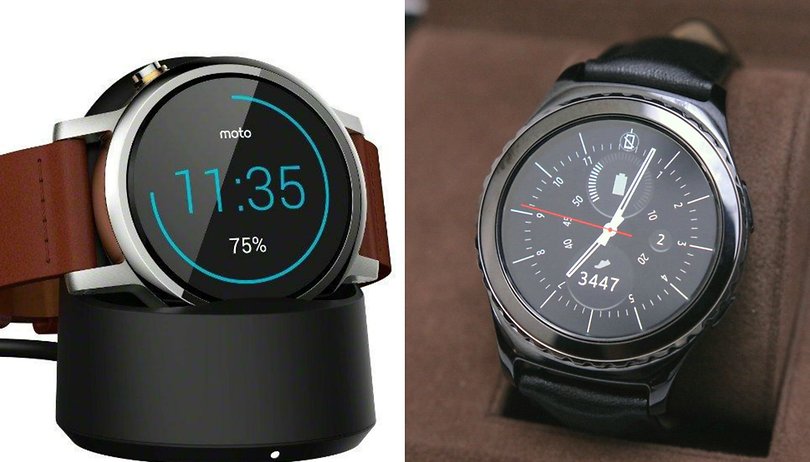 The smartwatch market looks set to be a major tech battlefield in the next few years and the Motorola Moto 360 (2015) and Samsung S2 Gear will be the ones leading the charge. But which of these two new smartwatches is right for you? We weigh up the pros and cons of each in our Motorola Moto 360 (2015) vs Samsung Gear S2 comparison.
Moto 360 (2015) vs Samsung Gear S2: Design and finish
The Moto 360 (2015) is certainly more fashionable that the previous version, if not drastically different. There are various wristband options, including a double strap option that looks particularly stylish. Motorola has released the watch in two sizes: one smaller, to target a female audience (or those who simply prefer a smaller watch), and one larger, which is designed for men. You can choose specific materials and details with the Moto Maker program.
The other difference between the two sizes is the width and size of the lugs. The women's version is more delicate, the larger men's version which is more chunky. It is now much easier to switch straps on the second generation Moto 360, thanks to the fact that the wristband buckles are not connected directly to the watch face. A small ejector pin makes the whole process simple and quick.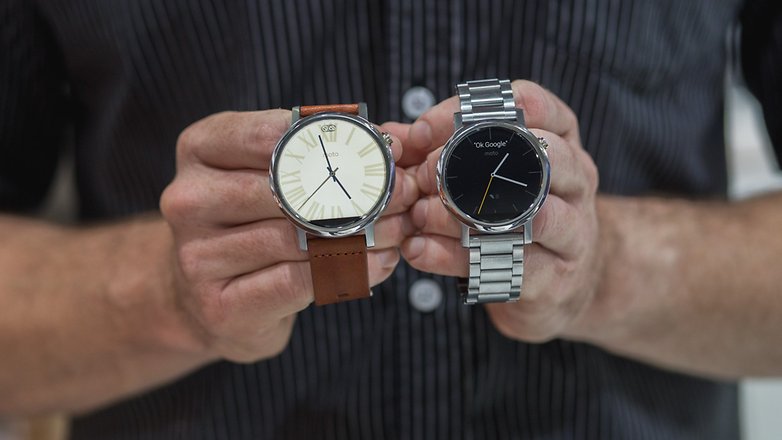 The Gear S2 also comes with changeable wrist straps, and in three variants: the Gear S2 (Bluetooth only), Gear S2 (3G) and Gear S2 Classic (Bluetooth only). The two standard Gear S2 smartwatches have a rubber strap while the Gear S2 Classic uses leather.
The Gear S2 has two physical buttons compared to the Moto 360 (2015)'s one, but they are shallower and don't protrude so far from the device. The top one is the watch equivalent of the Back button on a phone and the bottom one launches the app drawer.
The Gear S2 interface can also be navigated by the rotating circular bezel around the watch face. The bezel is plain on the standard Gear S2 and ribbed on the Classic version. Picking a winner in terms of design is a personal choice, and both Moto and Samsung have offered a classic look and sporty look version (Motorola with its Moto 360 Sport).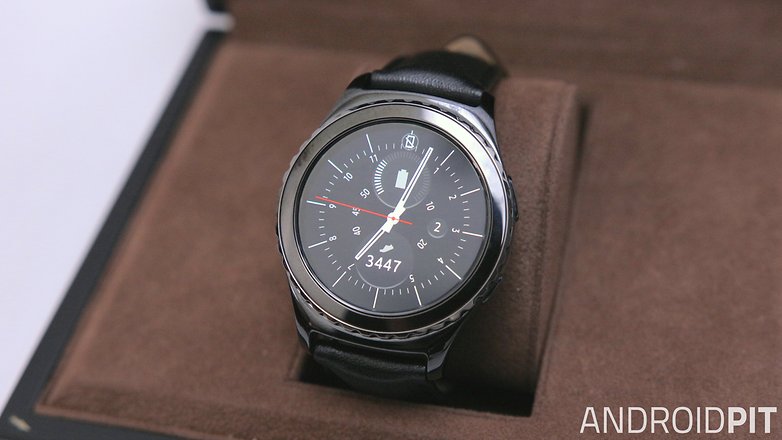 Moto 360 (2015) vs Samsung Gear S2: Screen quality
The second generation Moto 360 is equipped with an LCD screen, which looked good to us at the Motorola launch event. The resolution is a nice improvement over the pixellated first version too, offering roughly 25 percent higher pixel density. The smaller model has a resolution of 360 x 325 pixels (263 ppi), and the larger offers 360 x 330 pixels (233 ppi).
The Gear S2 boasts a 1.2-inch AMOLED display with 360 x 360 pixel resolution (302 ppi), much greater than Samsung's current smartwatch, and marginally better than the Moto 360 (2015). Of course, cramming that resolution into a smaller watch face increases the pixel density, making it a slightly crisper display.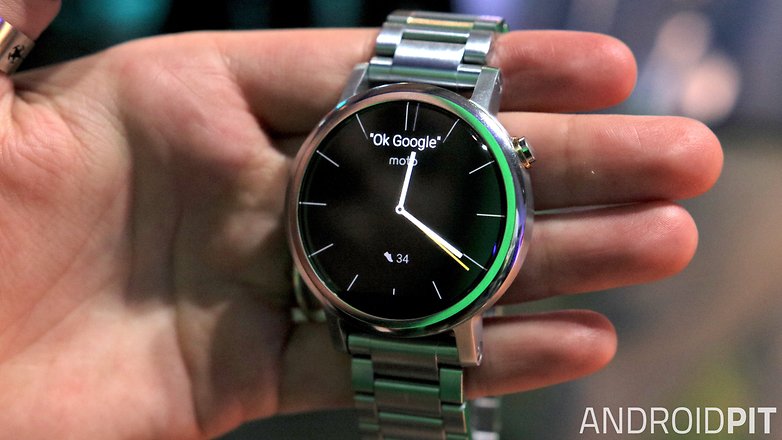 Both devices are suitably responsive to touch input and the Gear S2 has the added bonus of rapidly swiping through screens using the rotating bezel. The Moto 360 (2015) still has that champfered edge near the bezel which creates a slightly off-putting effect when on-screen elements pass over it. Even discounting this fact, the Gear S2 has a marginally better display, despite being smaller.
The only other consideration is whether you prefer an LCD or AMOLED display. The traditional difference is that AMOLED is more battery friendly and has 'true' blacks, at the expense of outdoor visibility. LCD has higher brightness but is more power hungry.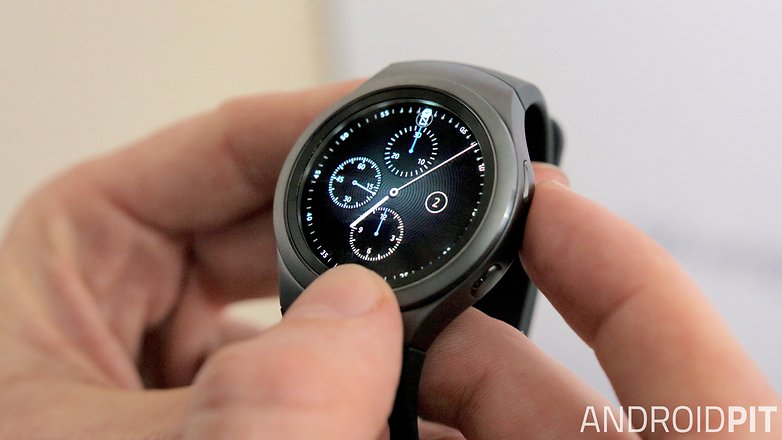 Moto (360) 2015 vs Samsung Gear S2: Software
This is one area where the distinction between the devices is crystal clear. Motorola uses the latest version of Google's Android Wear – version 1.3 for now – while Samsung employs its own Tizen mobile OS in the Gear S2. One big change for the Gear S2 is that it now works on any device running Android 4.4 or newer with 1.5 GB of RAM and above. The first version of the Gear S only worked with select Samsung phones.
The Moto 360 interface is basically the same as any other Android Wear smartwatch, with a few custom watch faces and Live Dials. These are interactive watch faces for presenting constantly changing information like fitness activity or the weather right on screen without needing to launch an app.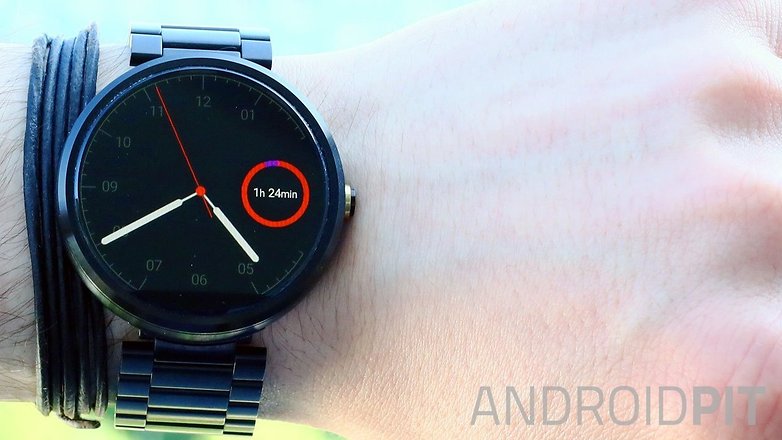 The Gear S2 interface is entirely different. Where Android Wear uses a vertical layout to present cards in a somewhat erratic order, the Tizen interface is arranged in a circular fashion to mimic the shape of the watch and the movement of the bezel. There are a lot of screens but the app drawer and Back button make navigation quick and straightforward.
It may seem harsh to say that the Moto 360 interface isn't as good, because that's Google's fault, not Motorola's. But we were very impressed with the intuitiveness, speed and simplicity of the Tizen interface. So much so that we're comfortable saying it's the best smartwatch interface available right now. I never thought I'd say this, but Google could learn a thing or two from Samsung where wearable interfaces are concerned.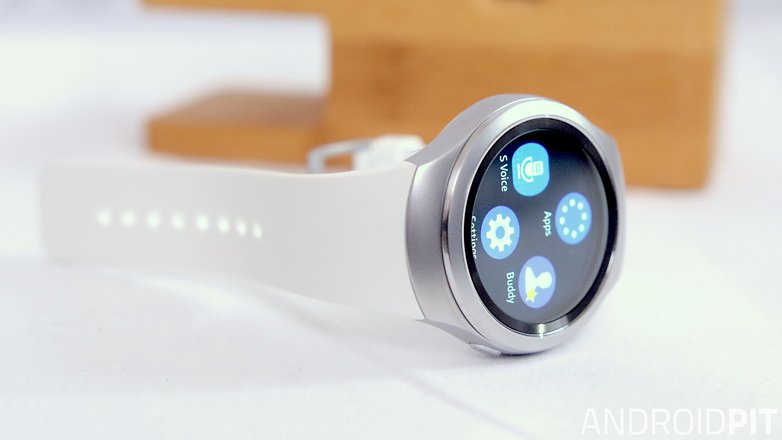 Moto 360 (2015) vs Samsung Gear S2: Performance
The Moto 360 (2nd gen) uses a 1.2 GHz Snapdragon 400 processor, with 4 GB of internal storage and 512 MB of RAM. If this sounds familiar it's because it's the same specs sheet that all other smartwatches – except the Moto 360 – used last year. The second generation Moto 360 is now up to date with the rest of the pack, which largely hasn't changed specs for their 2015 versions.
The Gear S2 has a dual-core 1 GHz CPU, 4 GB of internal storage and 512 MB of RAM. So it's just pipped by the Moto on its processor, but it does have the advantage of an e-SIM, which means you can make and receive calls or access the internet without needing to be connected to a smartphone. Of course, this is only possible on the 3G version of the standard Gear S2 (the Gear S2 Classic only comes in a Bluetooth version).
At this point, and having not had serious time with either smartwatch, we can't really pick a frontrunner for performance. The Moto 360 does have the better specs on paper, but the option of an e-SIM is a pretty big deal if you want to use your smartwatch as a standalone device. The Gear S2 also has NFC for making use of touchless payment systems like Samsung Pay.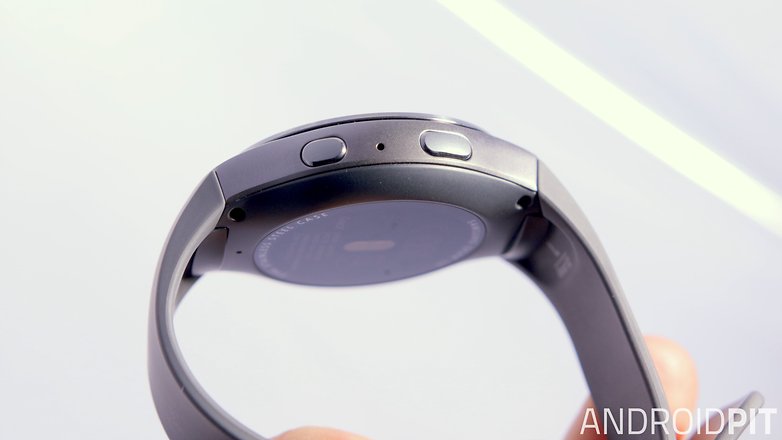 Moto (360) 2015 vs Samsung Gear S2: Battery life
Both manufacturers claim the smartphone batteries will last two days or more. The Samsung Gear S2 battery is smaller than the one in the Motorola watches – 250 mAh (Bluetooth only) and 300 mAh (3G) compared to 300 mAh and 400 mAh in the two Moto 360 versions. (The larger Moto 360 gets the larger battery.)
We'll report back on which watch lasts the longest once we've completed our full reviews, but an added bonus is that they both offer wireless charging. The Moto 360 uses a different wireless charging dock to the original and the Gear S2 ships with its own wireless dock.
The Moto 360 has an ambient light sensor for better battery management, the Gear S2 does not, making it look – on paper – as though the Moto 360 may have won this round. We'll bring you more on battery life in our Moto 360 (2015) and Gear S2 reviews.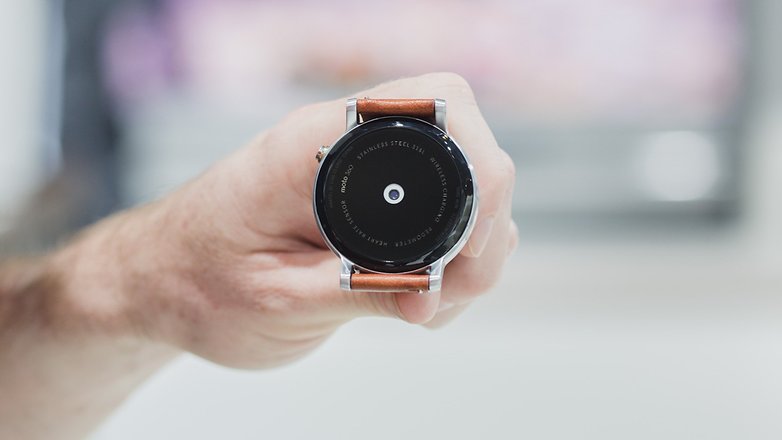 Motorola
Moto 360 (2015)
Samsung
Gear S2
OS
Android Wear
Tizen
Display
1.37-inch / 1.56-inch LCD
(360 x 325 / 360 x 330pixels)
1.2-inch Super AMOLED
Processor
Snapdragon 400, 1.2 GHz
Dual-core, 1 GHz

RAM
512 MB
512 MB
Internal memory
4 GB
4 GB
Battery
300 mAh / 400 mAh
250 mAh (Bluetooth) / 300 mAh (3G)
Weight
TBC
42 g / 47 g (Classic) / 51 g (3G)
Features

Heart rate monitor, ambient light sensor
Heart-rate monitor, NFC
Connectivity
Bluetooth, Wi-Fi
Bluetooth, Wi-Fi, 3G
Dimensions
42 mm / 46 mm
42 mm / 40 mm (Classic)
Certification
IP67
IP68
Price
US$300-450
(depending on model)
Not yet available
Moto 360 (2015) vs Samsung Gear S2: Conclusion
It's still early days for the smartwatch market, with many people still considering them too 'gadgety' to be truly useful. But with advances like touchless payments, 3G and better battery life, the new crop of smartwatches lead us to hope that wearables will steadily start becoming less of a niche device and more mainstream (and useful).
If you're thinking about buying one of these watches, our pick would be the Gear S2. Its interface and navigation are fantastic, it's basically on par specs-wise with the Moto 360 and it will now work with other Android phones besides Samsung devices. We don't know how much it's going to cost though, so keep that in mind.
On the other hand, the new Moto 360 pretty much feels like the last one. If you were a huge fan of that watch or were holding out for a specs bump then you'll be very pleased with the Moto 360 (2015), because it is easily the equivalent of the rest of the pack now in terms of specs. It also looks great and there's heaps of customization options with Moto Maker, but there's a lot more good-looking competition this time round. Whichever you pick, you won't be displeased.
Will you be getting either of these? Are smart watches worth it yet?