Moto X vs Moto G: high-end vs low-end Motorola smartphone smackdown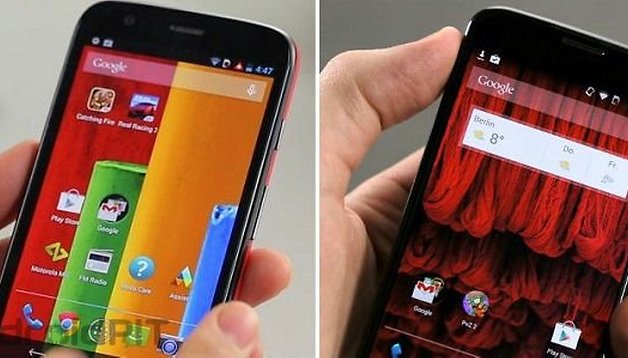 Motorola delivered two devices this past year, a high-end Motorola Moto X and an mid-range smartphone, the Moto G, which packs more punch than we had expected. Today we are going to quickly compare the two Motorola devices to see whether we would be more inclined to buy the high-end or mid-range smartphone.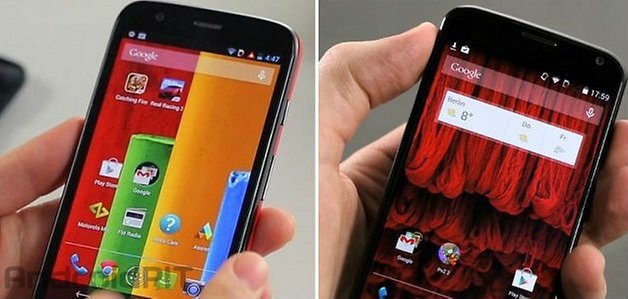 Design and display
In terms of design, the two smartphones are obviously from the same series. There are of course some minor differences, like the location of the speakers for audio output and the size with the Moto X slightly thinner by less than a millimeter. It also has a slightly larger screen and weighs 13 grams less.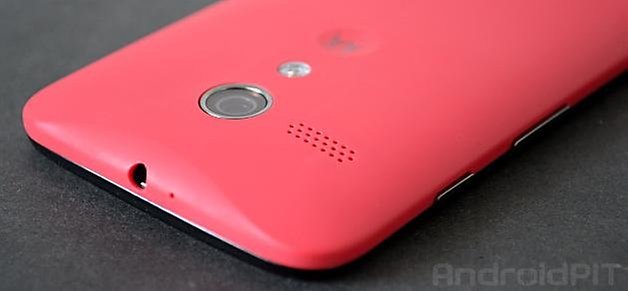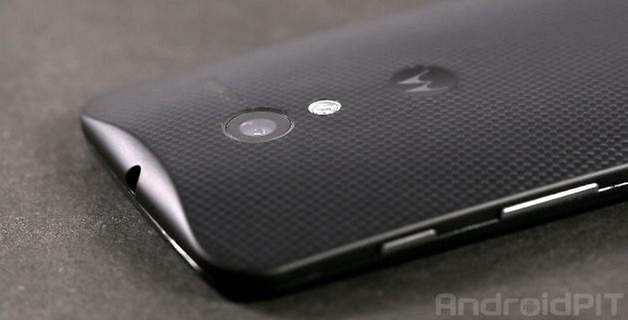 The buttons and the logo on either smartphone are identical and while the Moto G's back cover is removable, the Moto X's isn't. The bezel on the latter is also thinner. Apart from this, the Moto G uses LCD technology, while the Moto X stocks AMOLED.


The Moto X has a unique advantage being the Moto Maker, a customization service which to date is only available in the US, but is set to launch in the European and Mexican market in a few months.
Processor, performance and battery
The high-end Motorola obviously has better hardware. Its processor is a bit special in that the dual-core Snapdragon S4 Pro comes with a quad-core Adreno 320 GPU plus two special cores. It also has 2GB RAM. The underlying hardware in the Moto G is more modest in comparison to its high-end sibling, but when placing it next to other mid-range devices, the quad-core 1.2 GHz Snapdragon 400 processor with 1GB RAM is more than satisfactory.
They also differ in terms of internal storage and battery. This is shown in the technical specifications table below.
| | | |
| --- | --- | --- |
| | MOTO G | MOTO X |
| Manufacturer | Motorola | Motorola |
| OS | Android 4.3/ update to 4.4 | Android 4.4.2 |
| Display | 4.5-inch, LCD (1,280 x 720), 329 ppi | 4.7-inch , AMOLED (1,280 x 720), 312 ppi |
| Processor | Quad-Core Snapdragon 400, 1.2 GHz | Snapdragon S4 Pro, 1.7 GHz |
| RAM | 1 GB | 2 GB |
| Internal storage | 8/16 GB | 16/32 GB |
| Camera | 5 MP (back), 1.3 MP (front) | 10 MP (back), 2 MP (front) |
| Battery | 2,070 mAh | 2,200 mAh |
| Connectivity | GSM/GPRS/EDGE/UMTS/HSPA+, Wi-Fi, Bluetooth 4.0 | GSM,HSPA+, Wi-Fi, Bluetooth 4.0 |
| NFC | No | Yes |
| Waterproof | No | No |
| Dimensions | 129,9 x 65,9 x 6-11,6 mm / 143 grams | 129,4 x 65,3 x 10,4 mm / 130 grams |
| Price | 179.99 USD (8 GB) / 199.99 USD (16 GB) Amazon 07.03.2014 | 399.99 USD (16 GB)/ 594.99 (32GB) Amazon 07.03.2014 |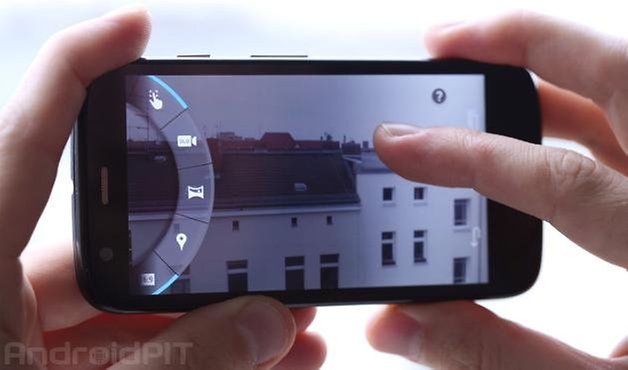 Camera
The camera found on the Moto G is more modest yet produces satisfactory results. The Moto X on the other hand is a little more complete. It triggers with double the number of megapixels and includes some extra features, although both have camera apps which are very intuitive and easy to use. That being said, the results for both in comparison with other devices like the Xperia Z1 or LG G2 are somewhat worse.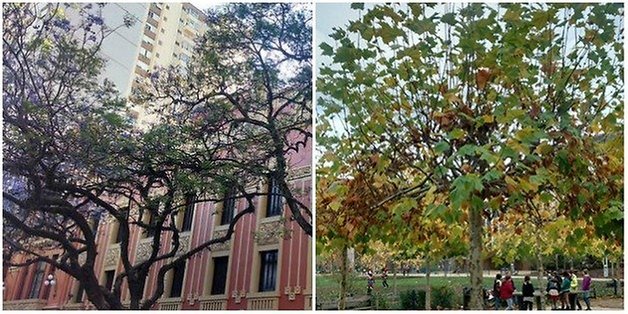 Software and Functions
The Moto G has also received the software update to Android 4.4.2, which reduces the difference in the user interface on either device to zero. Motorola chose stock Android for its smartphones and added some special functions. In fact, it's this aspect that results in the price difference between high-end and midrange device.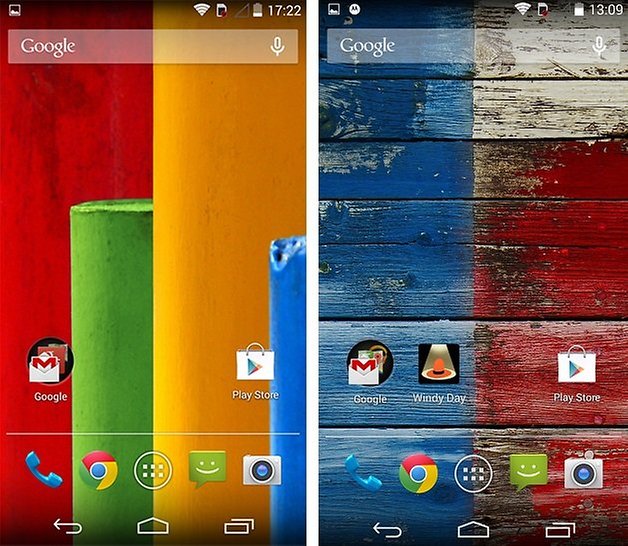 While both devices share features such as FM radio, Moto Assist, Moto Care and Moto Migrate, the Moto X sets itself apart in that it offers Active Notifications as well as intelligent Voice Commands, feature that has just received an interesting update.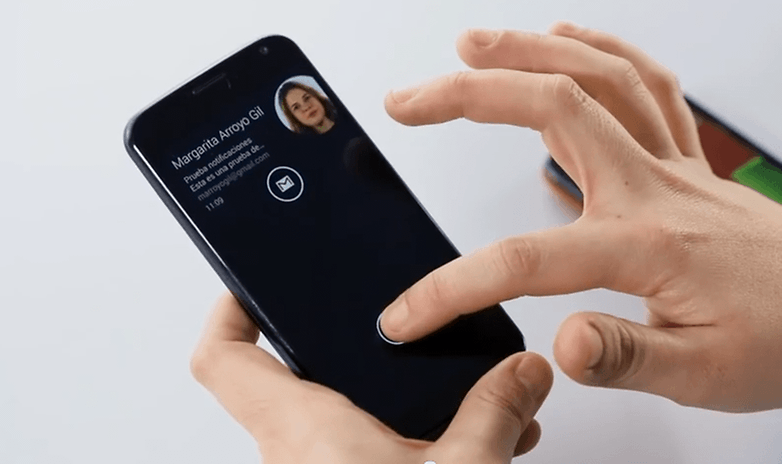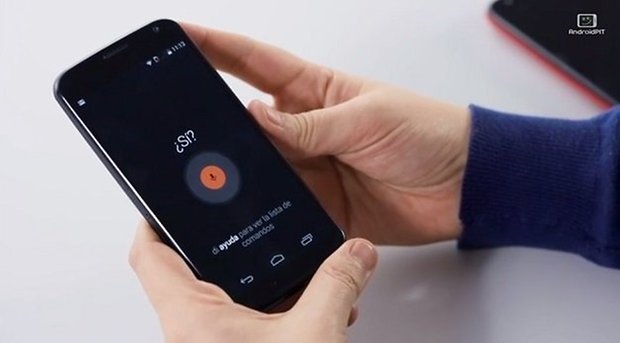 The voice command 'Ok Google Now' opens the search directly where you are able to ask all sorts of things, like directions, weather and more. The update mentioned above spruced up this function with a couple of new commands, like ''What's Up'' or ''Read Notifications''. The Moto X can read pending notifications right from your pocket, though you'll still need to say Ok Google Now first. This feature works well, but if you have a bit of accent, like some of our Spanish colleagues at AndroidPIT, it didn't work 100% of the time. Learn how to customize Active Notifications on the Moto X.
We've dedicated an article on the tips and tricks for your Moto G.
Verdict
After having had the chance to play with the Moto X, I have to say I'm really impressed. I like the design and felt like I could probably spend hours trying out its functions. The price isn't extreme either, which suits my budget.
That being said, I could live without all the high-end hardware and software features. I think the Moto G, in terms of its quality/price ratio, is better and has as a great design very similar to that of its big brother. It's on equal footing in regards to Android versions and all for less than 200 USD. In my personal opinion, Motorola has really hit the mark by making good smartphones suitable for all budgets and that are really able to lure in a large customer base.
What device would you get, if you had the choice?