Moto X Style vs Galaxy Note 5 comparison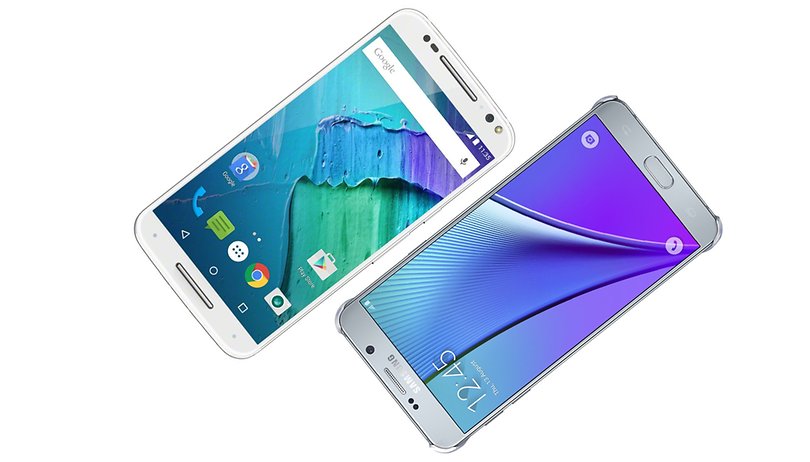 Motorola and Samsung have both launched new high-end devices, less than a month apart. The former's flagship, the Moto X Style – aka the Moto X 2015, aka the Moto X Pure Edition – is bigger and faster than its predecssor, and it's certainly pretty. But is it pretty impressive when held up against the latter's amazing Galaxy Note 5, which boasts a top class camera and display, as well as the S Pen? Let's find out in our Moto X Style vs Galaxy Note 5 comparison.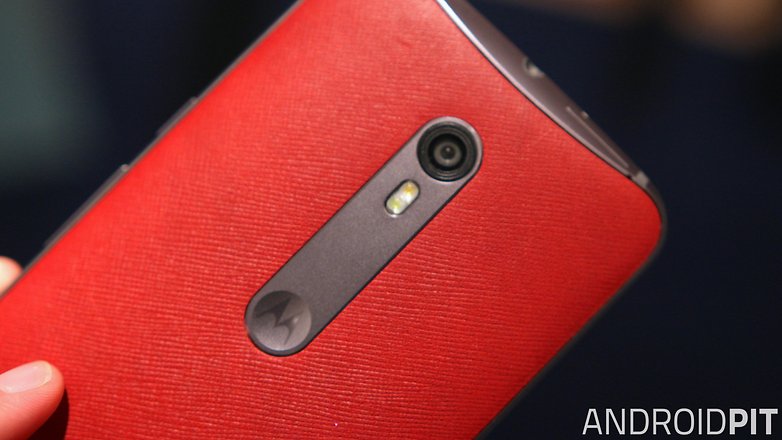 Moto X Style vs Galaxy Note 5 comparison: design and build quality
The Moto X Style is a good looking phone with an aluminum housing, a curved back and a choice of materials for the back, including real wood and Saffiano leather. If you've ever fancied a phone with a walnut back, or wanted a choice of colors including acid greens and sky blues, the Moto is the phone for you.
By comparison the Note 5 looks a little staid. It's a nice enough design, and the glass back makes it more stylish than most Samsungs, but it does look rather like the work of a design team trying to copy as much of the iPhone 6 Plus as possible without getting sued. And of course, it has that little design flaw where putting the S Pen in backwards can do serious damage to the device. On looks and not-killing-your-phone-with-a-stylus terms, the Moto X Style is streets ahead.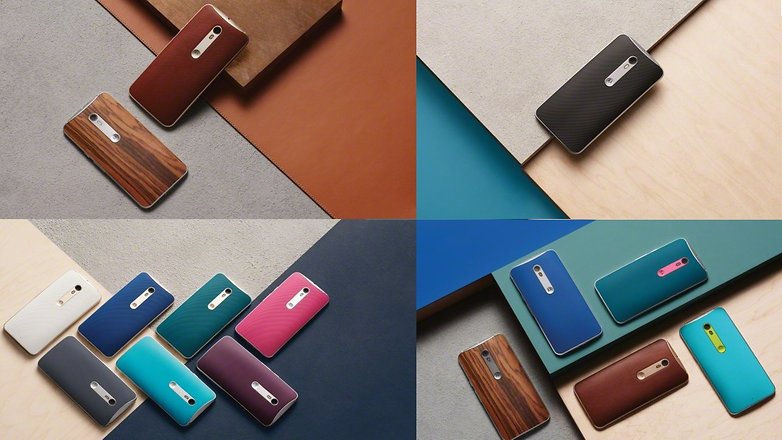 Moto X Style vs Galaxy Note 5 comparison: display
Motorola decided to go with a 5.7-inch screen for the Moto X Style and increase the resolution to QHD. So now we have a display of 2,560 x 1,440 pixels at a density of 520 ppi, and Motorola has apparently been able to correct the yellowing that the previous generation suffered from. The whites are more pure and the colors on the screen look more realistic.
The Note 5 display was recently judged the best smartphone display ever made, by screen-testers DisplayMate. Once again it's a 5.7-inch display running at 2,560 x 1,440, and as it's an AMOLED it delivers the strong contrast and high saturation we've come to expect from Samsung's flagships. It's certainly brighter and more saturated than the X Style display.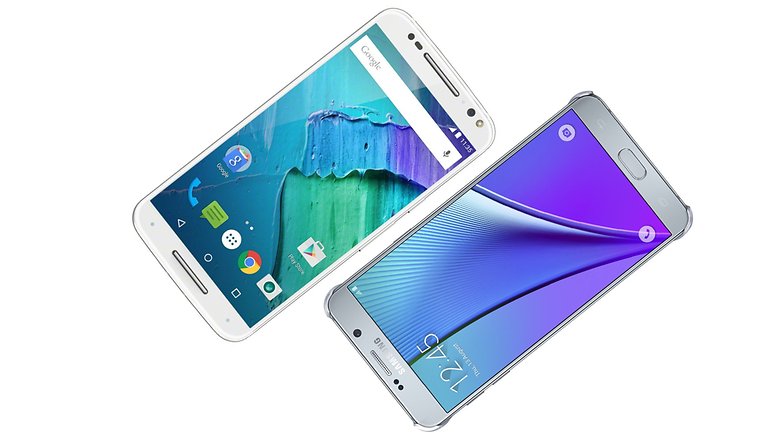 Moto X Style vs Galaxy Note 5 comparison: processor and storage
The Moto X Style has a six-core Qualcomm Snapdragon 808 processor clocked at 1.8GHz, 3 GB of RAM and 32 / 64 GB of on-board storage plus a microSD slot.
The Note 5 doesn't have a microSD slot, but it does offer 32 / 64 GB of storage. The processor is an eight-core Exynos 7420 clocked at 2.1 GHz, and that's teamed up with 4 GB of RAM. The Note 5 is more powerful and performed better in benchmark tests, shown below.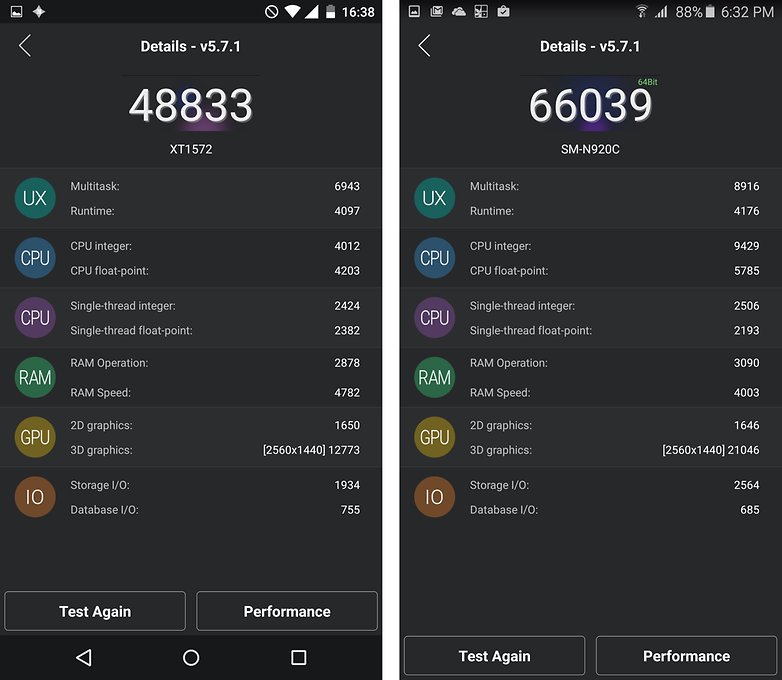 Moto X Style vs Galaxy Note 5 comparison: camera
The Moto X Style packs a 5 MP selfie shooter with its own LED flash, while its main camera has a whopping 21 MP to play with. Cameras have often been weak points in Motorola phones, but this time the firm seems to have addressed the issues: according to the image quality experts at DXOmark.com, the X Style camera is in joint second place with the Samsung Galaxy Note 4. You'll never guess what camera is at number one.
If you just said "Note 5!" you'd be wrong, but only slightly: the winner in DXOmark's rankings is the Samsung Galaxy S6 Edge, but that just happens to have the same camera as the Note 5. That means a 5 MP front camera and a 16 MP main camera with optical image stabilization and really impressive performance. It might not have as many megapixels as the X Style's camera, but it's the superior shooter here.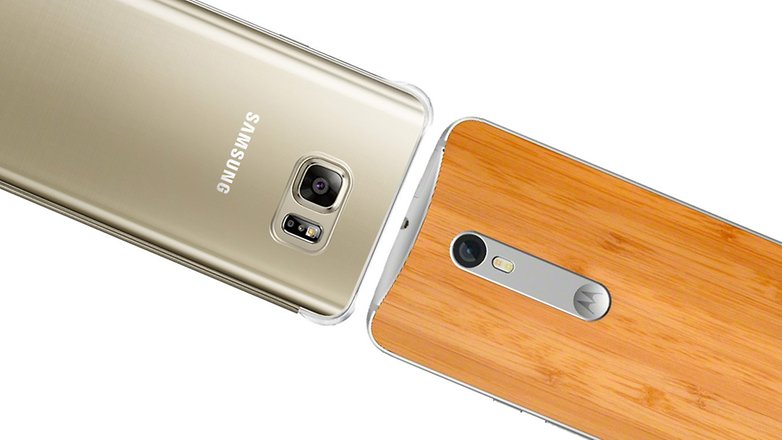 Moto X Style vs Galaxy Note 5 comparison: software
Motorola doesn't like to mess with stock Android too much, so the Moto X Style will ship with Android Lollipop 5.1.1 and the Moto App, which is where you'll find extra features such as Motorola's voice and gesture control. An Android Marshmallow update will be made available in either late 2015 or early 2016.
The Note ships with Samsung's own TouchWiz and S Pen software on top of Android (5.1.1 in this case), and while Samsung has rightly been criticized for TouchWiz bloat, the 2015 version is much more stripped back. An Android Marshmallow update is expected before Santa Claus fires up his reindeer.
It's not possible to call a winner on this front – the choice would really come down to personal preference on how much customisation you like.
Moto X Style vs Galaxy Note 5 comparison: battery
The Moto X Style packs a whopping 3,000 mAh of battery power, and so does the Note 5; and with identically sized screens, we'd expect them to get very similar battery life. Both devices support fast charging, and in the case of the Samsung, that fast charging can happen wirelessly: its Fast Charge platter gives the Note 5 a full tank in about two hours, although fast charging only works with that specific charger. On a cable the charging time drops to just 90 minutes.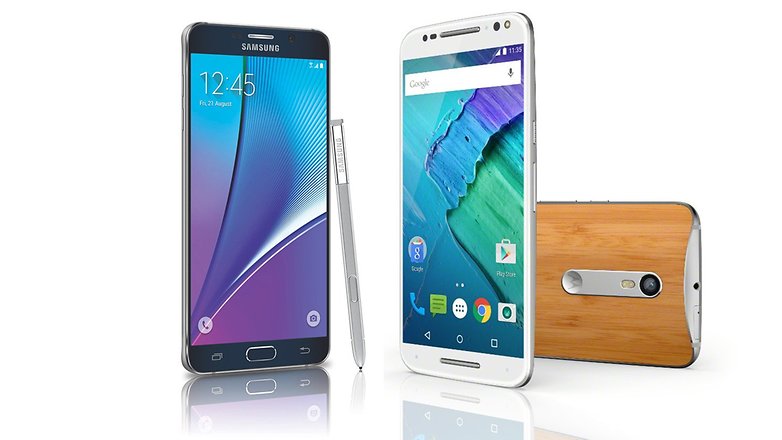 Moto X Style vs Galaxy Note 5 comparison: early verdict
The Moto X Style is a very close competitor to Samsung's fantastic flagship. What differences there are are minor: the Moto has fewer processor cores but does have a microSD slot; the Samsung has more RAM and a slightly better camera; the Samsung is slimmer, but the Moto is better looking.
There is one really big difference between the two phones though, and that's the price. The Galaxy Note 5 costs $700, while the Moto X Style is $399. The Note 5 is better, but we don't think it's nearly-twice-the-price better. You'd need to really like the S Pen to choose the Samsung over the Motorola.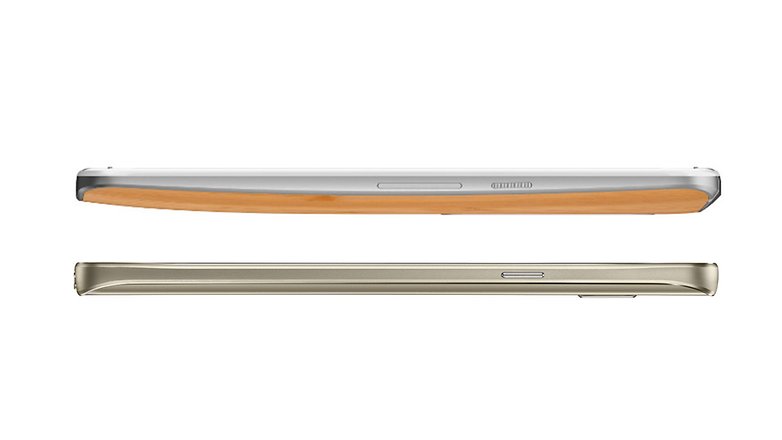 What do you think? Does the Moto X Style have the style Samsung lacks, or do you the S Pen and two more cores are worth the extra money? Let us know below.