Smartphone Smackdown: LG G2 vs Sony Xperia Z1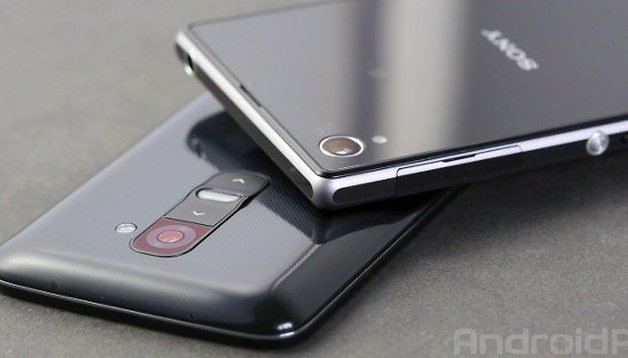 Two smartphones have just been presented to the public and some fans are foaming at the mouth waiting to get their hands on either device. The LG G2 and Xperia Z1 are high-end smartphones, which in terms of hardware are state of the art, differ in small ways that are sometimes hard to tell. In today's smartphone smackdown, where each ''round'' has a victor, we put the two devices side by side to ultimately determine a winner and a loser. Will one really come out on top?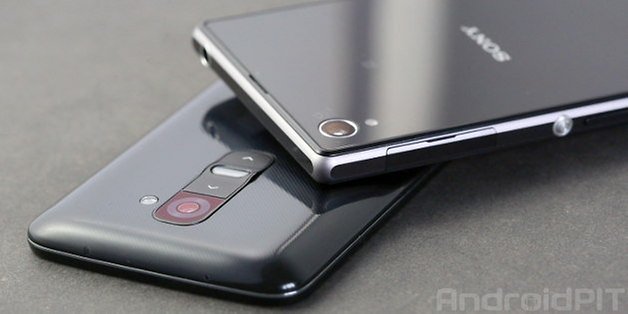 Design
Sony has gone down the same ''OmniBalance'' design path with the Xperia Z1 (hands-on review). A few recognizable features are the silver-colored power button, the angular form factor and the sleek chassis which is made from two glass plates, encased by one massive aluminum bezel. ''Massive'' really is the right word here, because the Z1 is a lot bigger than its predecessor and seems really clunky around the edges.

LG thrust a new innovation onto the market with the LG G2 (hands-on review): the buttons found on the backside are real novelties and the entire design in itself gives the competition a run for their money. That being said, it's strongly reminiscent of the Galaxy S4 and even the Nexus 4 build by LG. The backside, made of a sleek plastic material, creates the look of something a bit cheaper, though it does feel good to hold. The front feature that stands out the most is the small frame encircling the display.
LG gets a point here in that they had the bravura to do something daring, as well as deliver a much sleeker and more compact design when compared to the Z1, despite the G2's huge display.
LG G2: 1:0 Sony Xperia Z1
Display
Both devices are adorned with LCD panels with stunning Full HD resolution (1,920 x 1,080 pixels) though the G2's 5.2-inch display is bigger than the Z1's 5-inches. When directly compared, the only differences to be seen are quite minimal: with the exact same resolution making pixels invisible to the naked eye, the Z1 shines slightly brighter than the G2.
The color presentation on Sony's device is more neutral and cooler than the G2, though the latter's color saturation is significantly higher, making it almost appear like Samsung's AMOLED display where a slight red tinge can be observed. The color tones and white balance can be altered individually with the Z1, options missing on the LG flagship. The Z1's weakest point is its viewing angle, which is significantly weaker than the G2. But when push comes to shove, both receive a point in this round.

LG G2 2:1 Sony Xperia Z1
Software
Both smartphones run on Android 4.2.2, though both manufacturers have adopted their own user interface. In terms of the look and functionality that the G2 and Z1 bring to the table, neither differs greatly from its predecessors (stock Android vs Sony UI). A few new details have been integrated however.
For one, the color language with the Z1 has been altered, in that the darker menu background is replaced by a light gray, making the interface appear much friendlier. The folder symbols look nicer than those presented on the Xperia Z, though new functions were few and far between as the changes were mostly aesthetic ones.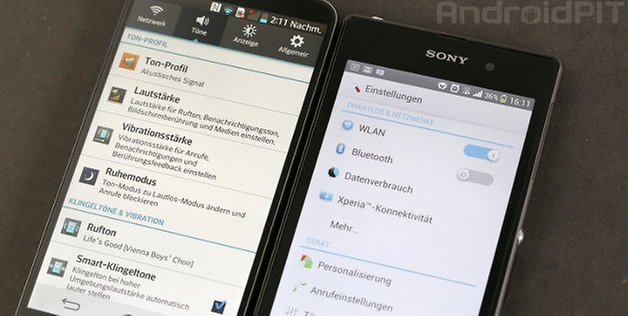 On the other hand, LG yet again employs the same bright look for their user interface which doesn't quite fit the mold for high-end phones. The appearance of the UI contrasts greatly with the sophisticated functionality of the software, even more so than sometimes experienced with Samsung. LG granted its smartphone a stack of new features. Though they aren't groundbreakingly innovative, some come in quite handy. An example of this is the customizable touch-key buttons under the display.
Here I need to give both a point yet again. The Z1 really impressed me with the design of its interface, while the G2 steals the show with its functions.
LG G2 3:2 Sony Xperia Z1
Processor and Performance
The G2 and Z1 come with the brand new Snapdragon 800 chipset by Qualcomm, flanked with 2 GB RAM. Any super big differences between the two top device's performances is not to be expected and as a matter of fact, both run at the same speedy tempo. In the AnTuTu Benchmark test, which should always be taken with a grain of salt anyways, the Xperia Z1 achieved 35,000 points while the G2 got about 34,500. Both devices therefore get one point.
LG G2 4:3 Sony Xperia Z1
Camera
The 20 MP camera from Sony outdoes the LG's 13 MP in pixel count, though as we know, this doesn't count for everything. In fact, the photos taken with the LG G2 were able to impress me a lot more in our comparative camera test.

Even though the G2 software significantly processes its pictures and therefore loses a lot of detail, the LG smartphone still takes better pictures for everyday usage and offers similar camera software to that of Samsung smartphones. While the latter offers an optical picture stabilizer, Sony takes a stab with its Augmented Reality function. Nevertheless, due to the better picture quality, LG is the clear victor in this round.
LG G2 5:3 Sony Xperia Z1
| | LG G2 | SONY XPERIA Z1 |
| --- | --- | --- |
| System | Android 4.2.2 | Android 4.2.2 |
| Display | 5.2-inches, LCD IPS, Full HD (1,920 x 1,080 Pixel) | 5-inches, LCD IPS, Full HD (1,920 x 1,080 Pixel) |
| Processor | Qualcomm Snapdragon 800, 2.3 GHz | Qualcomm Snapdragon 800, 2.2 GHz |
| Memory | 2 GB | 2 GB |
| Internal Storage | 16/32 GB | 16 GB / durch microSD erweiterbar |
| Camera | 13 MP (back) / 2,1 MP (front) | 20 MP (back) / 2 MP (front) |
| Battery | 3,000 mAh | 3,000 mAh |
| Connectivity | LTE, HSPA+, WLAN, Bluetooth 4.0, NFC, USB 2.0 | LTE, HSPA+, WLAN, Bluetooth 4.0, NFC, USB 2.0 |
| Dimensions | 138.5 x 70.9 x 8.9 mm | 144 x 74 x 8.5 mm |
| Weight | 140 g | 170 g |
| Price | 599.99 USD (Verizon) | 499.99 USD (Amazon) |
5:3 for the LG G2: is this really a clear winner?
Sometimes to see the true advantages and disadvantages, it works well to get back to basics with your good ol' pro and con lists and that holds true even in the case of our smartphone smackdown. The G2 is in my opinion a clear winner. This was in fact not as evident to me before performing this test, since I am usually more of a Sony fan and often consider LG devices with a certain amount of skepticism. But in this case, it was clear to me how wrong this tendency is: LG did almost everything right with the G2, while the Xperia Z1 could still have been better in one area or another, especially considering its clunky design and wide bezel. The G2 is the winner!
But before you get started bashing my opinion in the comments, let me be clear: both devices are top devices and my decision is influenced by my own personal taste. This means that my conclusion will surely be disputed and other opinions on the matter surely exist. In any case, I look forward to seeing what you have to say!
What's the better phone: Sony Xperia Z1 or LG G2?