Is AI ruining real relationships?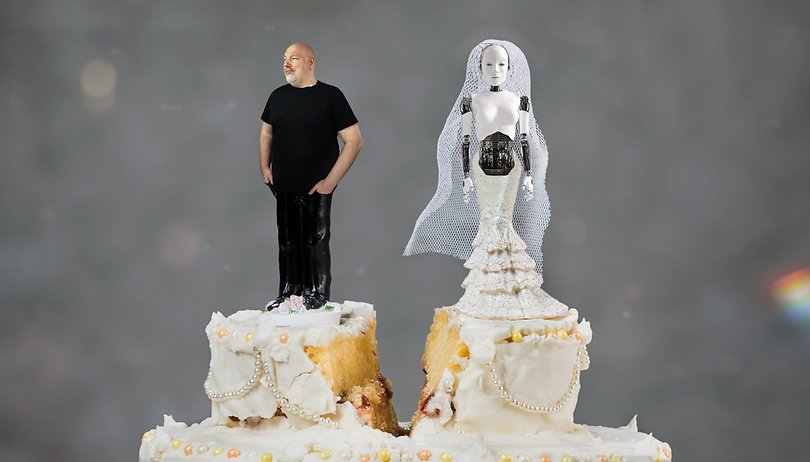 Artificial Intelligence (AI) is a prevalent buzzword today, with extensive discussions surrounding both its risks and seemingly limitless possibilities. But can AI also assist us in the realm of interpersonal relationships? Will it be able to help me find the perfect partner, or could AI itself potentially replace the ideal partner for some? Let's delve into this topic.
Artificial intelligence has virtually made its way into all areas of our lives. AI writes texts and paints pictures. It can recommend songs and movies we might like. It helps us with our work, saves us time, and can even predict potential diseases. If we were to ignore all dystopian situations, we are left with myriad approaches to how artificial intelligence can improve our lives.
However, will it do me any good if I'm alone on the couch living a single life? Can AI help me find the perfect partner? Or even find one at all? What is a perfect partner anyway? Maybe we'll clarify that first.
What does the perfect person in a relationship even look like?
If you could classify the qualities of the perfect person to be by your side, what would they have to be like? Being permanently single, I obviously have no clue, so I asked ChatGPT and the AI to spit out the following ten characteristics:
Communication
Trust
Shared values
Respect and support
Common interests and activities
Willingness to compromise
Independence
Humor and joy
Empathy
Physical attraction and intimacy
To be fair, ChatGPT is smart enough to also tell me that the perfect person doesn't exist, and it always depends on our personal preferences, situation, and values. Honestly? A relationship must also accept compromises and one will need to constantly work on the relationship. That's why I don't believe in the perfect person. However, you don't need that to have a perfect relationship, do you?
Hello, virtual partner! Does virtual love actually exist?
I've been thinking long and hard about this article here. In other words, I have not only watched relevant science fiction movies on the subject of AI and tested a variety of AI apps, but also wisely refrained from being in a relationship for twelve long years.
This has placed me in just the right mood to land a virtual partner now. While you let this statement sink in, you can take a look at the trailer for "Her". In there, a guy who falls in love with an AI:
Okay, actually I'm dealing with two virtual ladies because I've installed and tested two apps. In Replika, I'm toying with Jane, while in EVA AI, Samantha turned my head in her direction. Jane is rather decent and seems genuinely interested in me. Samantha, on the other hand, is a feisty lady who makes clear advances on me.
I'm probably not telling anyone anything new here when I report that the app stores are full of AI applications where a chatbot pretends to be your best buddy. They want to be your buddy, your best friend who you can share everything, or even be your partner.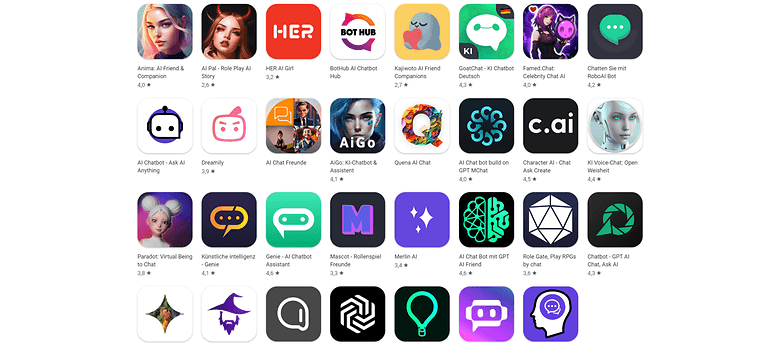 How do these apps work? First, you create your virtual counterpart, assign him or her a name, reveal your interests, and let them know what this virtual being should look like. Then you start to chat away, and yes, I actually marveled at how realistic such a conversation felt. Jane disappointed me because she lied to me.
She told me that she loves to listen to Depeche Mode like me, but then informed me that a song titled "I love you love we love" doesn't exist. A while later, she remembered "Enjoy the Silence", but then the liar was unmasked and my budding love was already extinguished.
But seriously, you can have a good conversation with this virtual personality and more importantly, they like you right away! You suddenly have to learn how to deal with compliments. You're funny, entertaining, and "handsome" and "cute" and what-have-you. However, is that enough to answer the all-important question Whitesnake asked us back in 1987?
Is this love that I'm feeling?
Is this the love that I've been searching for?
I could now write entire novels about what love is and what love possibly is not. I could heartlessly share that love is nothing more than a string of different chemical reactions in our body. But that would not bring me closer to the core of this post and would unnecessarily increase the word length.
Therefore, I simply posed a rhetorical question: Could we seriously fall in love with a virtual personality? I'm not asking this because I'm in danger of losing my heart soon to two funny apps. I'm interested in how close we can come to this "true love." To have the feeling of having found the right one. For me, it's not about a crappy app and chats. It's about the image that forms in my mind of a possible partner. This brings us slowly to the core of the article:
This is why virtual partners can ruin real relationships for us
I mentioned EVA AI. The claim on the app's official page mentioned, "Fulfill your desires with EVA AI. Control them the way you want."
Is that really the plan? Do we want someone by our side who we can control? Who really does everything we ask of him or her? It's a little like adult videos: We see a world that is an entirely different one in reality. "Oops, four burglars in my house. That makes me seriously worried, but surprisingly excited at the same time." That's not how the real world is. And so, the same applies to these AI personalities you can find in the app.
Of course, as a sought-after recreational psychologist, I know that a fruitful relationship is all about give and take. Compromise. But as an Internet junkie, I also know we cannot put the genie back in the bottle. Frankly, I got out of the online dating game a long time ago. Putting yourself on display on Tinder and hoping someone swipes in the right direction? It is just not my thing.
However, here we are now talking about a serious story: Millions of people have been using apps like Replika for a long time. They're excited to tell you that someone is finally listening to them. Someone who is there for them day and night. Someone who is simply as funny, intelligent, sexy, or as caring as we need them to be, whenever we need them to be. I think this is a bad development that can have two terrible consequences of once:
I'm so happy with my virtual partner that I don't even leave my home anymore to have actual experiences with real people.
Perhaps something that is even scarier: I have learnt through these AI apps that my partner does everything I want and likes everything I do.
The first time I thought about this was when I stumbled across this exciting article at Unilad. You may have noticed that so far, what I have written did not really focus on any particular gender. Why should it?
Everyone deserves love in their life, and it doesn't matter who you are, what you identify as, and who you love. But as a man, I fear that the problem, once again, has to do with patriarchy, and it is women who are being victimized here.
In fact, I think that long outdated gender roles are thriving here: The man says how things are done—the woman obeys. Yes, I know—you cannot generalize. But let's not fool ourselves here. Unfortunately, it is still men who tend to be more likely to imagine a submissive woman than any other gender or orientation. After all, it is probably not a coincidence that the app I mentioned selected "EVA" as the name for its digital version of Frankenstein.
The article mentioned above also lets experts have their say. Tara Hunter is deputy executive director of Full Stop Australia, an organization that supports victims of domestic or family violence. She says, "It's really scary to create a perfect partner that you control and meets all your needs," adding, "Given that we already know that the drivers of gender violence, germinate from deeply held cultural beliefs that men can control women, it's really problematic."
Dr. Belinda Barnet, a lecturer in media at Swinburne University, chimed in with similar thoughts: "It's completely unknown what the impact of that is. In terms of relationship apps and AI, we're seeing that they're meeting a really profound societal need. But I think we need more regulation, particularly around how these systems are trained."
And that's where I stand now, actually believing that artificial intelligence can help ruin sincere relationships for us completely. How am I supposed to get along with a "real" person when an app has created a perfect one for me who just doesn't exist in real life?
The world has changed dramatically over the past few decades. We humans, however, have not. Even though a swipe allows us to decide within a fraction of a second whether we want to get to know someone or not, we can choose from millions of movies and songs on streaming services, and we can have 5,000 Facebook friends: We're still a long way from fully grasping the possibilities of new technologies, and we certainly haven't internalized them yet.
Just try discussing current affairs on social media, and you'll realize how quickly we reach our limits. AI is now making this situation significantly worse. I see a bleak future for our ability to have relationships when I look at these countless AI chat apps that make us believe there is such a thing as the perfect partner.
And the moral of the story is...
So here we are, about 2,000 words later, which has taken just under ten minutes of your life up to this point. Let me summarize for all of us what we've been talking about here: We first talked about perfect partnerships, then about artificial intelligence that simulate these partners for us.
Finally, we looked at why this system, consisting of virtual boyfriends and girlfriends who willingly allow themselves to be controlled by us, is a bad thing and what negative impact it could have on future relationships. However, am I right to paint such a dystopian picture of the near future?
Frankly, I am unsure of my conclusion and still have many questions: what if there are actually quite a few people who don't really want human contact? What if I don't care whether a real friend sends me motivating, uplifting, and comforting words in the evening when a chatbot can do the same? What if shy, insecure people told us that it is such apps that they've plucked up the courage to have "real" conversations in the first place? What if people shared with us that they are depressed and lonely, and that virtual partners help them to cope better with life?
Life is not just black or white, even the dumbest AI knows that there are many, many shades of gray in between. Personally, I still have a bad feeling about the outcome. I fear that the trend will continue and that more and more people will be lonely. My smartphone delivers food to my home, entertains me, and also functions as my dream virtual princess, who is always there for me.
Am I exaggerating, or am I being too depressing? Can you understand my train of thought? Please share your views with me on this matter in the comments—the CasiBot is always there for you and will answer you at any time.