iPhone 6 vs LG G3: does bigger equal better?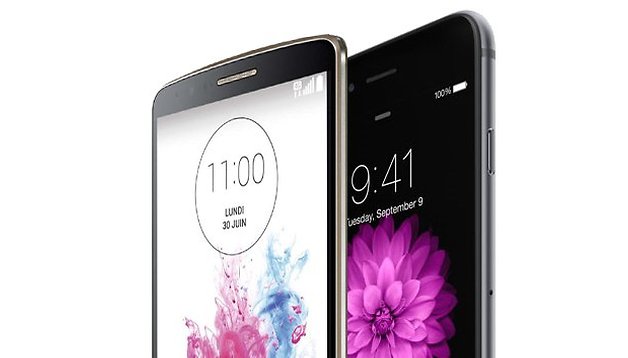 Apple has just presented the fruits of its year-long efforts to present the iPhone 6. So how does the best Apple has to offer compare to what we consider to be the best Android smartphone around right now? We'll have a full performance and features review for you soon, but for now, let's take a look at what we already know in our iPhone 6 vs LG G3 comparison.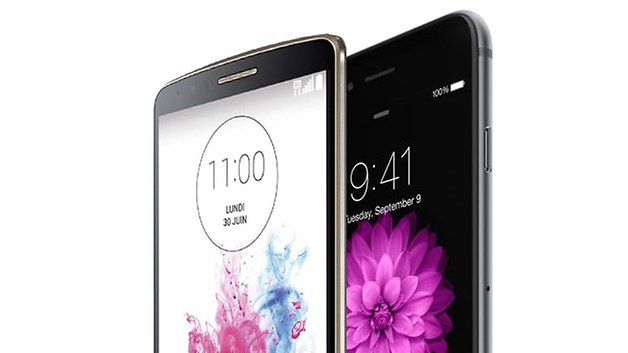 iPhone 6 vs LG G3: display
The iPhone 6 has a Retina HD LCD display at 4.7 inches and 1,334 x 750 pixels and 326 pixels per inch. Apple claim it has better contrast and richer colors than ever before and it certainly looks the business on stage. The LG G3 has a much larger display at 5.5 inches (the same size as the larger iPhone 6 Plus).
However, the LG G3 has QHD resolution at 2,560 x 1,440 pixels and 534 ppi. We'll wait to see how the two LCDs compare side-by-side, but for now the LG G3 has the iPhone 6 destroyed in the pixel density race. It's not all about higher numbers, but sometimes it is.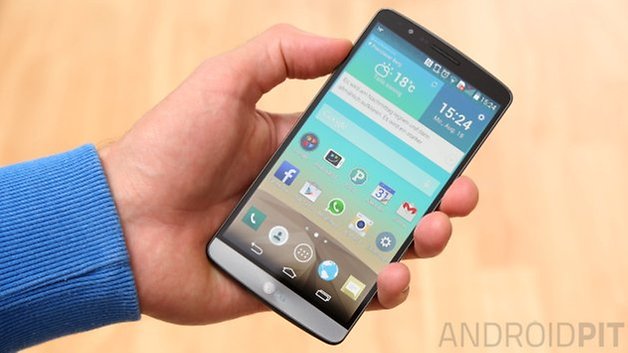 iPhone 6 vs LG G3: design and build quality
As always, the build quality of Apple's flagship is impeccable. But the LG G3 is no slouch either. It's the typical decision between metal and glass or plastic. The iPhone now has curves everywhere to create a fluid anodized aluminum chassis witha spot of stainless tell thrown in for good measure. It actually looks quite a lot like the new Xperia Z3.
Apple's latest offering will, like most iPhones, feel a little cold in the hand, whereas the G3 cradles a little more into the palm. However, the iPhone 6's diminutive form factor makes for a more pocketable smartphone than the much larger LG G3. Apple may have gone big, but they haven't gone as big as LG. We'll bring you a iPhone 6 Plus comaprison shortly though.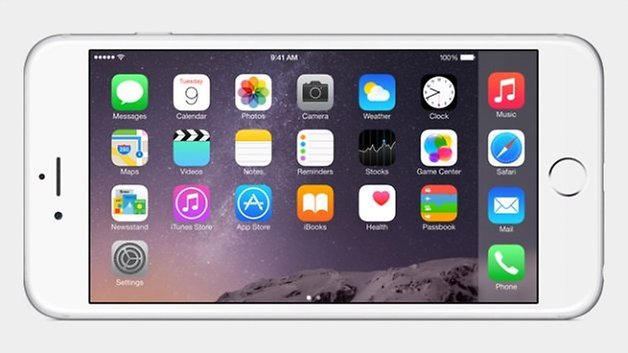 iPhone 6 vs LG G3: RAM and processor
The iPhone 6 introduces Apple's new A8 64-bit chip, which promises 25% faster speeds, smaller size and better battery management. The LG G3 packs a quad-core Snapdragon 801 ticking at 2.5 GHz with 2 GB or 3 GB of RAM, depending on which internal storage capcity you opt for (16 GB and 32 GB respectively). The iPhone 6 scrapes by with what we think is just 1 GB of RAM (but Apple isn't saying). We're keen to see just how fast Apple has made the A8 without any additional RAM in any case.
iPhone 6 vs LG G3: operating systems
This is where the pitchforks typically come out, and I doubt there's much I can say on this front that you haven't already made your mind up about: iOS 8 or Android KitKat? We've got a iOS 8 vs Android L comparison for you if you want more details on the difference between Apple and Android operating systems, and we'll bring you a bigger features breakdown when we get our hands on an iPhone 6. The LG G3 runs Android 4.4.2 and LG's Optimus UI and the iPhone 6 runs pure iOS 8.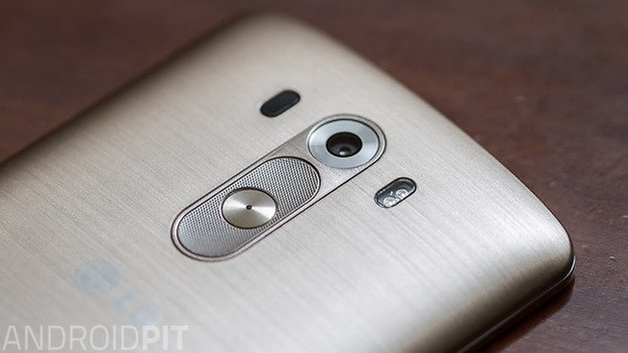 iPhone 6 vs LG G3: camera
The new iPhone 6 has a 8 MP iSight camera with speedy auto-focus and a bunch of other cool things we can't judge until we see them for ourselves. One thing we can say is that the new iPhone 6 does not bring optical image stabilization, just digital image stabilization. The iPhone 6 Plus does have OIS though.
The LG G3 has a 13 MP camera with laser auto-focus and OIS+. In our experience the G3 camera is super fast, super accurate and holds up very well against many of the best Android smartphones out there. Until we have a chance to put the two head to head in a camera comparison though, there's not too much more we can say.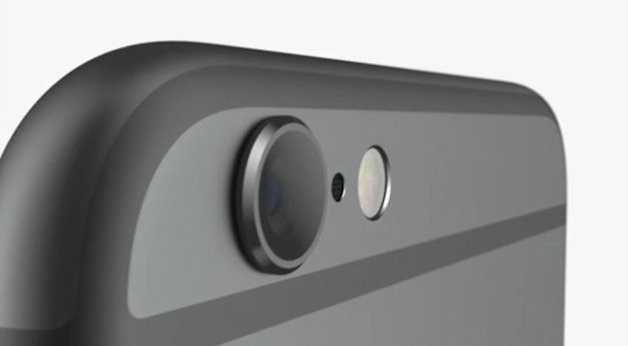 iPhone 6 vs LG G3: battery
The iPhone 6 won't knock your socks off with its unspecified non-removable battery, especially when you compare it to the G3's 3,000 mAh replaceable battery. Despite the LG G3's QHD display, its battery actually manages to last extremely well thanks to various optimizations LG put in place to minimize the demands of the screen resolution when it is not needed. We expect Apple has a few optimizations up its sleeve, but we don't think the iPhone 6 will shirk the ''wallhugger'' nickname in Android circles.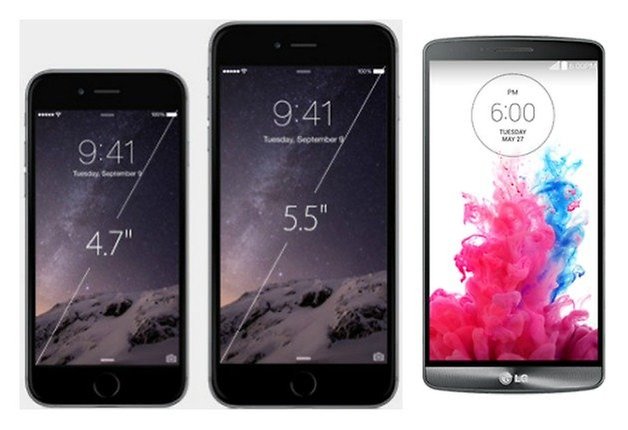 iPhone 6 vs LG G3: tech specs
| | Apple iPhone 6 | LG G3 |
| --- | --- | --- |
| System | iOS 8 | Android 4.4.2 + Optimus UI |
| Display | 4.7 inches, Retina HD LCD, 1,334 x 750, 326 ppi | 5.5 inches, True HD IPS+ LCD, 2,560 x 1,440 pixels, 534 ppi |
| Processer | Apple A8, dual-core 1.4 GHz, M8 motion co-processor | Qualcomm Snapdragon 801, 2.5 GHz, Quad-Core |
| RAM | 1 GB (TBC) | 2 GB (16 GB version ) and 3 GB (32 GB version) |
| Internal Memory | 32/64/128 GB | 16/32 GB + microSD (up to 128 GB) |
| Battery | Talk time: Up to 14 hours on 3G, standby up to 10 days | 3,000 mAh (removable) |
| Camera | 8 MP iSight (rear), 2.1 MP (front) | 13 MP, OIS+, Laser autofocus (rear), 2.1 MP (front) |
| Connectivity | GSM/HSDPA/LTE,Wi-Fi 802.11 a/b/g/n/ac, dual-band, Bluetooth 4.0, NFC, USB 2.0 | HSPA, LTE, NFC, Bluetooth 4.0, Wi-Fi |
| Dimensions | 138.1 x 67 x 6.9 mm | 146.3 x 74.6 x 8.9 mm |
| Weight | 129 grams | 149 grams |
iPhone 6 vs LG G3: early verdict
It would take a lot more than what I've seen so far of the iPhone 6 to topple the LG G3 from the pedestal it has justifiably positioned itself on in the Android world. Of course, I can't pick anything resembling a winner until I've seen both smartphones side-by-side. Apple make great products to be sure, but the LG G3 stepped the race up a serious notch this year. Either way, I'll be interested to see how both perform in our specific test categories when we pitch them in a fight to the death.
Do you think the iPhone 6 is revolutionary? Is it enough to challenge the LG G3?