iPhone 5s vs. Galaxy S5: Goliath showdown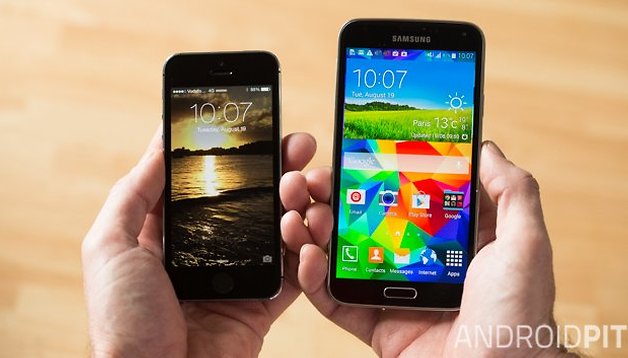 Samsung and Apple are two of the biggest smartphone manufacturers on the planet with their flagship handsets leading the way. While both the Apple iPhone 5s and Samsung Galaxy S5 are worlds apart from each other, they are both shining definitions of quality workmanship. Here's a look at a direct comparison between the two devices.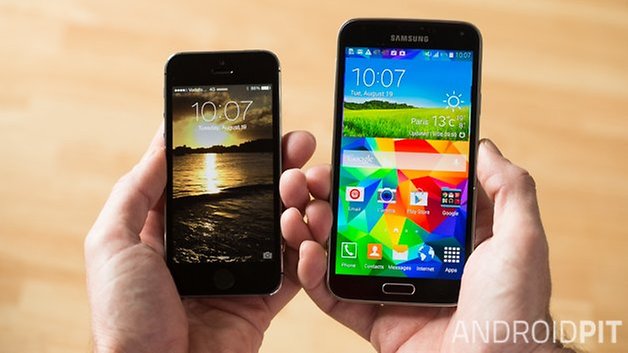 Samsung and Apple are the two top dogs in the smartphone ordeal and they've been trading legal barbs at each other over the past few years , claiming that the other party has been using their propriety software, design, or hardware patents. While Apple is at the forefront of quality smartphones, Samsung is reigning champion of quantity. Compared side to side, how do their flagship models compare?
Design
The iPhone 5s and Samsung Galaxy S5 are two distinctive smartphones and that's apparent the very first time you take a look at both beside each other. The Galaxy S5 indulges in comfort with its soft back and relatively soft edges. The iPhone 5s is more compact, which makes for one handed operation a breeze, but does have much sharper metal edges around the devices. While the Galaxy S5 comprises of a cheaper chrome looking plastic, the iPhone 5s is surrounded by polished aluminum edges. Nevertheless, the back on the S5 is very well done and wins for both ergonomic comfort and protection. Unless your phone is put into a protective case the moment you unwrap it or you've an iron grip, any type of damage that will occur with the iPhone 5s is bound to be catastrophic to the looks of the devices: scratches, dents, and other blemishes will be clearly visible.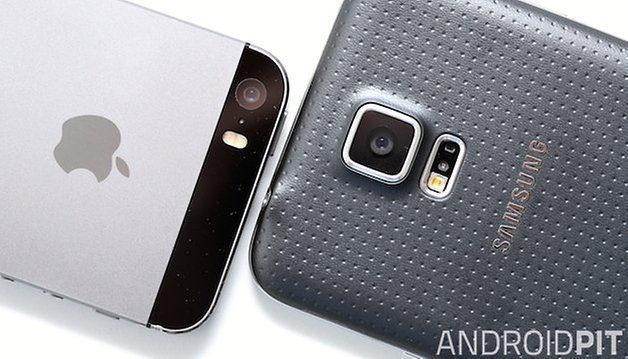 Display and Camera
The obvious difference between both devices is that the S5 comes in at 5.1-inches for the display while the iPhone 5s follows Apple's standard 4-inch design. As well, the S5 has a higher screen resolution with a difference of around 100 ppi, which when it comes to standard usage, the majority of users will not notice any difference. Both displays are sharp and have crisp colors. The iPhone line of smartphones are notorious for their ability to take good pictures and the iPhone 5s is supposedly the best on the market at the moment. However, the Galaxy S5 camera can keep up to the pace with a real-time HDR mode, short response time for the shutter, and other features that have been packed in. The Galaxy S5 does offer twice the resolution for both front and rear cameras, but that alone doesn't equate to automatic better picture quality.
Hardware
It will not surprise many users that the S5 is technically superior to the 5s as it wasn't released to the general market until much later. The iPhone can make up ground due to Apple's ability to push their hardware to the limit, but technically, it does remain inferior. Here's a look at both devices technical specifications compared side to side.
| | iPhone 5s | Galaxy S5 |
| --- | --- | --- |
| System | iOS 7 | Android 4.4.3 |
| Display | 4 inch, LCD, 1136 x 640 pixels (326 ppi) | 5.1 inches, AMOLED, 1920 x 1080 pixels (432 ppi) |
| Processor | A7 64-bit, M7, 1.3 GHz, dual-core | Qualcomm Snapdragon 801, 2.5 GHz, Quad-Core |
| RAM | 1 GB | 2 GB |
| Internal memory | 16/32/64 GB | 16/32 GB + microSD |
| Accumulator | ~ 1,560 mAh | 2,800 mAh |
| Camera | 8 MP (rear), 1.2 MP (front) | 16 MP (rear), 2.1MP (front) |
| Connectivity | HSPA, LTE, Bluetooth 4.0, WiFi | HSPA, LTE, NFC, Bluetooth 4.0, WiFi |
| Dimensions H / W / D | 123.8 x 58.6 x 7.6 mm | 142 x 72.5 x 8.1 mm |
| Weight | 112 g | 145 g |
Features
One of the biggest features that set both of these devices apart when they were first announced was the addition of heart rate monitor that can supposedly also show you just how much stress you're currently under. Whether these additional features are just fads or gimmicks, only the end user can decide for themselves. For some, it may be a handy feature that is used consistently. For others, it may be something that is completely discarded and never used.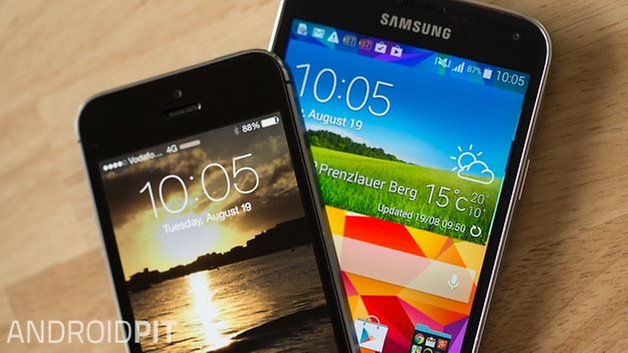 Conclusion
If we ignore the operating system on both devices, because that's another comparison all together, If it were up to us, we most likely would stick with the Samsung Galaxy S5. The iPhone is a reliable smartphone and offers a certain amount of prestige with owning a device. It runs as it should, has unmatched resale value, and is pretty stable. On the other hand, the Samsung Galaxy S5 offers all-around better hardware, is much better suited for on the fly work and surfing the web thanks to a larger display, and offers more flexibility in terms of what you can do on the software side of things. As an object of prestige, however, the Galaxy S5 falls short.