Huawei P20 Pro vs Sony Xperia XZ2: Our low-lighting quarterfinals!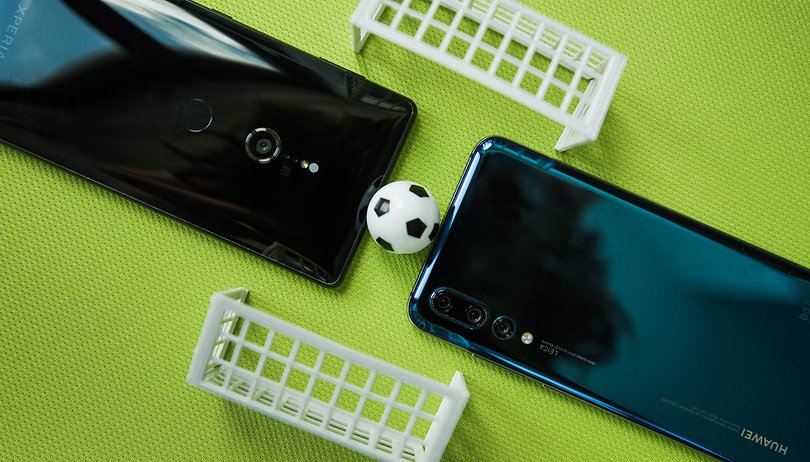 The winners and losers of the first round of our Smartphone World Cup have been determined and now we're heading straight into the quarterfinals. The opponents in this round are the Huawei P20 Pro and Sony Xperia XZ2.
The Huawei P20 Pro used the power of its three cameras in the fend off and beat the Apple iPhone X quite impressively. The Sony Xperia XZ2 won against the LG G7 ThinQ. It's one camera against three in this match, and that will make for an extremely exciting duel!
Learn more about the Huawei P20 Pro in our video:
The duel in the dark
We're turning off the lights for our quarterfinals and we're challenging our candidates in low lighting conditions. Photos in low light are incredibly difficult for smartphones because of their small sensors and tiny lenses. So it quickly becomes clear which device gets the most out of the limiting conditions.
We'll stay with the same format we used in our opening rounds. That means we'll do a blind test in an effort to eliminate biases from the voting. We'll also be tallying the votes from all our countries' websites. The two candidates, however, will be facing a great risk, because whoever drops out of the quarterfinals will be knocked out for good.
Scene number one
We've set our sights on the Berlin TV Tower from our balcony, but this time, we're doing it an hour after sunset, right at twilight. The light is beautiful, but it's difficult to capture for a smartphone. Which picture do you like better?
Scene number two
For our second scene, we've taken a look at some typical Berlin street life. The difficult thing here is that it's hard to capture brightly lit areas, and at the same time, it's not completely flooded with dark areas. Of course, everything should also be sharp and show as little image noise as possible. That's a tall order.
Scene number three
An entire shot of candlelight offers the chance to capture a mood, but without ignoring technical components like the image sharpness, details, noise, etc. Which photo do you prefer?
Picture 3A in full resolution | Picture 3B in full resolution
Thanks for taking part!