HTC One M9 vs Nexus 6 comparison: does One beat Six?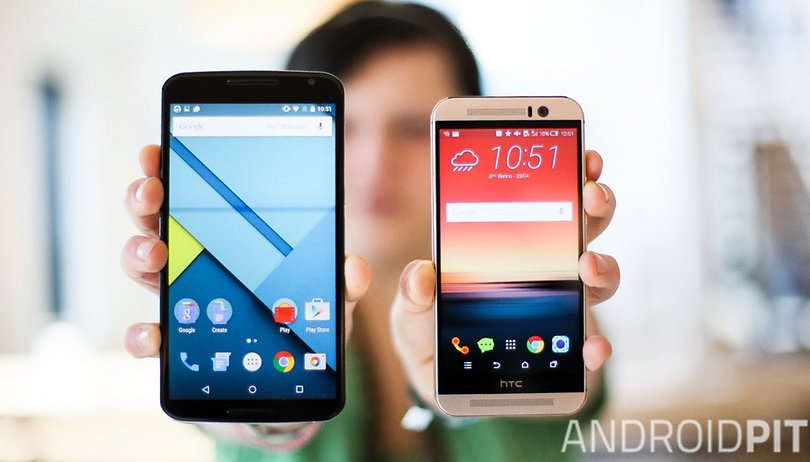 With its six-inch display, the Nexus 6 was quite literally one of the biggest surprises of last year. For the most part this was well-received, though plenty of people also thought Google went overboard with its hefty design and size. The HTC One M9 attracted criticism for not evolving much on its predecessor, despite being one of the best-looking and powerful smartphones on the market. Read our HTC One M9 vs Nexus 6 comparisons to see which of these comes out on top. NEXTPITTV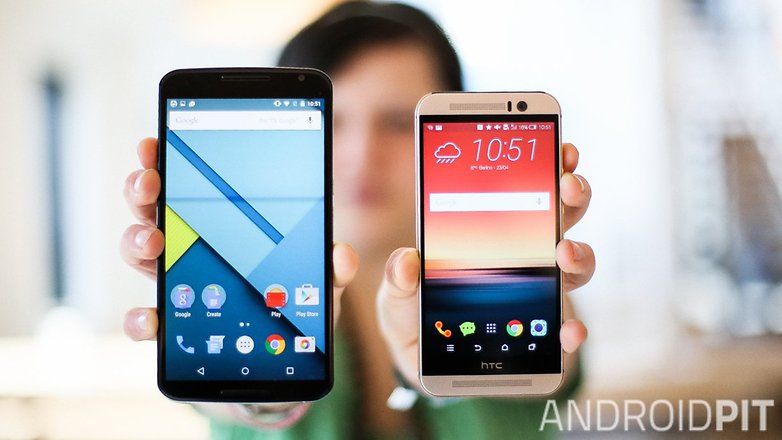 HTC One M9 vs Nexus 6: design
With a six-inch QHD display, it's inevitable that the Nexus 6 is going to be housed in a big chassis. Its size pretty much instantly excludes people with small hands from using it, catering more to the big hands/fat fingers niche. This isn't necessarily a disadvantage though, making typing, reading, and gaming much more comfortable than on smaller screens. The Nexus 6 is elegant in its own way too. The phone's back curves, with its thinnest point being on the bottom, making it slip comfortably into the hand. One complaint we did have was that the raised stereo speaker was something of a dust magnet.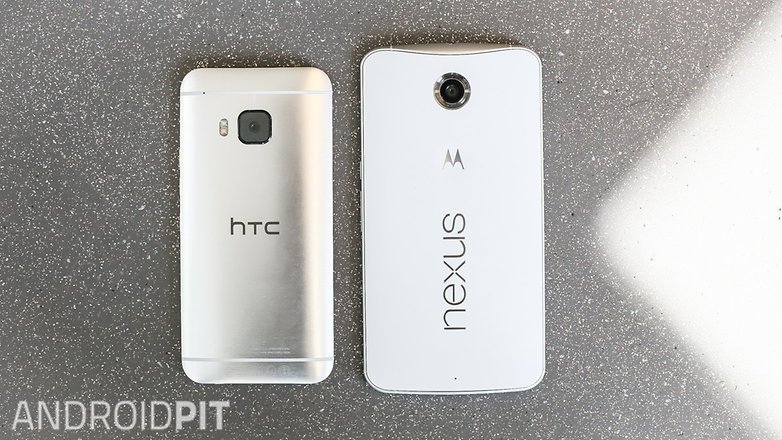 The HTC One M9, on the other hand, is an all-metal embodiment of sleekness. While its design has changed little on its predecessor, there are subtle changes that make it that little bit better. All HTC One M9 models have a brushed metal finish, making it more grippy than its predecessor. The power button is now a beautifully textured little button on the side, while the 'stepped' design - a result of the front chassis slotting into the back - gives it a more angular look than the One M8.
Scoring this was closer than you might've expected, but after some deliberation we think the HTC One M9 takes this one. That's no discredit to the Nexus 6, which is surprisingly ergonomic for a big phone. 1-0 to the One M9.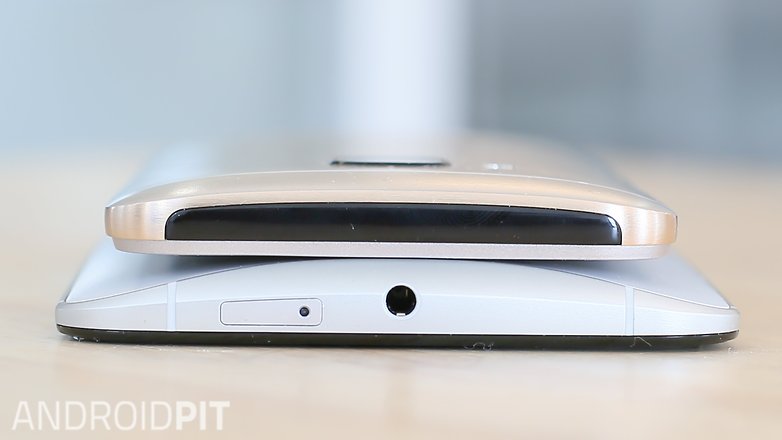 HTC One M9 vs Nexus 6: display
The Nexus 6 is all about the display, which is a monstrous six-inch QHD (2560 x 1440-pixel) offering. While some people will complain that it's too big because they can't reach the top of the screen when using the phone with one hand, there's no disputing that it looks great, and makes reading, gaming and watching videos an absolute pleasure.
We understood HTC's decision to only incrementally update the One M8's design with the One M9, but retaining exactly the same 5.0-inch 1920 x 1080-pixel display seemed a little bit - dare we say - lazy. We don't think that a QHD resolution is an essential upgrade, but we'd at least have liked to see some improvements in color reproduction to see that something at all has changed (the LG G4 made such small but notable improvements on the LG G3, so we know it can be done).
The Nexus 6 display dazzles, and brings the score up to 1-1.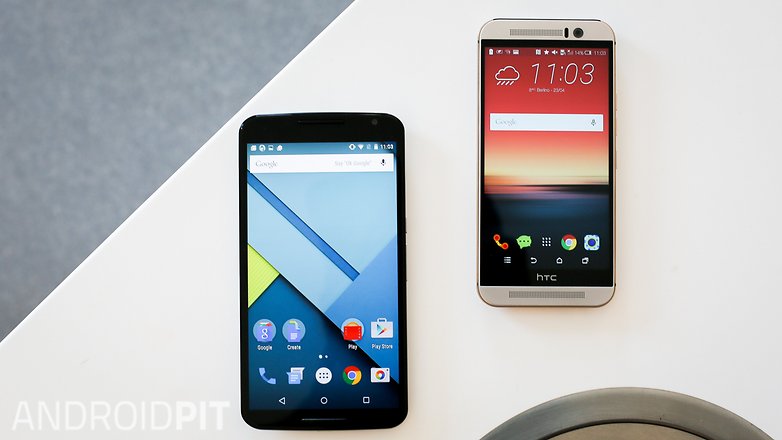 HTC One M9 vs Nexus 6: performance
The HTC One M9 has an octa-core, 64-bit Qualcomm Snapdragon 810 processor with four cores clocked at 2.0 GHz and four at 1.5 GHz. The Nexus 6 has a Snapdragon 805 with four cores clocked at 2.7 GHz. Both devices give the processor 3 GB of RAM to play with.
The big difference in chipsets between the two devices is reflected in their AnTuTu scores, where the HTC One M9 scores an easy win on AnTuTu.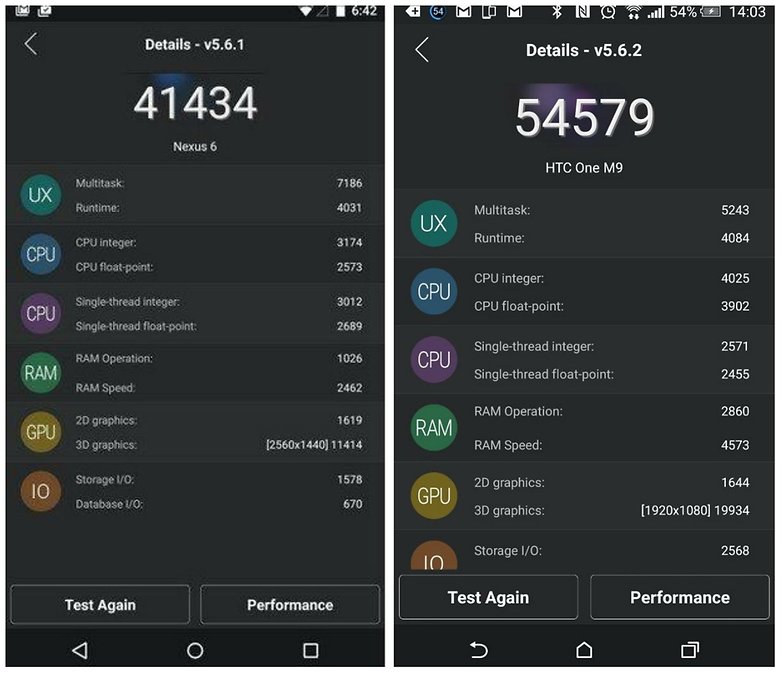 With most day-to-day tasks, like web browsing with plenty of tabs open and gaming, the performance disparity isn't noticeable between the devices. But when you want to have a few demanding games open at once in the background, you'll find that the One M9 obliges you while the Nexus 6 will automatically close them when they get too strenuous.
No surprises here. The One M9 is a 2015 flagship, and the Nexus 6 is a 2014 flagship. 2-1 to the One M9.
HTC One M9 vs Nexus 6: storage
The Nexus 6 comes in 32 GB and 64 GB capacities, which aren't all that substantial when you realize that there is no microSD slot onboard. The HTC One M9 only gets 32 GB but that storage is expandable via microSD, so you can stick another 128 GB in there for little extra money.
If you're not going to include a microSD slot, you better ensure you have a ton of internal storage. Is that too much too ask, Nexus 6?. 3-1 to the One M9.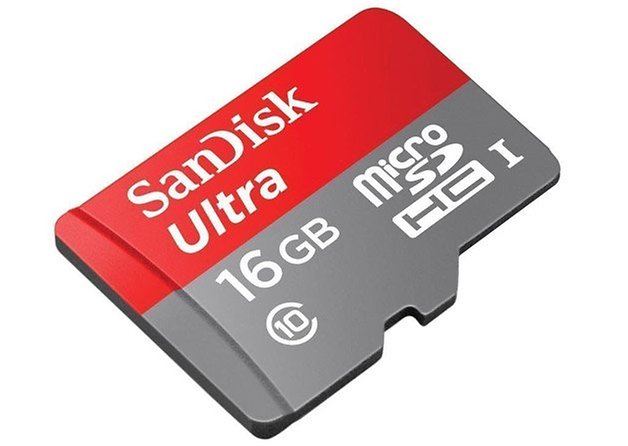 HTC One M9 vs Nexus 6: cameras
The HTC One M9 camera is a big improvement on the 4MP UltraPixel offering of the One M8. Packing 20.7MP and a f/2.2 aperture, it's a fine snapper on paper, but just doesn't quite deliver in reality. Photos are on the pale, washed out side, and lacking in detail. They just don't reflect the fine camera specs onboard. In fairness, there is plenty of entertaining camera software to play around with, such as Face Fusion, Bokeh, and some crazy kaleidoscope-style effects.
The Nexus 6 has a 13 MP main camera with OIS (optical image stabilization), f/2.0 aperture, and dual LED flash in a ring around the lens. The Nexus 6 deals better with low-light conditions than the One M9, and daytime pictures look sharper too. This is a bit uf
A humbling defeat for the One M9. HTC still haven't got to grips with smartphone camera technology. 3-2 to the One M9.
HTC One M9 vs Nexus 6: software
The HTC One M9 runs Android 5.0.2 Lollipop overlaid with the lovely, minimal Sense 7 UI. HTC is well known for cramming minimal bloat onto its devices, and the few apps that are pre-installed on it are actually quite handy. Themes lets you customize the Sense UI to a level rarely seen on big-brand phones. As well as the obligatory wallpaper changes, you can also tweak fonts and icons, choosing from hundreds of them online. The Peel Smart Remote is pretty handy too.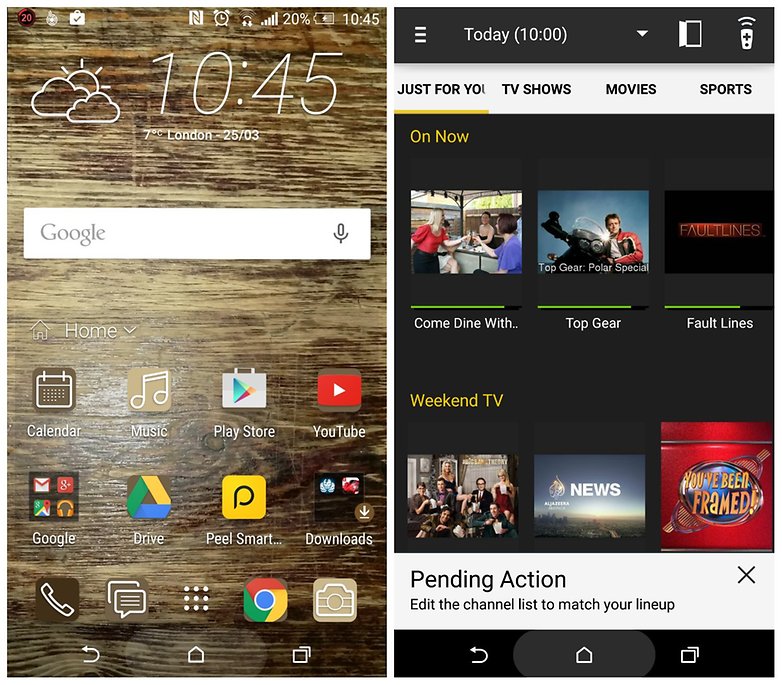 The Nexus came with stock Android 5.0 Lollipop, and has since been updated to Lollipop 5.1. Lollipop is the best-looking stock Android interface to date. It's minimal, colorful, and distinctly 'designey' looking - in that it looks like it was drawn up by a hip young designer at some kind of 'creative agency'. It's intuitive and nice to look at, and has no unnecessary bloatware or superfluous guff loaded onto it.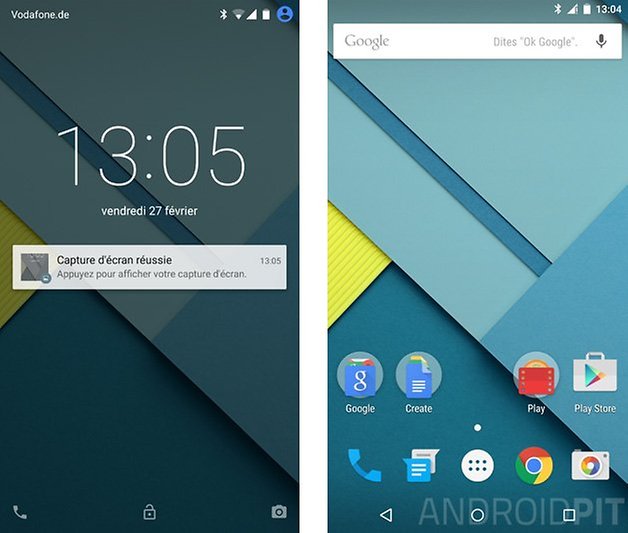 We absolutely love the stock Lollipop interface, but also have plenty of respect for HTC's invitation to customize its Sense UI to your heart's content. It's minimalism vs personalization, and we can't pick a winner. Draw. 4-3 to the One M9
HTC One M9 vs Nexus 6: battery life
The HTC One M9 has a 2,840 mAh battery. HTC touted the Snapdragon 810 chipset as being highly efficient, therefore negating the need for a huge battery. Despite all this, we only just managed to squeeze a day's use out of the battery at moderate usage. Decent, but not world-beating.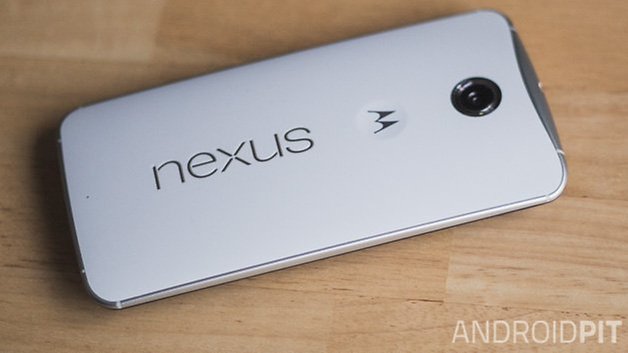 The Nexus 6's battery is bigger, delivering a whopping 3,220 mAh. Just as well, given its huge QHD display. But the battery size more than accounts for the big display, and actually lasts well over a day with moderate usage - such as a a couple of hours of phone calls, some gaming and light video-watching. Any fears that the Nexus 6 would be a battery-draining beast proved unfounded.
With this, the Nexus 6 pulls level to 4-4, leaving the price as the deciding factor between the two phones.
Price
The official HTC One M9 price is 649 USD or 579 GBP for the 32GB model. People looking to buy the Nexus 6 in the UK get a better deal than US customers, as the prices are 649 USD or 499 GBP for the 32 GB model, and 699 USD or 549 GBP for the 64GB model.
UK customers seem to get much better value with the Nexus 6 than US customers do. With that said, it won't be too difficult to find the Nexus 6 for a slightly lower price if you shop around.
The older Nexus 6 unsurprisingly just manages to take this one, making it the winner at 5-4!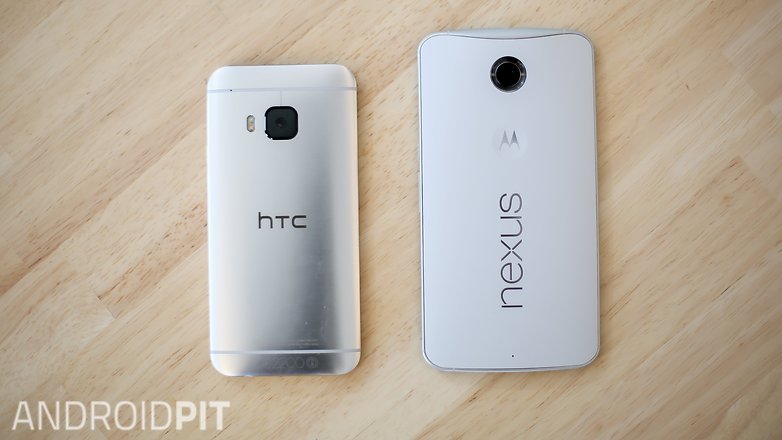 HTC One M9 vs Nexus 6: conclusion
The final scores were so close in our comparison that which phone's better for you comes down to a matter of personal taste - and hand size. The Nexus 6 size will be an immediate turn-off for some people, while completely enticing others. If the size does suit you, then its other specs such as camera and battery life make this a no-brainer over the One M9.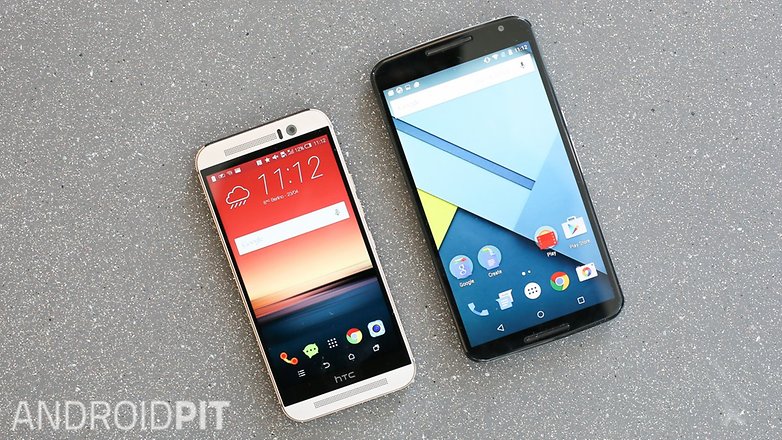 However, if multitasking and high-end gaming are more your thing, and you think six inches is a bit excessive, then the One M9 is definitely preferable. It looks absolutely fantastic too, though One M8 owners may experience a bit of deja vu if they opt to buy it.
Do you agree with our final scores? Are you firmly in the HTC One M9 or the Nexus 6 camp? Let us know your thoughts!