How to transfer everything from iPhone to Android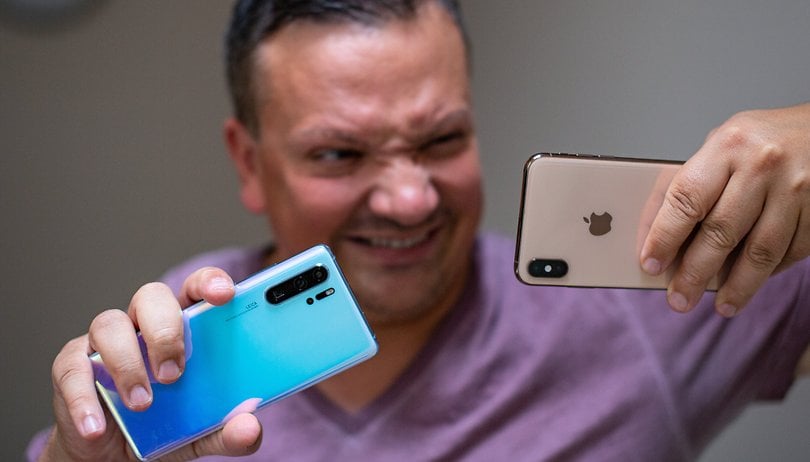 You've seen the light. You've left Apple's embrace and joined the happy world of Android, and you've got just one question: what about your data? How do you transfer everything from iPhone to Android? We can help with that. The first solution we present is a single program that does tons of work for you, but costs money. The rest of the solutions are all the manual ways to transfer everything from iPhone to Android.
Shortcuts:
If you want a one-stop solution for transferring your data from an iPhone to an Android (or from a BlackBerry or Symbian device for that matter), it's hard to go past Wondershare MobileTrans.
MobileTrans is a one-click program that lets you transfer your contacts, text messages, calendars, photos, videos and music between devices. Depending on the OS you're switching from you can also sync apps and call logs too. MobileTrans also works as a backup service with cloud storage options. Here's the full scope of its capabilities: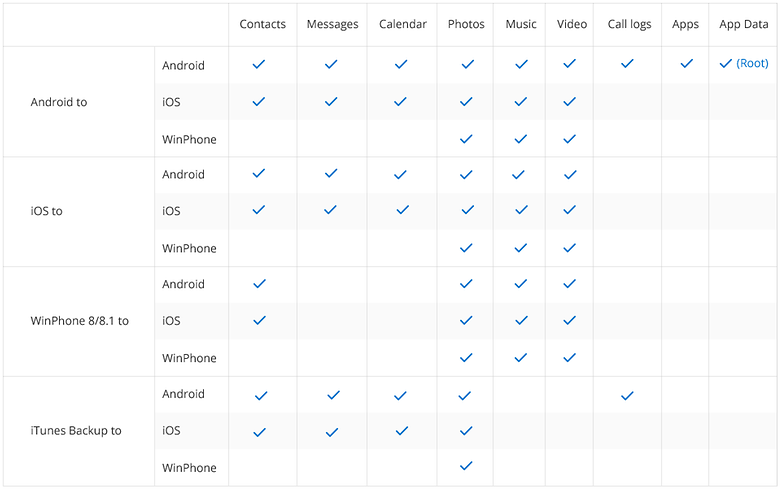 You can grab a free trial version of MobileTrans which will let you see how easy the program is to use, but if you want to do the full transfer or restore your backups you'll have to pay for a license – either a one-time affair ($19.95) or a single user license ($39.95).
Once you've got a license, you can transfer all of your contacts, calendar info, messages, and media, restore backups and even wipe your old device. Do note that the single-user license is only good for up to five devices using one computer.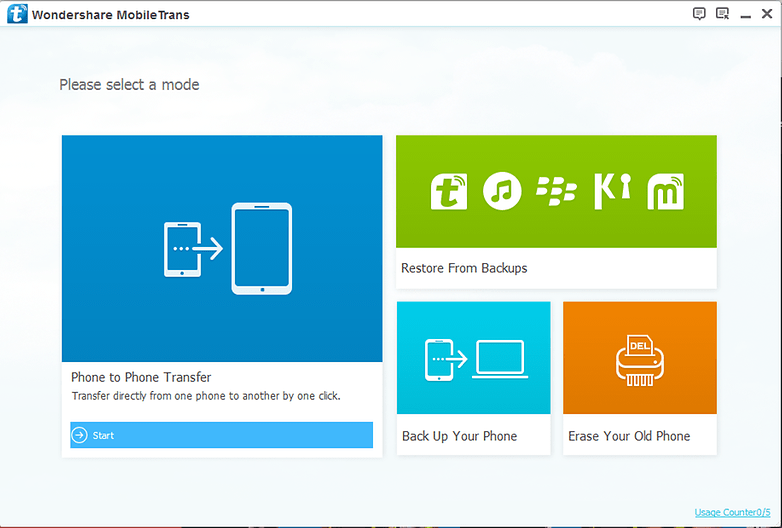 How to transfer data between iPhone and Android with MobileTrans
We transferred everything from an iPhone 6 to a Galaxy S6 as an example so you can see just how easy the process is. As mentioned above, you'll only get this full functionality with a paid license.
1. Launch the MobileTrans program and connect both devices with a cable to your computer. You'll see both devices populate either side of the first window you see.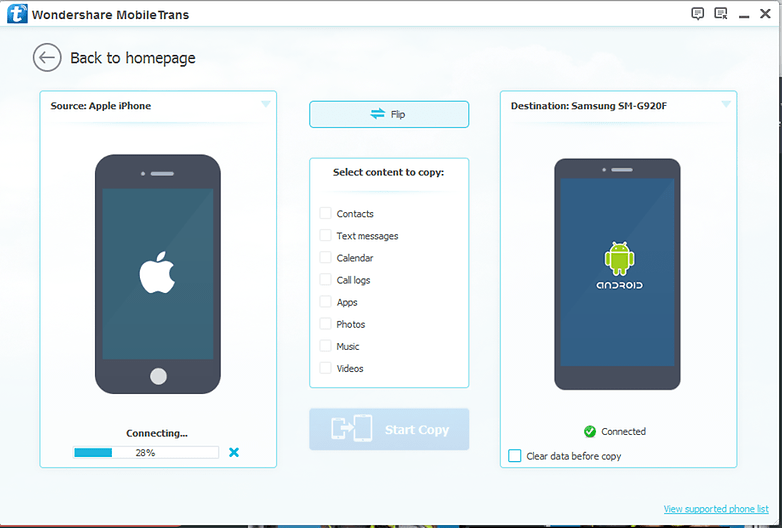 2. You might be prompted to enable USB Debugging on and Android and to accept an RSA key (on Android) or ''Trust'' the computer you're connected to (on Apple).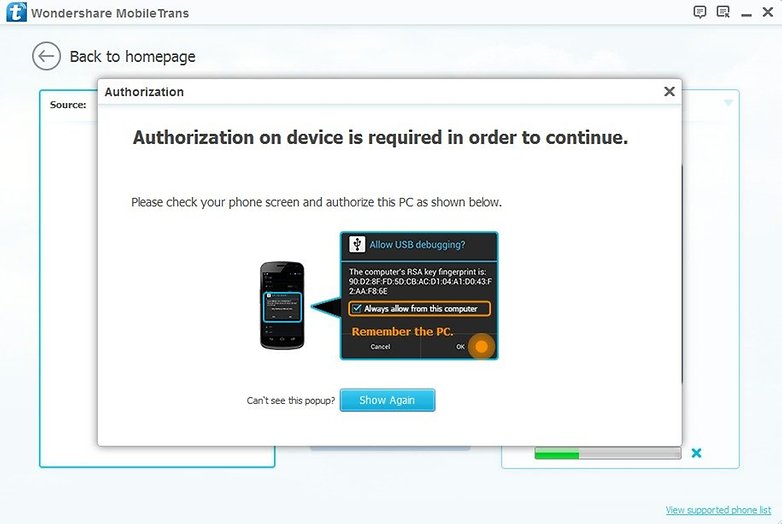 3. You can flip the devices if they're in the wrong place for the transfer you want to make.
4. You might be asked to uncheck the ''encrypt iPhone backup'' in your iTunes settings if you've previously opted for an encrypted backup. Once you've done your transfer you can recheck the encrypted backup option again. (Note that you also have the option to clear the destination phone's data before transferring).
5. Once you've got both phones connected properly all you need to do is check the boxes next to the data you want to transfer: contacts, text messages, calendar, call logs, apps, photos, music, and videos. Naturally, you won't be able to transfer apps from an iPhone to an Android, but you get the idea. We didn't have any videos or text messages on our iPhone either, so we left those blank.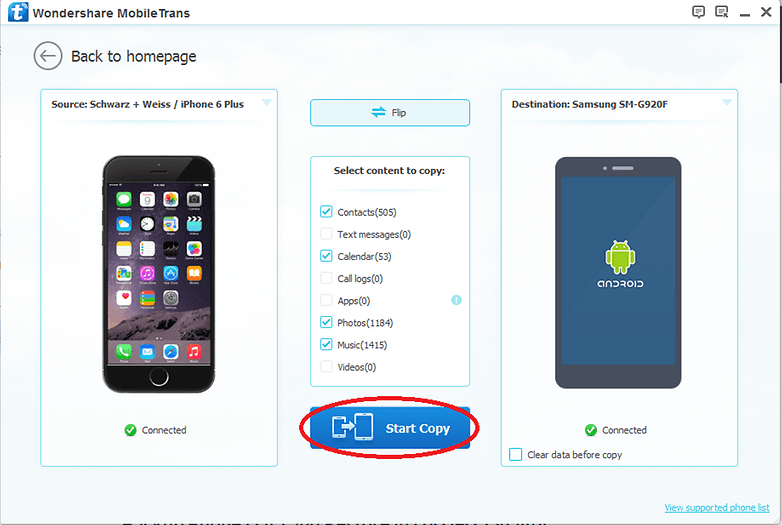 6. Click ''Start Copy'' and sit back and wait. Depending on how much media you have on the original phone, the process may take several hours to complete, so make sure you have a power source at the ready.
7. Once the transfer process has completed, you can disconnect both phones.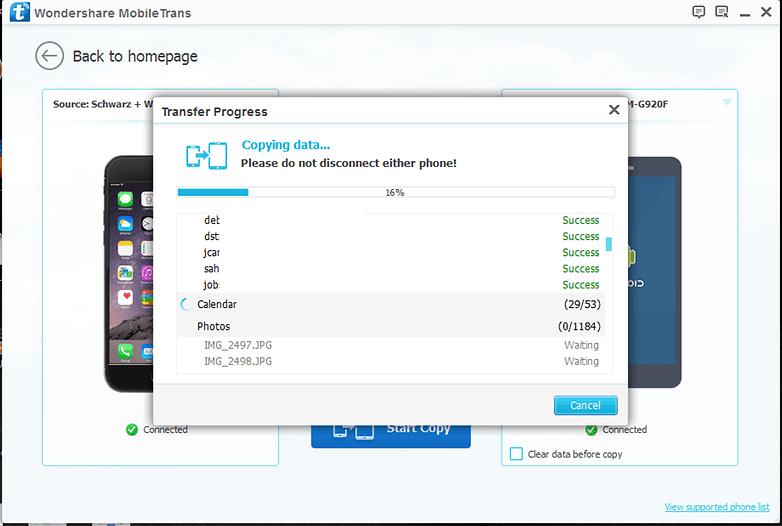 If the apps you use are cloud-based, like Gmail, Spotify or Facebook, you hardly have to do anything: it's just a matter of installing the apps, entering your usernames and passwords and picking up from where you left off. Transferring everything else is a bit more complicated, and that's what we'll cover next.
Some Android manufacturers offer apps that let you transfer all of your important data from an iPhone to their device seamlessly. Before trying to move your files manually, check our list to see if your Android manufacturer offers such an app.
Samsung
Smart Switch is Samsung's solution for moving data from your old iPhone to your new Galaxy. It offers both wired and wireless transfer. To get started, download the Smart Switch app from Google Play and install it. Once open, allow the requested permissions (if you don't, you won't be able to transfer). Select Wireless or Wired and then iOS device. After that, all you need to do is sign into your iCloud account and select a backup to restore from. You can also choose what data you'd like to import.
HTC
HTC's method is similar to that of Samsung. However, you will need a PC. First, back up your iPhone content onto iTunes on your computer. Download and install HTC Sync Manager. You can find the software here. Connect your new HTC device to the PC and the program should open automatically. From there, you simply need to click Transfer & Backup and select your iPhone back up file.
Google
Google Pixel phones usually come with a USB-OTG adapter in the box. This allows for wired file transfers and it's incredibly easy to do. Simply connect both your iPhone and your new Pixel and follow the onscreen instructions.
If you don't already have one, sign up for a free Google Account: you'll need it to do pretty much anything on Android. Once you've done that, backup your iPhone and then log in to iCloud.com. Click on Contacts, select the ones you want to transfer and then click on the little gear icon at the bottom left of the screen. You'll see an option to Export vCard. Clicking on this will export the selected contacts in vCard format.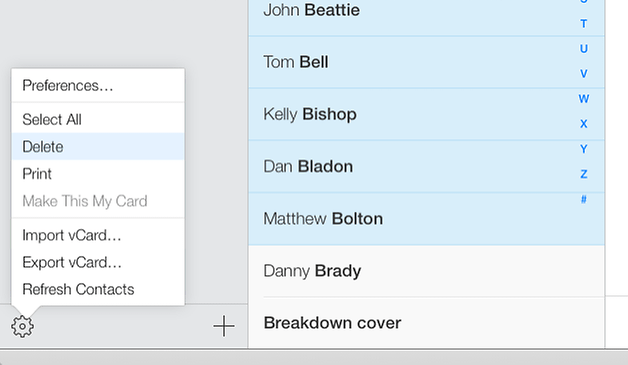 Now, log in to Gmail and click on Gmail > Contacts. You'll see the option to Import Contacts in the left-hand sidebar. Click it, choose the vCard file you just created and let Google do the rest.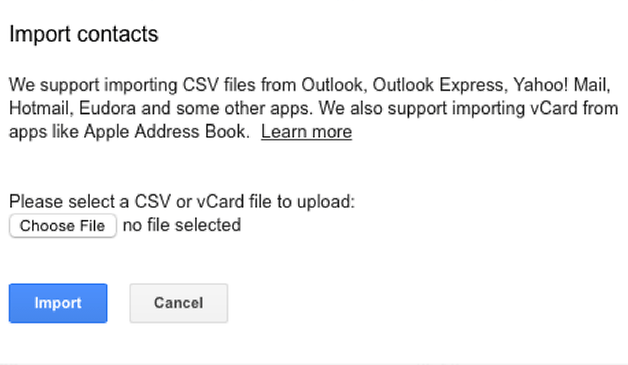 This is a little more complicated, but it's still easy. Go back to iCloud on your iPhone and this time and open the Calendar app. You'll see a list of your calendars in the left-hand sidebar, and a little wireless icon next to each one. Click on that to open that calendar's sharing menu.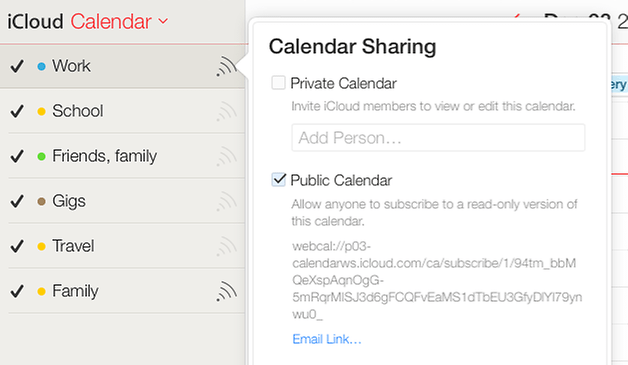 What we want to do here is to create a public calendar we can then import into Google Calendar. To do that, click Public Calendar and copy the entire link you see on screen.
Open a new browser window or tab and paste the link, but don't hit Enter just yet: you need to change the bit that says "webcal" to "http". Do that and press Enter, and your computer should now download an .ics calendar file with a really long and incomprehensible file name.
Repeat this process for each calendar you want to transfer.
Now, we need to log in to Google Calendar on your Android phone and click on Other Calendars in the left-hand sidebar. Click on the drop-down arrow and choose Import Calendar, and then select the .ics file you just downloaded. Clicking on Import will now add the events to the Google Calendar you select (if you have more than one). You'll need to repeat the process for each calendar.
Please note that without using a questionable third-party tool, it is not currently possible to transfer iMessage or WhatsApp chats from iOS to Android or vice versa. We can only recommend backing up your chats in iCloud for now.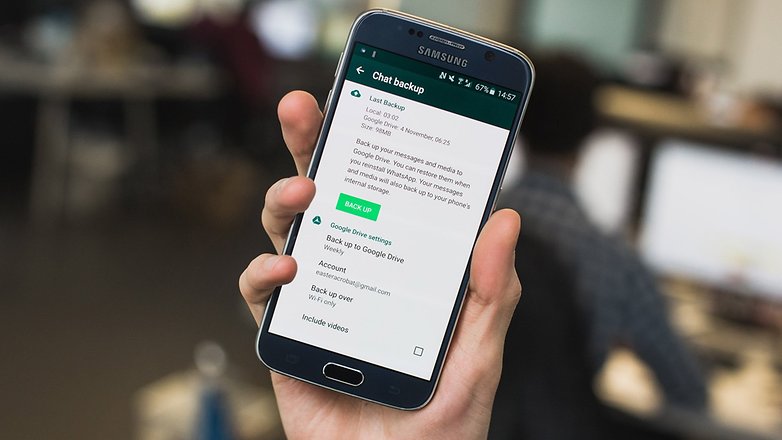 The most seamless way to manage your iCloud emails on an Android smartphone is through the preinstalled mail app, using IMAP access from Apple. With SMTP access, you can still send e-mails under the old Apple address, too. The necessary server data for setting it up is in this Apple support document.
If you've been storing files in iCloud, you can get them by logging into iCloud.com, clicking on iCloud Drive and then choosing the appropriate app folder - but remember that some file types, such as Pages documents, won't work in non-Apple programs. If you've got files in proprietary formats such as Pages, convert them to RTF or Microsoft Word files in the Pages app before transferring them.
Once again, the easiest way to do transfer everything is via iCloud. In your iPhone, go into Settings > iCloud and ensure Safari is enabled; now, go to your PC or Mac and open iCloud for Windows (PC) or System Preferences > iCloud (Mac) and do the same.
If you haven't already downloaded iCloud for Windows you can get it from here. What we're doing here is ensuring that our iPhone bookmarks are being synchronized with our PC or Mac.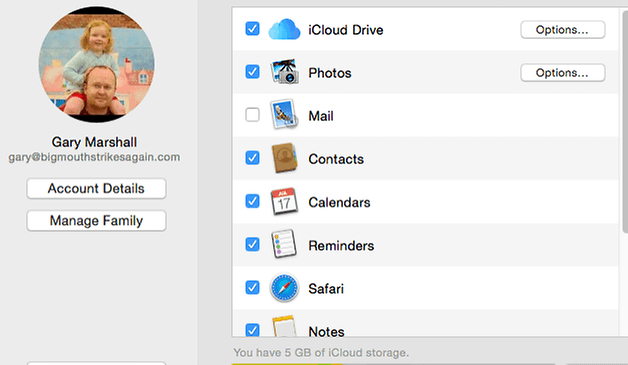 On Windows, the next step is to click Bookmarks > Options and then choose Firefox or Chrome.
Click Apply and then Merge, and you'll be told to download the iCloud Bookmarks extension for the browser you selected. This extension will sync your bookmarks from Safari to Chrome or Firefox.
If you chose Chrome, the next step is easy:
On a PC, open Chrome and log in to the Google Account you use for Android and the bookmarks will be synced automatically.
On a Mac, open Chrome, click the "hamburger" Chrome menu at the right-hand side of the window and select Bookmarks > Import Bookmarks and Settings and select Safari as the source.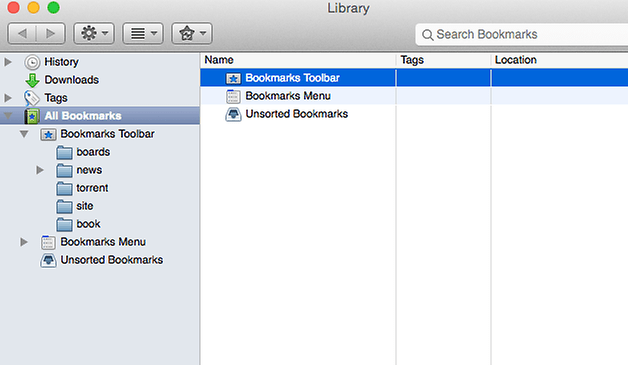 Firefox is a little trickier for both PC and Mac.
If you're on a Mac, the next step is to open Firefox, choose Bookmarks > Show All Bookmarks and then click on the star icon in the toolbar. This brings up the importing and backup options.
Select Import Data From Another Browser and choose Safari.
On both PC and Mac, the next step is to click on Firefox's Tools menu and select Set Up Sync. This enables you to log in to your Firefox Account (if you have one) or create a Firefox Account (if you don't). Once you've entered the details, you can then open Firefox on your phone and choose Options > Sync > Pair a Device to get the bookmarks onto Firefox on your phone.
If you're using the Google Photos app on your iOS device, this is easy if you enabled Google's automatic backups. Just get the Google Photos Android app (probably preinstalled on your new phone), set it up and everything will be there for you.
The manual way to transfer photos from iPhone to Android is to drag everything and drop it (if you have a Windows PC). Connect the iPhone via USB, open My Computer and look for the iPhone icon. Open it and look for the DCIM folder. That's where your pictures are; just select them and drag them to a folder on your PC.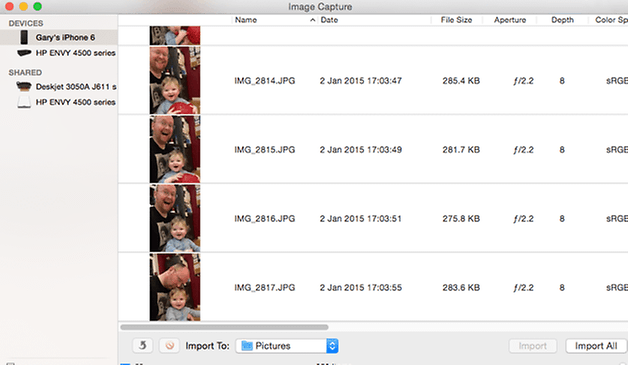 You can then connect your Android phone and drag the files from your PC to your phone. If you're feeling particularly flash, you can connect iPhone and Android at the same time and drag photos from one to the other, but we'd recommend transferring to the PC first so you've got a backup of your pictures.
Things are slightly different on Macs, although the basic idea is the same. Instead of My Computer you'll need to launch Image Capture to import your photos. Once you've done that you can connect your Android device and drag from your photos folder (or anywhere else you put the imported pics).
This one's a bit trickier. You'll need Apple's iTunes and Google Music Manager installed. First of all, in iTunes make sure all your music is actually on your computer: if there's a little icon of a cloud with a downwards arrow on it, it hasn't been downloaded. Make sure your purchased music is there too (it may be hidden in Preferences > Store > Show iTunes in the Cloud Purchases).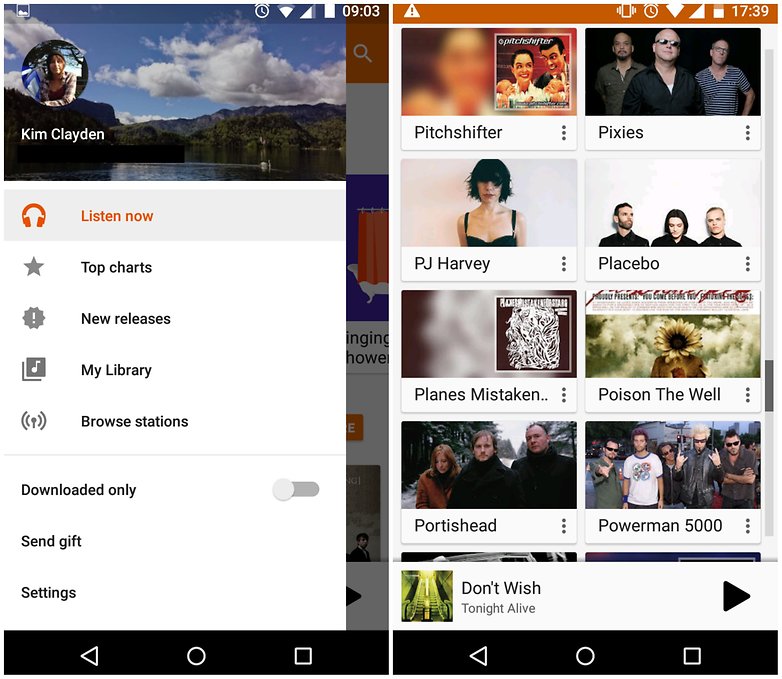 Once you're sure you've got everything, open Google Music Manager and on the setup page, select Upload Songs to Google Play. Specify iTunes as the source and let Google Music Manager do its thing. For more detailed instructions, see our article on how to use iTunes with Android.
Have you recently moved from iPhone to Android? Was it painful or a pleasure to transfer everything? Let us know in the comments.