How to install Photosphere mode on the Galaxy S5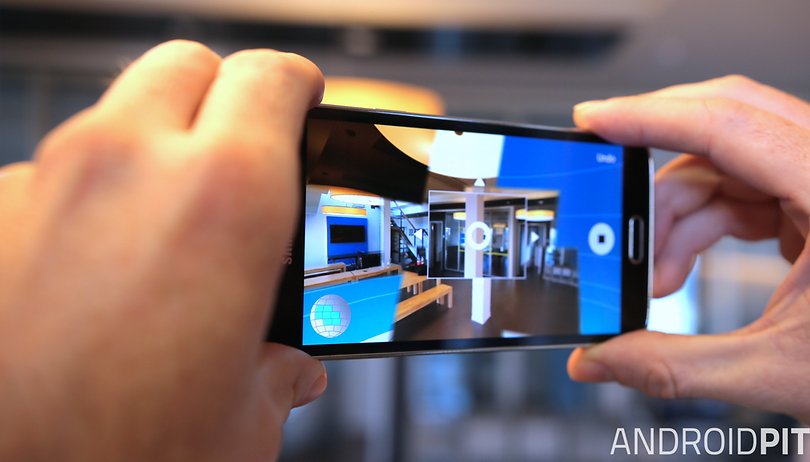 Google's Photo Sphere has attracted lots of interest: it makes it easy for Nexus owners and iOS app users to create beautiful 360-degree panoramas. You can get something very similar on the Galaxy S5, but it isn't installed by default. Here's how to install Photosphere mode on the Galaxy S5.
How to install Photosphere more on the Galaxy S5: the app you need
Samsung's version of Photosphere is called Surround Shot, but for reasons it's keeping to itself it doesn't include it in the Camera app by default. Instead, you need to download it and install it.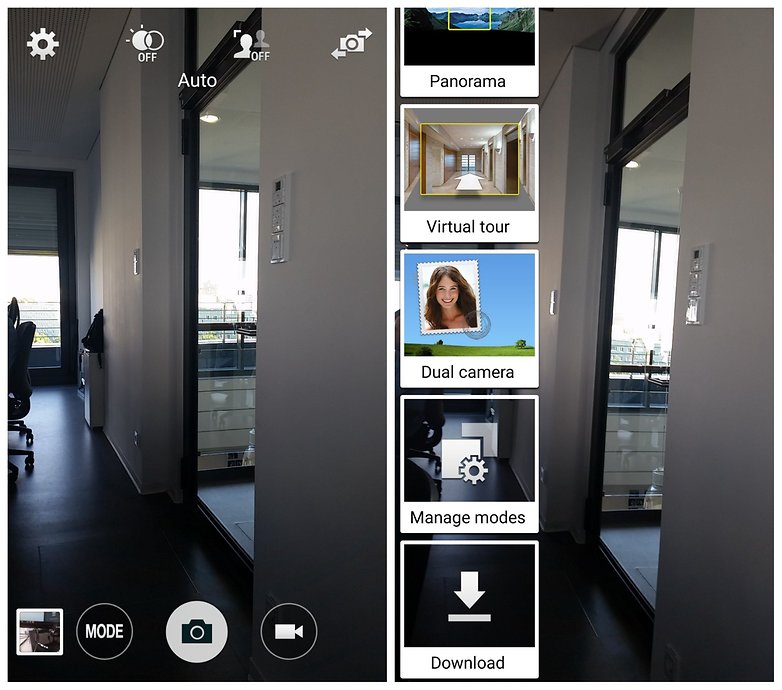 To do that, you need to open the Camera app and then look for the Mode button towards the bottom right hand corner. Tap on that and you'll see a list of available modes; scroll right to the end and you'll see a big download button. That's the one you want, so give it a tap.
When you tap the Download button you'll see a page from the Galaxy Apps store offering various different camera modes: animated photo, which is self explanatory; sequence shot, which is like other cameras' burst mode; surround shot, for panoramas; sports short, for capturing things that are moving very quickly; sound & shot, which adds up to nine seconds of audio; food mode for taking pictures of your dinner… the one we want here is Surround Shot.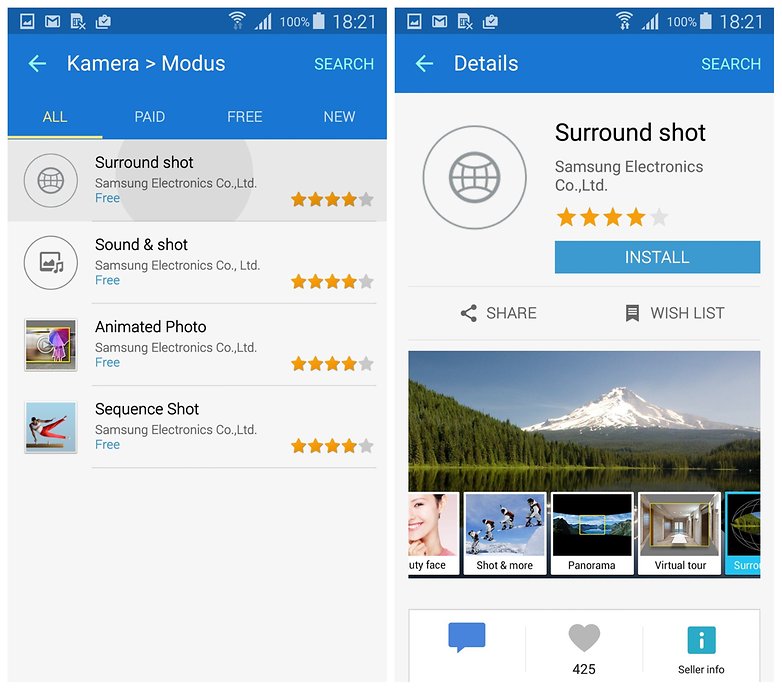 Tap on Surround Shot and then press the install button that appears. Once it's installed it'll appear in the Mode strip in the camera app. You might as well download the other ones while you're at it: they don't take up a lot of room and you never know when they might come in handy.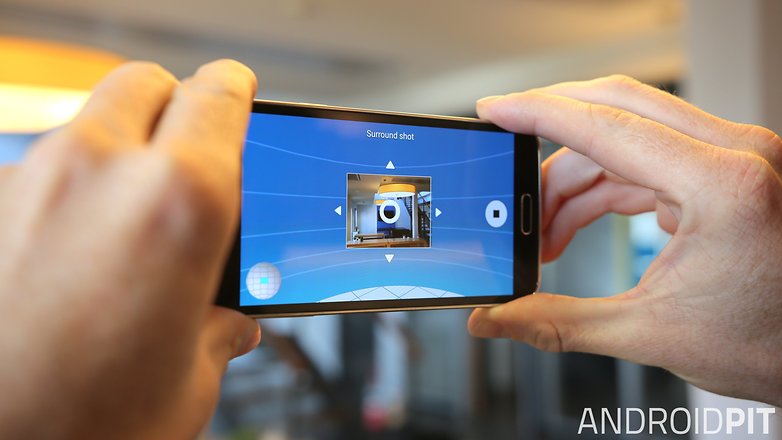 How to install Photosphere mode on the Galaxy S5: how to use it
Taking a panorama is all about moving very little (or better still, putting your Galaxy on a tripod: the results are much better and much less likely to suffer from weird edges and other unwanted effects) and slowly tracking the camera across the space you want to record.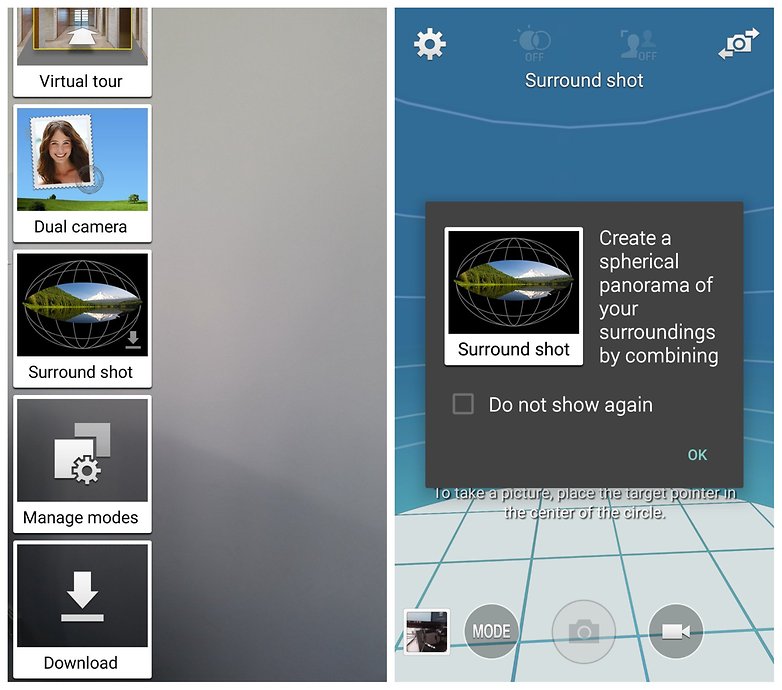 You'll see a picture of a globe in the bottom left hand corner of the screen, and that picture fills up as you move your phone around so that you can see exactly what you've still got to capture. All you need to do is keep the circle on the screen in the right place as you move, and ensure you capture not just what's around you but what's above and maybe below you too.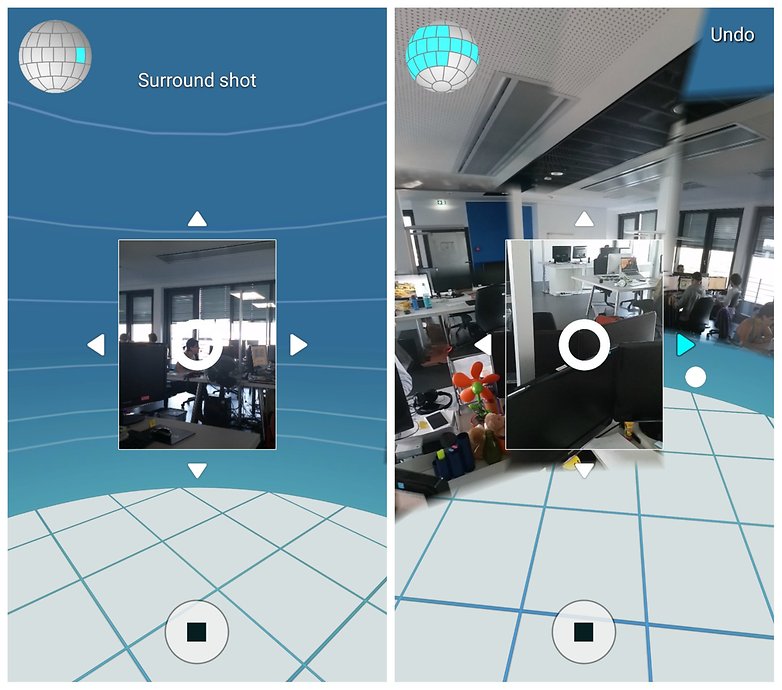 Just make sure you've got plenty of storage space, because taking 360-degree panoramas on a device with a 16 megapixel sensor means you'll be making huge files of around 50 MB each. It doesn't take many of them to fill up your Galaxy S5's internal storage.
Common issues you might encounter when you use Surround Shot on the Galaxy S5
When it comes to panoramas, speed kills - or at least, it can make your finished image look really weird. Surround shot takes around 40 images and stitches them together, and the better the source material - the smoother the transition between each shot - the better the end result is likely to be. Expect to take a few minutes to complete your panorama, not including the processing time afterwards: if you've whizzed around in a matter of seconds, you probably won't be thrilled with the results.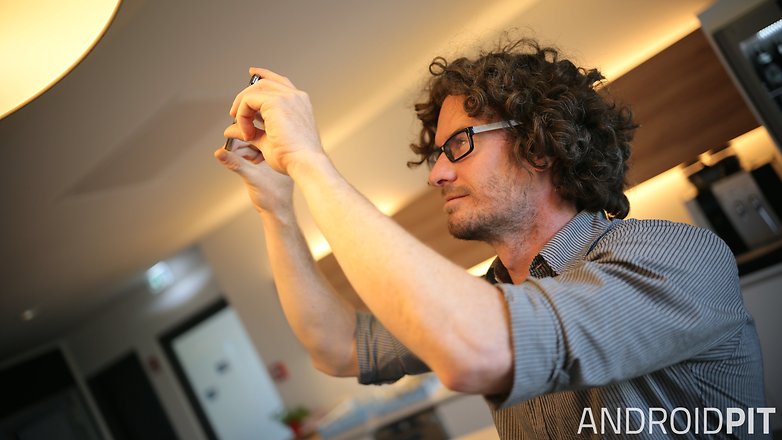 We've found that the wider the space the better the results, so you'll get a much smoother panorama in a field or city square than you will in an enclosed space with lots of clutter. Lighting can make an enormous difference too: the better and brighter the space, the easier Surround Shot's job will be - and of course, the better the lighting the better the photo will look.
Some Samsung users have reported that when they finish shooting their panorama, they see the processing message but then nothing happens. This appears to be a cache problem, so if you experience it (and there aren't other warnings such as warnings of low storage space) it's worth resetting the device's cache. Some users have found that even that doesn't fix it, but that a factory reset does.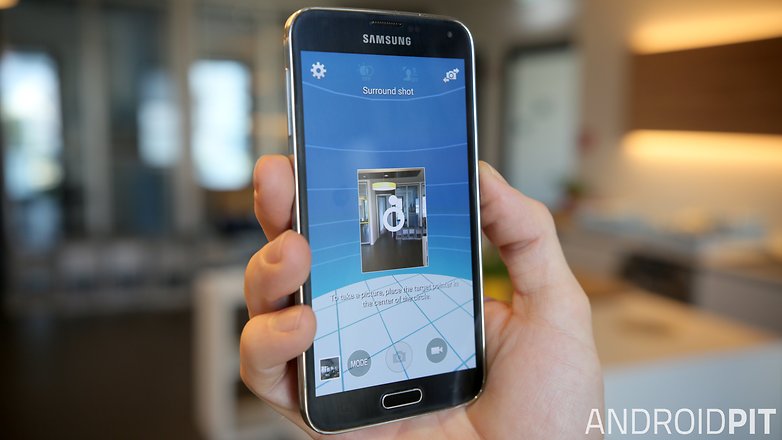 What do do with your panorama when you've finished making it
Generating the completed panorama takes a bit of effort, so your S5 will process it in the background while you get on with something else. Once the processing is finished, you can upload the finished panorama to Google+ just like you would if you were uploading a Photosphere from a Nexus.
Do you have any Surround Shot (or Photosphere - we're not just about Samsung here!) panoramas you'd like to show off, or tips you'd like to share? Let us know in the comments!