Honor 5X vs Honor 5C: price breakers go head-to-head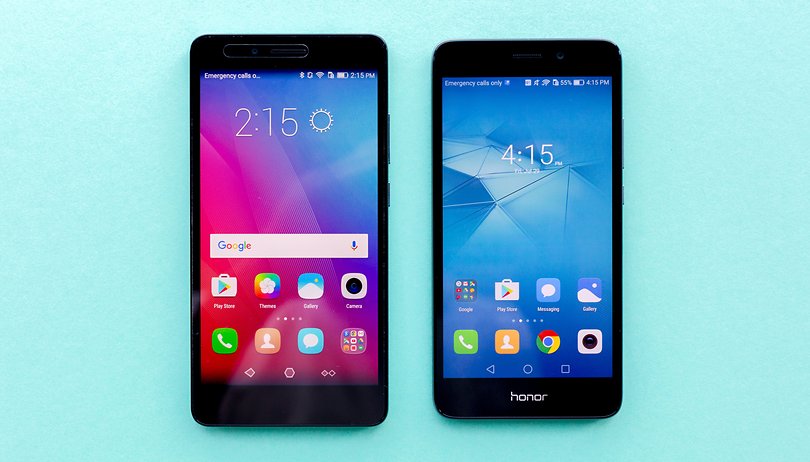 In the family of bargain phones, we have the Honors. The Honor 5X was a sensation with its fingerprint reader, all for only a little over $200. The Honor 5C arrived later but it also presented us with an excellent quality-to-price ratio for a device. So what is different between these two smartphones? NEXTPITTV
Honor 5X vs Honor 5C: design
There's no doubt that both devices bear a resemblance in design. The Honor 5X has dimensions of 151.3 x 76.3 x 8.2 mm and is larger than the Honor 5C at 147.1 x 73.8 x 8.3 mm. The Honor 5X is the largest and, logically, the heaviest, at 158g. But, strangely, the Honor 5C is only 2g less in weight.
Regarding the material, it's essentially made of aluminum with some plastic so the antenna can function properly. The back of Honor 5C has plastic around the edges. When you hold the smartphones in your hands, however, you feel a big difference.
Of course, the Honor 5C is easier to handle because it is smaller, and not see big differences in the buttons because they are located exactly at the same place on both devices. However, the main difference lies elsewhere: the Honor 5X really gives a metal printing while the Honor 5C is a little more plastic in hand. Warning, it is very nice and pleasant to use, but different.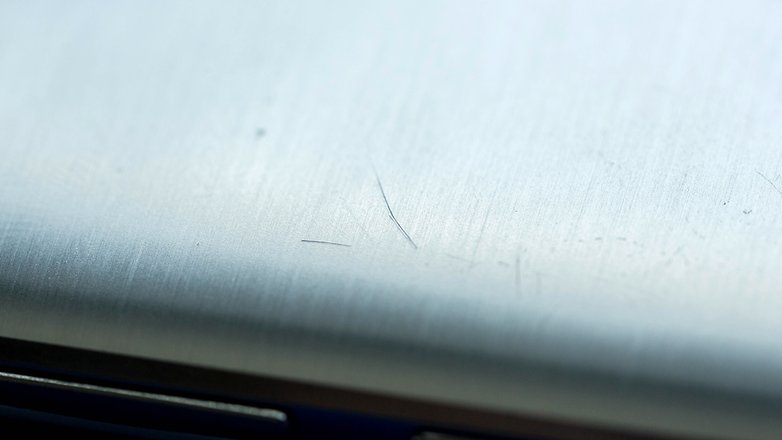 At the front of the device above the conventional speaker in the center, we have the and sensors to its left to its right we find the LED flash. Below the speaker, we have the name 'Honor 5C', while on the Honor 5X we find absolutely nothing.
At the rear, we obviously find the main camera and the brand logo at the bottom (it should be noted that it is more discreet on the Honor 5C on the Honor 5X), and the Honor 5X we also have a fingerprint reader.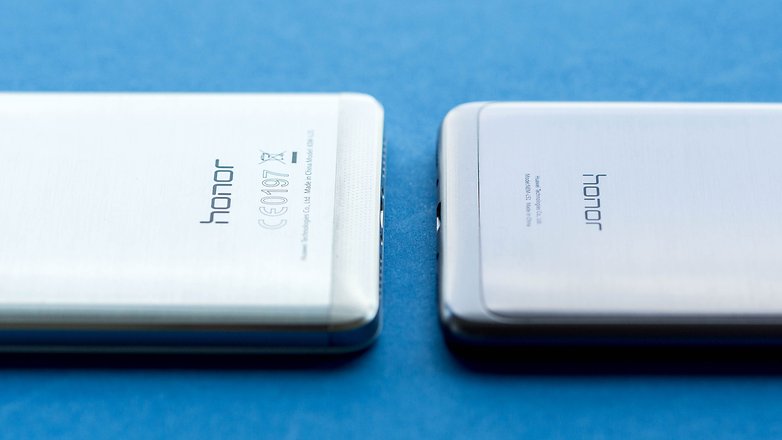 On the upper edge of the two smartphones, you have a jack and a microphone. On the lower end, we find two audio and charging jacks.
Honor 5X vs Honor 5C: display
Both devices have an IPS LCD screen, but they are obviously not the same size. The Honor 5X 5.5-inch screen made it a phablet, while the Honor 5C is a smartphone at 5.2 inches. It is also interesting to note that the Honor 5X screen covers 72.2 percent of the phone, this percentage is much lower on the Honor 5C at 68.7 percent. In other words, if you like to play games or watch videos, you'll be more comfortable with the Honor 5X, which has the advantage of being a phablet.
The display definition is about the same on both devices: Full HD (1080 x 1920). The pixel density is slightly higher on the small model, which is about 424 pixels per square inch, while the larger version is only 401 ppi.
Regarding quality, I have not seen truly striking differences in everyday life. I might have a tendency to prefer the Honor 5X because the screen is a little easier to see in the sun. But if you do not have high expectations with your phone then the Honor 5C's brightness will do nicely.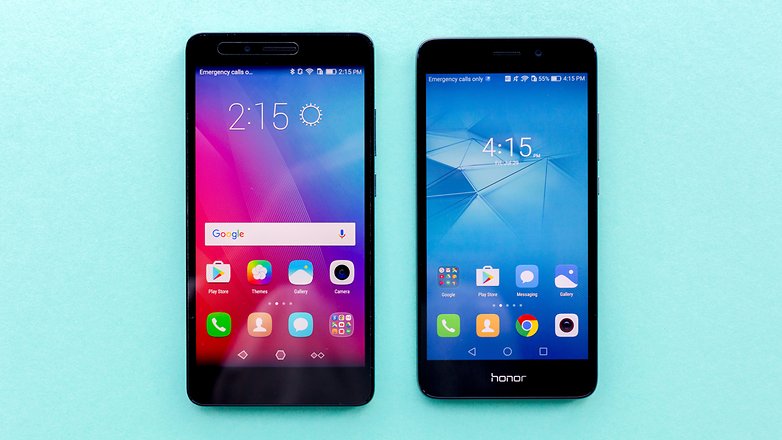 Honor 5X vs Honor 5C: software
Both devices utilize EMUI, Huawei / Honor the interface. However, each uses a different version: the Honor 5X comes with EMUI 4.0 while the Honor 5C functions with EMUI 4.1. Both run Android 6.0 Marshmallow. The 5X runs on EMUI 3.1 out of the box (Android 5.1.1 Lollipop) but can be upgraded to Android Marshmallow. In my case, the OTA update is still not available.
There are some differences between EMUI 3.1 and 4.1. The menus have been simplified under Marshmallow. We find the same functions, I think for example the concept of 'protected applications' which is more or less a version of Doze, enabling or turning off data when the display is on standby.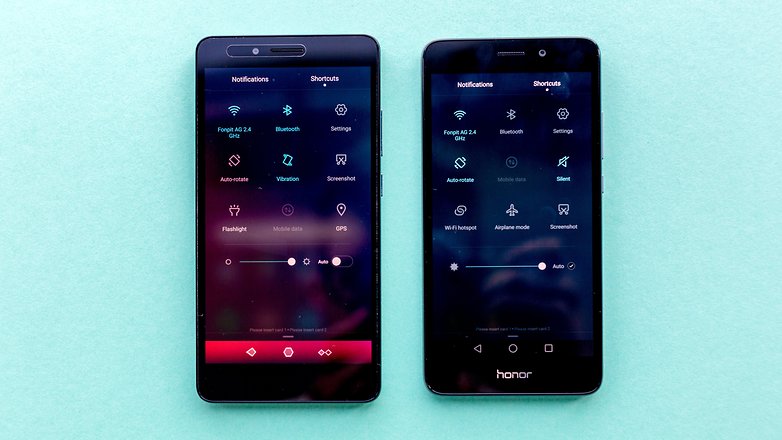 As you can see from the design, the Honor 5X also has a fingerprint reader, which is set up very easily in the options. It is very good, quite fast, accurate, and you can add more than one fingerprint.
From what I can see, EMUI 4.1 is much more stable on the Honor 5C. 3.1 is about the same on the 5X Honor. I encountered a rather peculiar bug with my camera. Maybe this is just bad luck, but in general I find EMUI 4.1 more intuitive and I have not encountered any problems with it. We'll see over the long run whether problems appear.
Honor 5X vs Honor 5C: performance
The Honor 5C is considered more low-end than the Honor 5X, which itself is not intended to be able to compete with flagship devices of other major brands. The Honor 5X octo-core processor operates at a maximum frequency of 1.5 GHz with its Snapdragon 616 and 2GB of RAM to back it up. It comes with an Adreno 405 graphics chip. On the Honor 5C, we have an octa-core processor with a maximum frequency of 2 GHz: the HiSilicon Kirin 650.
The smartphone processors perform quite well. Gaming should not be a problem and multitasking is smooth as long as you don't open too many big applications simultaneously.
These smartphones target different smartphone buyers
Of course, these two smartphones target different clientele. With its large display, the Honor 5X is intended for fans of multimedia content while the Honor 5C is aimed at people using their smartphones in a conventional manner: web surfing, instant messaging etc. In both cases, they are relatively easy to operate.
Honor 5X vs Honor 5C camera
As explained above, these smartphones should not be considered powerful devices, in terms of photography. Their cameras are pretty average. They allow for decent pictures in good light but don't expect perfectly clear images, especially in darker environments.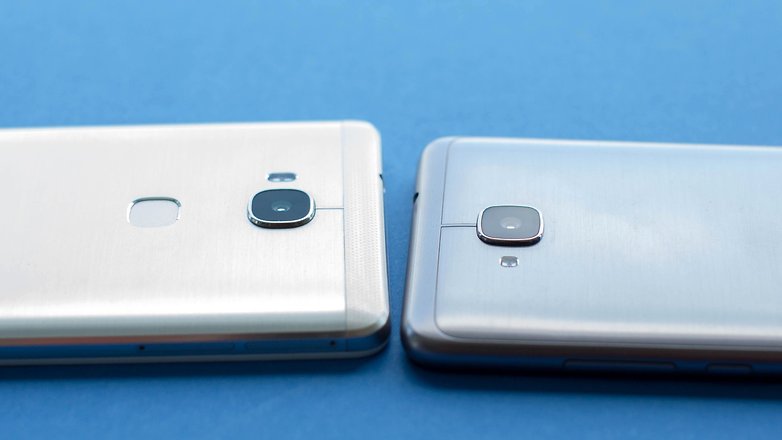 We can of course forget optical stabilization, it is not for devices in this range. But both cameras have enough potential to delight users of social networks. The devices have 13 MP cameras on the front with an f / 2.0 aperture. It's a little slow but precise and the Pro mode helps improve image quality. On the front, the Honor 5C offers an 8 MP sensor with an f / 2.0 aperture while the Honor 5X only has 5 MP with an f / 2.0 aperture.
In summary, if you don't have big expectations and simply want to take pictures for social networks, the camera systems of these devices will work for you.
Honor 5X vs Honor 5C: battery
Both smartphones feature a non-removable 3,000 mAh battery. It is quite interesting that a 5.5-inch unit and a 5.2-inch feature the same size battery, and it is even more interesting that there is no real difference between the two. This is at least the conclusion I arrived at with my use.
I used the devices for a day and a half under normal use without any battery problems. It's hard to imagine that it won't hold the whole day under heavy use.
Honor 5X vs Honor 5C: specifications
Honor 5C vs. Honor 5X technical specifications
| | Honor 5C | Honor 5X |
| --- | --- | --- |
| Dimensions: | 147.1 x 73.8 x 8.3 mm | 151.3 x 76.3 x 8.2 mm |
| Weight: | 156 g | 158 g |
| Battery size: | 3000 mAh | 3000 mAh |
| Screen size: | 5.2 in | 5.5 in |
| Display technology: | LCD | LCD |
| Screen: | 1920 x 1080 pixels (424 ppi) | 1920 x 1080 pixels (401 ppi) |
| Front camera: | 8 megapixels | 5 megapixels |
| Rear camera: | 13 megapixels | 13 megapixels |
| Flashlight: | LED | LED |
| Android version: | 6.0 - Marshmallow | 5.1.1 - Lollipop |
| User interface: | Emotion UI | Emotion UI |
| RAM: | 2 GB | 2 GB |
| Internal storage: | 16 GB | 16 GB |
| Removable storage: | microSD | microSD |
| Chipset: | HiSilicon Kirin 650 | Qualcomm Snapdragon 616 |
| Number of cores: | 8 | 8 |
| Max. clock speed: | 2 GHz | 1.5 GHz |
| Connectivity: | HSPA, LTE, Dual-SIM , Bluetooth 4.1 | HSPA, LTE, Dual-SIM , Bluetooth 4.1 |
Honor 5X vs Honor 5C: price and availability
You will find the Honor 5C for less than $200 with most sellers.
The Honor 5X comes in a bit higher at around $220 from vendors.
Honor 5X vs Honor 5C: verdict
As I explained above, it is difficult to make a bad decision by opting for one of these two smartphones. The important thing to keep in mind is that both of these devices aren't high performers cannot do it all. If you want a smartphone that really blows you away then you should go to a higher range.
If you plan to play a lot of games or watch a ton of HD video then you'll be more comfortable with the phablet. Alternatively, you can opt for the 5C which is more or less the same thing at the same price but has a newer software interface.
Which one do you prefer?