Honor 5C review: all in the family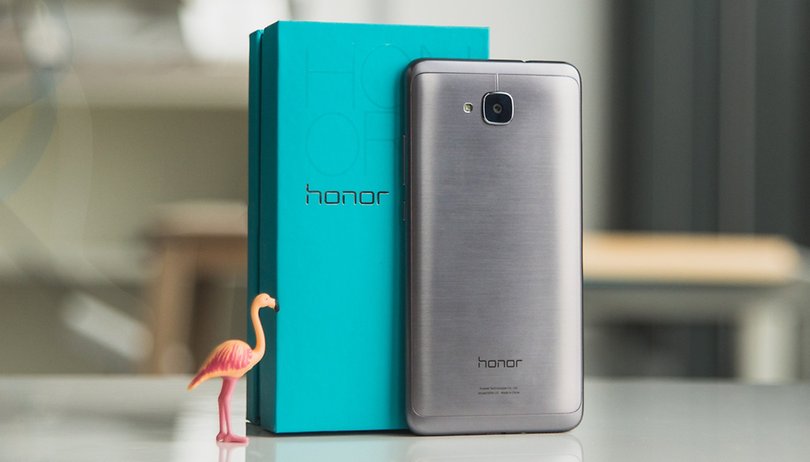 Honor was placed under the spotlight with the release of the Honor 7 and, to a lesser extent, the Honor 5X. Now the company's rise continues with the Honor 5C, a new smartphone that maintains quality standards and good value the Honor family is known for. Whether we've got a new blockbuster entry-level phone on our hands, you'll see in this Honor 5C review.
Good
Good design

Good battery life

Improved EMUI software interface

Good price-performance ratio

Great price
Bad
Back cover scratches easily

Disappointing display quality

Average camera
Honor 5C release date and price
This phone's predecessor, the Honor 4C, came with some caveats. But this year, Honor has corrected availability issues, for example, and now the Honor 5C can already be purchased on the official Huawei/Honor website. It'll set you back around $155 or, if you're in Europe, about €199. If you're spending pounds, expect to pay £149.99 via sites like Vmall. Don't wait too long, though, as Honor is offering a discount until July 31.
Regarding colors, Honor opted for classic colors reflecting premium design: gold, silver and gray.
If you want an alternative for around the same price, the Honor 5X is currently at the same price with a discount.
Honor 5C design and build quality
If you are familiar with Honor, you might be surprised when you get this smartphone in front of your eyes. First, its dimensions (147.1 x 73.8 x 8.3 mm) make it neither too big nor too small for average-sized hands; the screen is large enough to view multimedia content, yet it's compact enough to fit in the pocket. The weight, in turn, is 156g, only 2g less than the Honor 5X despite the size difference.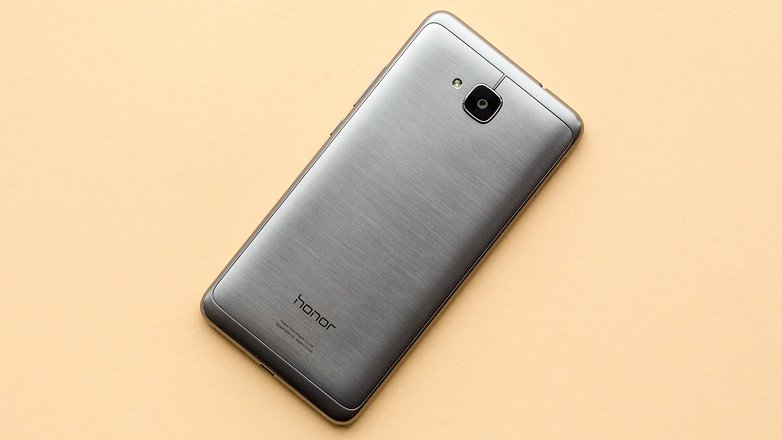 The volume buttons and the power button are on the right side. On the left is the SIM card slot.. It is possible for you to use a microSD but you may have to sacrifice one of your two SIM card as it is not possible to have all three in at the same time.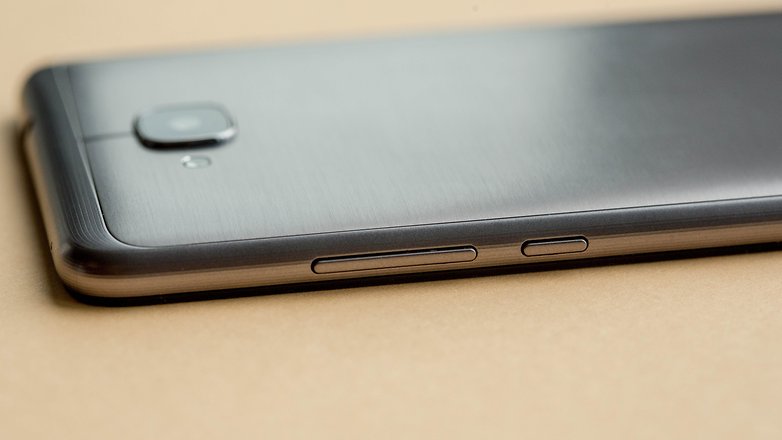 There's a little surprise on the front. Perhaps you're like me and asked why there was an empty space under the display of the Honor 5X, which is not particularly pretty. With the Honor 5C, Honor has solved the problem by placing its logo in this space. Perhaps is it not helpful to have the logo on the front of the device, but it's better than an empty strip. Above the screen is nothing extraordinary; a speaker, sensors and LED flash.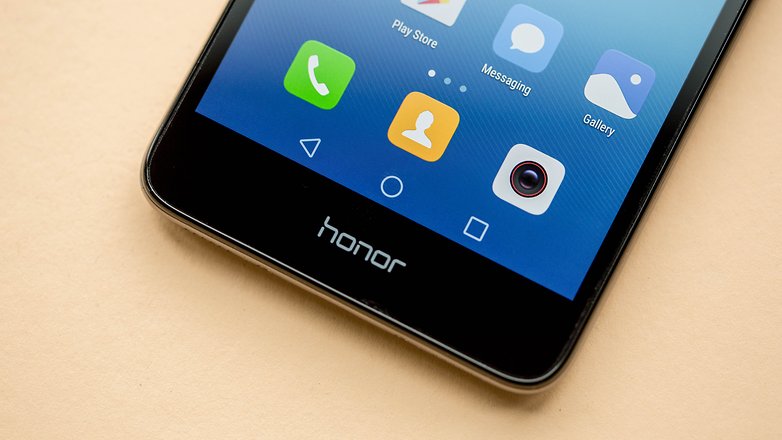 However, I must admit I was a little disappointed. The device is certainly brushed aluminum, but it is also a bit fragile. After just a week the first scratch appeared, although it's difficult to see with the naked eye. But they multiply over time.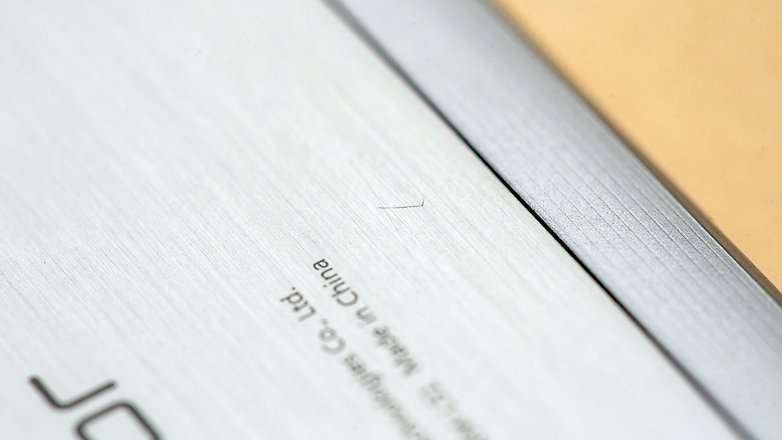 On the bottom of the device are two speaker grilles. Only one of them works - the other is only there to ensure aesthetic balance. Between the two grilles is a USB port that lets you charge the device. It's not Type-C, as you could imagine with a budget phone like this. On the upper edge of the unit is a microphone jack and a standard 3.5mm jack.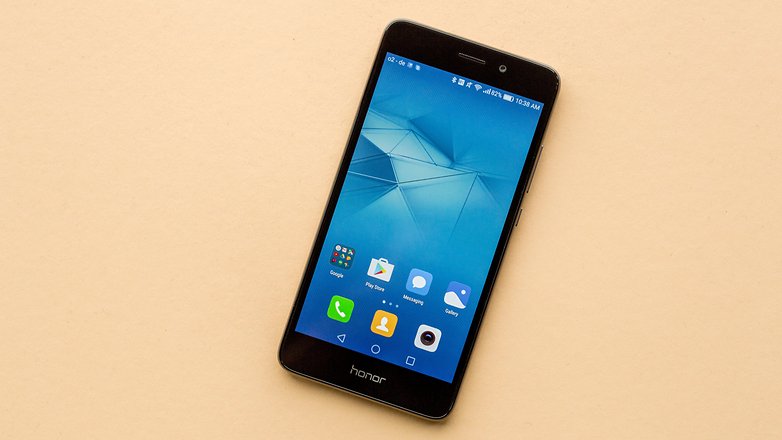 This phone isn't completely made of metal. There is plastic on the sides which ends at the top and bottom of the phone, which is a logical design for proper operation of the antennas. The phone's ergonomics are good and the rounded corners make it comfortable to use. You might dislike the absence of a fingerprint reader but, in my opinion, this was left out to maintain a difference in hardware between the Honor 5C and Honor 5X, justifying the (slight) difference in price.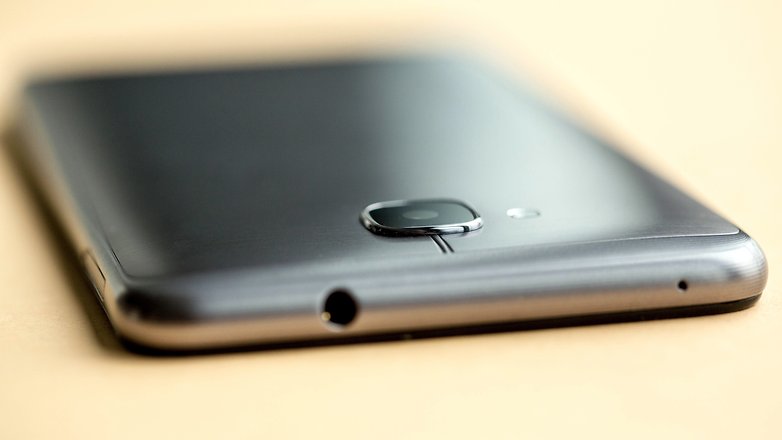 On the back of the device you'll find the logo and, above this, is the camera lens.
Honor 5C display
This screen is far from the best on the market. But for a phone of this price, it's more than satisfactory. Besides, for everyday use it should be sufficient for most users.
Here we have a 5.2 inch screen IPS LCD display. We could grumble because it has only a 68.7 percent screen-to-body ratio, (for comparison, the Honor 5X and Honor 7 were over 72 percent), but this is far from dramatic.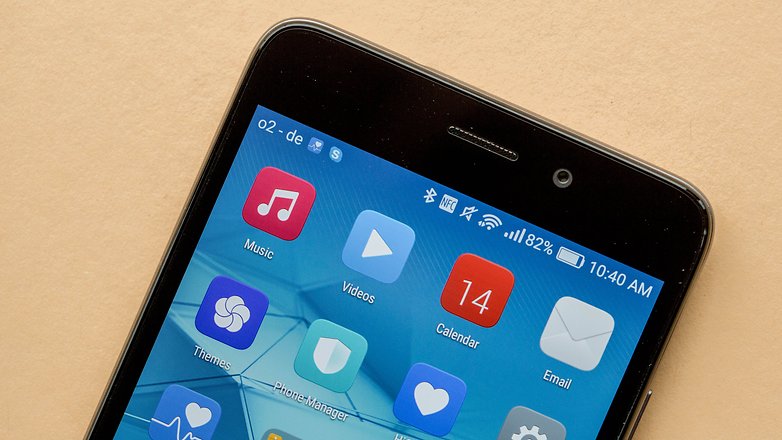 It's a Full-HD panel (1920 x 1080 pixels) with a pixel density of 424 ppi, which is as much as the Honor 7. The screen is pretty good but shows some limitations, especially if you are in the sun. If you want the display to fit your preferences, you can customize the color temperature.
Regarding protection, it doesn't use Gorilla Glass, but Honor has placed a protective film over the top to prevent scratches.
Honor 5C special features
Unlike its big brothers, the Honor 5C does not offer a fingerprint reader. But it permits the use of two SIM cards, or a SIM card alongside a microSD card. I suppose a majority of users want the option of a microSD card.
Honor 5C software
The Honor 5C runs on Android 6.0 Marshmallow with Huawei's EMUI 4.1 skin. Some Chinese manufacturers interfaces can be quite confusing, offering complicated copies of iOS, for example. What we find in the Honor 5C is, however, very pleasant to use. The interface is more intuitive, the settings menu has been modified and is now less confusing.
Interesting features
This new version of EMUI is not really revolutionary. Let's go over some tools that make it good.
In the previous version of this interface, there was already a tool like Doze that allowed applications to run (or not) in the background. If they are not activated in a list, they'll switch off when the phone is in standby. This can be a problem with instant messengers, as you could imagine. You can find the option in Settings > Advanced Settings > Battery management > Protected Applications.
Another interesting tool, too, existed on the old version: customizing notifications based on the application. For each, you can choose to receive a notification, plus one in the status bar and one also on the lock screen. This function has a bug in Lollipop and some users had problems with notifications not being displayed correctly. I didn't encounter this problem with the Marshmallow release. Anyway, you can find this option in Settings > Notifications & Status Bar > Notification Center.
You can also set what type of connection each application can use: only Wi-Fi, mobile data, or both. You can imagine that it's quite convenient for managing the consumption of data. To do this, simply enter the application menu, enter 'data consumption' and apply your preferences.
For the rest, EMUI remains true to itself. The notification bar is still divided into two; left for notifications, right for shortcuts.
Bloatware
One of the toughest characteristics to overcome as a stock Android user is EMUI's lack of app drawer. With a bunch of preinstalled applications, it's obviously not pleasant to find the home screen full of unwanted apps.
The manufacturer has preinstalled some in-house applications. We find a pedometer among other health applications. This runs by default and in the background. You then find social networks like Facebook and Twitter, Opera browser, the game Asphalt and some other apps. The good news is that you can uninstall most of them.
Honor 5C performance
Let's make things clear: this device is not able to compete with flagships. If you need a high-powered smartphone, go for one. If you have simple expectations, you're looking at the right phone.
This smartphone has an octa-core HiSilicon Kirin 650 processor, which is also in the Huawei P9 Lite. To support it, it's got a Mali-T880MP2 GPU and 2 GB of RAM. Benchmarking scores are in the table below:
GeekBench 3
Battery
PCMark
Battery
Google Octane 2.0
PCMark
Storage
PCMark
Work Performance
GeekBench 3
Multicore
GeekBench 3
Single core
3D Mark Ice Storm Unlimited ES 2.0
3D Mark Sling Shot 3.0
3D Mark Sling Shot 3.1
Honor 5C scores
8h 56min
8h 45min
3782
4876
5388
3904
893
11,760
566
378
Samsung Galaxy S7 Edge scores
10h 04min
-
10,292
4607
5077
6248
2018
30,310
2362
1977
Daily use?
I didn't run into lag problems, bugs or even crashing. For a camera in this price range, the performance is very decent. Of course, it is better not to run very intensive applications at the same time, but for normal use I think the average person would be very pleased with this smartphone. If your use is to just instant message and use lightweight applications, you're covered.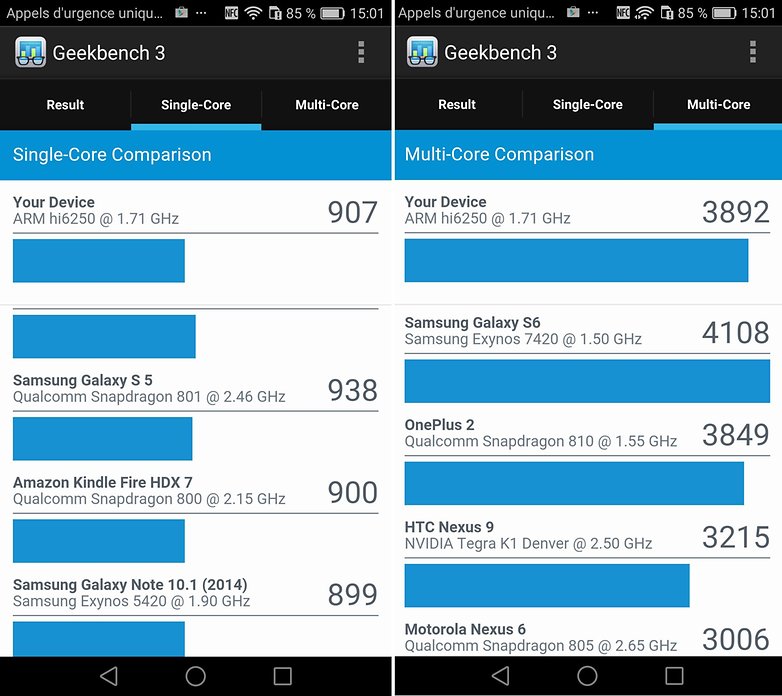 Honor 5C audio
Just like many smartphones (especially those of Honor), we find two grilles on the bottom edge of the device, but only one transfers sound.
Sound quality is not perfect, but it does well. It will meet the expectations of users who don't expect too much. Don't expect a miracle worthy of the great flagships.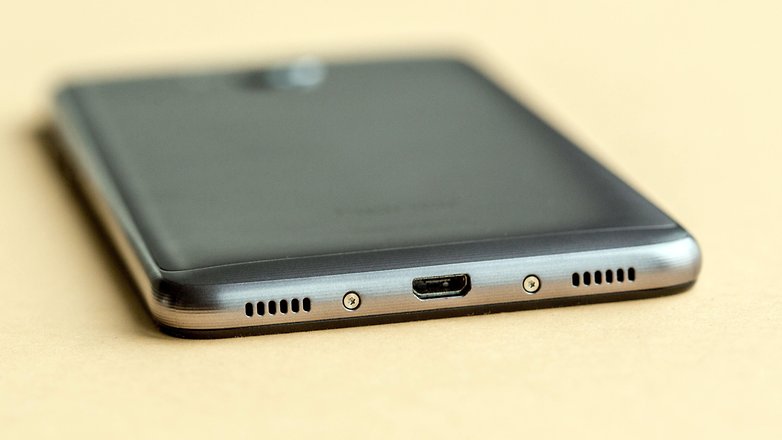 Obviously, the experience will be more enjoyable if you use headphones. Honor provides fairly standard headphones in the box, with sound quality that is quite good.
Regarding talking, I didn't encounter problems. A speaker is located on the front face of the phone, above the screen. My colleague and I could understand each other just fine.
Honor 5C camera
On paper, we can quickly get an idea of ​​what the Honor 5C camera is like.The main camera is a 13 MP unit with an f/2.0 aperture. The secondary camera has an 8 MP sensor with an f/2.0 aperture. Don't expect more high-tech options, such as an optical stabilizer.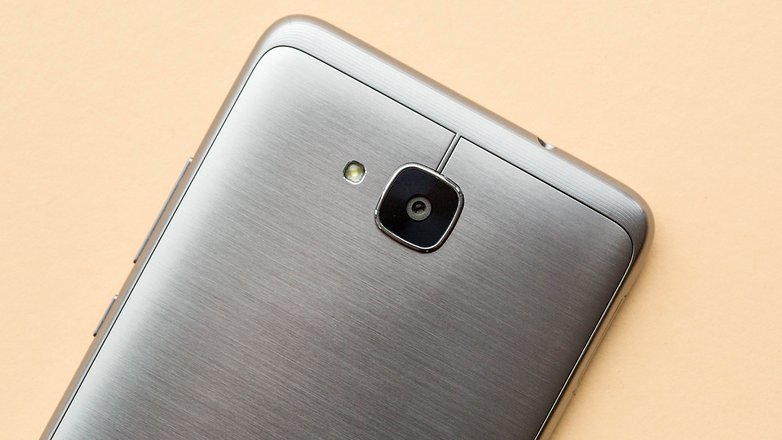 What about in practice?
If you shoot in bright environments (whether in sunlight or artificial light), you'll end up with photos that are more than acceptable. Autofocus is not the fastest, but it has the merit of being accurate. If the lighting conditions are not optimal, the noise will obviously be higher.
Fans of selfies will also not be disappointed. Of course, we are far from the quality that we can find on the flagships but, again, this Honor 5C offers a very good price-performance ratio.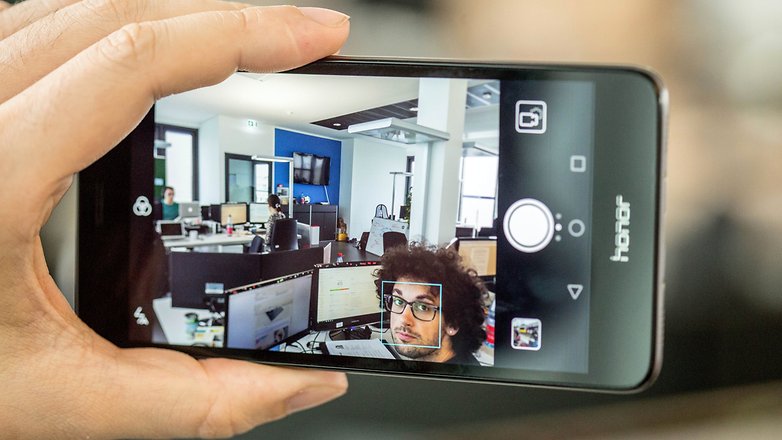 Camera application
Simply drag the screen to the left to access the features, to the right to access the different modes that Huawei offers. There are many modes, ranging from HDR and time-lapse, through the slow and beautification.
There's a Pro mode (as much for the video as for photos) that should not disappoint. You can, among other things, set up white balance to adapt your camera to different lighting conditions. You can also adjust other elements such as autofocus, and shutter speed.
Honor 5C battery
Like many current flagships, (like the Galaxy S7), the Honor 5C uses a battery of 3,000 mAh capacity. The Honor 5C knows quite well how to manage energy: with normal use, it lasts for a day and a half.
GeekBench benchmarks 3 and PCMark were 8h 56min and 8h 45min, respectively.
I had to recharge it every night, mainly because I was watching a fair bit of video. If your use is moderate and limited to instant messaging and emails, it is not impossible that you could be recharging every other day.
You can also manage power by opting for the Intelligent mode, which will increase battery life a tad. Ultra mode will save you a few hours. By default, the smartphone uses the Performance mode which optimizes the device for games and videos.
But the battery is not removable, which is not new in Honor, yet surprising for a device in this class. We can not have everything, especially at such a low price.
Honor 5C technical specifications
Final verdict
What the Honor 5C does, it does well. For the price, it's a bargain. Of course, we can't expect miracles, especially not of the camera, but if you're not hunting for the very best, you should seriously consider this phone.
For about $150, hardly any smartphone is able to compete with it. The price is so low that it almost competes with the Honor 5X, which is already difficult to beat for its great price-performance ratio.