Honor 20 Pro review: so close to greatness, yet so far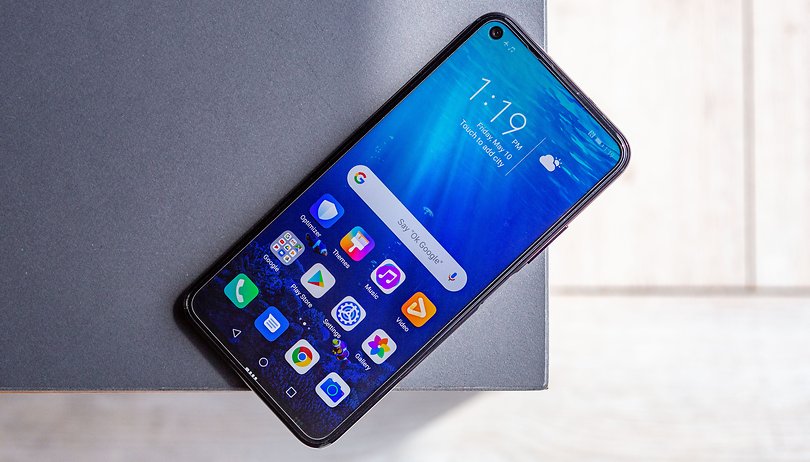 Gradually, Honor made its bed. The brand is increasingly emancipating itself from its parent company Huawei. The most recent example is the new Honor 20 Pro, which is not a direct clone of the Huawei P30 Pro but goes its own way. Discover what it's all about in our complete review.
Good
Design

Performance

Camera
Bad
No OLED display

Price

What about updates?
Much cheaper than the Huawei P30 Pro
Officialized at the end of May, the Honor 20 Pro experienced some difficulties to finally be commercialized. The fault lies in the complicated mess Honor is facing regarding the decision of the American government and its decree to prohibit its companies from sharing their telecommunications technologies with foreign "at risk" companies. While waiting for a possible agreement, Honor still managed to obtain Google's certification for the Honor 20 Pro, eventually.
The Honor 20 Pro launched in the UK on August 1 with 8 GB of RAM and 256 GB of internal storage. The Honor 20 Pro is available in Phantom Black and Phantom Blue. Its price? £549! Certainly, it is cheaper than many of its competitors (at least the base price) but it is also the first time that Honor has gone so high. In addition, with this delayed launch, the Honor 20 Pro also competes with devices such as the Galaxy S10, which has seen its price drop significantly. In short, the competition is tough this year.
If you like it cheaper, you can get the Honor 20 which costs about 100 quid less. However, there are some differences in the camera and memory. You can also opt for the Honor 20 Lite which was introduced before the two new models.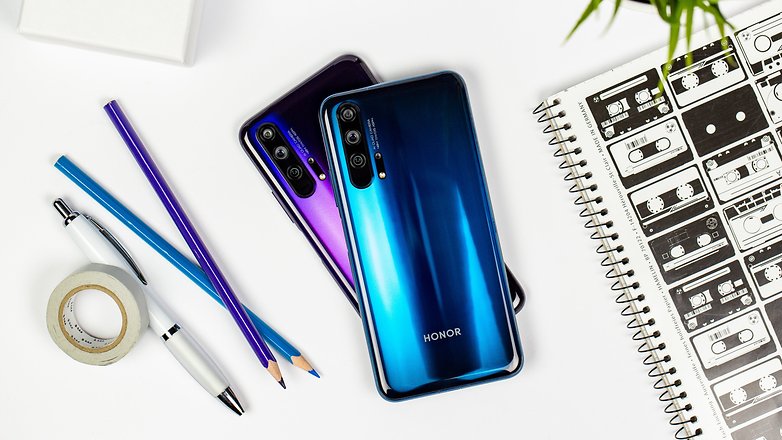 Special techniques for a chic design
Honor, like Huawei, attaches great importance to design and eye-catching colors. The Honor 20 Pro is no exception and hides its technology in a very elegant case. Honor named the design its 'Dynamic Holographic Design'. The manufacturer also explained that its manufacturing process, based on three layers of glass on top of each other, is completely new. It will attract attention, especially the black version, which shines purple under the light.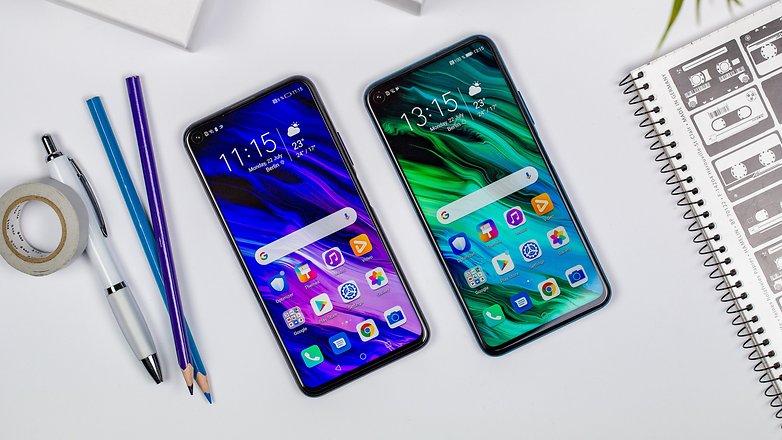 For the rest, Honor follows the trends: we find glass at the front and rear as well as a thin metal frame. There is a hole in the front, as was the case on the Honor View20 screen. The opening is 4.5 millimeters and is barely noticeable when you get used to the device. Personally, it is a choice I appreciate because it is quickly forgotten in everyday life and offers a better experience during gaming.
The fingerprint reader is located on the side on a button that also acts as a standby switch. Its speed is exemplary, as is its efficiency, and under no circumstances does it make you regret the absence of a fingerprint reader under the screen. Aesthetically, its side positioning is a perfect alternative. In the end, the only design disappointment concerns the camera module housing the various sensors, which protrudes quite strongly and makes the phone unstable when it is placed on a flat surface.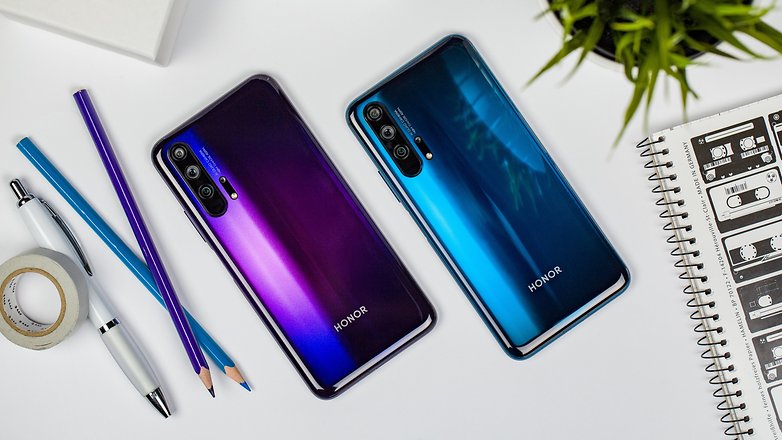 With its curves and shapes, the Honor 20 Pro is very pleasant to hold. The use with only one hand, promised by Honor, is made possible with the dimensions of the device: 154.6 x 74 x 8.4 mm. Its weight of 182 grams does not make it the lightest smartphone though.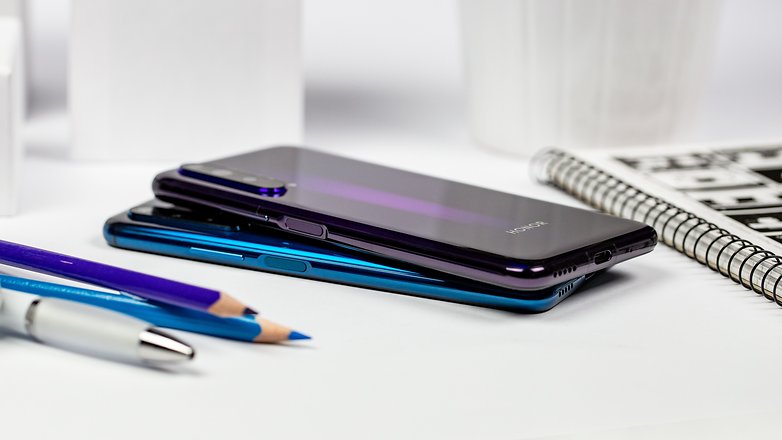 There is no IP certification, which is unfortunate. There is no headphone jack either, or stereo speakers, but USB-C (with the USB 2.0 standard) is there.
Android 9 Pie and Magic UI are of course also present. The latter has been developed separately from EMUI for some time, but has many similarities with the Huawei system. Everything is done in a very fluid way. Applications close and open quickly. The interface would simply need a small overhaul to look more modern and no longer have any similarity with iOS. It also remains to be seen whether the smartphone will receive all future updates from Android. Honor's promises are in line with this, but tensions between the US and China could also change plans. So it's a bit of gamble you'll have to take when buying the Honor 20 Pro.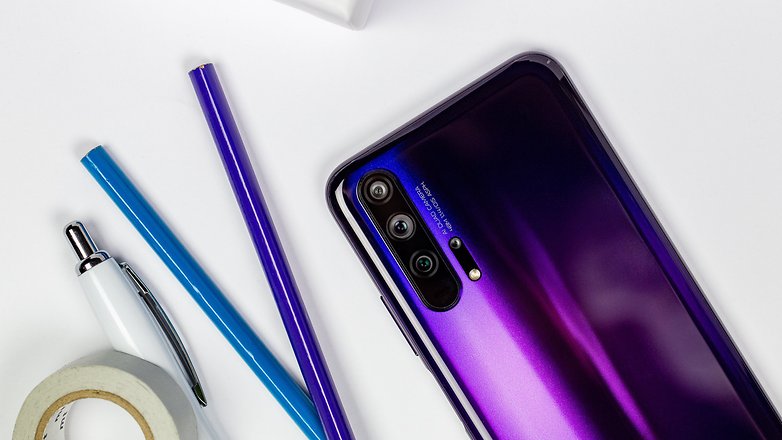 LCD with hole, instead of OLED display
The relatively low price of the Honor 20 Pro (compared to the other flagships with which it is intended to compete) is reflected in particular in the screen technology. Honor opted for an LCD screen instead of an OLED. The screen is rather large with a diagonal of 6.29 inches. The Full HD+ definition is sufficient for daily use.
In direct comparison with a high-resolution OLED display, we can see that the Honor 20 Pro's LCD display shines a little less, the angles are not as good and the blacks are not as deep. Despite this, overall the screen of the Honor 20 Pro is good, especially since the screen can be adapted to your own tastes.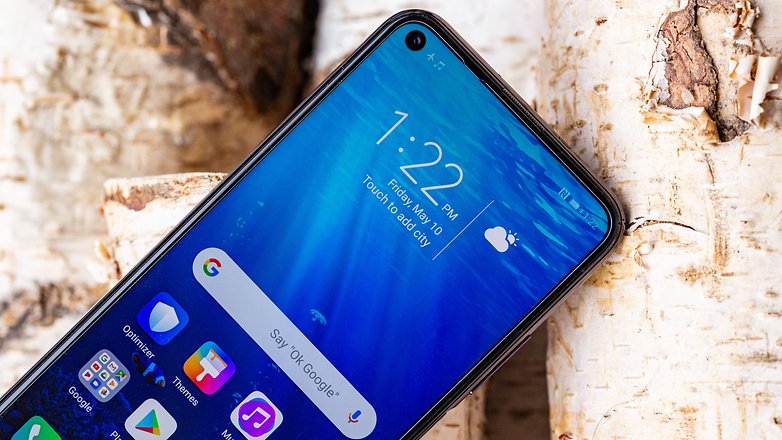 Full power and memory
Under the hood, the Honor 20 Pro carries the Kirin 980 processor, the one used on all Huawei and Honor flagships in recent months. There is 8 GB of RAM available to support it. Not surprisingly, the Kirin 980's performance is excellent . Everything runs well, there are no crash or lags when the application starts. The large amount of RAM does the rest and ensures impeccable performance. The smartphone is no different from the Huawei P30 Pro in this regard.
Honor 20 Pro benchmark results
| | Honorary P20 Pro | Huawei P30 Pro | Samsung Galaxy S10+ |
| --- | --- | --- | --- |
| 3DMark Sling Shot Extreme | 4012 | 3990 | 4371 |
| 3DMark Sling Shot Vulkan | 4001 | 3995 | 4276 |
| 3DMark Sling Shot | 3211 | 3228 | 4503 |
| 3DMark Ice Storm Unlimited | 36487 | 35981 | 56128 |
| Geekbench 4 (Single / Multi-Core) | 3280 / 9746 | 3283 / 9750 | 4175 / 10 031 |
| PassMark Memory | 30265 | 30190 | 19777 |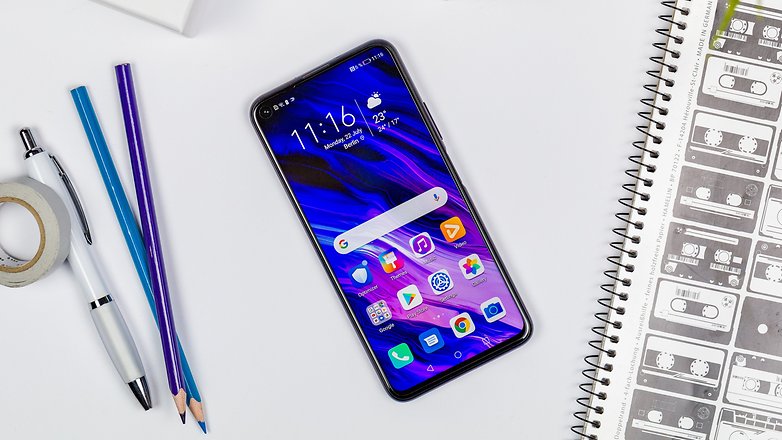 No headphone jack and a mono speaker
Honor gave in to the temptation by not offering a 3.5mm jack on this phone. It's always a small disappointment (in my opinion) because it forces users to choose Bluetooth headphones. To make it up to you, Honor offers a USB-C to 3.5mm adapter in the box, but it's not very practical to take with you on a daily basis.
The Honor 20 Pro also has only one loudspeaker. However, even though there is no stereo, the sound remains good with sufficient volume and correct clarity. Just be careful not to put your hand on the grid when you are watching multimedia content.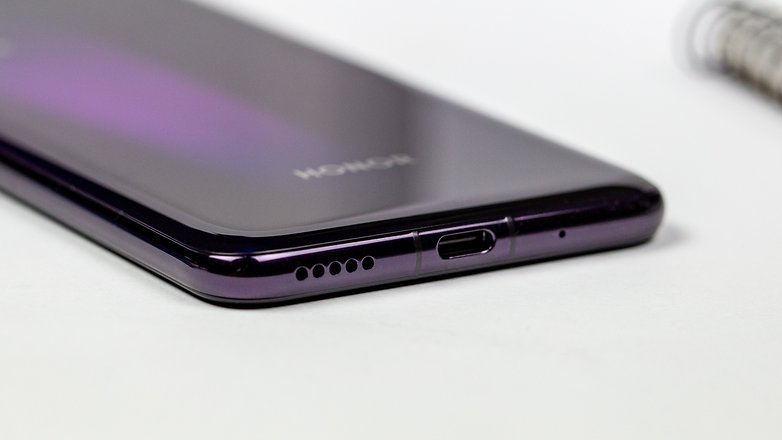 Four cameras and a nice result
In terms of the camera, we can see a clear difference with the P30 Pro because here Honor follows its own path and does not use a ToF camera. Instead, there are four 'real' cameras in the back of the Honor 20 Pro. Let's look at them: There's a 16-megapixel ultra-wide-angle camera, the main 48-megapixel camera with a large f/1.4 aperture, an 8-megapixel telephoto lens with a triple zoom, and even a 2-megapixel macro camera. The telephoto lens and 48-megapixel main camera are equipped with an optical image stabilizer. Here is the configuration:
16 MP ultra-wide-angle, 17 mm focal length, 117-degree field of view, f/2.2 aperture
48 MP normal focal length, Sony IMX 586, f/1.4 aperture, OIS, 1/2 inch sensor
8 MP telephoto lens, 80 mm focal length, OIS, f/2.4 aperture
2 MP macro, 27 mm focal length, f/2.4 aperture
The Huawei P30 Pro has an even more powerful zoom, but no specialization for the macro. The Honor 20 Pro is also equipped with Huawei's Super Night mode, and of course, the presence of the AI is ensured with the Kirin 980. It is activated in one click from the camera app.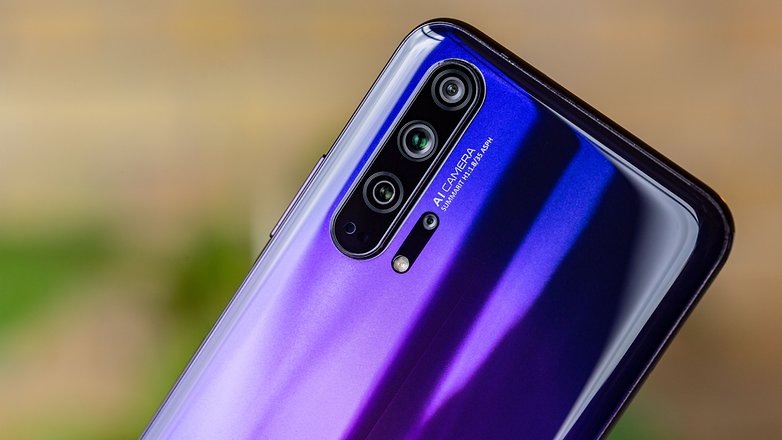 As a result, the Honor 20 Pro is a good camera phone. A 48 MP mode is present but it is the default 12 MP mode that you will use the most (and that I recommend). Like most of its competitors, the shots are excellent when the light conditions are good, but a little more random when they deteriorate.
The Super Night mode works well but I always remain rather skeptical at times that the shots taken do not reflect the reality of the situation, and the dedicated macro lens is also successful but its usefulness remains questionable. The wide-angle does its job just as well, and the x3 optical zoom is just as good.
The front camera takes 32-megapixel pictures and the selfies are generally of good quality. Videos are shot in 4K resolution at up to 30 frames per second, and once again, the Honor 20 Pro suffers more when lighting conditions deteriorate.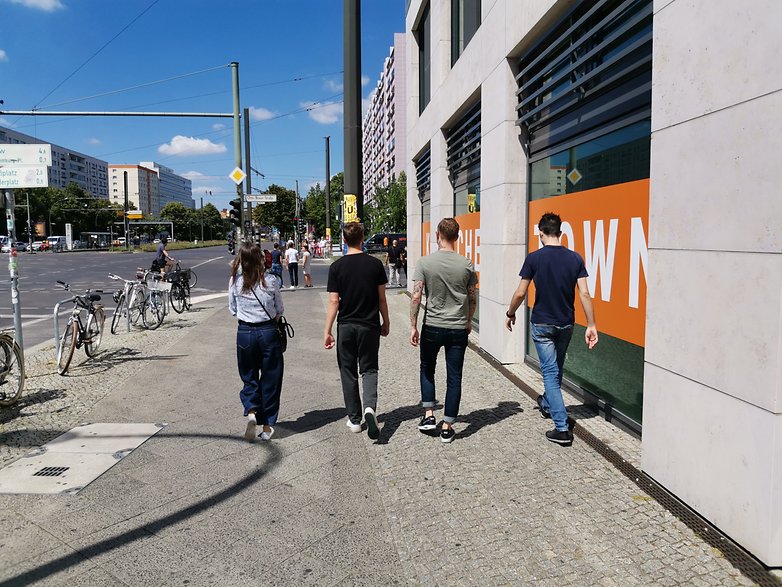 The Honor 20 Pro succeeds in its mission but for £549 it is not the best camera phone you can buy. The arrival of Google Pixel 3a has changed the game, and if it is only this aspect that interests you, then it would be better to turn to Google's more economical device.
Battery that is faithful to expectations
The Honor 20 Pro's battery is quite big with 4,000 mAh , which is a good thing. The new model follows in the footsteps of the Honor View 20 and Huawei Mate 20 Pro. The Honor 20 has 3,750 mAh. The two Honor smartphones cannot be charged wirelessly, but they are compatible with SuperCharge and 22 watts relatively quickly by cable. I counted 50% in about 30 minutes and about 1 hour 45 for a full recharge.
On a daily basis, the Honor 20 Pro perfectly fulfills its mission. Even with intensive use (videos, calls, messages, games, web surfing...), you spend a day without any worries (six hours of screen time). You do not need to recharge it in the late afternoon if you want to use it during the evening. For less demanding users, it will even be possible to use the smartphone for 2two full days!
However, the smartphone has less stamina than the Huawei P30 Pro, the reason being certainly in the LCD technology and not OLED of the Honor 20 Pro display which is more energy-consuming.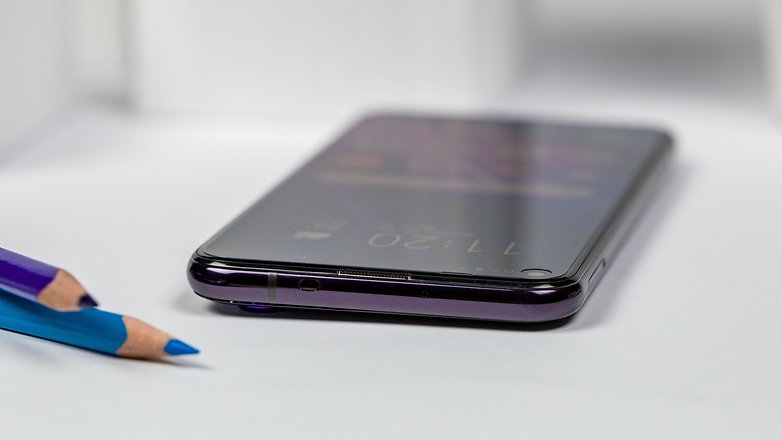 The smartphone scored 11 and a half hours in the PCMark battery test with brightness at 50%. At 100%, the smartphone still lasts 7 hours 45 minutes.
Honor 20 Pro technical specifications
| | |
| --- | --- |
| Dimensions: | 154.6 x 73.97 x 8.44 mm |
| Weight: | 182 g |
| Battery size: | 4000 mAh |
| Screen size: | 6.26 in |
| Display technology: | LCD |
| Screen: | 2340 x 1080 pixels (412 ppi) |
| Front camera: | 32 megapixels |
| Rear camera: | 48 megapixels |
| Flashlight: | LED |
| Android version: | 9 - Pie |
| User interface: | Emotion UI |
| RAM: | 8 GB |
| Internal storage: | 256 GB |
| Removable storage: | Not available |
| Chipset: | HiSilicon Kirin 980 |
| Number of cores: | 8 |
| Max. clock speed: | 2.6 GHz |
| Connectivity: | HSPA, LTE, NFC, Dual-SIM , Bluetooth 5.0 |
Final verdict
Is the Honor 20 Pro an excellent Android smartphone? The answer is obviously yes. The smartphone offers a remarkable everyday user experience with very good performance, endurance and photo quality that is more than acceptable overall. All of this in a compact and elegant case.
Is it really different from the Honor 20 and its competitors? Unfortunately, not really. In any case, not enough to justify the price. If the smartphone had been launched in June, the road would certainly have been clearer for the Chinese manufacturer. Unfortunately, due to the conflict between the United States and Huawei, the Honor 20 Pro only arrives at the end of the summer and is confronted with many smartphones (Galaxy S10, Mate 20 Pro, Xiaomi Mi 9, Google Pixel 3a...) offering more attractive price-quality ratios.