Google Nexus 6 review: still the biggest, but is it the best?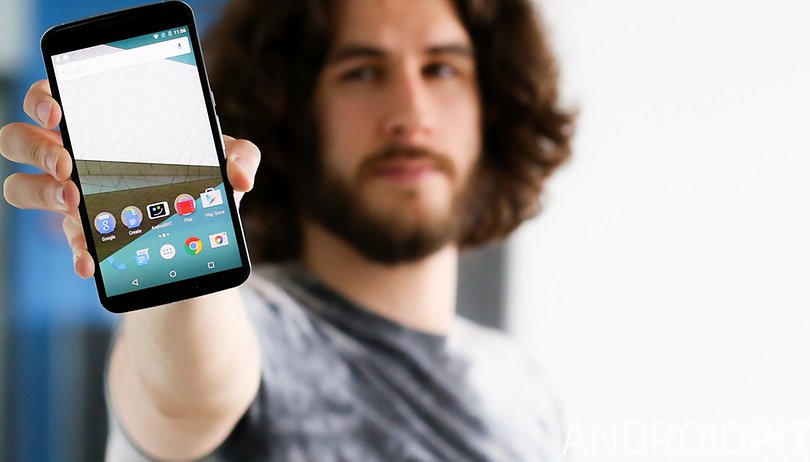 Ever since the Galaxy Nexus appeared on the scene, Nexus phones have been associated with exceptional value for money, and flagship quality. The Nexus 6 bucked that trend slightly, with a lofty price and a 6-inch screen that looks beautiful, but is too big for many peoples' hands. Our initial skepticism about the Nexus 6 eventually faded though, and we gave it a four-star review when it was released.
A number of months later, and with fierce competition in the form of the Samsung Galaxy Note 5 and LG G4, does it still stand strong among flagship smartphones? Read our updated Google Nexus 6 review to find out.
Good
Huge screen (for big hands)

Stereo speakers

Quality camera

Great battery life
Bad
Huge screen (for small hands)

Problems with wireless Nexus charging dock

Relatively dark display, with slight pink hue at lowest brightness
Google Nexus 6: All deals
Google Nexus 6 release date and price
The Nexus 6 price is higher than that of previous Nexus phones when they first came out. It is available to buy now in the US and UK at Amazon, the Play Store, Motorola and other outlets. The 32 GB variant costs US$649, while the 64 GB version costs US$699 (£499 and £549 in the UK, respectively). It's available in Cloud White and Midnight Blue colors.
Google Nexus 6 design and build quality
The Nexus 6 looks like an oversized Moto X (2014), which may leave some thinking that Motorola took a bit of a shortcut on the design. But let's not nitpick. The Moto X is a wonderfully-designed phone, and the Nexus 6 is well-crafted and feels great to hold. It has an elegant yet practical design, thanks to the slightly rounded back.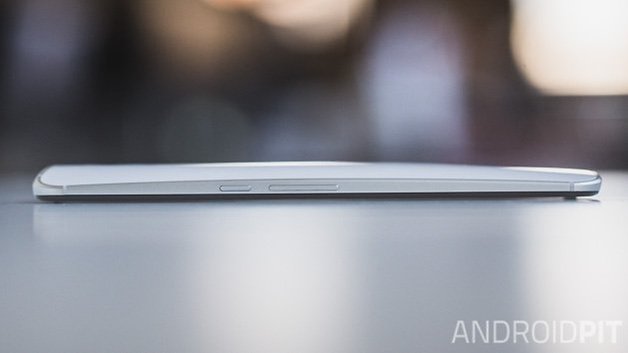 Then there is the matter of the size. The Nexus 6 is so big that you could hide even a Galaxy Note 4 behind it. The phone is definitely not great for people with small hands, and even though I have relatively big hands, it took me a while to get used to it. Top-of-the-phone tasks, such as pulling down the notifications bar or tapping the Google search bar, will most likely need to be done with your other hand.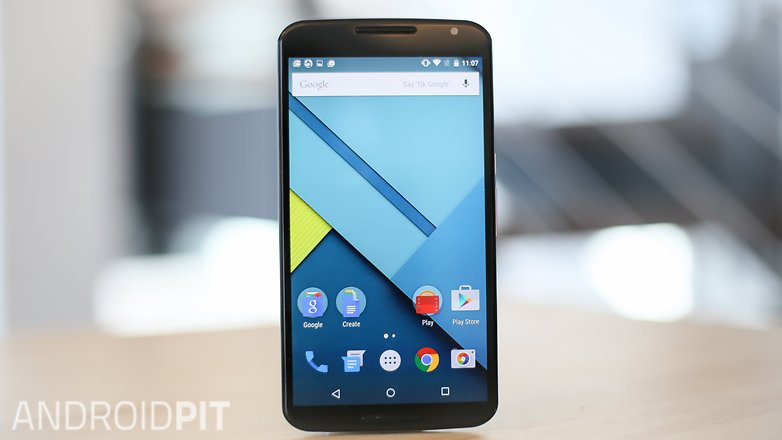 That said, I was pleasantly surprised at how quickly I became accustomed to its large size, and appreciated the obvious usability advantages – more accurate typing, greater precision in navigation, bigger text, etc.
The raised stereo speakers unfortunately attract dust particles and dirt, and the display suffered from the same slight stickiness as the Nexus 5. On the plus side, the Nexus 6 is more resistant to fingerprints than its predecessor, so at least the screen stays looking fresh even if it could feel a bit better.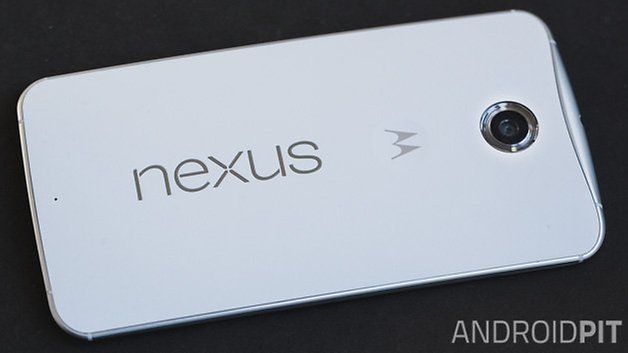 Also, worrying rumors about the letters on the back of the Nexus 6 peeling off proved unfounded in our review. We gave them a good scratching and rubbing (no scalpels were involved), and the letters stayed visible and in place. So there's another malicious Nexus 6 rumor quashed.
Google Nexus 6 display
Google and Motorola planted a 6-inch AMOLED display with QHD (2,560 x 1,440) resolution on the Nexus 6, with a pixel density of 493 ppi. Individual pixels could only be distinguished with a magnifying glass and even then they are hard to make out. The text is razor sharp, colors vibrant yet not over-saturated.
The maximum brightness is slightly darker on the Nexus 6 than other smartphones. When placing the Nexus 5 next to the Nexus 6, with both displays at 100 percent brightness, the predecessor was clearly brighter. That said, I had no problems reading the screen outdoors, nor in any other scenarios, thanks to the useful auto-brightness.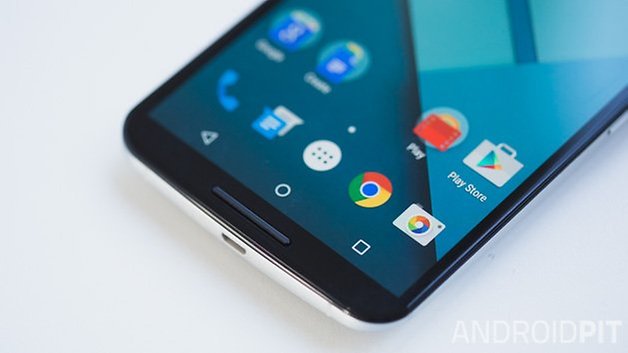 Pure whites on the screen have the slightest pink hue, not enough to be a distraction, but you don't expect such niggles on a pricey flagship phone. It might be a minor complaint, but in this regard the Nexus 6 falls against the recent competition.
Google Nexus 6 special features
The Nexus 6 supports Qi wireless charging, but the Qi charging dock is sold separately. This feature worked well with the Nexus 5, which was magnetically attached to its official charging dock and didn't budge when the phone vibrated.
Unfortunately, the curved back on the Nexus 6 means it has issues laying on flat surfaces, so when it received messages while lying on the dock, it would steadily rotate as it vibrated. This is not helped by the fact that it lacks the magnetic docking function of the Nexus 5.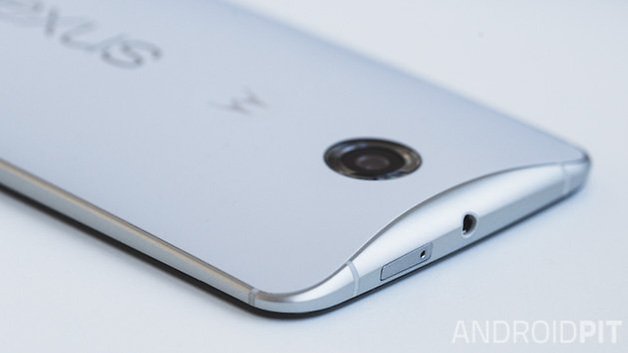 The Nexus 6 does come with a Turbo Charge cable though, which delivers on its promise to deliver a six-hour charge in just 15 minutes.
Google Nexus 6 software
The Nexus 6 comes with stock Android 5.0 Lollipop, and is first in line to receive the latest OS updates. This means that the Nexus 6 should receive the final build of the Android M earlier than the competition. You can install the Android M developer preview on it right now if you want find out what to expect from the next version of Android.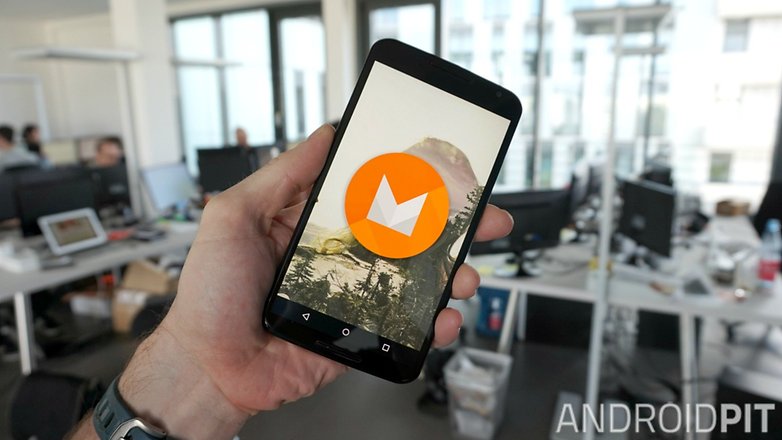 The Nexus 6's stock Android interface represents Android at its most pure, free from the typical bloatware and unwanted features tacked on by third-party developers. It's the cleanest and generally most sought-after version of Android. That being said, there are some elements missing from stock that it could benefit from: read more about those at the link below.
The best features stock Android doesn't have
Google Nexus 6 performance
The top-end Nexus 6 specs ensure that it runs smooth. Apps start quickly, animations are silky, and most games can be played without any jitters (which is exceptionally fun on a 6-inch screen).
Having said that, the QHD resolution is much more demanding than 1,080p and this was noticeable now and again, especially with very demanding games, which inevitably run less smoothly than on Full HD screens. This problem isn't unique to the Nexus 6 though; other QHD devices, including the LG G3, Galaxy Note 4, and even the Galaxy S6, suffer from the same symptoms.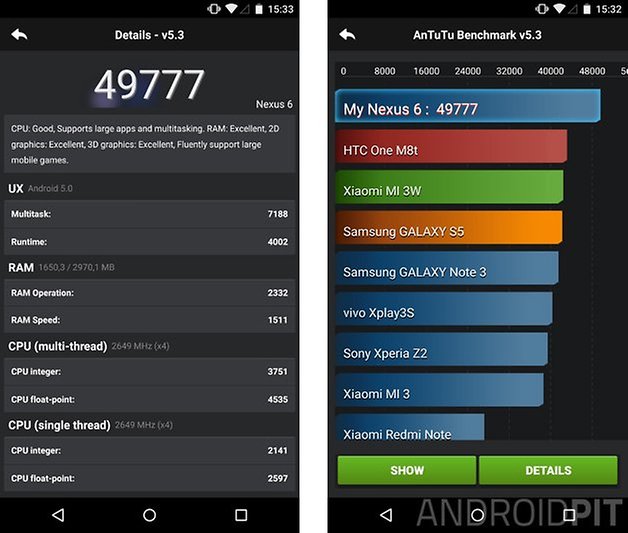 Data encryption and Smart Lock make Android 5.0 Lollipop the most secure yet
Google Nexus 6 audio
The stereo speakers on the Nexus 6 look and sound great. They're loud and crisp (as smartphone speakers go), but try not to get carried away using them on trains and buses – unless you're surrounded by audio enthusiasts, no one will appreciate their sound in the way that you do. When you and your friends start hitting parks in the summer though, the Nexus 6 speakers will serve you well.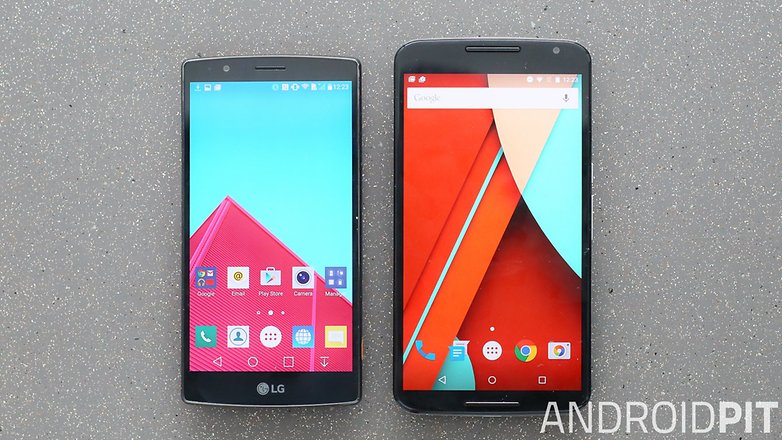 Reception and voice quality on the Nexus 6 get full marks. On the same network as the Nexus 5, the Nexus 6 would sometimes get three bars of signal where its predecessor would only get one. Phone calls sounded crystal clear, with no background noise or other nasty interference getting in the way. Google has also promised to include HD audio calls in the incoming Android 5.1 update, which should further boost phone call quality.
Google Nexus 6 camera
The Nexus 6 camera boasts 13 MP and takes great pictures. Pictures snapped in low light conditions have very little noise and the amount of detail is satisfactory. Sometimes the camera takes a little time to focus, but otherwise there is very little to complain about. We didn't notice any advantages to the ring-shaped Dual LED flash on the phone – flashed pictures didn't look any better or worse than those from other phones.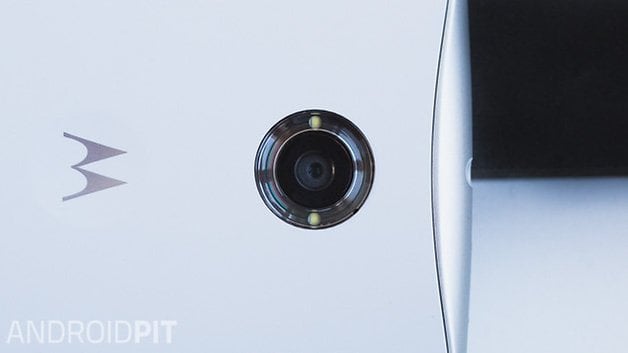 Take a look at our image gallery to see the results of our camera test.
Google Nexus 6 battery
Blasting away all worries that a massive 6-inch display would be a battery drain, the 3220 mAh battery in the Nexus 6 ensures that you'll have more than enough juice to get through the day.
During this review, I took countless pictures, watched videos, listened to music, and surfed the internet. After about 27 hours of use, the battery was down to 17 percent with the display having been active for three hours. The Nexus 6 battery isn't as long-lasting as the Sony Xperia Z3, but at least you won't have to worry that the battery will be drained after just half a day's use.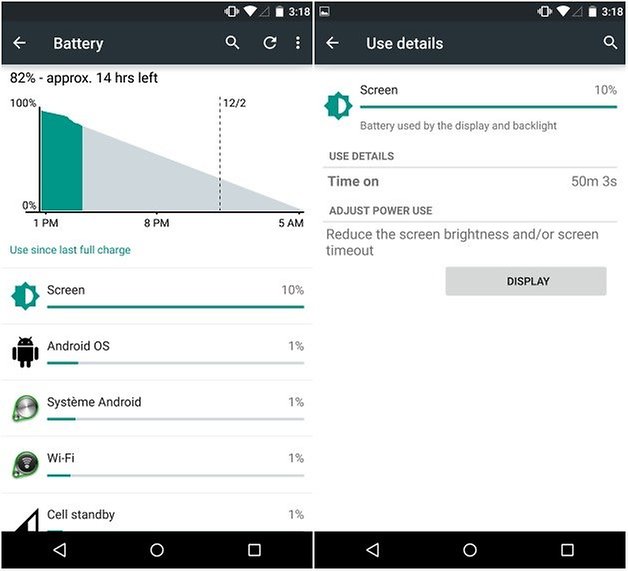 Google Nexus 6 technical specifications
Final verdict
Google and Motorola pushed the bar way up for future Nexus phones with the Nexus 6. It has sucessfully addressed past problems with the camera and battery. If you can deal with its formidable size and want to stay on the front-line of Android updates, then the Nexus 6 is for you.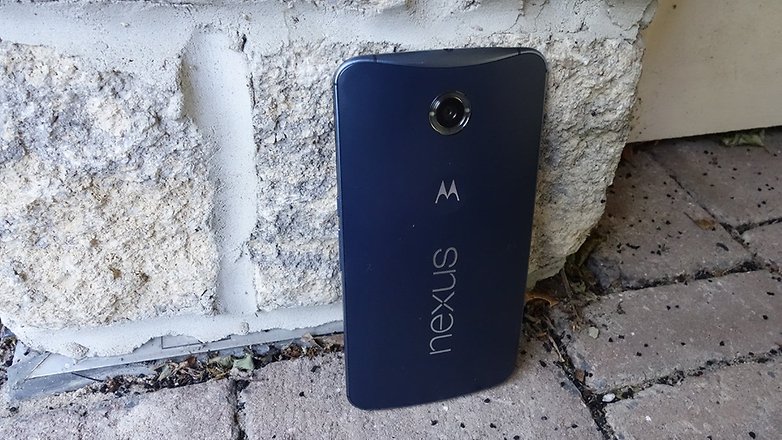 In terms of processing power, it's no longer a match for the likes of the Samsung Galaxy S6, but it can also be found for quite a bit cheaper now, and its phablet screen is unmatched for its combination of size and quality. The Nexus 6 is a unique and bold phone, and is still worth considering even in light of recent competition.
What do you think of our Nexus 6 review? Has it persuaded you to get a Nexus 6, or are you waiting to see what flagship phone Google has in store for us in 2015?
Updated 14/08/15 by Scott Adam Gordon, Translated from AndroidPIT Germany's Nico Heister.
Google Nexus 6 - where to buy?
Please note: only the lowest tariffs and main networks are shown. Cheaper deals may be found with re-sellers.
UK
The Google Play Store or Motorola UK are probably the best places to visit if you want to pick up the Nexus 6 off-contract. Motorola has regular deals and it has dropped the price of the Nexus 6 a number of times this year. Currently it is back up to the normal price of £479 for the 32 GB version and £549 for the 64 GB version.
Vodafone £40/£50 p/m (£0 upfront) with unlimited minutes, unlimited texts, 6 GB / 10 GB data (32 GB model)
US
Like the UK, Motorola's own store is a great place to find the Nexus 6 on sale, as it currently is. Right now you can get the 32 GB Midnight Blue or Cloud White model for $499.99, down from the normal asking price of $649.99, and the 64 GB model for $549.99 instead of $699.99.
Verizon $77 p/m ($0 upfront) with unlimited talk, unlimited texts, 1 GB data
T-Mobile (pre-owned) $70.83 p/m ($0 upfront) with unlimited minutes, unlimited texts, unlimited data (1 GB 4G LTE data), $499 outright
All information correct at the time of publication (August 14, 2015)