Mini PC in pretty special edition: Geekom Mini Air 11 for the anniversary at a top price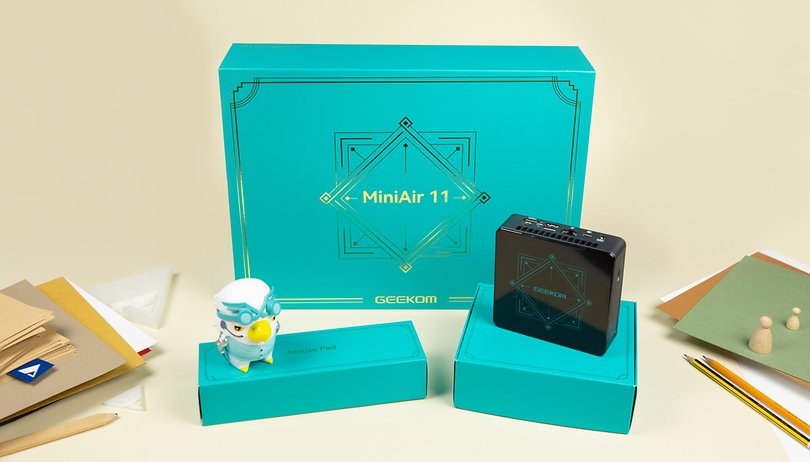 The Geekom Mini Air 11 is not much larger than a cheese box. However, it is supposed to replace your large and, above all, power-hungry desktop PC. We reviewed the computer, which costs less than $250, and reveal whether it is worth buying for a home office environment. Not only has Geekom revealed its new mascot to celebrate its anniversary, you can also obtain great discounts on its selection of computers!
Price & Availability
The Geekom Mini Air 11 is already available in stores. On the manufacturer's site, it is listed with a single storage configuration with 8 GB of RAM and a 256 GB SSD for internal storage. Geekom celebrates its 19th anniversary in October 2022 (has it been that long already?). Until October 28, you can secure great discounts on various mini PCs via the following landing page.
Geekom also generated a special discount code for NextPit readers. If you enter "19thAIR11BOX" when buying, you save another $30. The overall price will then be reduced from $279 to $249.
Geekom also took the opportunity to introduce "Geagle", its new mascot, for its anniversary. We took a look at one of the available mini PCs in August. The Geekom Mini Air 11 Special is not only available for $279 instead of $299 you also get a special edition model with a mascot figurine and other goodies in the box. In an update on October 10, we reviewed this bundle for you and updated our former hands-on.
All Geekom anniversary offers at a glance
Note: This article was written in cooperation with Geekom. This had no influence on the exact content and editorial opinion.
Design & Connectivity
The Geekom MiniAir 11 measures 11 cm x 11.5 cm x 4 cm. At this size, it does not fit in a pocket, but it hardly takes up any space on the desk, either. The number of connectivity options happen to be higher than in many notebooks, too! In this special 19th anniversary edition, the Mini Air 11 ups the attractive ante with a special chassis design, in addition to the Geagle Geekom mascot figurine and a mouse pad.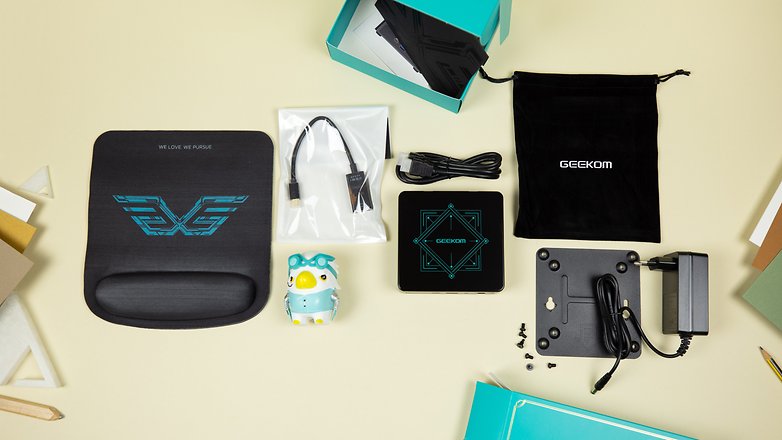 ---
What I liked:
Portable and compact.
Solid connectivity options.
Integrated SD card reader.
Monitor holder included.
Special edition version has a free mousepad
What I disliked:
Only RAM and SSD are upgradeable.
Impossible to unscrew the case in the review.
Combined jack.
---
With the MiniAir 11, you basically end up with a stylish mini PC. It comes in a nice package with many cables. Among them is an HDMI cable for connecting to a monitor, a mini Display Port-to-HDMI adapter, as well as a carrying pouch that protects the PC against scratches and accidental knocks. In the special Geekom's anniversary edition, you get a mouse pad with an ergonomic palm rest and a figurine of Geekom's mascot, Geagle, for free.
The setup is also simple: You connect the external power supply to the PC, hook it up to a compatible monitor, and off you go. Plus point: A VESA monitor mount is included with the PC.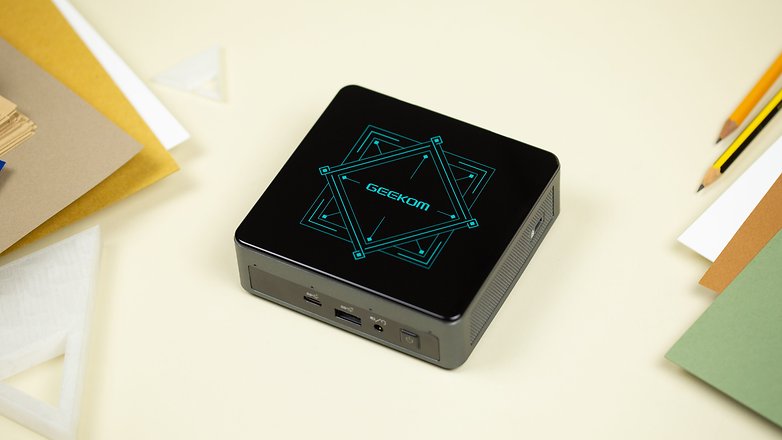 I rely on wireless Bluetooth peripherals in my home office setup. Such connections are possible thanks to Bluetooth 4.0 and leave room for more USB drives and external hard drives. A big plus point during setup was the included mini Display Port adapter, which allowed me to power two monitors with the tiny PC. The full list of ports can be seen below:
Ports on the Geekom MiniAir 11:
Rear panel:
Power connector (19 volts)
Mini Display Port
Ethernet (RJ45)
2 x USB 3.2 Gen 1
HDMI
USB-C (only for data according to the manufacturer)
Front:
USB-C
USB 3.2 Gen 2
3.5 mm jack (headset/headphones combined)
Sides
Reader for SD cards (left)
Kensington lock (right)
A pleasant surprise: Although Geekom states that the USB-C port on the backside was meant for data only, I was able to connect a third monitor via USB-C. This is an advantage that is not listed in the technical specifications.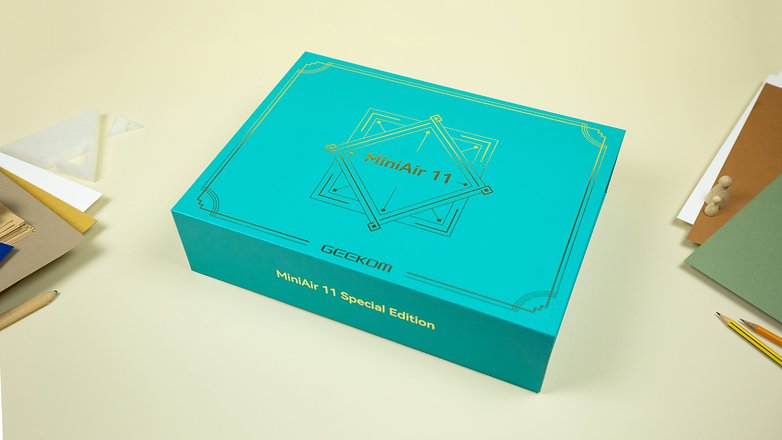 Despite the small case, Geekom placed a whisper-quiet fan in the mini PC. Even when it was under a heavy load, it wasn't audible in a quiet room. Speaking of sound: The MiniAir 11 doesn't offer any loudspeakers.
Two more sentences about your options for expanding: This advantage of conventional desktop PCs only applies to a limited extent when it comes to mini PCs. The MiniAir 11 can be upgraded to up to 32 GB of RAM and 1 TB of SSD storage. There is no room for dedicated graphics cards or the possibility to change the processor.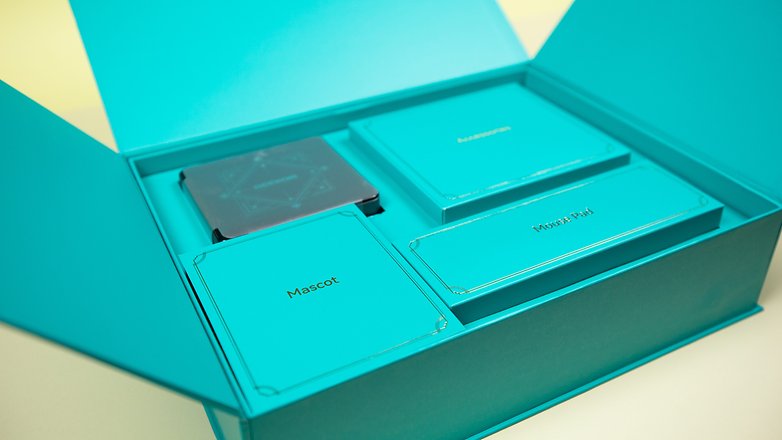 An attempt to open the mini PC failed during testing, however. According to the instructions, I had to remove four screws, and after several screwdriver bits were bent with only one screw loosened, I aborted my attempt lest I destroy the entire machine.
Performance: For home office and mini-games
The MiniAir 11 is equipped with an 11th generation Intel Celeron N5095 processor and relies on its onboard graphics (Intel UHD 605). DDR4 SODIMM modules are used as working memory, and an M.2 SATA SSD is used for mass storage. Wi-Fi 5 and Bluetooth 4.0 make my home office tidier, and the preloaded Windows 11 Pro proved to be surprisingly nimble.
---
What I liked:
Sufficient performance for office, minor image editing and older games.
License for Windows 11 Pro included.
What I disliked:
Quickly overwhelmed during multitasking.
Suitable for old games only.
---
For comparison, I normally use a MacBook Air with M1 chip, 16 GB RAM and 512 GB SSD storage as my home office machine with MacOS running as an OS.
The MiniAir 11's performance level is, of course, significantly lower than my MacBook, but it also costs almost $1,000 less. I had to wait more often for the usual tasks to complete in my everyday editorial work, but I was still productive. Using office programs, browsing with multiple tabs in Google Chrome while using messaging services like Slack simultaneously constitute my typical home office workflow.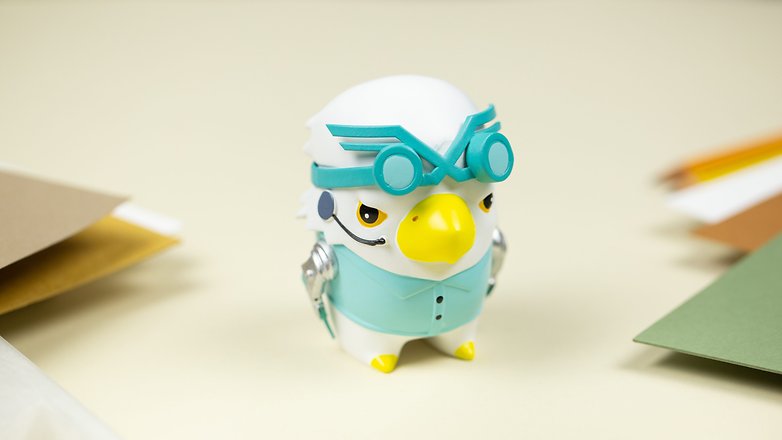 Despite the dual-monitor setup, the MiniAir 11 also managed all these tasks simultaneously. Google Chrome in particular is a challenge. During the review period, I installed many of my web apps as standalone programs and made sure not to open too many tabs. Thus, I could work without any problems, but had to live with stutters during music playback or delays for keyboard inputs.
The performance level is just enough to place pictures on a transparent background in Photoshop. Lightroom also works, but the MiniAir 11 is unsuitable for video editing.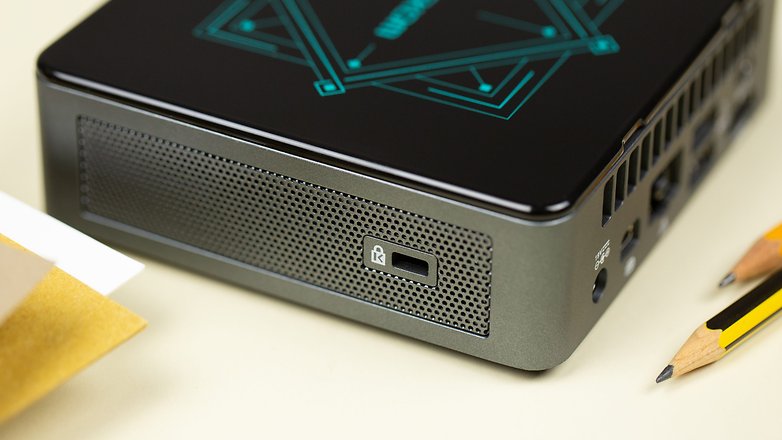 This machine ekes out enough performance for older PC games. For my review, I installed Counter-Strike: Global Offensive and the shooter was playable in a smooth manner at the lowest graphics settings and lowest resolution. However, you should not expect more due to the underpowered CPU and GPU combination even after a RAM upgrade.
Final verdict
The first impression of the Geekom MiniAir 11 proved to be convincing enough for me. The hardware in the tiny case is appropriate for PCs that costs less than $250 while it has more than enough connectivity for working in a home office environment and for everyday use.
The MiniAir 11 can easily be mounted to the back of a monitor or hidden behind your TV. However, it would be a shame to hide the mini PC behind the monitor, especially with the pretty special edition chassis that comes with the anniversary celebrations.
Thanks to the monitor holder, you can build an expandable and repairable (if the screws actually come loose) all-in-one PC or add a powerful multimedia station to your home theater setup thanks to Kodi or Plex.
For space-saving use on the desk, however, I find mini-ATX cases the more sensible option. This is because you can use micro-ATX motherboards and have the possibility to plug in expansion cards for dedicated graphics, among others. At the same time, they are small enough to sit under your monitor horizontally and also allow room for processor upgrades and repairs.