Get a Compact and Efficient Geekom Mini PC with a 24% Discount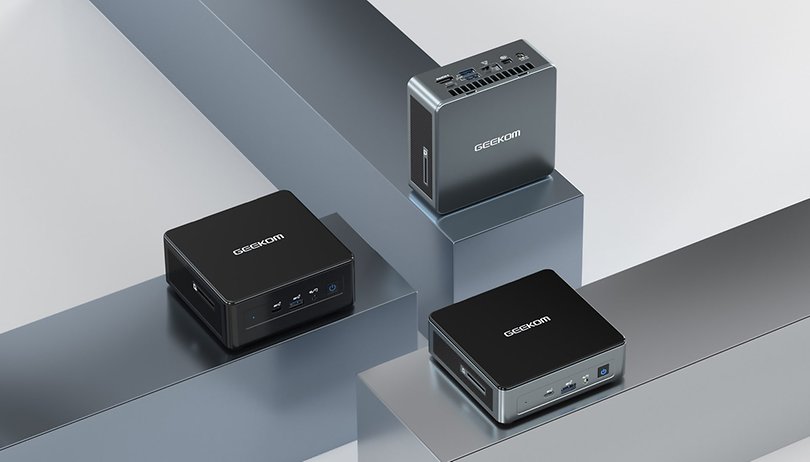 Looking for a versatile PC but don't want a power-hungry and big desktop PC? Then check the deal on the Geekom IT8 compact PC. For a limited time only, the mini PC is available on Amazon with a 24% discount. You save $120 and get a powerful and expandable PC for work, games, or even a home theater PC (HTPC).
With desktop machines consuming increasing amounts of power and the rising cost of energy, you can save electricity and money by going with the power-sipping Geekom IT8, without sacrificing performance or upgrade potential. The discount will be applied automatically when buying the PC on Amazon but remember to check the deal expiration date to not lose this deal.
What do you get with the Geekom IT8?
First of all, the IT8 is a small form-factor (SFF) PC, measuring 4.41 x 4.61 x 1.80 inches (112 x 117 x 45.6 mm) and weighing 572.6 grams. You can easily place it on your desk, your living room, or even behind a monitor using the included VESA mounting bracket.
Speaking of monitor, the Geekom IT8 supports up to four 4K displays, via its HDMI and DisplayPort (DP) connectors. The back panel also offers 1 USB-C, 2 USB-A, and Ethernet ports, while you will find a headphone jack, and a pair of USB ports, a USB-A, and a USB-C.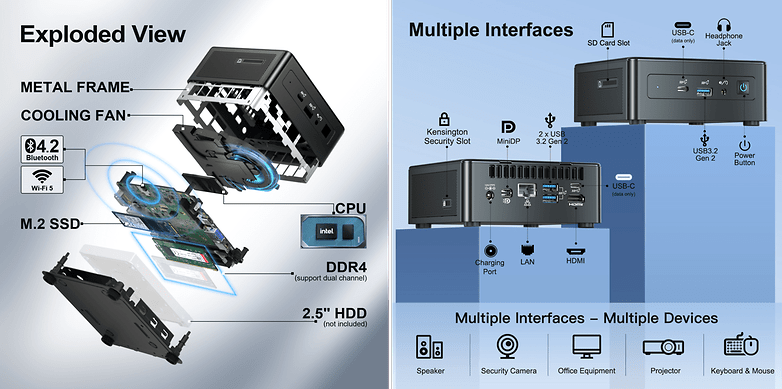 If you think the compact dimensions sacrificed upgradability, you will be surprised to find ample possibilities to expand the Geekom IT8, including double DDR4 SODIMM slots, compatible with up to 32 GB of dual-channel memory, one M.2 SSD slot, and a 2.5 HDD/SSD bay on the bottom.
You can check more details on the specifications in the table below, including Wi-Fi and Bluetooth support:
Geekom IT8 specifications
IT8 mini PC
CPU
Intel Core i5-8279U
4 cores, 8 threads
Up to 4.1 GHz
GPU
Intel Iris Plus Graphics 655
RAM
Dual-channel DDR4 SODIMM
Expandable up to 32 GB
Storage
1x M.2 2280 SATA/PCIex3.0 slot
1x 2.5'' SATA slot
Ethernet
Intel 10/100/1000 Ethernet
Wi-Fi
Intel Wi-Fi 5 (2.4+5 GHz)
Bluetooth
Bluetooth 4.2
Ports (back)
Charging port
1x Mini DisplayPort
1x Ethernet RJ45
2x USB-A 3.2 Gen 2
1 USB-C (data-only)
1 HDMI
Ports (front)
1x USB-C (data-only)
1x USB-A 3.2 Gen 2
1x headphone jack
Power supply
External, 100-240 V (autovolt)
Dimensions
4.41 x 4.61 x 1.80 inches
(112 x 117 x 45.6 mm)
Weight
20.2 oz (572.6 g)
Included accessories
VESA mount
Power cable
HDMI cable
As you can see, the Geekom IT8 can be used in a variety of tasks, and considering the discounted model comes with 16 GB of RAM and a 512 GB PCIe SSD, you will have enough power not only for daily tasks but also work from home, play 4K media on a TV, use it as a compact gaming or emulation box, small home server, and much more.
---
This article was written in cooperation with the manufacturer Geekom. The manufacturer had no influence on the content.