Here is how to recover deleted files from your Android with MobiSaver by EaseUS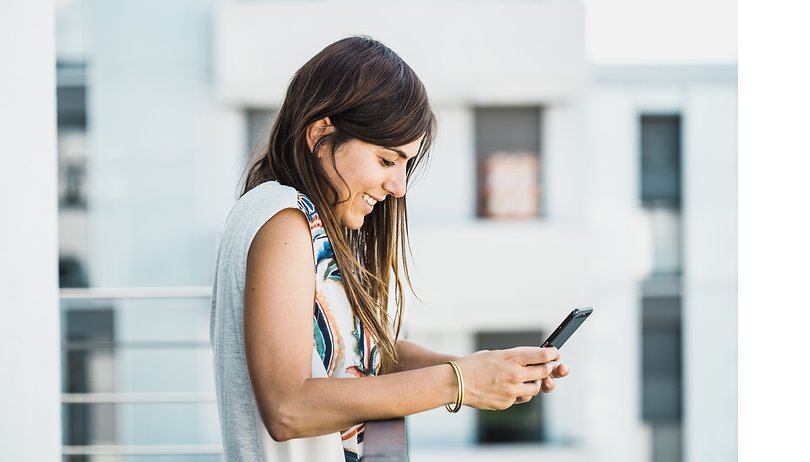 Have you ever deleted a photo or video from your phone and then instantly regretted it? The good news there are efficient programs out there that allow you to restore all those files that were accidentally deleted. MobiSaver, a leader in the recovery software industry, is a perfect solution to get back those precious files.
What is MobiSaver for Android
MobiSaver is a PC program that has been developed by EaseUS, a company specialized in the development of software that runs on both computers and smartphones. One of the most interesting aspects about MobiSaver is its compatibility: MobiSaver is able to restore deleted files from different brands of smartphones.
In addition to photos and videos, MobiSaver can also retrieve music, contacts, documents and text messages (SMS) that have been deleted. When using the EaseUS program, you are just a few clicks away from recovering files that have already been erased from your Android.
MobiSaver Compatibility
MobiSaver is a program for Windows that works when the smartphone has been connected to the PC. These system versions of Windows are compatible with the software: 10/8 / 8.1 / 7 / Vista / XP. There is also a Mac Version. In order for the program to work properly, your phone must running Android 2.3 or later. That means that recent versions of Android are supported, like Android 8.0 Oreo, 7.0 Nougat, 6.0 Marshmallow and 5.0 Lollipop. You also need to have administrative access of the device, which in the case of the Android OP, means root access. The company itself offers a method to root your device.
MobiSaver is compatible with most devices running Android, such as Samsung, LG, HTC, Motorola, Sony and Google devices, to name a few. The software interface is in English, but the setup process is simple and understandable to the majority of users. In doubt, check out the tutorial below:
How to recover deleted files using MobiSaver
If you need another reason to download MobiSaver, here's a good one: in addition to recovering data from the internal storage, you can also recover deleted files from the microSD card. Now that you've gotten the scoop about the many benefits MobiSaver has to offer, let's move on to the tutorial:
Install the program on your PC
Restart your computer and open MobiSaver
Connect your Android and wait for it to be recognized by MobiSaver
Click "Scan" and wait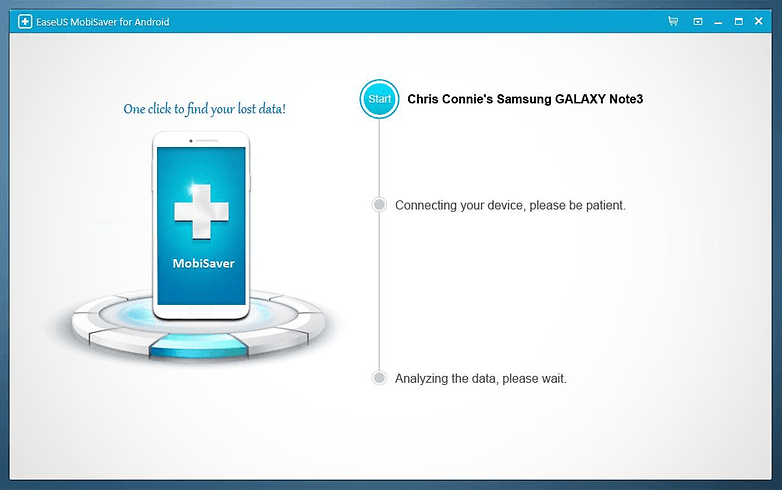 After the process is finished, you can first preview the recovery that shows you all the recoverable SMS, contacts, photos, documents, so you know exactly what you are getting.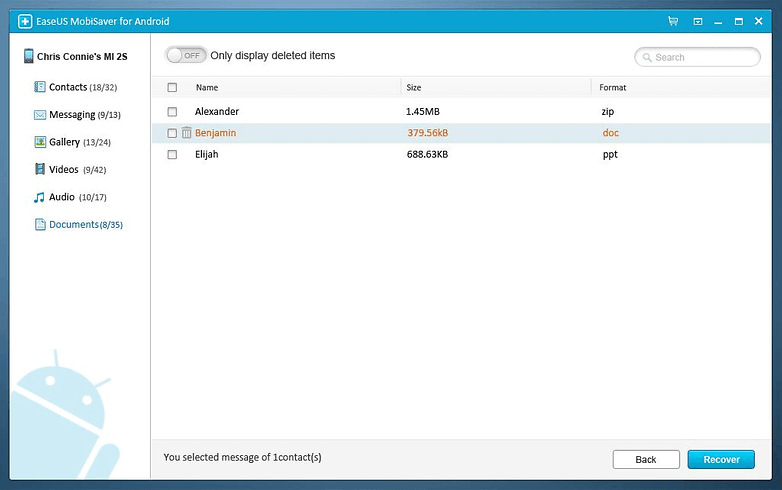 Finally, select the files you want to restore and the destination folder. The lost files can be exported in multiple formats: you can recover and export lost contacts in CSV, HTML and VCF formats. You can also export scanned lost messages in HTML format for reference or printing.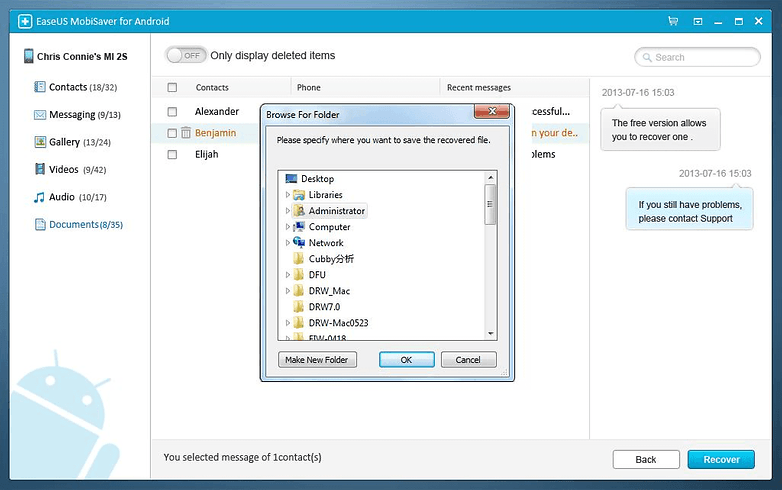 Select the files you would like to restore as well as the folder where it should be stored.
The recovered files need to be transferred to a folder on your PC, however you can send them back to your smartphone at any time.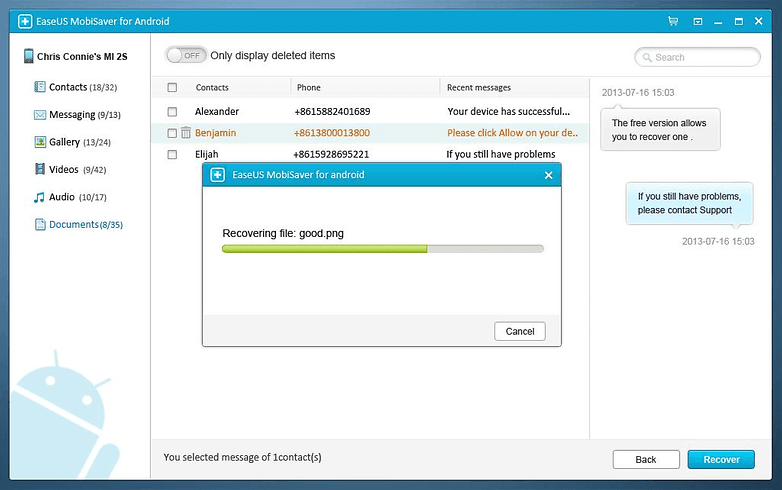 Care to share your user experience with other users? Then follow EaseUS on its social media channels: Facebook | Twitter | Google+.
How do you like MobiSaver? Have you deleted files from your Android smartphone and regretted it later?
By the way, if you want to recover your files on Windows, you can download and trial the EaseUS Data Recovery Wizard Free.