Video chat comparison: Skype vs Messenger vs FaceTime vs Viber vs Duo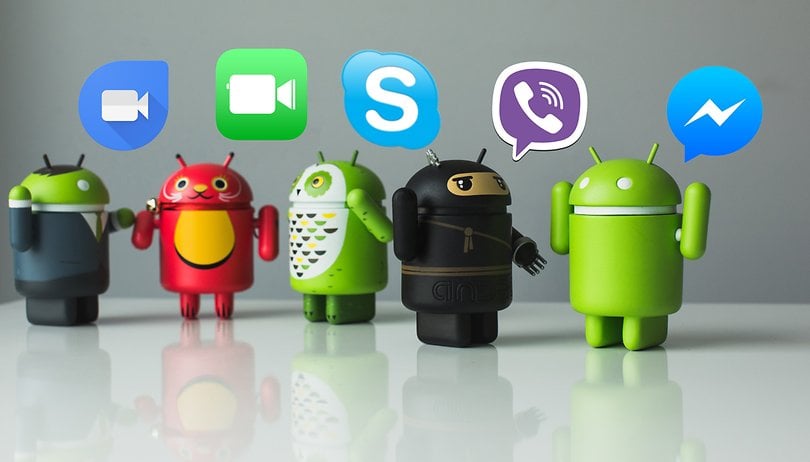 Many applications allow you to have voice and video conversions, which, unlike telephone technology of old, are transmitted via the internet. But how do you choose among all these apps? Read on for which video chat app you should choose for Android.
Before we present the advantages and disadvantages of each of these applications, it is important to clarify several things. The quality of the video and fluidity depends on many factors, ranging from internet connection to the front camera quality.
The worse the connection, the more the call sputters and the image quality gets distorted. By the same logic, if the picture quality of your front camera is bad, it is obvious that you shouldn't expect miracles, especially when your lighting is poor. The phone's performance may also be a factor, but flagships are not really a problem, just low-end devices and some mid-range.
Below are some popular applications to communicate directly in real time with video.
Jump to a section
Skype
Skype is probably the most popular application of this list, and it's not for nothing. This was primarily the big star on computers (Windows, Mac and Linux) and, faced with such popularity, a mobile version was obviously necessary.
Unlike other instant messaging applications, Skype does not use your phone number to identify you. You must create an account using an email address, allowing a bit more anonymity. You don't have to provide your main email address or real name.
Skype allows you to do more or less everything possible from a normal video chat app: text, audio and video. The number of emojis and animated images has increased significantly in recent years, making the application a little less pure. Sending files is of course possible, as well as taking photos and videos directly from the application.
Regarding audio and video calls, I can say from experience that the quality is very satisfactory. Again, it all depends on the device used and the quality of the connection, but overall it's very fluid on the audio front, slightly less with video but it also depends on the camera quality. What may appeal to some is that you can make group video calls.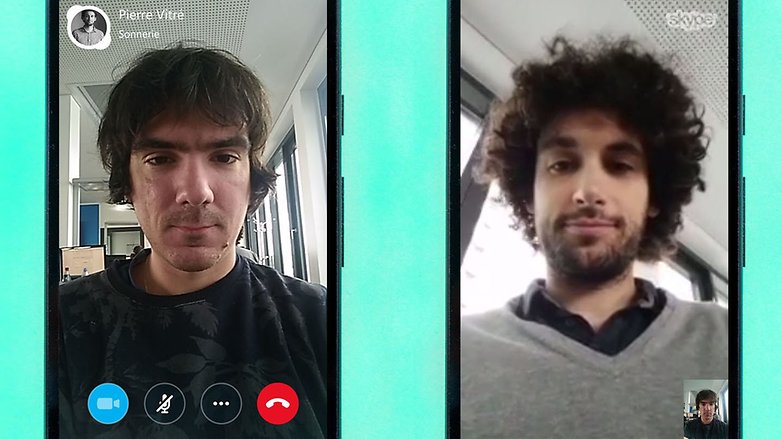 What's not good about Skype
The fact that Microsoft owns Skype may bother some. The Redmond, Washington company has appropriated Skype and obviously uses it in its own way. So confidentiality and management of your privacy may be questionable, like all of the huge multinationals.
The application has been greatly simplified since a while ago when it was rather slow. Today it is a little too simplistic for my taste, even childish. Also, I do not really like the light blue (which also reminds me of the old version of TouchWiz). Well, that's a matter of taste.
Another negative: the complexity of the contacts. Some courier directly analyzes the directory to find out whether the contacts on Skype could be added to your list (and if your contact accepts you). This is not a big effort for most, but for some it can be a little more difficult.
FaceTime
FaceTime is an application designed exclusively for Apple products. It is present by default on all MacBooks, iPads and any iPhone. Unlike other applications of this list, FaceTime has a clear, clean and precise objective: audio and video communication. Clearly, this application offers no superfluous functions: no smileys, text, gifs, etc. Its interface is uncluttered – to our delight.
Having a minimalist interface and functions is a good idea and through this Apple is able to keep the quality high. It is impossible to say which application on this list is the best because too many factors come into account, but several of my colleagues consider this application as the best in the field (and these are Android fans!).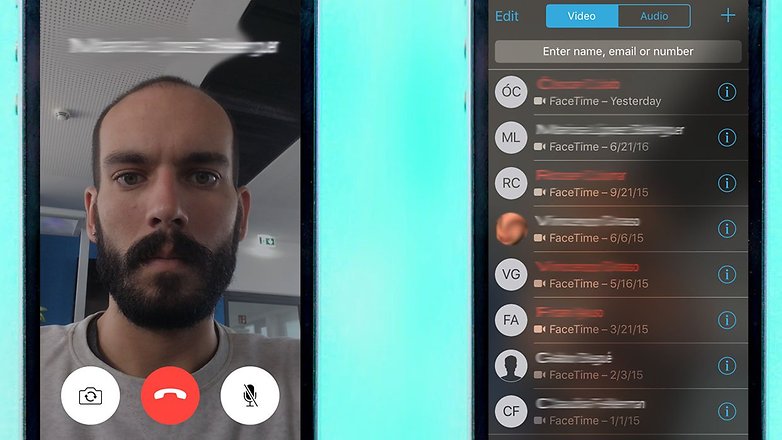 What's not good about FaceTime
If you are looking 'Swiss Army knife' app that allows you to chat and immortalize moments in pictures, you do not want FaceTime. You can install WhatsApp Messenger, Viber or Skype, but FaceTime will not meet your needs.
Keep in mind that this is an application from Apple, it is designed for Apple users. If you want to make video calls with contacts that do not have an iPhone or Mac, it will go through another application.
Viber
Viber is an alternative to the giants of communication. In practice, it allows for more or less the same as its competitors: texting, sending pictures, emoji, possibility taking a picture or video and sending files saved on the phone.
The advantage of this application is that it can be used on multiple platforms, including PC (even Linux). So you can make video calls your smartphone when you're outside, and from your computer or tablet when you are home. In addition to this, it scans your Viber contacts (like with WhatsApp). This is very convenient because you do not have to add contacts manually.
Regarding video calls, there is nothing special to report since the application does what is expected. Again, do not expect to see great results if you do not have a quality camera and a good internet connection. But from what I could see (and what you can see for yourself even in the picture below), the picture is clear and the video relatively smooth.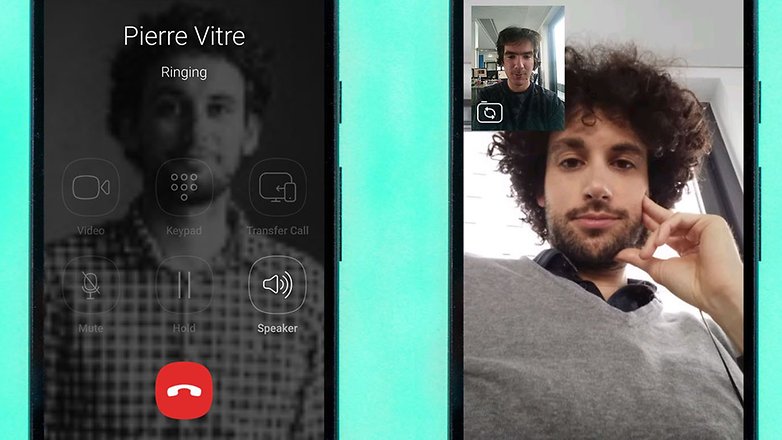 What's not good about Viber
Viber requires a lot of permissions, which can cause problems for the most cautious of us. But the real problem is not security but rather the number of application users: many have installed and then quickly uninstalled because their contacts do not use the app. Viber is a typical example of a good application that cannot win against the competition.
(Facebook) Messenger
The biggest advantage to Messenger is that everyone uses it. And since everyone uses Facebook, many people use Messenger. In summary, if you use Facebook, it is very likely that you'll find all your contacts directly within the application. You can also use the app without your Facebook account, which then necessitates a phone number.
Messenger offers text messaging, emojis and a large number of moving images to convey emotion easily. It is possible you to make audio and video calls for free, as long as you are connected to the internet, of course.
With texts as well as voice communications, you can go through the groups and talk with several people at once, which is a handy feature. Regarding sending files, of course you can access all your files and transfer them to your contacts. You can also share your location or take a photo or video directly from the application.
As explained in the introduction, image and sound quality depends on several factors but overall quality on Messenger is good (not particularly great though). You get decent quality images and resolution. From what I can tell, this is not comparable to Duo and FaceTime, the quality seems much better on these two applications.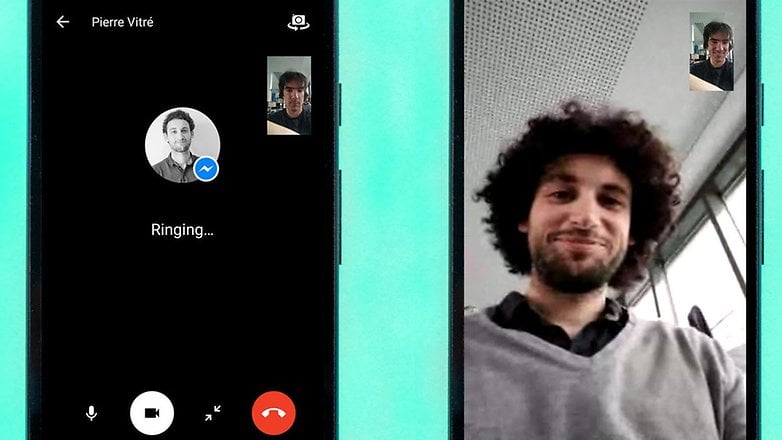 What's not good about Messenger
As often with Facebook (and Google, for that matter), confidentiality and management of private data is often questionable. You either give your number or use Facebook, not to mention the necessary authorizations, data management, etc.
Facebook has improved the safety of its application (and that of WhatsApp) improving data encryption (end-to-end). This certainly protects possible external problems to the network but not ownership and resale of private data.
Another negative point, it's not possible to configure notifications by category (message, call, etc.). So you must choose: either you receive all notifications or receive none. The size of this application has often been criticized in the past but Messenger is not much bigger than other instant messaging applications.
Google Duo
The application has only been out a day so it is best to avoid going too far in saying that it is excellent and/or better than another video chat app. What is certain is that it is considered the FaceTime of Android, the only difference is that calls are only on video while FaceTime allows audio calls. Google, however, said it also plans to implement a voice call function. Anyway, you can find it on the Play Store.
Like FaceTime, the interface is very simple, if not even simpler since Duo has a single large button that allows you to choose the contact to call. A Swipe up allows you to see your recent calls and a menu which can be handy if you plan to use it frequently.
My colleagues told me that video quality is good but I want to clarify again that this depends highly on your connection. As noted by my colleague Hans-Georg in his review, it may be just an attempt to see if such a market is promising to decide whether the application merits further consideration or not. This would explain the simplicity of the application.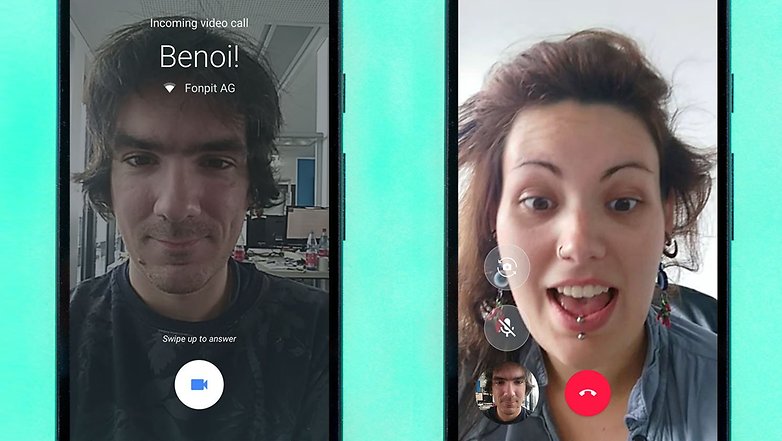 What's not good about Duo
This simplicity is both a blessing and a curse. Users can easily understand how it works, but why use an application that you can only video chat while competing apps do the same and more?
While Apple reserves FaceTime for its own customers, Google offers Duo to everyone. Unfortunately, unlike its competitor, Apple, Duo can only be installed / used on a single device. Regrettably, not everyone wants to use their smartphone to communicate, many of us would like to use it from our computer or our tablet. Maybe this will change in the future.
Summary
Skype
FaceTime
Viber
Facebook Messenger
Google Duo
Free to use/download
Yes
Yes
Yes
Yes
Yes
Free audio calls
Yes
Yes
Yes
Yes
No

Send text messages

(and emojis)

Yes
No
Yes
Yes
No
Phone number required
No
No

Yes (only

for creating

the account)

Yes (only if

you don't want to use

a Facebook account)

Yes
Read reports
No
-
Yes
Yes
-

Secure end-to-end

data encryption

No
Yes
Yes
Yes
Yes

Send files

(video, music, etc.)

Yes
No
Yes
Yes
No
Customize notifications
Yes
No
Yes

Yes

No

High probability of

finding many contacts

using the app

Yes
No
Yes
Yes
No

Possibility of using the

app on multiple devices

Yes

Yes (only with

iOS devices)

Yes
Yes
No
Available on Android
Yes
No
Yes
Yes
Yes

Group video calls

available

Yes
No
No
No
No
Which video chat app do you like the most? Let us know in the comments.