Best Android antivirus and mobile security apps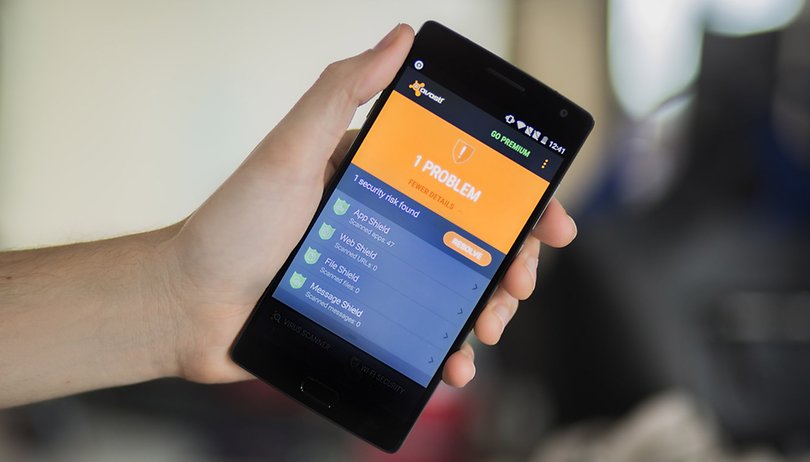 Considering how often malware, ransomware and hacking hit the headlines, you might be wondering which anti-virus is best to keep your trusty Android phone and all its data safe. So we've put together an updated list of the best antivirus and security apps for Android. Whether you are looking for virus removal for your Android phone or data security or just general protection against theft and hacking, these apps should offer a well-rounded package.
Jump to:
Sophos Free Antivirus and Security
Sophos is one of the best security apps for Android, consistently ranking high on regulators such as AV-Test. As of the time of writing, it has the honor of being our top recommended security app for Android. In addition to perfect protection, it offers a varied feature set. The highlight: the app is free of charge and even ad-free (Sophos' profit model comes from business customers). Malware protection is based on an online database that also checks the reputation of individual apps and recommends alternatives.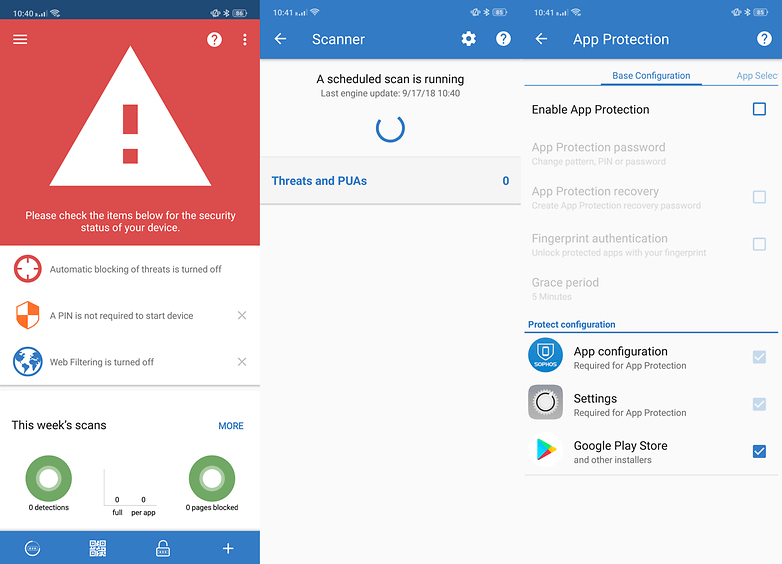 Users of Android 6.0 Marshmallow and later are finally allowed to use Web Filtering again. This serves to prevent malware when surfing on mobile websites. Fraud attempts, for example through misleading advertising, can thus be prevented.
The theft protection is also well thought out. It allows you to remotely control your smartphone by SMS from other phone numbers you specify. Child protection filters, call blockers and device encryption complete the package.
The app is specialized in security and does without unnecessary boosting or optimization functions. This makes it more popular with many of its users than CM Security, which while also free, can feel overloaded with bloat and ads. Of all the antivirus apps out there, Sophos stands out as the best deal for most users.
Kaspersky Internet Security
Kaspersky is a well-established anti-virus and security package on desktop, and with its Android app it brings that protection to your mobile. That means you get anti-virus, call and text control, anti-theft, and anti-phishing features.
It can also protect you with real-time, web protection, and a few privacy options, though to get the full package you'll need to pay for the premium version of the app, which is currently priced at $14.95 for one year. If you need to cover more than one Android device, you can add up to two more at $5 per device, per year.
If you want to test out the premium features, there's a 30-day trial to activate within the app, but to use some of the features you will need to create an account using your email address. The anti-theft feature, for example, isn't premium but does require an account to work.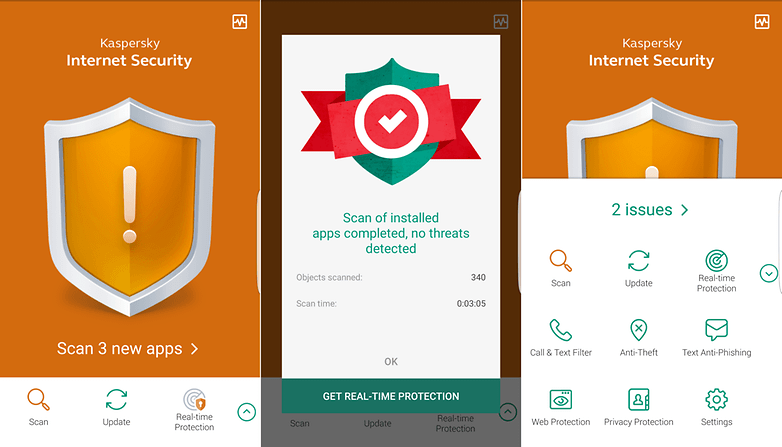 Malwarebytes Anti-Malware
Malwarebytes is one of our favorites in this list, for a couple of reasons. Firstly, it focuses on doing one job well - protecting your phone from malware - and secondly, because it does so with a minimalist interface and well-chosen options.
That means it's also relatively lightweight in comparison to the others on this list, and offers free real-time protection. As well as offering malware detection, there's also a handy privacy audit feature that scans all the apps on your phone and breaks them down into different categories. This allows you to get a simple and quick overview of all the apps on your phone.
You'll probably want to pay some attention to categories like 'Apps that can cost you money'. The security audit feature does a similar thing for your phone settings, by quickly assessing potential weak spots in your security and guiding you to turn them off. This includes switching off the ability to install apps from third-party sources and the developer options.
There's no longer a phone location feature, as many of the other apps offer, but then there's also not really any need for one given that Android can do that natively. Malwarebytes might not offer the same level of features as some, but it's a well-thought out, and free, option that does its job well.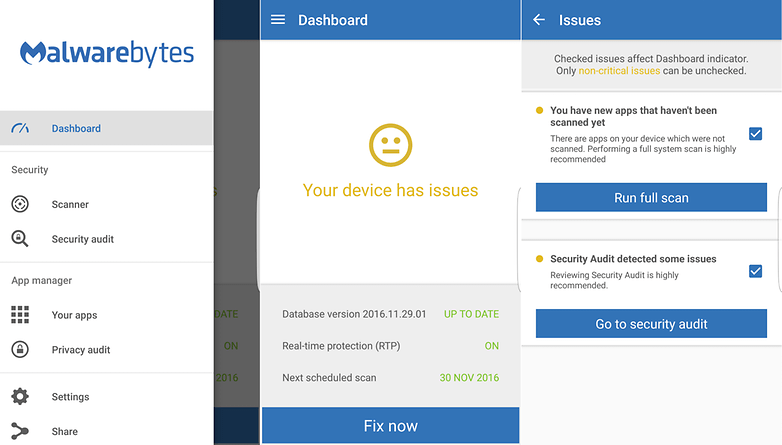 Avast Antivirus & Security
Avast's anti-virus and security package is one of the most feature-packed on this list. If you want an app that can take care of all your security, RAM boosting, junk cleaning and other needs, Avast could be it.
Some of those features will, as with similar apps, require the installation of other components too, however. On the purely protection side of things, Avast has the on-demand and real-time scanning you'd expect of an anti-virus app, and also includes things like the ability to check the security of your current Wi-Fi connection and to lock specific apps so only you can open them.
There's also a firewall option, but to use that you need to have a rooted phone. Unlike some of the others in this list, the ads in the app aren't too off-putting, but Avast does promote a lot of its own apps designed to 'enhance' the suite. If you don't need or want those features that could be slightly annoying to ignore constantly. If you want no display ads at all, you'll need to pay for the premium version, which is available on a monthly or annual basis and varies in cost depending on where you're located.
If you do decide to pay, each subscription is valid across all your Android devices using the same Play Store account. Add in a call blocker and app privacy adviser that displays all the info in a simple, easy to understand way and Avast is a truly useful anti-virus tool for anyone looking for an 'all in one' package.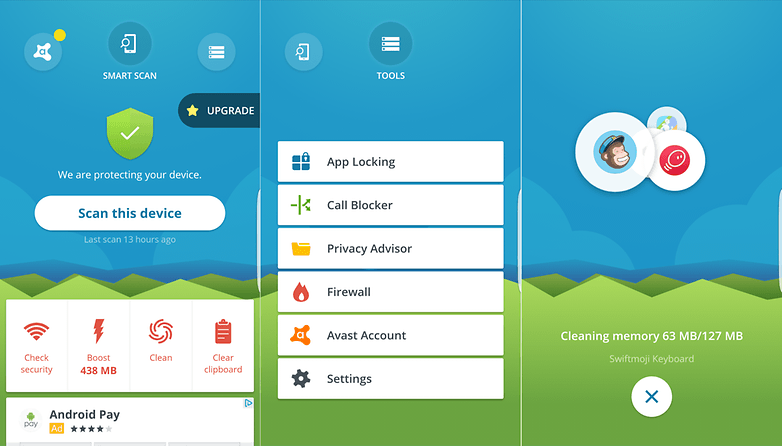 AVG Antivirus Security
AVG Antivirus Security is more than its name suggests, as it also provides app locking, anti-theft, task killer and app backup features. And it does it all in a well-designed interface. There are also a few battery-saving options on board, and the ability to dig down into your battery data to find out what's been draining it.
The power saving options replicate functions dotted around any stock Android settings menus, but bring them all together in one place for easier control. If you want to use the junk cleaning options, you'll need to install AVG Cleaner too. Once you have, it integrates with AVG Antivirus.
In this instance, it seems smart of AVG to provide the cleaner functionality through a separate download, rather than bundle another large app inside the main suite. It's worth pointing out that AVG Cleaner is free to download, just like AVG Antivirus, but also offers a paid upgrade to a Pro version for additional features and the removal of ads.
You don't need the premium version of either app to use the Phone Locator option, but you will need to sign up for an account via your email address to use this feature.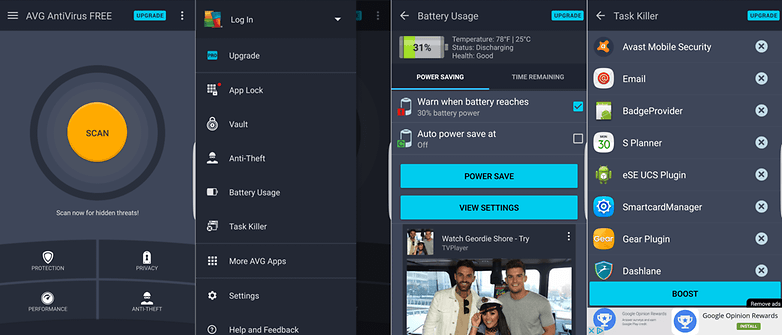 Lookout
Lookout is one of the apps on this list that doesn't have a desktop client, as it's focused exclusively on mobile. It's also one that requires you to sign up for an account to use any of the features.
Once inside, you've got the choice of taking the free or premium route - premium is around $2 per month. The free version gives you app security and phone location features, whereas premium will also protect your Web browsing, give you a privacy overview of your apps and allow a few other anti-theft related features.
There's also a handy breach report feature that will alert you if any of the services you use are hacked - allowing you to change your credentials in a timely manner. If it doesn't sound like the free version offers much, that's a mistake.
Within the single category of app security, you're protected against adware, bots, click fraud, remote exploits, root enabler threats, spyware and a number of other types of malicious software.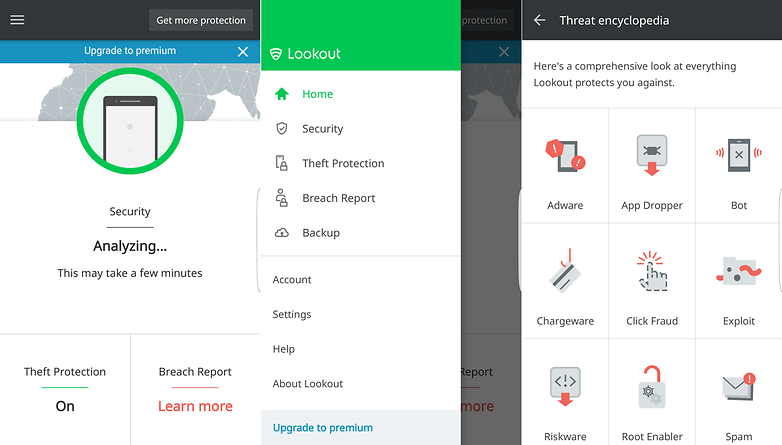 Norton Security Antivirus
Norton Security Antivirus is another hugely popular desktop protection platform that's made the jump to mobile. In short, it blocks and removes malware both on-demand and in real-time.
It also offers the now-familiar app adviser feature that tells you about privacy risks in a simple, easy to understand manner. One thing that none of the others offer, but Norton does is a handy feature that integrates with Google Play to show you any alerts about an app before you download it; you can see if the app you're about to install hogs battery, uses excessive data or poses any other sort of potential risk.
There's a 30-day free trial for the premium version, which unlocks all the features, but after that it'll cost you $22 per year. It does have an appealingly simple design and is straightforward to use though.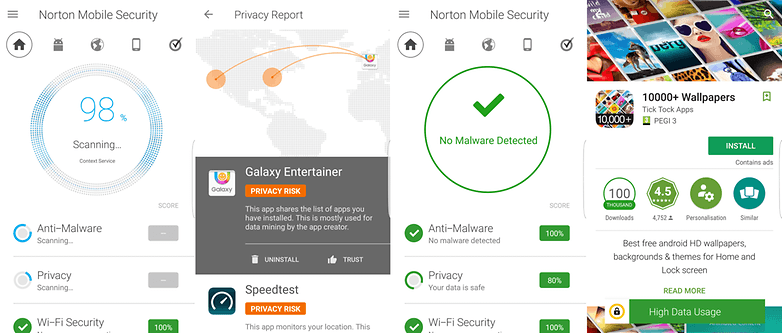 OK, we know, we missed your favorite! Let us know which one it is, and why, in the comments below!