The best Android battery saver apps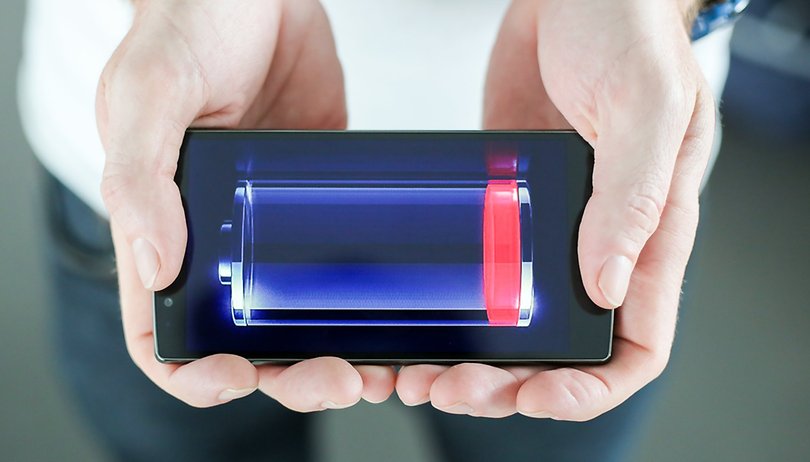 You've dimmed the screen, disabled unwanted apps and turned off everything you don't need – but could you still squeeze more power out of your Android's battery? Surprisingly enough, there's an app for that. Several, in fact. Read on to discover the best Android battery saver apps around.
Best Android battery saver apps: DU Battery Saver | Power Doctor
DU Battery Saver has nearly five million five-star reviews on Google Play, so clearly a lot of people think it's great. And they're right: the free app offers one-click system optimization, a selection of pre-set battery saving modes plus the ability to create your own, full details of what your battery and phone are up to, and battery improvements of up to 50 percent.
We'd take that figure with a pinch of salt, as we do with any other official figures about battery life – what you get in a test and what you get in the real world rarely match one another – but it's an extremely good app that's well worth checking out.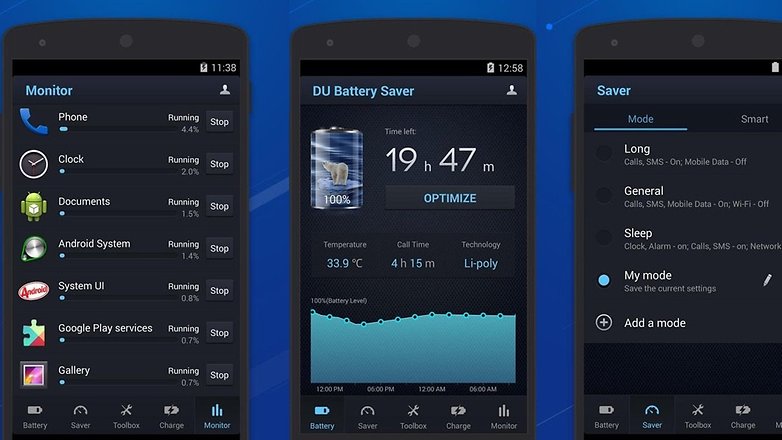 Best Android battery saver apps: Greenify
We've mentioned Greenify quite a lot on AndroidPIT, and that's because it's a really nice app. While it was originally just for rooted devices, Greenify is now available to anyone. It's all about finding and shutting down apps you don't need by putting them into hibernation mode. The apps haven't been killed, but they'll snooze until you specifically ask to use them again.
That means they won't be doing stuff in the background, making demands on your device and helping to drain your battery. The downside is that snoozing apps don't update, but a bit of sensible weeding of the apps list can stop that being a problem. Greenify is also free.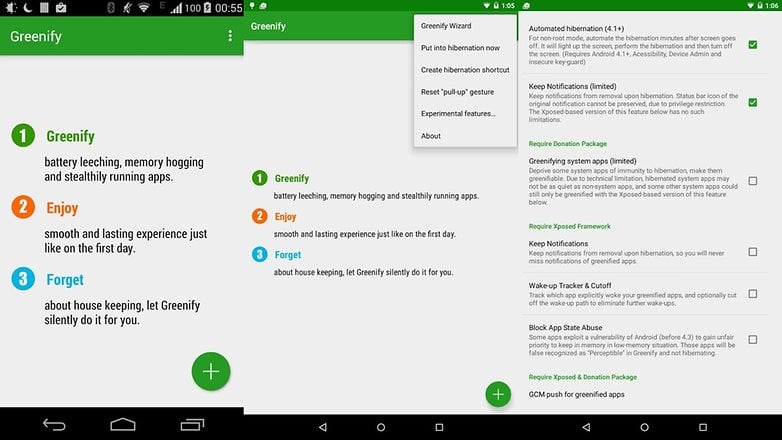 Best Android battery saver apps: Snapdragon Battery Guru
As you might expect from the name, Snapdragon Battery Guru is designed for Android devices with Snapdragon processors – of which there are many. At first Snapdragon Battery Guru doesn't really do anything, but that's because it's watching: it's watching how you use your phone to discover what you do and when you do it so that it can disable things it thinks you don't need.
For example, when you go to bed, it can turn off your wireless radios, as you won't be needing them when you're asleep. It's a really good app for Snapdragon-powered devices and, to its credit, Qualcomm keeps updating it when it updates its processors and related components. It's no use if your phone doesn't have a Snapdragon, of course, but if it does, it's a good hands-off way to make your phone better. Snapdragon Battery Guru is another free app.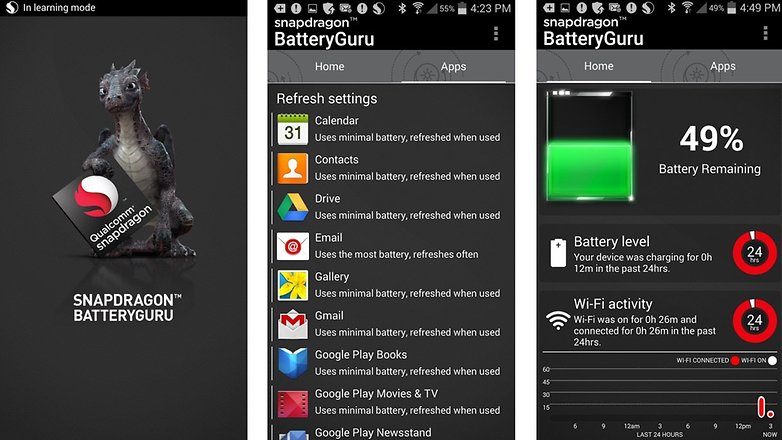 Best Android battery saver apps: JuiceDefender
JuiceDefender is actually three apps, because in addition to the free version there's a Plus version at US$1.99 and an Ultimate version for US$4.99. It's best to start with the free one to see if it does what you need, and upgrade if you feel you need features such as location-aware Wi-Fi control.
Whichever version you go for, the basics of JuiceDefender are the same: it uses presets to specify how aggressive its battery management should be, turning off battery hogs such as wireless radios when they're not required. A nice touch is that when you've disabled the Wi-Fi or 3G/4G radio, you can schedule periodic reconnections to keep your apps up to date without the radios running all day or night.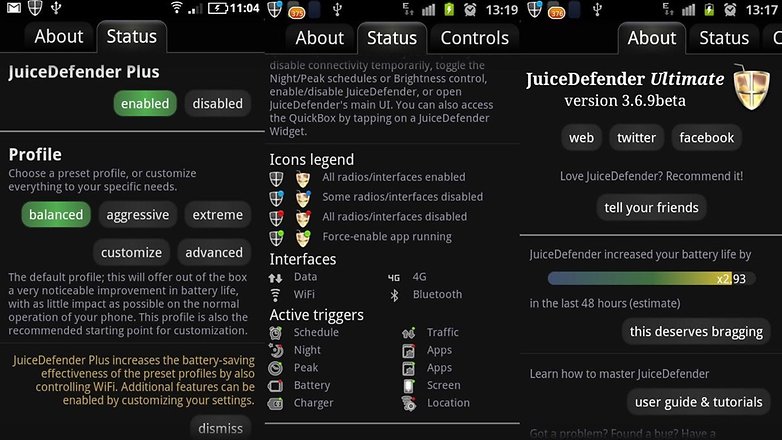 Best Android battery saver apps: Battery Defender
Sometimes the best apps are the simplest, and that may well be the case with Battery Defender. It's very straightforward to use, doesn't try to do every conceivable thing and covers the basics very well. It can automatically disable Wi-Fi and mobile data whenever you turn off your screen but still allow apps to sync every 15 minutes, it can disable networking when you sleep, and it can automatically disable networking when your battery level is getting dangerously low and you're not actually using your phone.
Some reviewers are reporting issues with the app in Lollipop, but that appears to be down to specific phones: the majority of Battery Defender reviews are very positive. If you'd like to get a bit more out of your battery but don't want to spend too much time setting things up or tweaking them, this one's definitely worth a go – and once again it's free.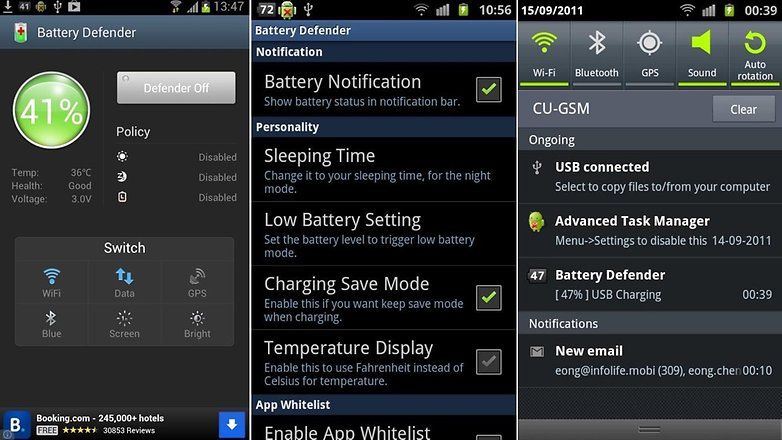 Do you have a favorite battery saver app that we haven't listed here, or are you a happy user of one, some or all of the apps above? Let us know in the comments,