Asus ROG Phone 5 launched: Key specifications, features and pricing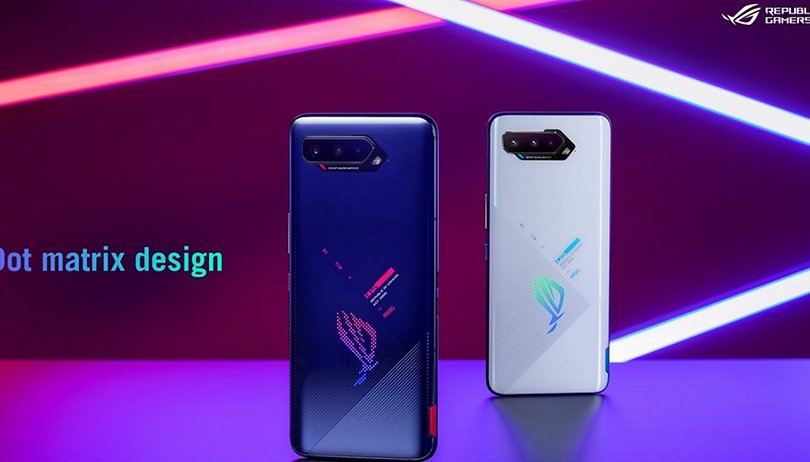 Asus, earlier today, on Wednesday, March 10th, 2021, announced the launch of the ROG Phone 5 in a global launch event live-streamed across the world. The phone is offered in three different versions, each with top-notch hardware specifications. One of the variants, for the first time on a smartphone, comes with an outrageous 18 GB of RAM!
The Asus ROG Phone 5 will have 3 versions: ROG Phone 5, ROG Phone 5 Pro and ROG Phone 5 Ultimate - priced between 799 and 1299 euros.
The ROG Phone 5 Ultimate is among the first smartphones to offer 18GB of RAM.
All models will feature the Snapdragon 888 SoC, a 144 Hz AMOLED display with support for 300 Hz touch sampling rate and a 6000 mAh battery with 65-watt fast charging.
Asus ROG Phone 5: 3 models and 3 different release dates
This is the first time that the ROG Phone will be offered in three separate variants. Wondering what the differences are? The ROG Phone 5 Pro and Ultimate variants are basically the same phones. The Ultimate variant is the one that gets a small display integrated into the back. Asus calls this the ROG Vision Display. This is a miniature panel that allows you to display certain elements but which serves essentially as an aesthetic rather than a utilitarian element, at first glance at least. The ROG Phone 5 Ultimate is also the only one among the lot to feature18 GB of RAM.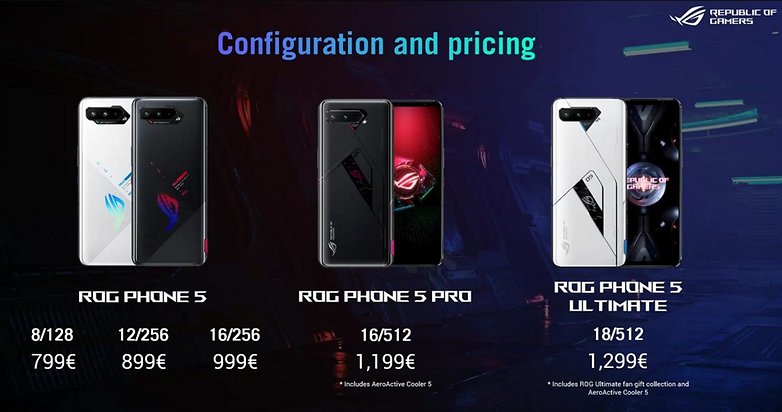 Asus ROG Phone: European pricing
ROG Phone 5 8/128GB: €799
ROG Phone 5 12/256GB: €899
ROG Phone 5 16/256GB: €999
ROG Phone 5 Pro 16/512GB: €1199
ROG Phone 5 Ultimate 18/512GB:€1299
Asus ROG Phone 5: Price in India
If you are in India, the ROG Phone 5 will be a lot cheaper than in Europe. Here is the Indian pricing and the equivalent prices in Euros.
ROG Phone 5 - 8/128GB: Rs 49,999 (€576) - (€799 in Europe)
ROG Phone 5 - 12/256GB: Rs 57,999 (€668) - (€899 in Europe)
ROG Phone 5 - 16/256GB: Not available in India
ROG Phone Pro 16/256GB: Rs 69,999 (€806) - (€1199 in Europe for 512GB)
ROG Phone 5 Ultimate: Rs 79,999 (€922) - (€1299 in Europe)
In India, the phone will be on sale starting 12 PM, April 15 on Flipkart.
Asus ROG Phone 5: Specifications
The Asus ROG Phone 5 features a custom Samsung 6.78-inch FHD+ AMOLED panel with a resolution of 2448 x 1080 pixels. The display supports HDR10+, offers a refresh rate of 144 Hz, a touch sampling rate of 300 Hz and a maximum brightness between 800 and 1200 nits.
It runs on Qualcomm's Snapdragon 888 SoC, which is based on a 5nm manufacturing process. The SoC also happens to house an overclocked Adreno 660 GPU. This is coupled with 8-16GB of LPDDR5 RAM and 128-512GB of UFS 3.1 storage.
The smartphone also packs a 6000 mAh battery which is basically twin 3000 mAh batteries strapped together using Middle Middle Tab (MMT) process. Asus also includes support for 65 Watt HyperCharge fast charge. The split battery design also lets Asus place the motherboard of the phone in the centre. This results not only in better weight distribution but also allows much better temperature control, the company claims.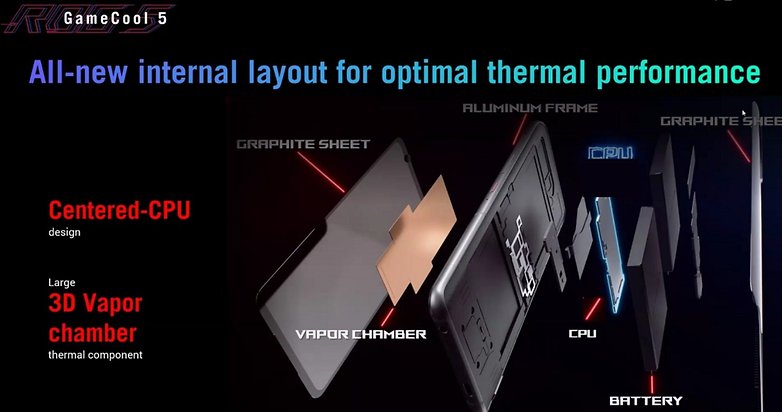 It should also be noted that Asus now offers a USB-C port on the left side edge, so that you can charge the ROG Phone 5 while holding it in landscape mode while playing. This was one of the big flaws of the ROG Phone 3 last year, in my opinion.
The ROG Phone 5 also introduces a new cooling system called GameCool 5. This fourth iteration changes the internal structure of the smartphone by placing the circuit board in the center of the device, moving it away from your fingers when you hold it in your hand. This design combined with a reworked steam chamber will also lead to an improvement in the thermals.
Asus ROG Phone 5: Camera and imaging
Past variants of the ROG Phone was not particularly known for their camera prowess and it seems that is the case this time around as well. At the back of the ROG Phone 5 is a 64 MP Sony IMX686 sensor, a 13 MP secondary camera with an ultra-wide-angle lens and a macro sensor whose resolution has not been specified by Asus. The selfie camera is a 24 MP sensor mated to a wide-angle lens. The fact that Asus does not insist on focal length, aperture or precise sensor size makes it evident that imaging is definitely not the priority as far as the ROG Phone 5 goes. It's no coincidence that Asus literally devoted 30 seconds to the photo module during his press briefing.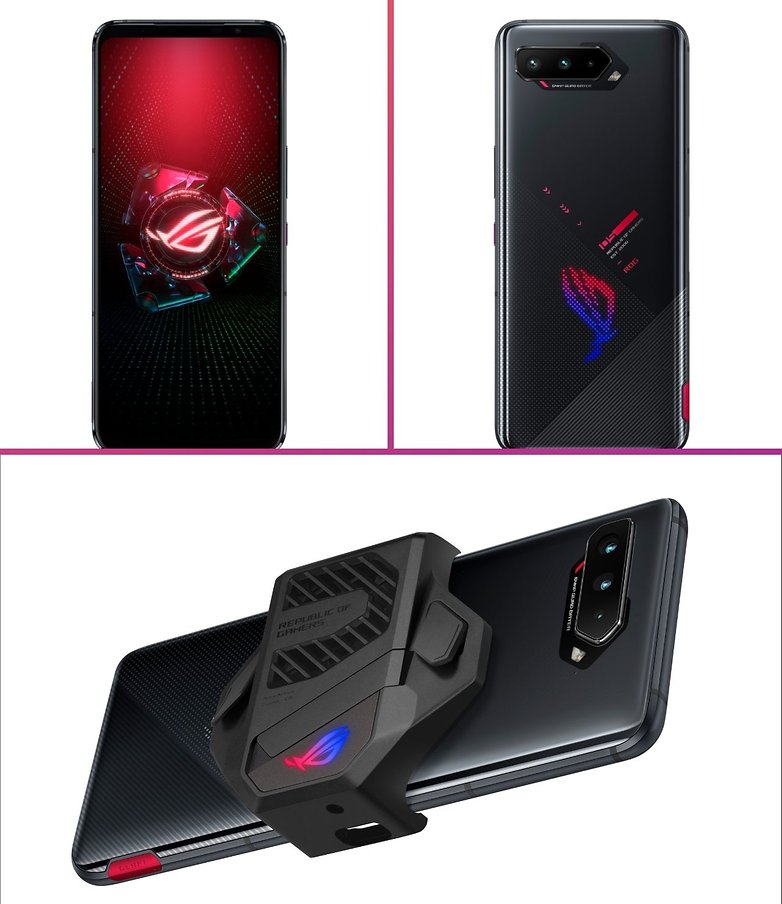 I can also quickly tell you about the new Air Trigger 5 haptic triggers that now allow you to map up to 18 commands, the AeroActive Cooler 5 external fan that also has haptic buttons that can be used as triggers or the return of the famous X mode and the Armoury Crate to customize and optimize performance. But I'll come back to this in more detail in my future test.
What do you think of the Asus ROG Phone 5, on paper? If your budget allows it, could you consider it as a daily smartphone?