Apple Watch vs Samsung Gear S comparison: the battle for your wrist begins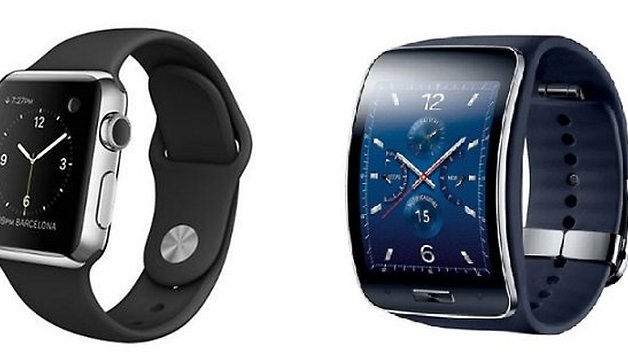 Samsung fans, to the battlements! The Apple Watch has finally entered the fray and it's ready to fight the Samsung Gear S for a place on millions of wrists around the world. With the Apple Watch, the company has seemingly moved away from its philosophy until now of offering consumers little choice when it comes to customization and personalization. It appears to come good on Tim Cook's statement that it's the "most personal device Apple's ever created" (though that's not saying much coming from Apple, right Android fans?).
The Samsung Gear S is the Korean company's flagship smartwatch, and one of the best Android smartwatches available. But how does it stand up to the smartwatch of its arch-nemesis? Read on to find out.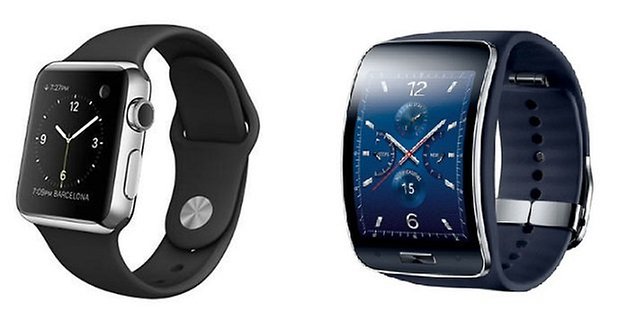 Release date and price
The 38mm Apple Watch with a Sports Band costs $349, with the 42mm version costing $399. The price goes up from there depending on how bling you want to go with your watch. The 'standard' versions with metal or leather buckles range between $549 and $1,049, while the 18-carat gold Apple Watch Edition will set you back $10,000 (yikes). The Samsung Gear S comes in at $349, and also comes with a humble sports band.
The Apple Watch will be available to pre-order and preview from April 10, before it's released on April 24. The Samsung Gear S was released in November 2014, and is widely available to buy now.
Display
The Samsung Gear S has a 2-inch 360 x 480 display using Samsung's trademark Super AMOLED technology. The display is vivid and great to look at in a technical sense, but this is undermined somewhat by the lack of interesting watch faces.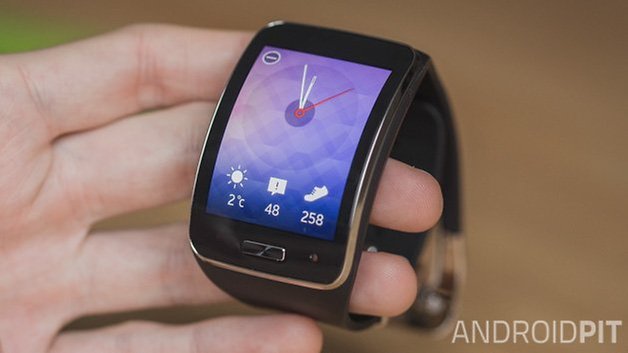 The Apple Watch comes in 38mm (1.5-inch, 272 x 340) and 42mm (1.6-inch, 312 x 390) sizes, and packs Apple's famous Retina display. Unsurprisingly, it packs less pixels than the Gear S due to its smaller size, but whether you get more clarity for screen size remains to be seen until we get our hands on it. What's certain is that the Apple Watch has a more appealing selection of watch faces, letting you customize the main screen to your heart's content.
Design and build quality
The Samsung Gear S is a big boy for a smartwatch. With its thick, plastic straps, the Gear S may lack the prettiness of the more fashion-oriented versions of the Apple Watch, but its design makes it effective as a fitness device. It has a big display too, of course, so it'll generally look better on those people who are more thick of wrist. In our review of the Samsung Gear S, we found that it was a bit uncomfortable to wear at first, but we got used to it within 48 hours.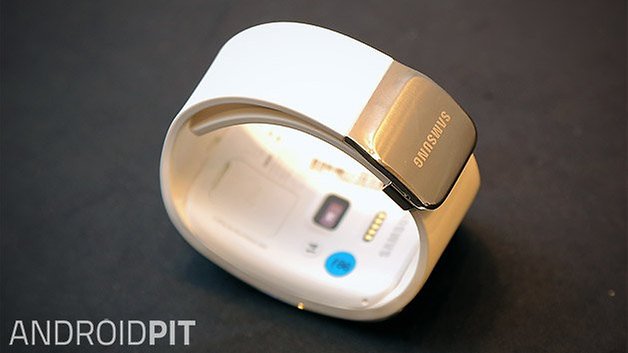 The Apple Watch comes in 38mm and 42mm, forged of steel and aluminum. The face has a soft-edged shape evocative of the iPhone 3. It's a good look, and enhanced further by something we thought we'd never see from Apple - choice. The Apple Watch has a good choice of buckles which, combined with the two different face sizes, indeed makes this the most personalizable Apple device to date. Sports band, steel buckle, several colors of leather strap - the Apple Watch is a visually versatile device, and at first glance we're impressed.

Software
Ever the non-conformists, Samsung decided to go with Tizen rather than the more popular Android Wear for the Gear S. It's really not so different to Android Wear though - in that it's intuitive and simply to swipe through. Notifications, 'Do not disturb' mode and the app drawer are all a mere swipe away. The popular S Health app is also included, taking advantage of the step counter, heart rate monitor and GPS features of the Gear S.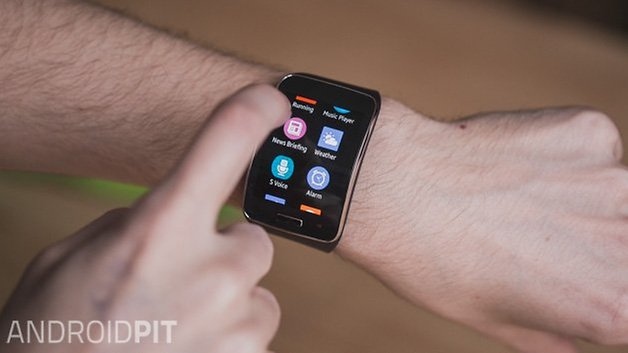 The Apple Watch interface looks intuitive, and offers some interesting features. The side-button on the watch (which you'd use to change the time on a normal watch) brings up your friends list, letting you call them, send them messages, drawings that you sketch right on your watch, or even a digital rendering of your heartbeat.
As expected, there are already thousands of developers working on Apple Watch apps - which include WeChat, Apple Pay, and popular apps including Instagram, Facebook, Uber. Siri is also present, letting you issue voice commands to make calls, send messages and set reminders.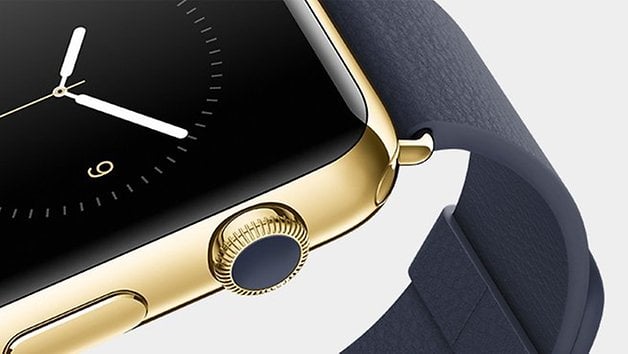 Special Features
The Samsung Gear S has the expected step counter and heart-rate monitor, but a couple of welcome bonuses here are the brightness and UV sensors. Yes, the Gear S can tell you how dangerous the sunlight levels you're exposed to are. You can also use a SIM card in the Gear S, so if it's paired with a Samsung phone, you can leave your phone at home and use the Gear S for calls, messaging and internet when you're out and about.
The Apple Watch has been designed to work together with an iPhone, and has limited functionality when not with your phone. It can still track your movements and fitness, sync playlists and so on, but as yet we don't know of any other things it can do independently of an iPhone. Without a SIM card, it's certainly more limited than the Samsung Gear S
Battery
The battery in the Gear S is a 300mAh one, and in our tests we managed to use it (lightly) for the best part of three days. That's a good show by smartwatch standards. If we carried out more calls, then it'd definitely have lasted less time, but seeing as most people are yet to get comfortable with the idea of a smartwatch, let alone speaking through one, we think our tests was enough to suggest that the Gear S has great battery life.
We don't know about the power of the Apple Watch battery yet, but understand that you'll be able to get well over a day's medium use out of it. It will also be chargeable wirelessly using a dock. We'll be sure to give it a rigorous test when we get our hands on it though.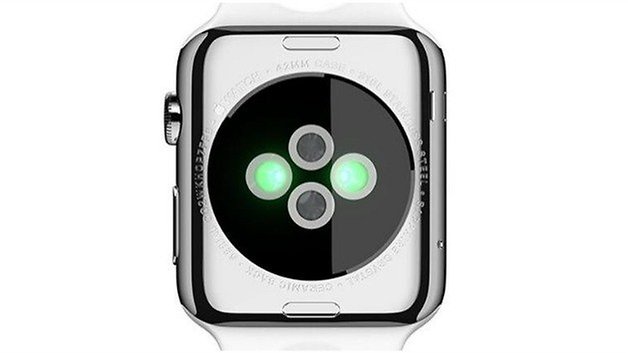 Tech Specs
| | Samsung Gear S | Apple Watch |
| --- | --- | --- |
| Display | 2 inch, Super AMOLED | 38mm / 42mm (1.5 / 1.6 inches), Retina display |
| Processor | 1GHz Dual-core | Apple S1 |
| RAM | 512MB | TBA |
| Internal storage | 4GB | TBA |
| Battery | 300mAh | TBA |
| System | Tizen | Watch OS |
| Extras | WiFi 802.11b/g/n, Bluetooth 4.1, UV sensor, brightness sensor, NFC | Wi-Fi 802.11b/g, Bluetooth 4.0, NFC |
Early Verdict
The Apple Watch certainly looks the part, and there'll be many who say that it outshines the Samsung Gear S in this respect, but its official unveiling didn't suggest to us it blows the competition out of the water on a technical level. It lacks the GPS and 4G connectivity of the Samsung Gear S, which at face value suggests it's much less functional.
But a watch is much more a fashion statement than a smartphone, and you'd be perfectly justified in opting for the Apple Watch due to its large selection of buckles and customizable interfaces. When we get our hands on the Apple Watch, we'll be able to tell you which smartwatch is most worthy of that prized place on your wrist.