Apple iPhone 8 Plus vs Samsung Galaxy Note 8: Rival schools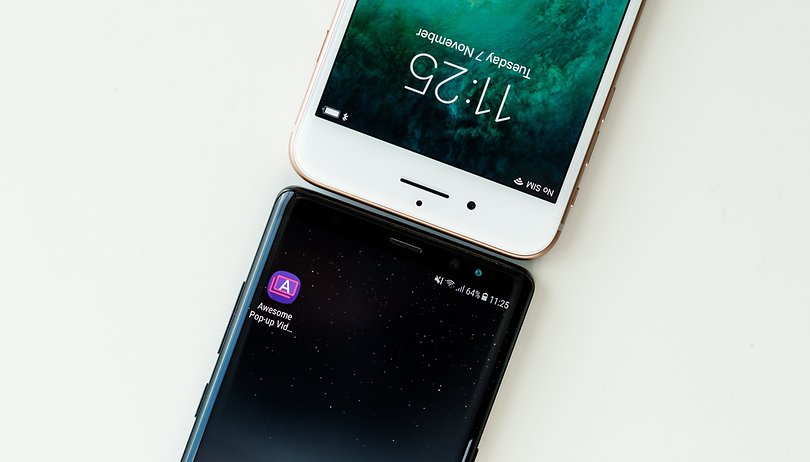 Apple and Samsung are long established rivals in the race to make the perfect smartphone that captures the hearts and minds of the world population. Both have their devoted followers, of course, but what about those of us who still need some convincing one way or the other? We compare two flagships from each in a head-to-head battle.
In Samsung's corner, we have that formidable heavyweight, the Galaxy Note 8 phablet. Representing Apple, we've got the iPhone 8 Plus, the latest form of the classic iPhone style. Let's get rrrready to rumble!
Design and build
Apple and Samsung have often been accused of copying each other's designs. Initially, Samsung would have been the one playing catch-up, but nowadays it's harder to tell as both manufacturers make progress by inches in different directions.
No one can accuse the devices in this particular contest as looking or feeling the same however. The iPhone 8 Plus is an iPhone in the classic style, packed with high-end hardware, but it looks exactly like you'd expect an iPhone to look—bezels, home button at the bottom, protruding camera at the back. We'll have to check out the iPhone X to see the more adventurous side of Apple, but the iPhone 8 Plus feels comfortable and familiar, albeit somewhat conservative. It's undoubtedly beautiful, with an attractive rose gold finish around the pleasantly rounded edges. The iPhone 8 Plus isn't exactly compact, but it fits in the hand well, feels secure and handles easily.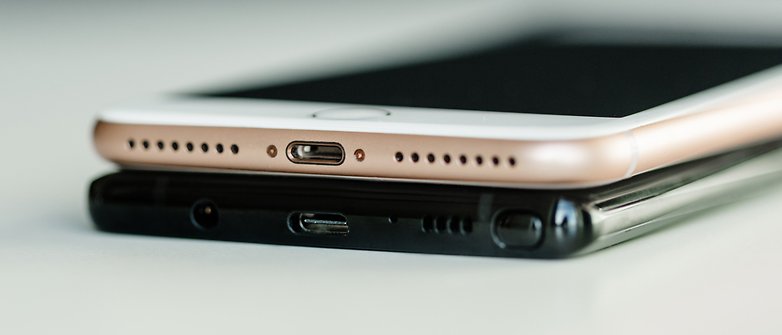 The Note 8 is also, from a design standpoint, unmistakably a Samsung Galaxy range phone. However its sheer size, made in order to accommodate its large screen, makes it stand out from its smaller brethren. My midnight black model looks somewhat dull and monochrome compared to the iPhone 8 Plus, and furthermore, its size makes it feel somewhat ungainly compared to the iPhone 8 Plus. When handling the Note 8, it always feels like there's a little too much poking out of my hand, not to mention poking out of the pocket. When it comes to handling, the Note 8 only has one advantage in my opinion, which is the incorporation of the home button into the display, which feels more modern and responsive than the iPhone 8 Plus' old-school home "button" (not exactly a real button, but thanks to Apple's Taptic Engine, it still feels like one).
Even though it's not exactly ground-breaking, I have to give it to the iPhone 8 Plus when it comes to design. Everything is accessible and it's easier to use with just one hand despite being actually slightly heavier than the Note 8. I'm always shuffling the latter up and down my palm, or resorting to two-handed use. The Note 8 is truly a hand-and-a-half phone, and that's not exactly convenient for day-to-day frequent use.
Display
While both phones feature an attractive display, it's in this field that the Samsung Galaxy Note 8 really shows its strength. The Note 8 has a display measuring a record-breaking 6.3 inches compared to the iPhone 8 Plus's 5.5. inches. The Note 8's bezels have shrunk away to near non-existence accommodate the big screen. The Super AMOLED panel display in the new Galaxy Note has a 2960 x 1440-pixel resolution, and blew me away when it came to watching movies fullscreen, playing games or scrolling through websites. Even the default starry black 'sky' on the always-on display is a joy to look at. The only downside is that the curved edges, while serving to make the overall shape of the phone sleeker, don't do the display any favors, with some noticeable color distortion along the edges.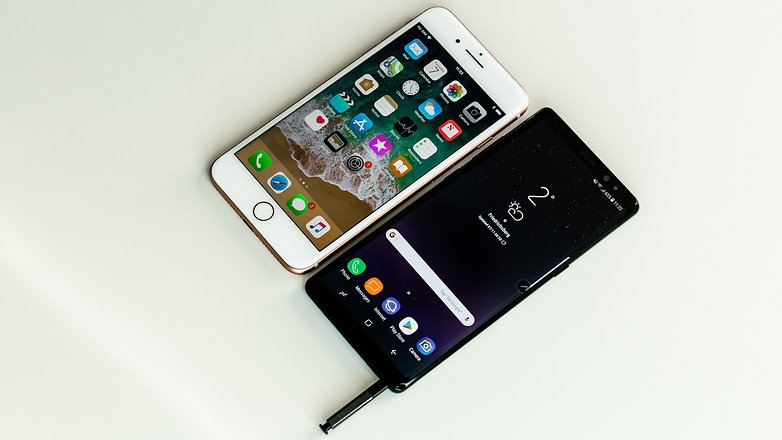 The iPhone 8 Plus has a 5.5-inch Retina HD display with a resolution of 1920x1080 pixels that is easily among best displays of its size on the market, but isn't anything special either. Colors and natural-looking and well balanced, brightness is good and even adjusts to the ambient light of the environment. It's a great display but isn't as impressive as the one on the Note 8, which is really a game-changer. In daily use, I found that I always preferred to watch media on the Note 8, even not bothering to fire up my PC in favor of Samsung's phablet.
Features
The key special features of the two phones are very different, but personally, I found one more useful. Something that makes the iPhone 8 Plus stand out from the Android flagships is iOS 11's support for ARKit - Apple's augmented reality platform. Right now this is basically a toy, but it's a seriously cool toy. Point your phone at the stars to see it draw constellations for you, summon dinosaurs into your living room, or write in 3D to customize your photos. The AR apps can still feel somewhat wonky to get to work though, but the App Store currently offers a better selection for iOS users than what you can get on Android.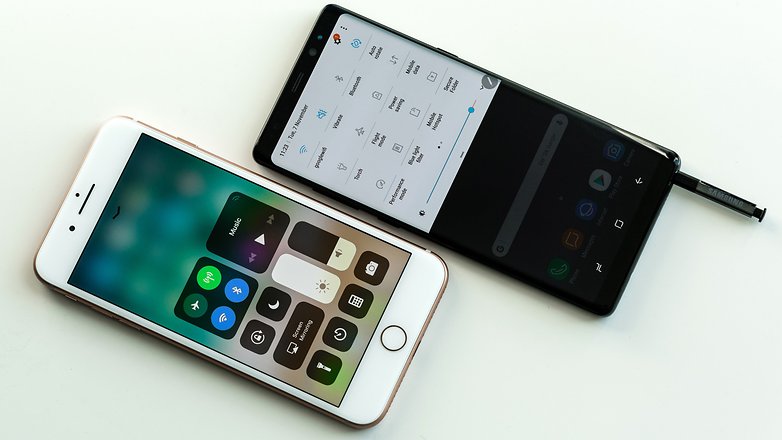 The Galaxy Note 8 has a more practical special feature in the form of the S-Pen. I have to admit that I was initially skeptical about it, but after embracing two-handed use, I found myself really appreciating the stylus. Great for writing and pinning notes, drawing and even, to my surprise, fast typing. And that's before getting into the more esoteric functions, like creating GIFs. The S-Pen has the additional bonus of helping to keep the impressive display free of fingerprint smudges. Ultimately, it remains one of the best things about the Galaxy Note 8.
Speaking of fingerprints, it's worth mentioning, for the security minded, that the Note 8 technically provides three unlocking options using biometrics: iris scan, face recognition, and fingerprints, whereas the iPhone 8 Plus only provides fingerprint ID. In practice, however, none of them are particularly reliable or convenient and I can't honestly count the Note 8's wonky face recognition as a real advantage.
The iPhone 8 Plus does have a better voice assistant in the form of Siri, which, even though I must admit fails to be helpful on many occasions, still ends up being more responsive and knowledgeable than Samsung's Bixby. Ultimately, I don't find either so useful as to swing me one way or the other, but if you're really into voice assistants, you'd be better of with Siri.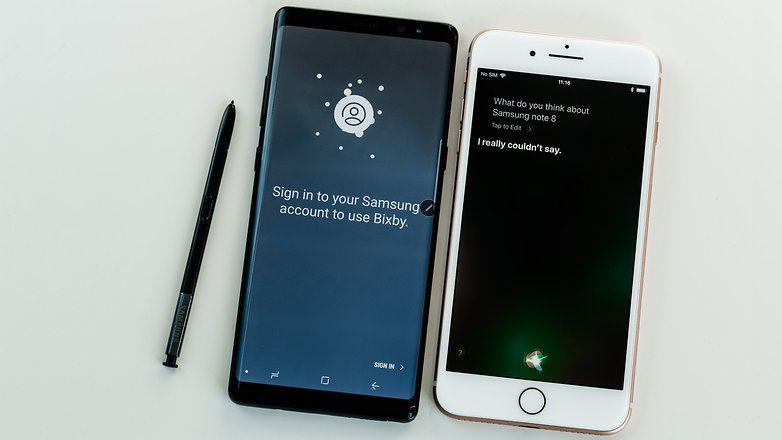 Samsung Galaxy Note 8 (US-version) vs. Apple iPhone 8 Plus technical specifications
Samsung Galaxy Note 8 (US-version)
Apple iPhone 8 Plus
Dimensions:
162.5 x 74.8 x 8.6 mm
158.4 x 78.1 x 7.5 mm
Weight:
195 g
202 g
Battery size:
3300 mAh
2675 mAh
Screen size:
6.3 in
5.5 in
Display technology:
AMOLED
LCD
Screen:
2960 x 1440 pixels (522 ppi)
1920 x 1080 pixels (401 ppi)
Front camera:
8 megapixels
7 megapixels
Rear camera:
12 megapixels
12 megapixels
Flashlight:
LED
LED
Android version:
7.1.1 - Nougat
Sorry, not yet available!
User interface:
TouchWiz
Sorry, not yet available!
RAM:
6 GB
3 GB
Internal storage:
64 GB
64 GB
256 GB
Removable storage:
microSD
Not available
Chipset:
Qualcomm Snapdragon 835
Apple A11 Bionic
Number of cores:
8
6
Max. clock speed:
2.45 GHz
Sorry, not yet available!
Connectivity:
HSPA, LTE, NFC, Bluetooth 5.0
HSPA, LTE, NFC, Bluetooth 5.0
Camera
Both phones actually feature great cameras, but crucially, they have different strengths and weaknesses. The Note 8 has several advantages over the iPhone 8 Plus, chiefly by way of its secondary camera, relatively noiseless low-light photography and fast autofocus. This makes it excellent for portraits, zoom shots, or capturing a subject in fast motion. The contender from Apple, on the other hand, excels at high dynamic range performance and accurate face exposure. It also performs better when it comes to video.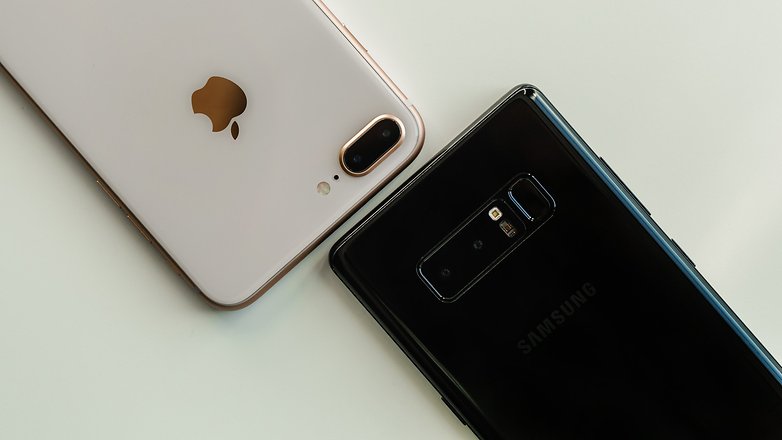 Both phones are actually tied for the same score of 94 from industry experts DxOMark, although they were unseated from the top spot by Google's Pixel 2 and Pixel 2 XL, they remain among the top cameras in the market.
Battery
The iPhone 8 Plus's battery is only 2675 mAh, smaller than the one on the iPhone 7 Plus. Despite this, due to Apple's expertise when it comes to hardware and software optimization, power consumption is minimal, even while maintaining peak performance.
Samsung may have been overly cautious with the battery in the Note 8 after the tragedy of the exploding Note 7. The 3300 mAh keeps it running all day, but the Apple's champion is still more efficient in this case, still taking, at roughly the same level of use, hours longer to run down.
Verdict: different advantages to each, but the Note 8 displays its strength
It's a tough battle between these two impressive contenders. It seems that looking from every angle, the Galaxy Note 8 excels in one field that the iPhone 8 Plus lags behind in, and vice versa. Though in the end, even though the iPhone 8 Plus felt more comfortable on the first day, I found myself gravitating more and more towards the Galaxy Note 8 as I got used to it.
The fantastic display of the Note 8 meant it became my first choice when it came to playing media, and also eliminated any lingering frustrations I felt when surfing the web on a mobile device. The S-Pen was also another clincher for me, as it made the whole experience both much more fun and much more practical.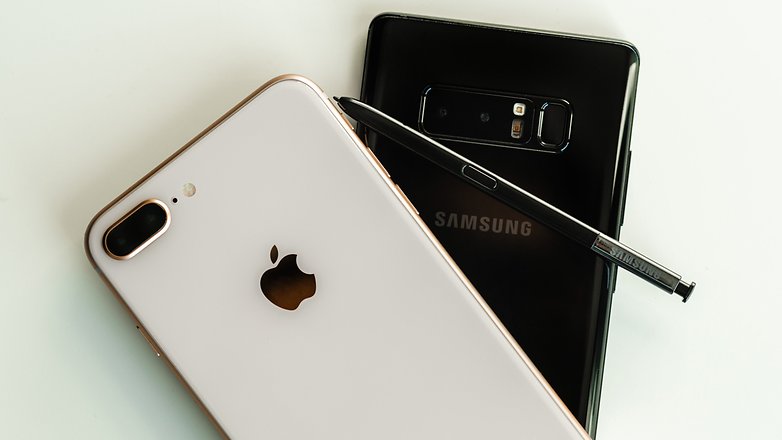 The iPhone 8 Plus, is, well, the latest iPhone. A great phone, but conservative and predictable. Maybe the iPhone X will be able to wow me, but right now it feels like nothing special compared other top-of-the-range flagships. On the other hand, its long battery life and Apple's great optimization still makes it a very handy and practical phone.
While the Note 8 won me over, in a contest of devices with very different strengths and weaknesses you'll want to examine your own use habits closely before buying. You'll want to check out DxOMark's camera comparison carefully and check your preferences. Will the superior display and stylus also win you over to side of Samsung? Or is it not worth the pocket space and battery drain?
Do you agree? Or do you think the Note 8 just isn't all that? Let us know in the comments!