Hacker Creates FREE Tethering App Undetectable by Carriers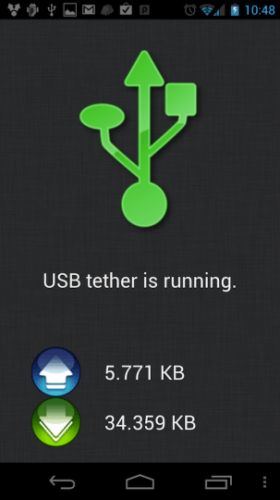 NEXTPITTV
Koushik Dutta, known for his involvement with ClockwordMod Recovery, says that he has developed a tethering app that hides the tethered connection between your phone and your computer from carriers who would like to charge you extra for such a service. Unlike other apps that hide your tethered connection, this one does not require root access and is completely free.
Apps that allow you to hide the tethered connection between your phone and your computer were completely removed from Android Market by May of last year, and other apps that claimed to do the same –like PDANet – have sprouted up since, but require lengthy, confusing set-ups and fees.
In contrast, Koush's program – called ClockworkMod Tether Alpha – took me about five minutes to set-up and start working with. Basically, to start using the program, all you need to do is install it on your computer, hook your phone up to your computer (after making sure it's in "USB-Debugging Mode"), and you can start using your wireless carrier's internet connection to provide internet to your computer. All usual carrier data charges and quotas apply, but you no longer need a seperate tethering plan.
There's some worry that carriers will wise-up and find ways to monitor apps like these, but for now it should work just fine. Just be aware that it is an alpha build and may be a bit buggy. Hopefully, a later edition will provide even better services in the future; for now, we're loving the fact that it's completely free.