Galaxy Nexus vs. The Competition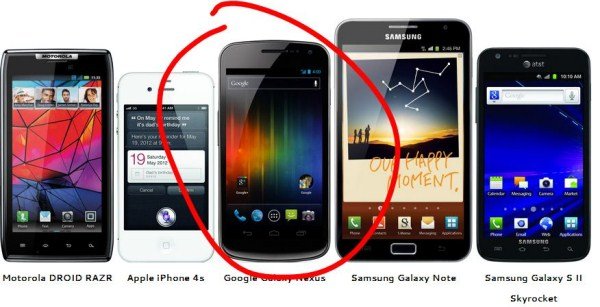 NEXTPITTV
Here at AndroidPIT, we know a lot of you are wondering whether you should wait for the Galaxy Nexus or spring for some other device. With no official release date set, many folks are understandably considering purchasing a Galaxy Note, Samsung Galaxy S2 Skyrocket, a Droid RAZR or even the iPhone 4S (gasp!) instead of Google's most-talked about new device.
Thankfully, we're here to help. We've spent a lot of time and brain energy comparing the Galaxy Nexus to the rest of the smartphones coming out this holiday season. Here's how they compare to the newest Nexus...
There's big, and then there's Galaxy Note big. The phone will likely be hugely popular with those who would like to scribble notes into their phone using a stylus. Both the Galaxy Nexus and the Galaxy Note have NFC, fast processors and stunning camera. Which phone is right for you? Well, it depends. Are you looking for a device you can use to express yourself or a device with the newest Android software? Do you use your phone more for surfing the web and using apps or for taking calls? How do you feel about stylii? These are all important questions to ask. The Galaxy Nexus, of course, has tons of new features, but the Galaxy Note has one of the biggest, most beautiful screens we've ever seen. Both phones are incredible but the Galaxy Note feels too awkward for taking calls and has an inferior battery life.
For many folks, there is no competition: the Galaxy Nexus will be the one to buy. After all, it's been designed to work effortlessly with Android Ice Cream Sandwich, it's got an incredible camera and NFC features you can't find on just any phone. It also rocks an incredibly rich display. But for those looking for an incredibly strong, durable, thin and beautiful device, the Droid RAZR is hard to beat. It literally has a bullet-proof shell! Outside the Android fanboy realm, it'll no doubt be interesting to see which device becomes the most popular with the casual consumer but for us, the answer is clear: the Galaxy Nexus just has too many extra features at launch to pass up. Even when the Droid RAZR gets ICS, the Galaxy Nexus will still have a better display and sports the added feature of NFC technology.
The Skyrocket seems to have a superior camera (on paper), better storage options, a faster processor and a cheaper pricetag than the Galaxy Nexus. In fact, the Skyrocket beats the Nexus on almost all counts. We're just as shocked as you are! So which one should you choose? Well, it depends. Those looking for ICS immediately will probably go with the Galaxy Nexus but, if you're an AT&T subscriber and don't mind waiting around a bit for ICS, you should definitely check this phone out. The phone will be available for $249.99, a full $50 less than the rumored Nexus pricetag of $299.
While the Galaxy Nexus has a larger display, the iPhone 4S is arguably more pixel rich. Preliminary tests indicate the iPhone 4S to have a better camera, although we can't know for sure. Battery life is a toss-up but you can be sure both will last you through the day. Finally, the Galaxy Nexus will most certainly achieve faster downloading speeds. That's all for now, we'll let you know more after we've thoroughly tested both devices.