VMAX VX 2 ST review: Speedy scooter lacking in features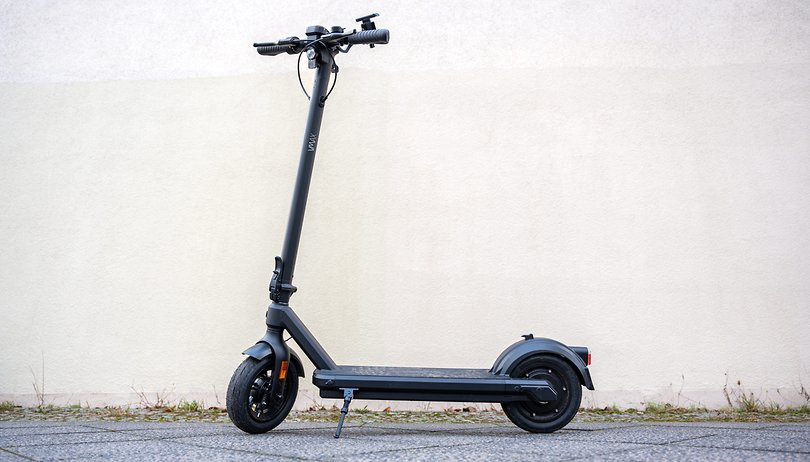 With a peak power of up to 1,300 watts, the VMAX VX 2 ST is significantly more powerful than other e-scooters out there. And indeed, the riding pleasure is significantly higher than many other models. In everyday use, however, the electric scooter revealed technical weaknesses despite having a long battery life, an exciting app connection, and good ride comfort. Read about all the details in this NextPit review of the VMAX VX 2 ST!
Good
High performance capability offers riding pleasure

Chic, sleek look

Solid runtimes

Many customization options via the app
Bad
No turn signal

No anti-lock braking system

Display has high reflectivity

Immobilizer is not really safe
The VMAX VX2 ST in a nutshell
In everyday use, the VMAX VX2 ST is a real fun machine for the last mile. The high performance of the electric motor and the throttle response settings get you from A to B quickly. At the same time, the battery life is excellent at just under 45 kilometers, while the companion app shows detailed information about the battery status, speed, and other detailed information.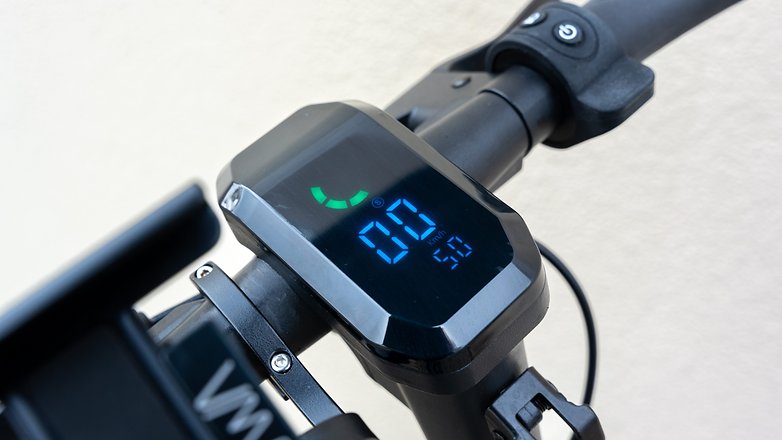 I have to criticize the missing turn signals in particular in everyday use, which make it dangerous to ride in any big city. At the same time, the braking system lacks antilock brakes, and with the preconfigured engine braking being extremely enthusiastic on rainy days, it is something that you should bear in mind with caution. A highly reflective display and the immobilizer, which is more gadget than anything else, are also annoying factors in view of the price.
After all, with an asking price of €899 (this scooter is not available for sale int he US), the VMAX VX2 ST is still an expensive yet fun machine to pick up in the spring of 2023. The MSRP stood at €949 when it was released, so it is nice to see the price drop not too long after. Alternatively, you can opt for the cheaper "LT" model that comes with a smaller battery and only one brake lever as well as the GT model that has a longer runtime.
During our conversation, the manufacturer VMAX mentioned their intention to introduce a new range of products within the next few months. It is probable that any defects present in their current products, such as the absence of a turn signal or a brake system without ABS, will be addressed.
Design & Build Quality
The VMAX VX 2 ST tips the scales at 18.5 kg and can carry people who weigh up to 130 kg. The handlebar height of 98 centimeters from the footboard cannot be adjusted, but you can fold it down. It locks into place on the mudguard and transforms the handlebar into a grab handle. The VX 2 ST is made of aluminum, where the manufacturer has specified the water resistance at IP56.
What I liked:
Suitable for heavy riders
Simple folding system
Air-filled rubber tires absorb some shocks
What I disliked:
No suspension system
Review unit did not hold together well (note from manufacturer: the review unit came with a prototype fender and they are aware of the problem)
With its matte black finish and aluminum construction, the VMAX VX 2 ST looks like a modern e-scooter at first glance. At the same time, it is unspectacular enough to make it difficult for me to take photos of it that will excite anyone. Weighing 18.5 kg is not unusual for an e-scooter, but you will still run out of air in your lungs after a relaxed ride when carrying it up to the second floor.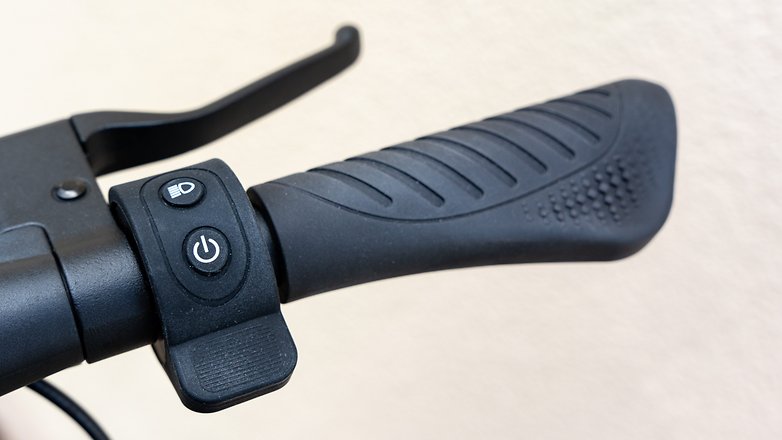 Speaking of which: the wheels of the VMAX VX 2 ST are filled with air but are tubeless. On the one hand, this prevents punctures, while on the other hand, the air-filled tires offer a little bit more suspension than the hard rubber tires found in the majority of rental scooters in any city center. Ride comfort is high, though there are now many models equipped with shock absorbers or more sophisticated suspension systems.
When folded, the dimensions of the VMAX VX 2 ST shrink to 112.5 × 54 × 49 centimeters - whether that fits in your trunk is something you'll have to judge for yourself. I can only confirm that the folding process is easy. You press a lever with a circuit breaker in front, fold the handlebars onto the mudguard, and a holder snaps right into place. This is what the manufacturer VMAX confirmed, where the review unit we received came with a prototype fender that fails to engage properly 100% of the time. True story!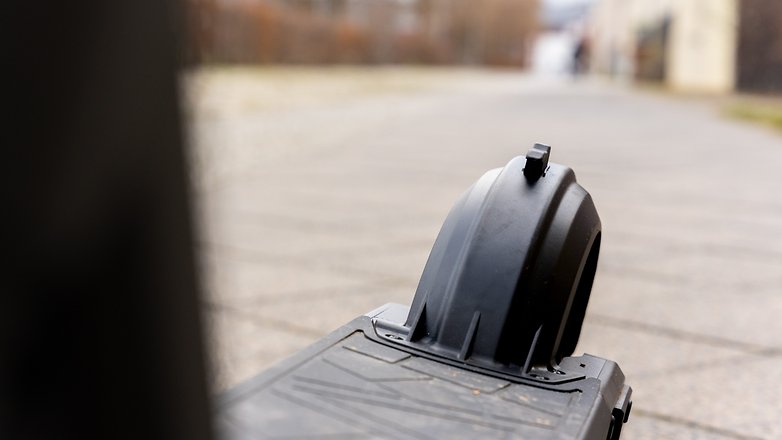 An important note for taller NextPit readers*: VMAX proudly stated 130 kg as the maximum weight. This is the end of the line for many e-scooters, even if no one is interested in this when looking at the road. The e-scooter also has the necessary power for people with a higher body weight.
If you're not one to avoid driving an e-scooter on rainy days, you'll be pleased to know that the VX 2 ST can handle it with ease. The scooter is equipped with protection against rain and splash water in accordance with IP56 standards.
Performance & driving pleasure: More would be illegal
The electric motor in the VX 2 ST offers a rated power of 500 watts, but can even reach 1,300 watts at its peak. This means you can comfortably ride at the legal speed limit in Germany and don't need to be afraid of inclines. The settings options in the Companion app also let you eke out the last bit of power out of the scooter.
What I liked:
Capable acceleration
Can start riding without pedaling if desired
Sensitivity of the "throttle response" is adjustable
What I disliked:
If you were to look at the approval regulations for e-scooters in Germany, you will notice this: No e-scooter is allowed to have more power than the VMAX VX 2 ST. 500 watts are the upper limit, and according to the manufacturer VMAX, the peak power should even be able to hit 1,300 watts. In reality, this is especially noticeable with its powerful acceleration. This catapults you forward at traffic lights in a noticeably faster fashion compared to bicycles and even other e-bikes around you.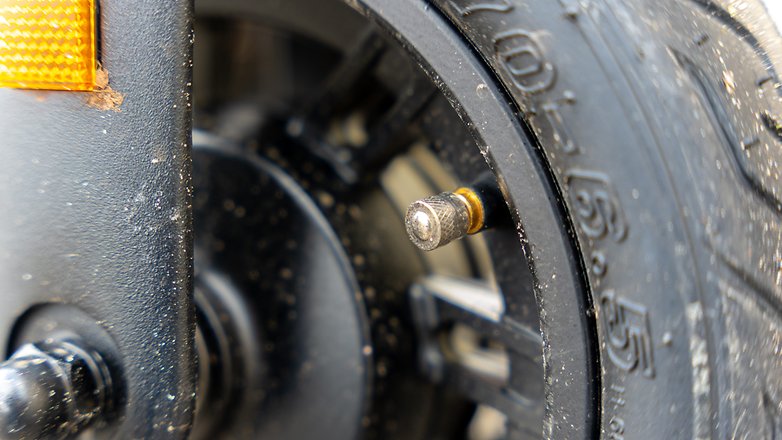 However, regulations in Germany stop the fun at 20 kilometers per hour. Strictly speaking, it's 22 km/h, and that's right within the tolerance limit of 10 percent.
What VMAX does very well is the adjustability of the throttle response. You can fine-tune this via the app's advanced settings, and this has a noticeable impact on the scooter's riding dynamics. Unlike the "economy mode", then, which is not very different from the sport mode.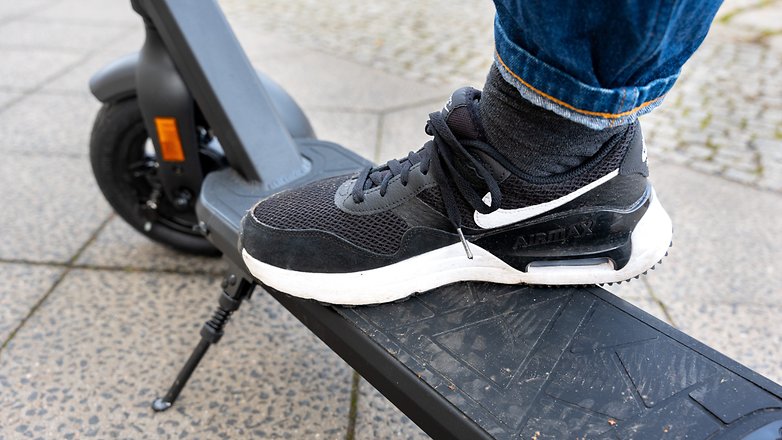 Last but not least: Does it bother you that you always have to pedal your e-scooter when starting up? Do take note that this can also be set in the Companion app. Without a so-called "kickoff", you can stand on the scooter while it is stationary and ride away. This is fun, but of course, it remains a matter of preference.
Overall, I appreciate the VMAX VX 2 ST primarily for its riding fun. Another advantage of the powerful engine is its ability to climb inclines of up to 25 percent. That corresponds to an incline of 25 meters over a distance of 100 meters. In traffic, that's definitely enough. In Berlin itself, I was still able to find a hill in Volkspark Prenzlauer Berg where I stopped after about 80 meters. You can see that the slope is rather exceptional steep in the photo below.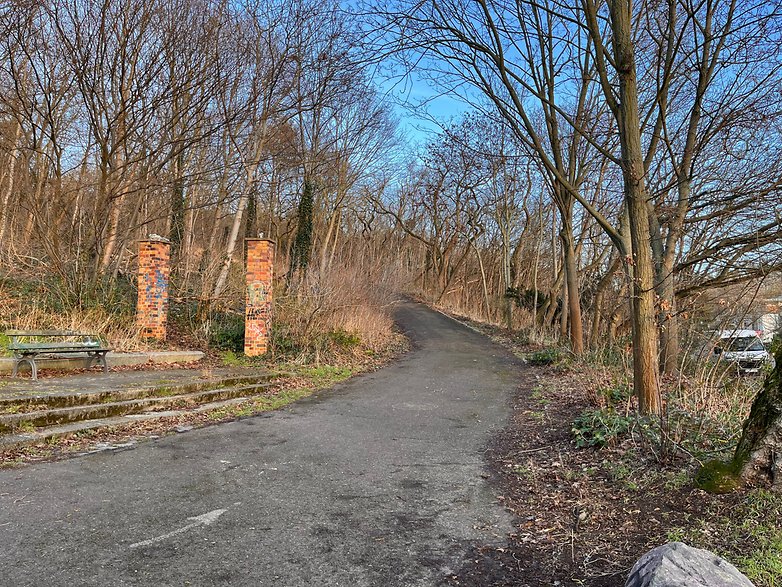 Brakes & safety: Without eABS but with immobilizer
As an ST model, the VMAX SX 2 is equipped with two brake levers. One of them activates a drum brake on the front wheel, while the other one activates the motorized brake on the rear wheel which takes advantage of regenerative braking. You have to make do without an anti-lock braking system, but you can lock the rear wheel as an immobilizer at the push of a button.
What I liked:
Very effective braking system overall
Immobilizer can be practical, even if it's not safe
Brake sensitivity is adjustable via the app
What I disliked:
No anti-lock braking system
Quiet warning tone when immobilizer is activated
Given the maximum speed of 22 km/h and the total weight of almost 150 kg, the braking system on the VMAX SX 2 ST is particularly important. In city traffic, I felt safe mainly courtesy of the powerful drum brake on the front wheel. Since this works completely mechanically, the front brake can be applied strongly without the risk of slipping, even on wet roads.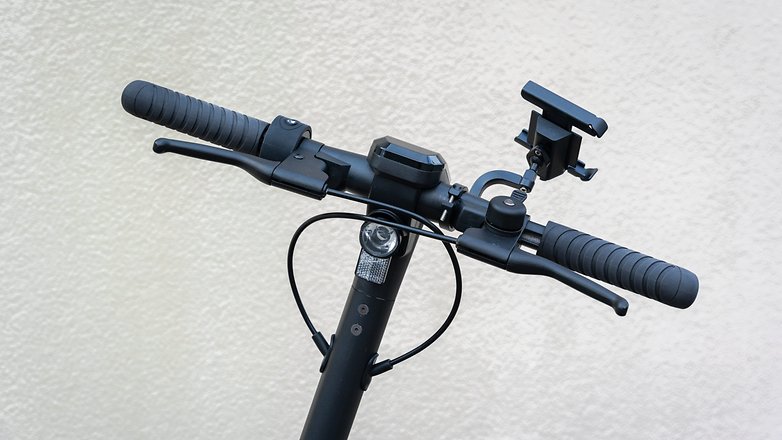 By default, this was very difficult to do with the brake on the rear wheel. When the right brake lever was pressed, nothing happened for a long time, only for the scooter to brake very hard suddenly. Here, the electric motor takes over the braking process and its sensitivity can be adjusted via the VMAX app. If you managed to find your personal sweet spot here and brake using both levers, you will quickly come to a stop. A standardized braking test, which we want to perform with all scooters in the future, has not been possible so far due to the rainy weather in Berlin.
Braking at full speed is nevertheless a slight risk with the VMAX SX 2. This is because the model does not offer an anti-lock braking system. If you get alarmed in a dangerous situation and press the brake lever too hard, your front wheel may break free. On dry roads, you might tip over in front. Other e-scooters offer better passive safety systems here.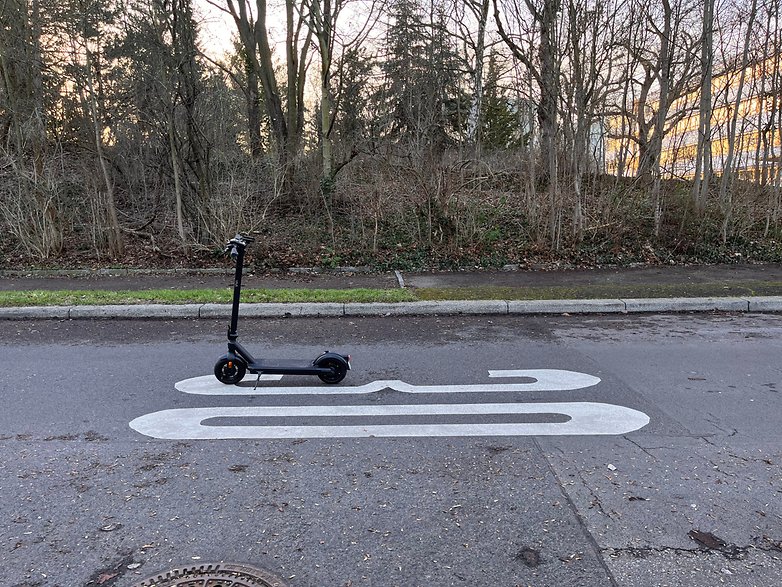 As an additional function, you will find an immobilizer in the VMAX app and this also works with the help of the electric motor on the rear wheel. At the push of a button, the rear wheel stops moving and will sound a warning signal when movement is detected. Unfortunately, this is rather quiet and its volume level cannot be adjusted via the app. On busy roads, no one will notice the sound if someone carried your e-scooter away.
Runtime and charging
The manufacturer VMAX specified the runtime of the VX 2 ST at 45 kilometers. This applies to the model with a medium-sized battery, which performed like a champion in everyday use. The scooter is charged via a proprietary charging cable, and you have to allow six and a half hours for a full charge.
What I liked:
45 km range is realistic during winter for a rider who weighs 70 kg
Exact battery capacity can be viewed via app
What I disliked:
With my rather lightweight frame of 70 kg, the VX 2 ST transported me pretty much exactly 45 km without requiring a recharge in the chilly Berlin winter. Again, that's pretty much in line with the manufacturer's specs that VMAX touted for the model. However, my rides were mainly limited to flat roads - and the rider's body weight also affects the runtime of e-scooters.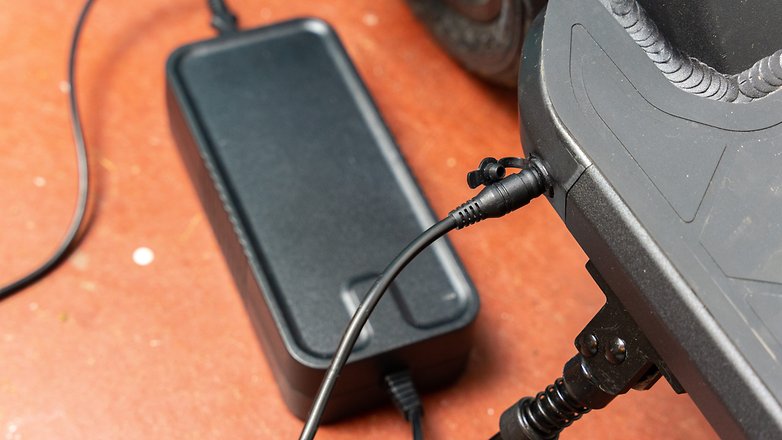 Despite this, a 45 kilometer range is absolutely reasonable for everyday use. If your commute to work is 20 kilometers, you would still have 2.5 kilometers left to make detours each way. However, with a charging time of six and a half hours, you should be working a full-time job. Such long charging times are by no means unusual for e-scooters. Some of the competition already offers fast charging solutions, which are especially helpful for short trips and empty batteries.
Final verdict
The VMAX VX 2 ST thus shows how powerful e-scooters can be in Germany, at least in terms of motor output in watts. And indeed, the lively e-scooter brings a lot of joy in everyday use. In addition to its power, however, this is due to the fine-tuning in the throttle response, the considerable braking power, as well as the smooth starting. The runtime of 45 kilometers makes it fall within the average range for the VX-2 series, which is also the average figure for e-scooters in general.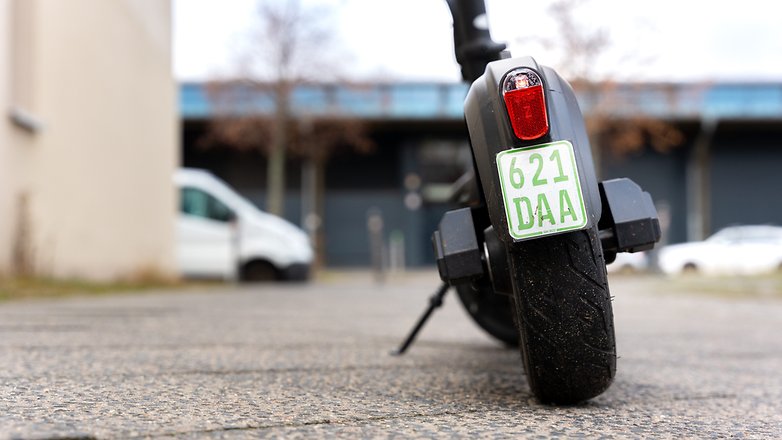 A little behind the competition would be the scooter's features in 2023. While models from Xiaomi already offer features like eABS or quick charging, you have to make do without them on the VX 2 ST. For everyday use, however, it is the missing turn signal system that I miss most. This would provide additional safety, especially in big cities. Instead, you look pretty stupid when you try to indicate your upcoming directional changes with your legs to vehicles behind you.
Taking into consideration the relatively expensive price tag, I would have liked to see additional and better features in the VMAX VX 2 ST. This also includes accessories, which consist of a strange smartphone holder and an extremely fragile combination lock, which are more of a nice bonus than anything else. In summary, the VX 2 ST is a fun scooter that is definitely suitable for everyday use for the last mile connection. However, you should be aware of its drawbacks when buying one.