Unistellar eQuinox 2 Review: Gateway to the Stars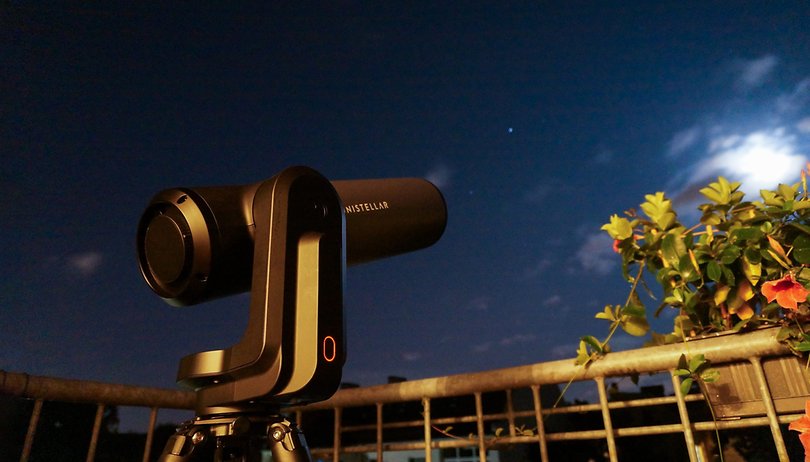 Stargazing is per se not an easy hobby, it requires elaborate equipment, good weather conditions, time, and, crucially, low light pollution and the not-so-simple fact of knowing where to look. The Unistellar eQuinox 2 promises to solve these two latter issues, with a motorized smart telescope that can be controlled via smartphone and that can share its images with up to 10 devices. We took a newbie look at the device to see how it does that.
Good
Beautiful design

Usable even in the middle of city lights

Easy to use

Wi-Fi connection eases collective viewings
Bad
Expensive

App could offer a live preview of the night sky
Unistellar eQuinox 2: All deals
In a nutshell
It is important to note beforehand that I am a total noob when it comes to astronomy. Not only that, I still feel amazed by how people can memorize constellations and point them in the night sky. That is probably a good market target for the eQuinox, as I am not sure how long time astronomers feel about its experience.
The Unistellar eQuinox 2 is a self-contained smart telescope, with a built-in battery and storage, that can work in the field for quite a while. Ideal for those who want to go as far as possible from light pollution sources, like night city lights. Unistellar, however, uses what is essentially computational photography to process images by filtering city lights.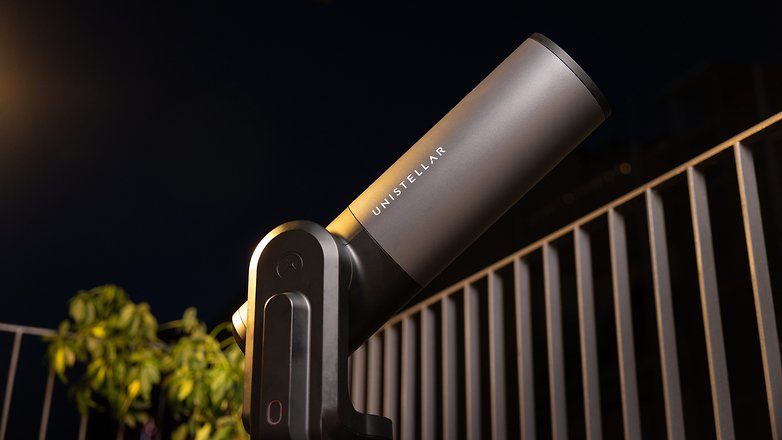 Despite its modern, yet, familiar form factor, other than a traditional telescope, the eQuinox doesn't have a viewfinder. Instead, it relies on a smartphone app available for both Android and iPhone to display live views and controls where to look. Lastly, it offers a series of features to catalog and list visible objects, and point the telescope to them.
The eQuinox 2 is an expensive investment, with an MSRP of 2,499 dollars/euros, and comes with a sturdy (and necessary) tripod, a market-appropriate power supply, and tools to adjust the telescope. For a more complete—and expensive—experience, Unistellar offers the eVscope 2, with an increased resolution, and an eyepiece.
Unistellar eQuinox 2 design and build quality
The eQuinox 2 is a big, beautiful device, with a modern and sleek design, and a nice finish over the external surfaces. Weighting at 19.8 lbs (9 kg), the telescope is not particularly heavy for a battery-powered device with a motor but paired with the included sturdy tripod, it feels suited to use outdoors even with some light winds.
Pros:
Nice build quality.
Beautiful.
Cons:
Cleaning requires some disassembly.
Requires a backpack for transporting.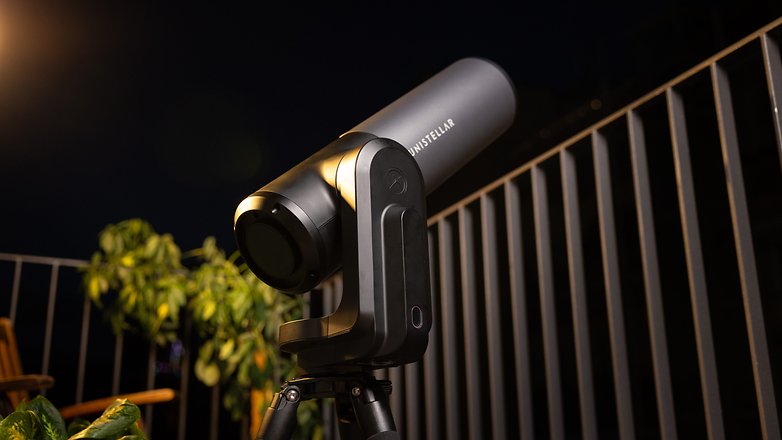 The eQuinox 2 follows a minimalistic design, with only a single, easy-to-reach button on the side column. For charging the telescope battery, there is a USB-C port, that accepts power bank input for longer viewing sessions. For added convenience, the device has a USB-A port that can be used to charge a smartphone.
The included tripod can reach up to 3.2 ft (1 m) when opened and includes a bubble level. For transporting, Unistellar offers an optional $429/€359 backpack for field trips, which should be considered if you plan on taking the telescope to different locations, as the thick padding on the factory box is rather cumbersome to transport.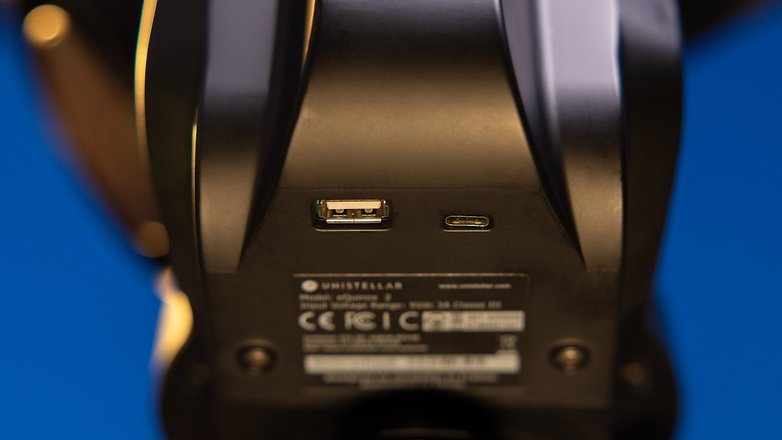 For a device designed to be used outdoors—even if the users are comfortably enjoying it indoors somewhere else—some care must be taken to keep the mirror clean. This involves following the instructions in the technical guide (available on this page) to carefully remove the mirror and use compressed air on its surface.
Unistellar eQuinox 2 software
Setting up the eQuinox is easy, even if not entirely self-explanatory. But even the calibration and focusing steps can easily be done by first-timers—such as yours truly.
Pros:
Cons:
App could display a night sky preview.
No RAW file export.
The first step after charging and powering up the eQuinox 2 is to open the app, which will display the notification: "Looking for an eVscope…", which besides not listing the correct model name may suggest it is trying to find the telescope Wi-Fi network. Instead, manually connect your smartphone to the eQuinox 2 network, and then the app should quickly switch to the operator mode.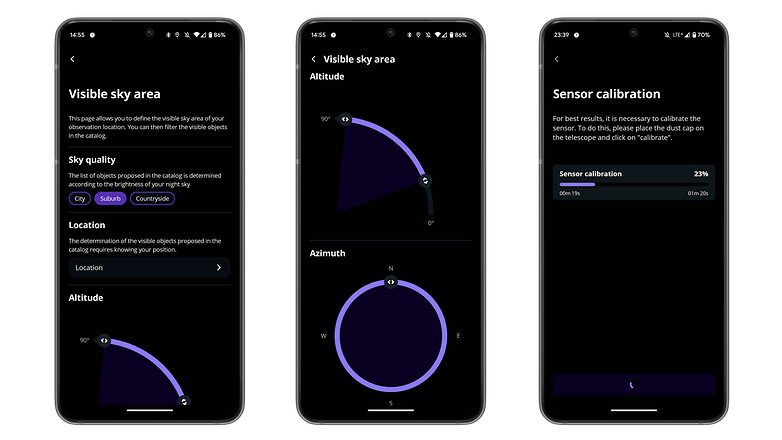 The app will request geolocation data access to have an idea of visible objects in your area, and you should also set the altitude and azimuth settings to account for the device field of view (neighboring buildings, your own living room, etc). After that, the eQuinox 2 should perform a quick sensor calibration and finally an orientation scan to identify the objects automatically.
With the setup out of the way… We need to adjust the focus using the Bahtinov mask, which sounded scary personally but is easy to do by following the instructions on this YouTube video. Focusing and checking the tripod level is recommended every time you move the tripod, you can see the difference they make in the pictures below.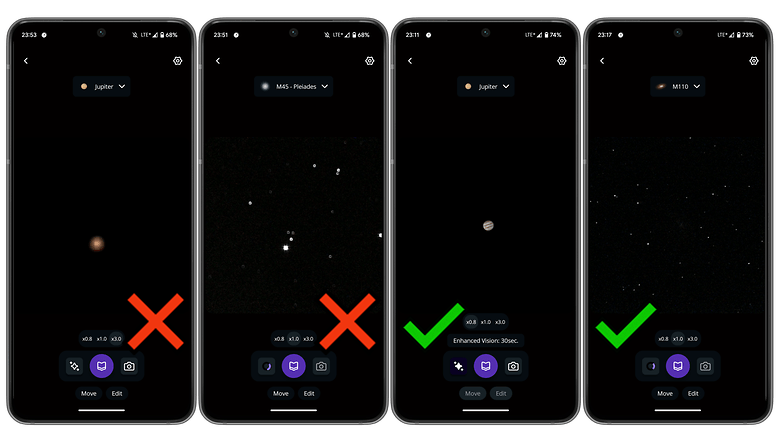 Now that we are set, you can go star-hunting old-style with a digital joystick on the app, but one of the highlights of the eQuinox 2 lies in its Catalog tab. The page displays a list of visible objects according to your location and the telescope position. You can filter your on-screen menu by proximity, or object type—planet, asteroid, galaxy, nebula, cluster, star, comet, or other.—but not man-made objects, so all astronaut-wannabe colleagues won't be able to track the International Space Station, sad face.
The Catalog includes additional information for both beginners and advanced astronomers, with descriptions for some of the over 5,000 objects. If the object is currently visible in the sky, the app will display a GoTo button that will make the eQuinox 2 point its mirror in the right direction.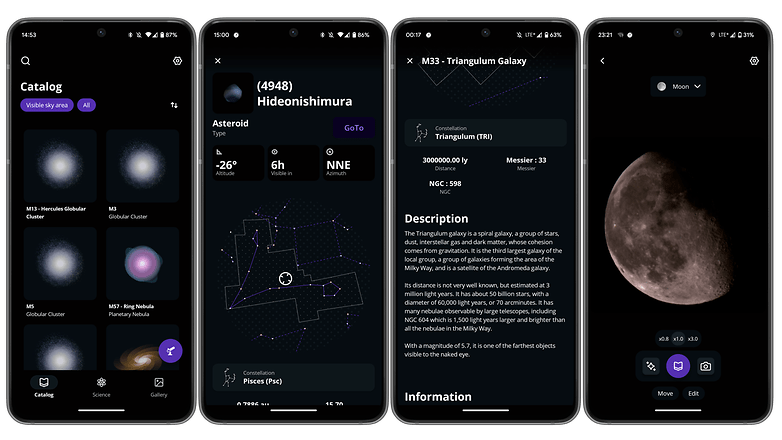 With an object set in sight, you can take a straight photo of it with the camera button. Another highlight feature of Unistellar's telescopes is the Enhanced Vision feature, accessed through the "stars" button to the left of the catalog shortcut. What it does is stack images to not only make a long exposure photograph of the sky but also apply the computational photography smarts to filter and process the image.
During the process, the telescope will track the object automatically, avoiding the very delicate adjustments necessary to follow your target over the night sky. While in enhanced vision, press the camera button to save the current capture, which is stored in a couple of PNG files, one with basic information about the coordinates, exposure time, date, and object.
The eQuinox 2 stores RAW TIFF and FITS files but at the time of publication, those can only be accessed after unloading the internal storage directly to the Unistellar servers and requesting them within a 30-day window via customer support. This may not mean much for newbies but is something that is valuable for storage purposes, comparing, and manipulating images, including the coordinated citizen astronomy features available in the Science tab, but are processed by the Unistellar team.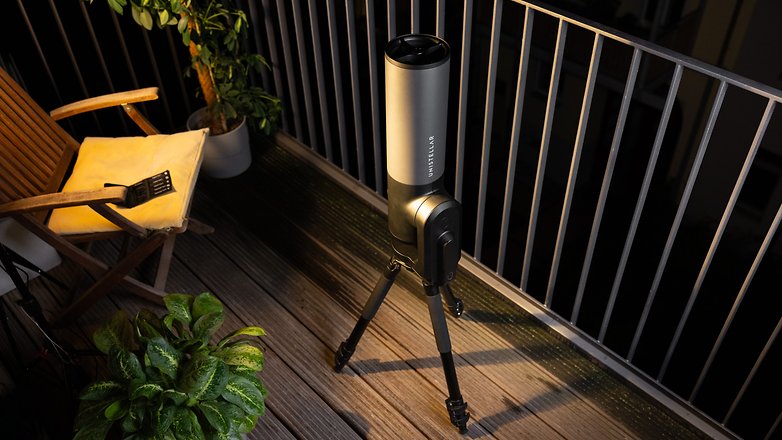 One feature that this total newbie missed was having a live augmented reality estimate of the night sky, like the sky map apps that identify and overlay information on top of the observation. Additionally, Fire tablets are not supported. We ignored that and tried installing the app on a Fire HD10 model but experienced crashes. Up to 10 supported devices can connect at the same time to the eQuinox 2 telescope, with one serving the role of the operator and the other ones as viewers. Lastly, Unistellar rates the eQuinox 2 at 11h of battery life.
City observations
The eQuinox 2 features a 6.2 megapixels (2880 × 2160) sensor, with a 450 mm focal length and an f/4 focal ratio. Compared to the smartphone and camera worlds, that may seem low, but on the other hand, it doesn't require mounting a camera on it.
With my astronomy experience limited to a very basic no-brand telescope at home, I don't really have a point of comparison to judge the eQuinox 2 images. However, considering that the observations were made in Berlin—even if on its outskirts—the results exceed our expectations.
In the gallery below, you can see a couple of observations made during different nights and with longer exposures using the Enhanced vision setting. Due to personal reasons, we weren't able to test the eQuinox 2 under ideal conditions away from light pollution, which should offer even better results, so keep that in mind.
Curiously in one of the stacked images, it is possible to see that during the 16-minute capture, a shiny object passed in the telescope's field of view, leaving a light streak over the captured image. Hopefully, the increasing number of communication satellites won't ruin future observations, but a sky map app with satellite tracking can probably help avoid having one photobombing your images.

Final verdict
The Unistellar eQuinox 2 is a powerful and fun smart telescope that trades the expandability and lengthy preparation steps of traditional telescopes with a fixed, ready-to-use approach that suits newcomers.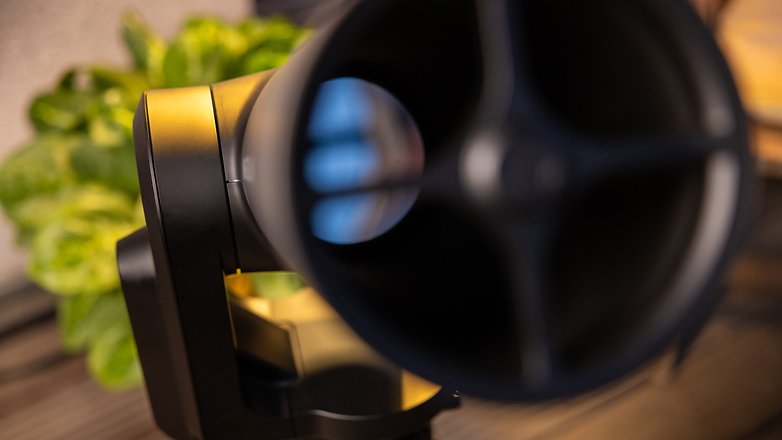 In practical terms, it allowed us (plural) to comfortably see on a big smartphone screen (or tablet) things that the naked eye couldn't, including far away planets and even satellites. All that without having to keep track of what we wanted to see over longer periods of time while staying warm and cozy indoors.
However, it charges a hefty sum for that privilege, and we imagine part of the fun for more serious astronomers is the process of manipulating the telescope, maintaining and upgrading it for years to come. The eQuinox 2, meanwhile, offers an experience that just-works®, which not only is easy to set up but also to share with others, e.g. my curious colleagues.
In the end, If you have the budget it is really easy to recommend the eQuinox 2, especially if you are only going to use it near city lights. The image processing was as impressive as its ease of use, and while it is not expandable, more advanced users may find a nice trade-off in the community and citizen astronomy features available in the Unistellar app.