Samsung TouchWiz vs. Stock Android: which is better?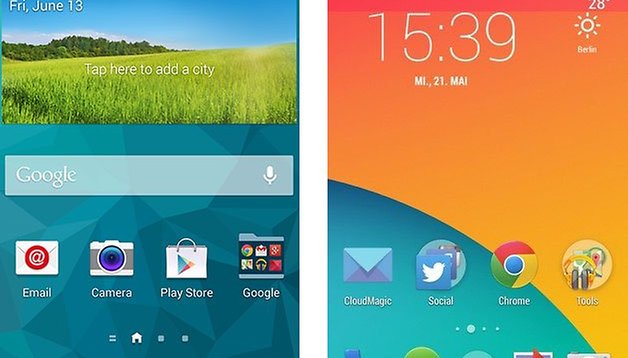 It's been awhile since we've taken a look between different types of Android and quite a bit has changed. We've seen the rise of Android 4.4 KitKat on the Google side of things that brings a bunch of technical changes and some visual ones too. As well, manufacturers such as Samsung, HTC, and Sony have been busy optimizing their own customized ROMs to the newest versions of Android. Today, we'll take a look at stock Android and compare it to Samsung's Touchwiz.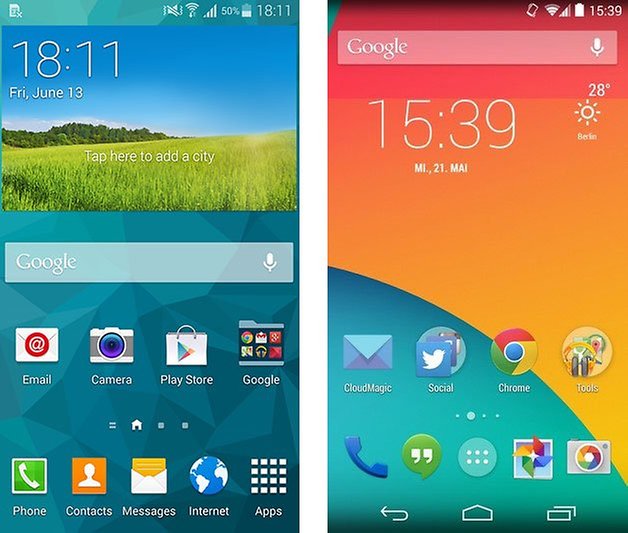 For clarity sakes, we will be looking at the latest version of Touchwiz on a Samsung Galaxy S5 and stock Android on a Nexus 5. For comparisons sake, both devices are running Android 4.4.2. As well, just so that we don't have to continually identify which is which, Touchwiz will always be the left hand screenshot and stock Android will be on the right.
Lock Screen
Both stock Android and Touchwiz has a relatively simple lock screen. The notification strips on both systems are transparent and in stock Android you'll get a an unlocked ring menu. With Touchwiz, you simply swipe across the screen to unlock the device. When touching the Touchwiz screen, small little visualized bubbles appear and follow your finger which gives a somewhat playful touch, but may not be to everyone's liking. Stock Android is clean and doesn't offer any special effects. Both versions support widgets for the lock screen and they can be activated in your Settings.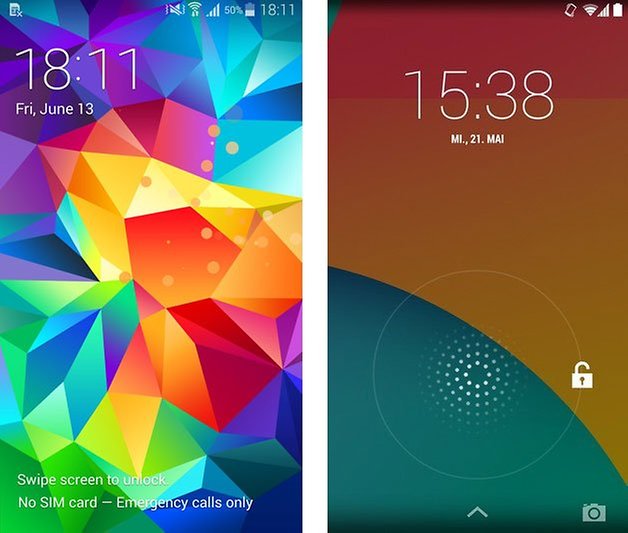 Home Screen
The Google Now Launcher, which is pre-installed on the Nexus 5, is a big boost from previous launchers found on stock Android. Not only did it receive a revised look, but you can now create more than just give home screens on your device.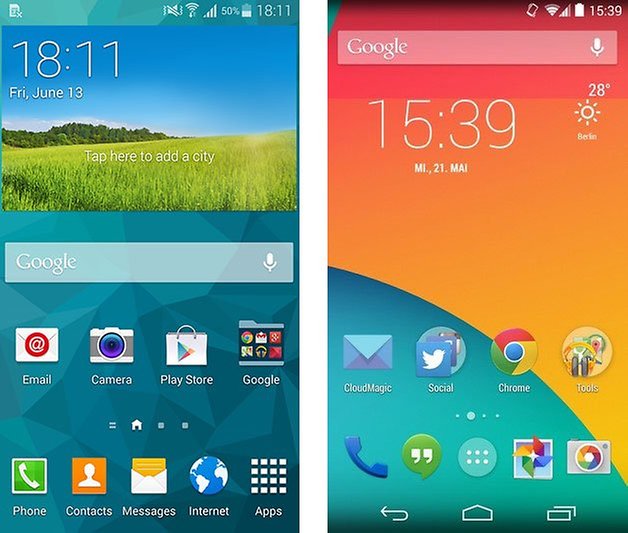 Samsung's launcher looks a little bit more elaborate than its stock Android counterpart. Offering more options than the Google Now launcher, you can quickly add or remove home screens at will, customize which of your home screens is your home page, and you can even remove or move the Google Search bar. As well, Google Now doesn't take up a home screen itself, but rather is accessed by holding down the Home button.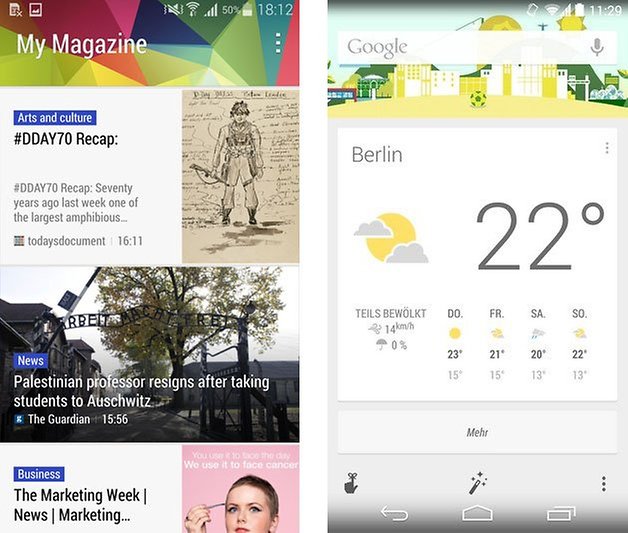 App Drawer
Samsung's App Drawer can be used as a genuine, personalized app database. The default view can be changed to three options: customizable gird, alphabetical gird, or alphabetical list. In addition, apps can be sorted into folders and can be disabled or uninstalled directly from the App Drawer.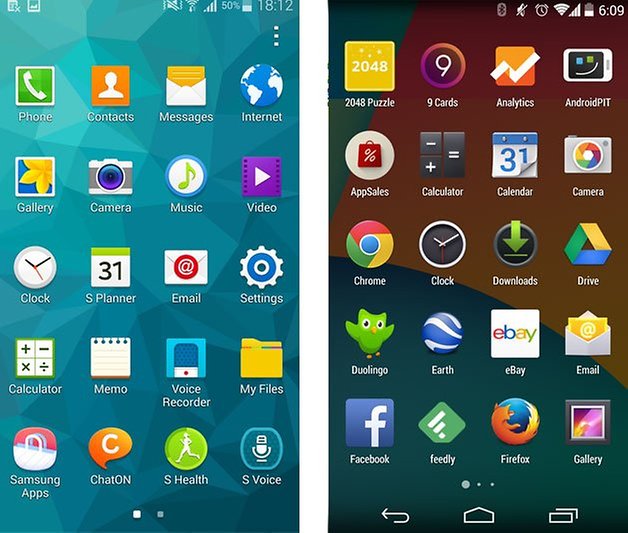 The Google Now launcher only displays apps in an alphabetical grid with no other options for sorting being available. If you want to search for apps, this is done by the Google Search box on the home screen. As well, apps can be uninstalled from the App Drawer by long holding the app in questions and then dragging them to the top of the screen.
Notification Bar
Both approaches are similar when it comes to the Notification Bar: swiping down from the top of the display will bring up the notifications bar. Swiping down with two fingers will bring up your Quick Settings. In the Notification Bar, Samsung offers some quick options which can be customized. This is completely absent in stock Android. As well, Samsung has thrown in some of their own software to the Notification Bar with its Quick Connect that allows to connect rapidly to other Samsung devices. As well, S Finder is much like Google Search and can be used to find files, e-mails, contacts, and other information on your smartphone.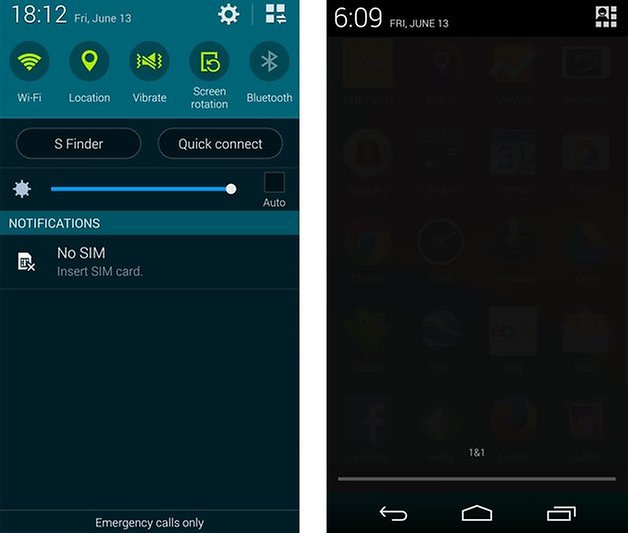 The Quick Settings, by default, are quite filled in on Touchwiz. Unfortunately, by itself, you cannot customize Quick Settings on Stock Android. However, there are various mods and custom ROMs that can be installed that will enable this type of customization.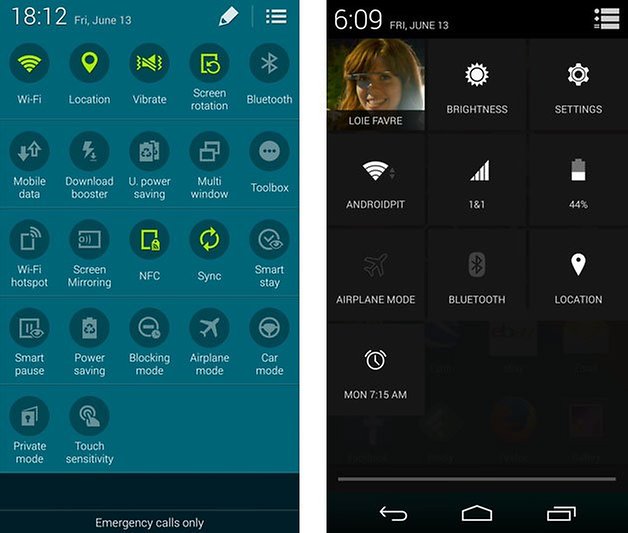 Recently Opened Apps
When you open up the Recently Opened Apps in Touchwiz, you have the option to see your RAM usage and also a Collapse All link that will close all open programs. In stock Android, unfortunately, you have to pick and choose each and every app that you want to close by swiping it to the side.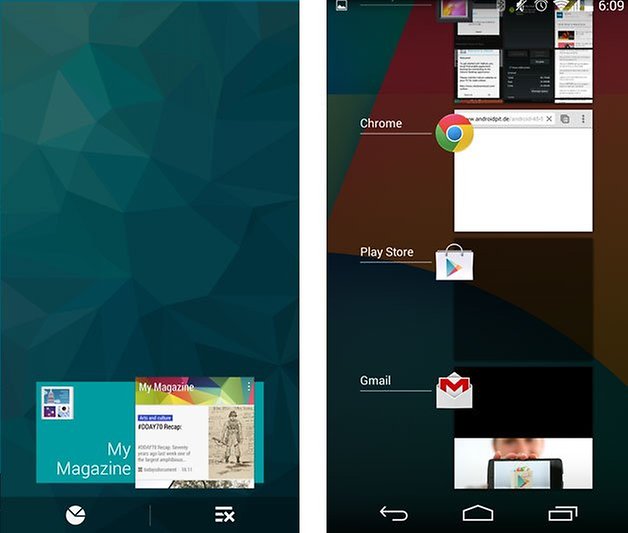 Settings
While Google is continuing to pursue a darker design for its stock Android platform, Samsung has chosen a more colorful approach. Instead of having everything in an organized list, Touchwiz offers you're a colorful grid view for the settings. While the grid menu itself might be different, it can be switched into a list mode which is much more similar to the organized look of stock Android. As well, with Touchwiz, you can specify favorite settings so that you can quickly access the ones you use all the time quickly.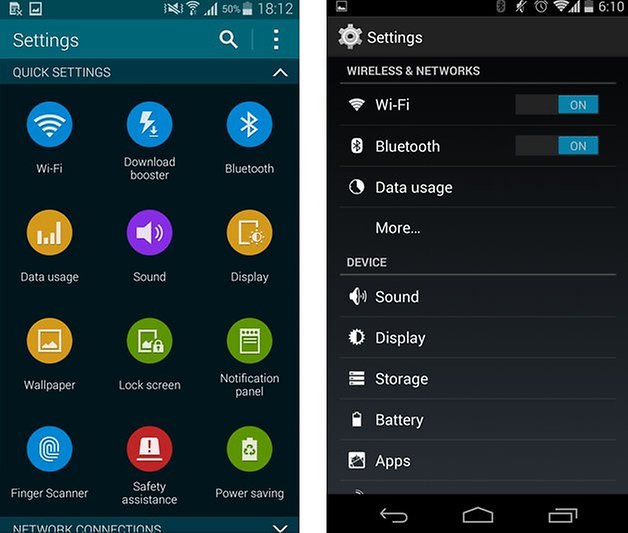 Additional Functions
Samsung's Touchwiz offers some enhancements over Stock Android. This is most notable when you take into account the Quick Connect option in the Notification Bar (see above), Restart option in the Power Button menu, or the multi window options to simultaneously display apps that are currently running.
Conclusion
stock Android. For some, this may be worth the extra bloat that often comes along with manufacturer ROMs over stock Android. If you enjoy more customization options at this expense, Touchwiz might be the solution that you're looking for. If you enjoy the pure nature of stock Android, you can always console yourself with the fact that most of the customization that is missing can be added in via third party apps or modules.